Abstract
Purpose
As one of the clinical manifestations of inflammatory bowel disease (IBD), perianal fistula disease (PFD) can potentially impact the patient quality of life. The management of PFD employs a multidisciplinary approach which includes antibiotics, biological therapies, immunomodulators, and surgery. We analyzed the outcome and prognostic factors of anal fistula surgery in IBD patients.
Methods
We conducted a retrospective study of IBD patients undergoing elective surgery for anal fistula between January 2015 and December 2018 at our University Department of Surgery. We collated demographic factors, disease activity, imaging (MRI and endoanal ultrasound), surgical interventions, and medical treatment assessing the rate of fistula closure and fecal incontinence, 2 months and 1 year after surgery.
Results
Thirty-five IBD patients with anal fistula underwent surgery (28 Crohn's disease, four ulcerative colitis, and three indeterminate colitis). Twenty-seven patients presented with complex fistulas and eight with simple fistulas with 10 patients undergoing single-stage surgery. In 25 patients, a two-stage surgical approach was planned and performed (draining seton plus medical treatment and then second-stage surgery with curative intent). At 1 year of follow-up, the fistula healing rate was 50% for single-stage surgery and 60% for two-stage surgery (P = 0.09). Overall, 19.2% of patients developed postoperative fecal incontinence. A time interval greater than 12 months between surgeries is a favorable prognostic factor for fistula healing with the two-stage approach (P = 0.002).
Conclusions
In our retrospective study, two-stage surgery in IBD patients presenting with complex perianal fistulous disease results in a better medium-term outcome with a longer time interval between surgeries.
We're sorry, something doesn't seem to be working properly.
Please try refreshing the page. If that doesn't work, please contact support so we can address the problem.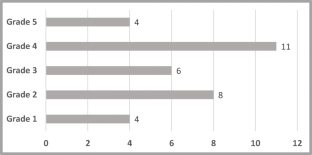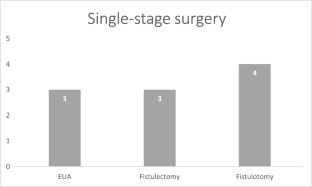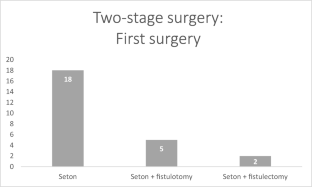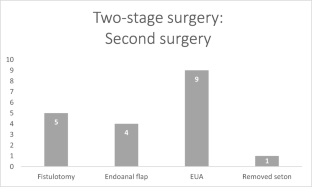 References
1.

Bouchard D, Pigot F, Staumont G, Siproudhis L, Abramowitz L, Benfredj P et al (2018) Management of anoperineal lesions in Crohn's disease: a French National Society of Coloproctology national consensus. Tech Coloproctol 22(12):905–917. https://doi.org/10.1007/s10151-018-1906-y

2.

Nielsen OH, Rogler G, Hahnloser D, Thomsen OØ (2009) Diagnosis and management of fistulizing Crohn ' s disease. Nat Clin Pract Gastroenterol Hepatol 6(2):92–106. https://doi.org/10.1038/ncpgasthep1340

3.

Date R, Date R, Date A, Article O, Lee MJ, Sagar PM et al (2017) Surgical management of fistulating perianal Crohn's disease – a UK survey. Color Dis 19(3):266–273. https://doi.org/10.1111/codi.13462

4.

Hospitals ST, Lee M, Hospitals ST (2017) Association of coloproctology of Great Britain and Ireland consensus exercise on surgical management of fistulating perianal Crohn's disease. Color Dis 19(5):418–429. https://doi.org/10.1111/codi.13672

5.

Zabana Y, Van Domselaar M, Garcia-Planella E, Mañosa M, San Román AL, Gordillo J et al (2011) Perianal disease in patients with ulcerative colitis: a case-control study. J Crohn's Colitis 5(4):338–341. https://doi.org/10.1016/j.crohns.2011.02.011

6.

Bezzio C, Bryant RV, Manes G, Maconi G, Bezzio C, Bryant RV et al (2017) New horizons in the imaging of perianal Crohn ' s disease: transperineal ultrasonography. Expert Rev. Gastroenterol Hepatol 11(6):523–530. https://doi.org/10.1080/17474124.2017.1309285

7.

Losco A, Vigano C, Conte D, Cesana BM, Basilisco G (2009) Assessing the activity of perianal Crohn ' s disease: comparison of clinical indices and computer-assisted anal ultrasound. Inflamm Bowel Dis 15(5):742–749. https://doi.org/10.1002/ibd.20826

8.

Irvine EJ (1995) Usual therapy improves perianal Crohn's disease as measured by a new disease activity index. McMaster IBD Study Group. J Clin Gastroenterol 20(1):27–32 http://www.ncbi.nlm.nih.gov/pubmed/7884173

9.

Ong EMW, Ghazi LJ, Schwartz DA, Mortelé KJ (2015) Guidelines for imaging of Crohn ' s perianal fistulizing disease. Inflamm Bowel Dis 21(4):731–736

10.

Wise PE, Schwartz DA (2012) The evaluation and treatment of Crohn perianal fistulae: EUA, EUS, MRI, and other imaging. GTC 41(2):379–391. https://doi.org/10.1016/j.gtc.2012.01.009

11.

Parks AG, Gordon PH, Hardcastle JD (1976) A classification of fistula-in-ano. Br J Surg 63(1):1–12 http://www.ncbi.nlm.nih.gov/pubmed/1267867

12.

Morris J, Spencer JA, Ambrose NS (2000) MR imaging classification of perianal fistulas and its implications for patient management. RadioGraphics 20(3):623–635. https://doi.org/10.1148/radiographics.20.3.g00mc15623

13.

Sandborn WJ, Fazio VW, Feagan BG, Hanauer SB, American Gastroenterological Association Clinical Practice Committee (2003) AGA technical review on perianal Crohn's disease. Gastroenterology 125(5):1508–1530 http://www.ncbi.nlm.nih.gov/pubmed/14598268

14.

Yassin NA, Askari A, Warusavitarne J, Faiz OD, Athanasiou T, Phillips RKS, Hart AL (2014) Alimentary pharmacology and therapeutics systematic review: the combined surgical and medical treatment of fi stulising perianal Crohn' s disease. Aliment Pharmaco, Ther 40:741–749

15.

Marzo M, Felice C, Pugliese D, Andrisani G, Mocci G, Armuzzi A et al (2015) Management of perianal fistulas in Crohn's disease: an up-to-date review. World J Gastroenterol 21(5):1394–1403

16.

Papaconstantinou I, Kontis E, Koutoulidis V, Mantzaris G, Vassiliou I (2017) Surgical management of fistula-in-ano among patients with Crohn's disease: analysis of outcomes after fistulotomy or seton placement—single-center experience. Scand J Surg 106(3):211–215

17.

Guadalajara H, Herreros D (2012) Long-term follow-up of patients undergoing adipose-derived adult stem cell administration to treat complex perianal fistulas. Int J Color Dis 27:595–600

18.

Chand M, Tozer P, Cohen RC (2017) Is FiLaC the answer for more complex perianal fistula? Tech Coloproctol 21(4):253–255

19.

Pellino G, Selvaggi F. Surgical treatment of perianal fistulizing Crohn's disease: from lay-open to cell-based therapy-an overview. Scientific World J 2014 [cited 2020 Jul 9]; Available from: doi:https://doi.org/10.1155/2014/146281

20.

Seyfried S, Herold A. Management of perianal fistulas in Crohn's disease [Internet]. Vol. 35, Visceral medicine. S. Karger AG; 2019 [cited 2020 Jul 9]. p. 338–42. https://www.karger.com/Article/FullText/504103

21.

Gingold DS, Murrell ZA, Fleshner PR (2014) A prospective evaluation of the ligation of the intersphincteric tract procedure for complex anal fistula in patients with Crohn's disease. Ann Surg 260(6):1057–1061

22.

Sordo-Mejia R, Gaertner WB. Multidisciplinary and evidence-based management of fistulizing perianal Crohn's disease. World J Gastrointest Pathophysiol [Internet]. 2014 [cited 2020 Jul 9];5(3):239. Available from: /pmc/articles/PMC4133523/?report=abstract

23.

Dharmaraj R, Nugent M, Simpson P, Arca M, Gurram B, Werlin S (2018) Outcomes after fecal diversion for colonic and perianal Crohn disease in children. J Pediatr Surg 53(3):472–476 https://pubmed.ncbi.nlm.nih.gov/28889960/

24.

Jeon M, Song K, Koo J, Kim S (2019) Evaluation of a seton procedure combined with infliximab therapy (early vs. late) in perianal fistula with Crohn disease. Ann Coloproctol 3(5):249–253

25.

Adamina M, Bonovas S, Raine T, Spinelli A, Warusavitarne J, Armuzzi A, Bachmann O, Bager P, Biancone L, Bokemeyer B, Bossuyt P, Burisch J, Collins P, Doherty G, el-Hussuna A, Ellul P, Fiorino G, Frei-Lanter C, Furfaro F, Gingert C, Gionchetti P, Gisbert JP, Gomollon F, González Lorenzo M, Gordon H, Hlavaty T, Juillerat P, Katsanos K, Kopylov U, Krustins E, Kucharzik T, Lytras T, Maaser C, Magro F, Marshall JK, Myrelid P, Pellino G, Rosa I, Sabino J, Savarino E, Stassen L, Torres J, Uzzan M, Vavricka S, Verstockt B, Zmora O (2020) ECCO guidelines on therapeutics in Crohn's disease: surgical treatment. J Crohn's Colitis 14(2):155–168

26.

Beaugerie L, Seksik P, Nion-Larmurier I, Gendre JP, Cosnes J (2006) Predictors of Crohn's disease. Gastroenterology. 130(3):650–656

27.

Maroto N, Gisbert JP, Nos P. Recomendaciones del Grupo Español de Trabajo de Enfermedad de Crohn y Colitis Ulcerosa (GETECCU) para el tratamiento de las fístulas perianales de la enfermedad de Crohn. 2020;43(3).

28.

Soltani A, Kaiser AM (2010) Endorectal advancement flap for cryptoglandular or Crohn's fistula-in-ano. Dis Colon Rectum 53(4):486–495 https://pubmed.ncbi.nlm.nih.gov/20305451/

29.

Panés J, García-Olmo D, Assche G, Van CJF, Reinisch W, Baumgart DC et al (2018) Long-term efficacy and safety of stem cell therapy (Cx601) for complex perianal fistulas in patients with Crohn's disease. Gastroenterology 154(5):1334–42.e4. https://doi.org/10.1053/j.gastro.2017.12.020

30.

Panés J, García-Olmo D, Assche G, Van CJF, Reinisch W, Baumgart DC et al (2016) Expanded allogeneic adipose-derived mesenchymal stem cells ( Cx601 ) for complex perianal fistulas in Crohn's disease: a phase 3 randomised , double-blind controlled trial. Lancet 388(10051):1281–1290. https://doi.org/10.1016/S0140-6736(16)31203-X

31.

Adegbola SO, Sahnan K, Tozer PJ, Phillips RKS, Faiz OD, Warusavitarne J, Hart A (2017) Review of local injection of anti-TNF for perianal fistulising Crohn's disease. Int J Color Dis 32:1539–1544

32.

Bubbers EJ, Cologne KG (2016) Management of complex anal fistulas. Clin Colon Rectal Surg 29:43–49

33.

Khan KJ, Ullman TA, Ford AC, Abreu MT, Abadir A, Marshall JK, Talley NJ, Moayyedi P (2011) Antibiotic therapy in inflammatory bowel disease: a systematic review and meta-analysis. Am J Gastroenterol 106(4):661–673

34.

Porras-Segovia A, Valmisa E, Gutiérrez B, Ruiz I, Rodríguez-Barranco M, Cervilla J (2018) Prevalence and correlates of major depression in Granada, Spain: Results from the GranadΣp study. Int J Soc Psychiatry 64(5):450–458. https://doi.org/10.1177/0020764018771405

35.

Riss S, Schwameis K, Mittlbo M, Pones M, Vogelsang H, Reinisch W et al (2013) Sexual function and quality of life after surgical treatment for anal fistulas in Crohn ' s disease. Tech Coloproctol 17:89–94

36.

Calixto RP, Flores C, Francesconi CF (2018) Inflammatory Bowel Disease: Impact on scores of quality of life, depression and anxiety in patients attending a tertiary care center in Brazil. Arq Gastroenterol Jul-Sep 55(3):202–207. https://doi.org/10.1590/S0004-2803.201800000-54

37.

Eman AS, Shaji S, Is MRI (2020) healing the target in treating perianal fistulizing Crohn's disease? [Internet]. Vol. 32. Eur J Gastroenterol Hepatol 32(2):137–138. https://doi.org/10.1097/MEG.0000000000001575
Acknowledgements
The authors wish to thank the Biostatistics Department, Unidad de Bioestadística del Hospital Universitario La Paz, for its contribution and assistance with this work.
Ethics declarations
Ethics approval
All procedures performed in studies involving human participants were in accordance with the ethical standards of the institutional and/or national research committee and with the 1964 Helsinki declaration and its later amendments or comparable ethical standards.
Informed consent
Informed consent was obtained before surgery from all individual participants included in the study.
Conflict of interest
The authors declare no competing interests.
Additional information
Publisher's note
Springer Nature remains neutral with regard to jurisdictional claims in published maps and institutional affiliations.
About this article
Cite this article
de Las Casas, S.G., Alvarez-Gallego, M., Martínez, J.A.G. et al. Management of perianal fistula in inflammatory bowel disease: identification of prognostic factors associated with surgery. Langenbecks Arch Surg (2021). https://doi.org/10.1007/s00423-021-02100-4
Received:

Accepted:

Published:
Keywords
Inflammatory bowel disease

Perianal fistula

Surgical treatment

Crohn's disease