Abstract
Purpose
The optimal management of achalasia in obese patients is unclear. For those who have undergone Heller myotomy and fundoplication, the long-term outcomes and their impressions following surgery are largely unknown.
Methods
A retrospective review of patients who underwent laparoscopic Heller myotomy and Dor fundoplication (LHMDF) for achalasia was performed. From this cohort, Class 2 and 3 obese (BMI > 35 kg/m2) patients were identified for short- and long-term outcome analysis.
Results
Between 2003 and 2015, 252 patients underwent LHMDF for achalasia, and 17 (7%) patients had BMI > 35 kg/m2. Pre-operative Eckardt scores varied from 2 to 9, and at short-term (2–4 week) follow-up, scores were 0 or 1. Ten (58%) patients had available long-term (2–144 months) follow-up data. Eckardt scores at this time ranged from 0 to 6. Symptom recurrence was worse for patients with BMI > 40 kg/m2 compared to patients with BMI < 40 kg/m2. BMI was largely unchanged at long-term follow-up regardless of pre-intervention BMI. Most patients were satisfied with surgery but would have considered a combined LHMDF and weight-loss procedure had it been offered.
Conclusion
LHMDF for achalasia in obese patients is safe and effective in the short term. At long-term follow-up, many patients had symptom recurrence and experienced minimal weight loss. Discussing weight-loss surgery at the time LHMDF may be appropriate to ensure long-term achalasia symptom relief.
This is a preview of subscription content, log in to check access.
Access options
Buy single article
Instant access to the full article PDF.
US$ 39.95
Price includes VAT for USA
Subscribe to journal
Immediate online access to all issues from 2019. Subscription will auto renew annually.
US$ 99
This is the net price. Taxes to be calculated in checkout.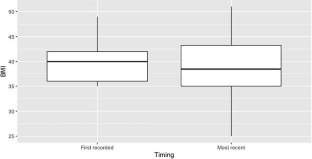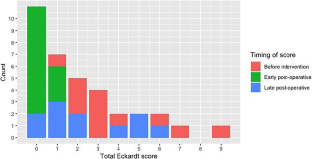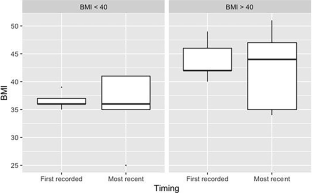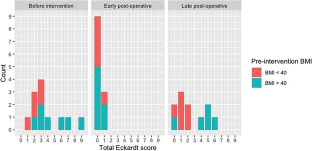 Data availability
All data was collected by three individuals and is stored in a privately maintained and de-identified patient database.
References
1.

Williams VA, Peters JH (2008) Achalasia of the esophagus: a surgical disease. J Am Coll Surg 9:151–162

2.

Pandolfino JE, Kwiatek MA, Nealis T, Bulsiewicz W, Post J, Kahrilas PJ (2008) Achalasia: a new clinically relevant classification by high-resolution manometry. Gastroenterolgy 135:1526–1533

3.

O'Neill OM, Johnston BT, Coleman HG (2003) Achalasia: a review of clinical diagnosis, epidemiology, treatment and outcomes. World J Gastroenterol 19:5806–5812

4.

Killic A, Schuchert MJ, Pennathur A, Gilbert S, Landreneau RJ, Luketich JD (2009) Long-term outcomes of laparoscopic Heller myotomy for achalasia. Surgery 146:826–833

5.

Bonatti H, Hinder R, Klocker J, Neuhauser B, Klaus A, Achem S, de Vault K (2005) Long-term results of laparoscopic Heller myotomy with partial fundoplication for the treatment of achalasia. Am J Surg 190:883–887

6.

Almogy G, Anthone GJ, Crookes PF (2003) Achalasia in the context of morbid obesity: a rare but important association. Obes Surg 13:896–900

7.

Koppman JS, Poggi L, Szomstein S, Ukleja A, Botoman A, Rosenthal R (2007) Esophageal motility disorders in the morbidly obese population. Surg Endosc 21:761–764

8.

Jaffin BW, Knoepflmacher P, Greenstein R (1999) High prevalence of asymptomatic esophageal motility disorders among morbidly obese patients. Obes Surg 9:390–395

9.

Wesp JA, Farrell TM (2018) The treatment of achalasia in obese patients. Am Surg 84:501–505

10.

Fisichella PM, Orthopoulos G, Holmstrom A, Patti MG (2015) The surgical management of achalasia in the morbid obese patient. J Gastrointest Surg 19:1139–1143

11.

Defining adult overweight and obesity. CDC. www.cdc.gov/obesity/adult/defining.htmlcdc.gov. Accessed 20 March 2020

12.

Eckardt AJ, Eckardt VF (2011) Treatment and surveillance strategies in achalasia: an update. Nat Rev Gastroenterol Hepatol 8:311–319

13.

Rakita SS, Villadolid D, Kalipersad C, Thometz D, Rosemurgy A (2007) BMI affecting presenting symptoms of achalasia and outcome after Heller myotomy. Surg Endosc 21:258–264

14.

Hagen ME, Sedrak M, Wagner OJ, Jacobsen G, Talamini M, Horgan S (2010) Morbid obesity with achalasia: a surgical challenge. Obes Surg 20:1456–1458

15.

Herbella FA, Matone J, Lourenco LG, Del Grande JC (2005) Obesity and symptomatic achalasia. Obes Surg 15:713–715

16.

Kaufman JA, Pellegrini CA, Oelschlager BK (2005) Laparoscopic Heller myotomy and Roux-en-Y gastric bypass: a novel operation for the obese patient with achalasia. J Laparoendosc Adv Surg Tech 15:391–395

17.

Oh HB, Tang SW, Shabbir A (2014) Laparoscopic Heller's cardiomyotomy and roux-en-Y gastric bypass for missed achalasia diagnosed after laparoscopic sleeve gastrectomy. Surg Obes Relat Dis 10:1002–1004

18.

O'Rourke RW, Jobe BA, Spight DH, Hunter JG (2007) Simultaneous surgical management of achalasia and morbid obesity. Obes Surg 17:547–549

19.

Ramos AC, Murakami A, Lanzarini EG, Neto MG, Galvao M (2009) Achalasia and laparoscopic gastric bypass. Surg Obes Relat Dis 5:132–134

20.

Inoue H, Hiroki S, Ikeda H, Onimaru M, Sato C, Minami H, Yokomichi H, Kobayashi Y, Grimes KL, Kudo S (2015) Per-oral endoscopic myotomy: a series of 500 patients. J Am Coll Surg 221:256–264

21.

Talukdar R, Inoue H, Reddy DN (2014) Efficacy of peroral endocopic myotomy (POEM) in the treatment of achalasia: a systematic review and meta-analysis. Surg Endosc 29:3030–3046

22.

Salvador R, Costantini M, Zaninotto G, Morbin T, Rizzetto C, Zanatta L, Ceolin M, Finotti E, Nicoletti L, Da Dalt G, Cavallin F, Ancona E (2010) The perioperative manometric pattern predicts the outcome of surgical treatment for esophageal achalasia. J Gastrointest Surg 14:1635–1645

23.

Werner YB, Hakanson B, Martinek J, Repici A, von Rahden BHA, Bredenoord AJ, Bisschops R, Messmann H, Vollberg MC, Noder T, Kersten JF, Mann O, Izbicki J, Pazdro A, Fumagalli U, Rosati R, Germer CT, Schijven MP, Emmermann A, von Renteln D, Fockens P, Boeckxstaens G, Rosch T (2019) Endoscopic or surgical myotomy in patients with idiopathic achalasia. N Engl J Med 381:2219–2229

24.

Sanaka MR, Parikh MP, Subramanium S, Thota PN, Gupta NM, Lopez R, Gabbard S, Murthy S, Raja S (2020) Obesity does not impact outcomes or rates of gatroesophageal reflux after peroral endoscopic mytomy in achalasia. J Clin Gastroenterol 4:338–343

25.

Bromberg, DJ, Clayton, SB, Velanovich, V, Laface, A, Richter, JR (2015) Concurrent management of achalasia and morbid obesity. PatientCare. www.patientcareonline.com/obesity/concurrent-management-achalasia-and-morbid-obesity. Accessed 20 Mar 2020
Ethics declarations
Conflict of interest
The authors declare that they have no conflict of interest.
Ethics approval
This retrospective chart review study involving human participants was in accordance with the ethical standards of the institutional and national research committee and with the 1964 Helsinki Declaration and its later amendments or comparable ethical standards. The Institutional Review Board (IRB) of Thomas Jefferson University Hospital approved this study.
Consent to participate
All contacted patients were read an IRB-approved patient rights statement ensuring informed consent.
Verbal informed consent was obtained prior to interview.
Consent to publish
Not applicable
Code availability
R script used to generate graphics and for statistical analysis can be provided upon request.
Additional information
Publisher's note
Springer Nature remains neutral with regard to jurisdictional claims in published maps and institutional affiliations.
Electronic supplementary material
About this article
Cite this article
Harrison, J.M., Rakestraw, S.L., Doane, S.M. et al. Achalasia and obesity: patient outcomes and impressions following laparoscopic Heller myotomy and Dor fundoplication. Langenbecks Arch Surg (2020). https://doi.org/10.1007/s00423-020-01912-0
Received:

Accepted:

Published:
Keywords
Achalasia

Obesity

Laparoscopic Heller myotomy

Bariatric surgery

Short- and long-term outcomes