Abstract
Purpose
Although large knee extensor torque contributes to superior sprint performance, previous findings have indicated that the quadriceps cross-sectional area (CSA), a pivotal morphological regulator of knee extensor torque, is not correlated with performance in sprinters. We hypothesized that the knee extensor moment arm (MA), another main morphological regulator of knee extensor torque, may affect sprint performance. To test this hypothesis, we examined the relationship between knee extensor MA and sprint performance.
Methods
The quadriceps CSA and knee extensor MA in 32 well-trained male sprinters and 32 male non-sprinters were measured using magnetic resonance imaging.
Results
Knee extensor MA, but not quadriceps CSA, was greater in sprinters than in non-sprinters (P = 0.013). Moreover, knee extensor MA, but not the quadriceps CSA, was correlated with the personal best time in a 100-m race in sprinters (r = −0.614, P < 0.001). Furthermore, among 24 sprinters who participated in the 60-m sprint test, knee extensor MA was correlated with sprinting velocities in the acceleration (r = 0.717, P < 0.001) and maximum speed (r = 0.697, P < 0.001) phases.
Conclusion
The present study demonstrates that the knee extensor MA is greater in sprinters than in non-sprinters, and this morphological structure in sprinters is associated with sprint performance. Therefore, for the first time, we provided evidence that a greater knee extensor MA in sprinters may be an advantageous for achieving superior sprint performance.
Access options
Buy single article
Instant access to the full article PDF.
US$ 39.95
Tax calculation will be finalised during checkout.
Subscribe to journal
Immediate online access to all issues from 2019. Subscription will auto renew annually.
US$ 119
Tax calculation will be finalised during checkout.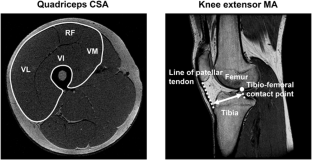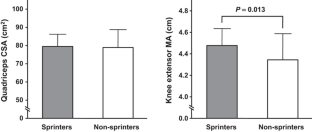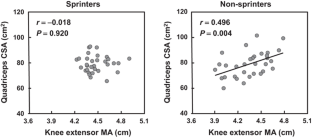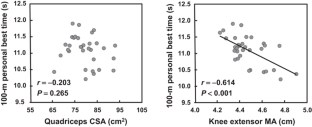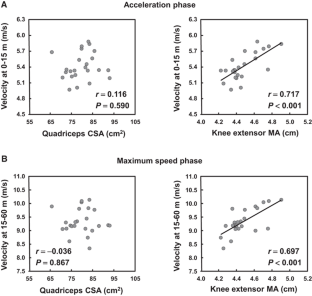 Abbreviations
CSA:

Cross-sectional area

MA:

Moment arm

MRI:

Magnetic resonance imaging

VGRF:

Vertical ground reaction force
References
Abe T, Kumagai K, Brechue WF (2000) Fascicle length of leg muscles is greater in sprinters than distance runners. Med Sci Sports Exerc 32:1125–1129

Alexander MJ (1989) The relationship between muscle strength and sprint kinematics in elite sprinters. Can J Sport Sci 14:148–157

Baxter JR, Piazza SJ (2014) Plantar flexor moment arm and muscle volume predict torque-generating capacity in young men. J Appl Physiol 116:538–544

Baxter JR, Novack TA, Van Werkhoven H, Pennell DR, Piazza SJ (2012) Ankle joint mechanics and foot proportions differ between human sprinters and non-sprinters. Proc Biol Sci 279:2018–2024

Blazevich AJ, Coleman DR, Horne S, Cannavan D (2009) Anatomical predictors of maximum isometric and concentric knee extensor moment. Eur J Appl Physiol 105:869–878

Delecluse C (1997) Influence of strength training on sprint running performance. Current findings and implications for training. Sports Med 24:147–156

Dorn TW, Schache AG, Pandy MG (2012) Muscular strategy shift in human running: dependence of running speed on hip and ankle muscle performance. J Exp Biol 215:1944–1956

Dowson MN, Nevill ME, Lakomy HK, Nevill AM, Hazeldine RJ (1998) Modelling the relationship between isokinetic muscle strength and sprint running performance. J Sports Sci 16:257–265

Häkkinen K, Keskinen KL (1989) Muscle cross-sectional area and voluntary force production characteristics in elite strength- and endurance-trained athletes and sprinters. Eur J Appl Physiol Occup Physiol 59:215–220

Hoshikawa Y, Muramatsu M, Iida T, Uchiyama A, Nakajima Y, Kanehisa H, Fukunaga T (2006) Influence of the psoas major and thigh muscularity on 100-m times in junior sprinters. Med Sci Sports Exerc 38:2138–2143

Hunter JP, Marshall RN, McNair PJ (2005) Relationships between ground reaction force impulse and kinematics of sprint-running acceleration. J Appl Biomech 21:31–43

Kanehisa H, Ikegawa S, Fukunaga T (1994) Comparison of muscle cross-sectional area and strength between untrained women and men. Eur J Appl Physiol Occup Physiol 68:148–154

Klein CS, Rice CL, Marsh GD (2001) Normalized force, activation, and coactivation in the arm muscles of young and old men. J Appl Physiol 91:1341–1349

Kuitunen S, Komi PV, Kyröläinen H (2002) Knee and ankle joint stiffness in sprint running. Med Sci Sports Exerc 34:166–173

Kumagai K, Abe T, Brechue WF, Ryushi T, Takano S, Mizuno M (2000) Sprint performance is related to muscle fascicle length in male 100-m sprinters. J Appl Physiol 88:811–816

Maughan RJ, Watson JS, Weir J (1983) Relationships between muscle strength and muscle cross-sectional area in male sprinters and endurance runners. Eur J Appl Physiol Occup Physiol 50:309–318

Morin JB, Bourdin M, Edouard P, Peyrot N, Samozino P, Lacour JR (2012) Mechanical determinants of 100-m sprint running performance. Eur J Appl Physiol 112:3921–3930

Morse CI, Thom JM, Davis MG, Fox KR, Birch KM, Narici MV (2004) Reduced plantarflexor specific torque in the elderly is associated with a lower activation capacity. Eur J Appl Physiol 92:219–226

Otsuka M, Kurihara T, Isaka T (2015) Effect of a wide stance on block start performance in sprint running. PLoS ONE 10:e0142230

Schantz P, Randall-Fox E, Hutchison W, Tydén A, Astrand PO (1983) Muscle fibre type distribution, muscle cross-sectional area and maximal voluntary strength in humans. Acta Physiol Scand 117:219–226

Sugisaki N, Wakahara T, Miyamoto N, Murata K, Kanehisa H, Kawakami Y, Fukunaga T (2010) Influence of muscle anatomical cross-sectional area on the moment arm length of the triceps brachii muscle at the elbow joint. J Biomech 43:2844–2847

Sugisaki N, Kanehisa H, Tauchi K, Okazaki S, Iso S, Okada J (2011) The relationship between 30-m sprint running time and muscle cross-sectional areas of the psoas major and lower limb muscles in male college short and middle distance runners. Int J Sports Health Sci 9:1–7

Tsaopoulos DE, Baltzopoulos V, Maganaris CN (2006) Human patellar tendon moment arm length: measurement considerations and clinical implications for joint loading assessment. Clin Biomech 21:657–667

Weyand PG, Sternlight DB, Bellizzi MJ, Wright S (2000) Faster top running speeds are achieved with greater ground forces not more rapid leg movements. J Appl Physiol 89:1991–1999
Acknowledgements
We are grateful to all subjects who gave of their time and effort to participate in this study. This study was supported by Grant-in-Aid for Scientific Research (#15K16497 to T.S; #16H03238 to A.N; #26560361 and #15H03077 to T.I).
Additional information
Communicated by Peter Krustrup.
About this article
Cite this article
Miyake, Y., Suga, T., Otsuka, M. et al. The knee extensor moment arm is associated with performance in male sprinters. Eur J Appl Physiol 117, 533–539 (2017). https://doi.org/10.1007/s00421-017-3557-5
Received:

Accepted:

Published:

Issue Date:
Keywords
Magnetic resonance imaging

Muscle cross-sectional area

Joint torque

Muscle strength

Resistance training