Abstract
Data on the upper limit of aerobic power in humans are scarce. Thus, here we demonstrate extraordinarily high V′O2max and submaximal exercise performance in a young elite cross country skier (22 years, 170 cm, 63 kg; hemoglobin: 16.8 g/dL) who was evaluated before winning an Olympic gold medal. The test was performed during progressive roller-ski exercise on an outdoor uphill track (7–10% incline). The athlete demonstrated a V′O2max of 90.6 mL/min/kg (45 s average; 26 METs; 5.7 L/min). But even more impressive than V′O2max was his ability to exercise at a V′O2 of 65 mL/min/kg (71.4% V′O2max) at a lactate level of 1.6 mmol/L. At the self-selected maximal lactate steady state he consumed 78 mLO2/min/kg (85.7% V′O2max) with a corresponding lactate level of 4.4 mmol/L. These values rank among the highest ever demonstrated in human beings.
Access options
Buy single article
Instant access to the full article PDF.
USD 39.95
Price includes VAT (USA)
Tax calculation will be finalised during checkout.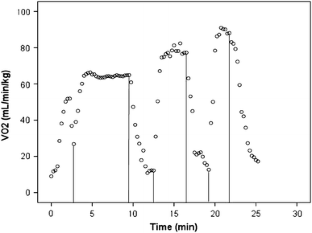 References
Åstrand PO, Rohdal K, Dahl HA, Strømme SR (2003) Textbook of work physiology: physiological basis of exercise, 4th edn. Human kinetics, Champaign

Bassett DR Jr, Howley ET (2000) Limiting factors for maximum oxygen uptake and determinants of endurance performance. Med Sci Sports Exerc 32:70–84

Beneke R, Leithäuser RM, Hütler M (2001) Dependence of the maximal lactate steady state on the motor pattern of exercise. Br J Sports Med 35:192–196

Bircher S, Knechtle B (2004) Relationship between fat oxidation and lactate threshold in athletes and obese women and men. J Sports Sci Med 3:174–181

Bishop D (2001) Evaluation of the Accusport lactate analyser. Int J Sports Med 22:525–530

Blair SN, Kohl HW, Paffenbarger RS, Clark DG, Cooper KH, Gibbons LW (1989) Physical fitness and all-cause mortality: a prospective study of healthy men and women. JAMA 262:2395–2401

Burtscher M, Förster H, Burtscher J (2008) Superior endurance performance in aging mountain runners. Gerontology 54:268–271

Carter J, Jeukendrup AE (2002) Validity and reliability of three commercially available breath-by-breath respiratory systems. Eur J Appl Physiol 86:435–441

Di Prampero PE (1981) Energetics of muscular exercise. Rev Physiol Biochem Pharmacol 89:143–222

Hausswirth C, Bigard AX, Le Chevalier JM (1997) The Cosmed K4 telemetry system as an accurate device for oxygen uptake measurements during exercise. Int J Sports Med 18:449–453

Hsia CC (2001) Coordinated adaptation of oxygen transport in cardiopulmonary disease. Circulation 104:963–969

Lucía A, Fleck SJ, Gotshall RW, Kearney JT (1993) Validity and reliability of the Cosmed K2 instrument. Int J Sports Med 14:380–386

McLaughlin JE, King GA, Howley ET, Bassett DR Jr, Ainsworth BE (2001) Validation of the COSMED K4 b2 portable metabolic system. Int J Sports Med 22:280–284

Rietjens GJ, Kuipers H, Kester AD, Keizer HA (2001) Validation of a computerized metabolic measurement system (Oxycon-Pro) during low and high intensity exercise. Int J Sports Med 22:291–294

Wilber RL, Zawadzki KM, Kearney JT, Shannon MP, Disalvo D (1997) Physiological profiles of elite off-road and road cyclists. Med Sci Sports Exerc 29:1090–1094
Additional information
Communicated by Guido Ferretti.
About this article
Cite this article
Burtscher, M., Nachbauer, W. & Wilber, R. The upper limit of aerobic power in humans. Eur J Appl Physiol 111, 2625–2628 (2011). https://doi.org/10.1007/s00421-011-1885-4
Received:

Accepted:

Published:

Issue Date:
Keywords
Maximum oxygen uptake

Exercise

Upper limits

Endurance capacity

Elite athletes