Abstract
Purpose
Minimally Invasive Surgery (MIS) is demanding on the musculoskeletal and visual systems. Prevalence, severity and association of neck/shoulder problems and visual symptoms were examined among MIS surgeons. The associations of workplace and individual factors with these symptoms independently and combined were also examined.
Methods
MIS surgeons completed a comprehensive online survey inclusive of 52 questions about individual and workplace physical factors, neck/shoulder problems and visual symptoms. Binary logistic regression models were conducted to determine the associations of the neck/shoulder problems, visual symptoms and combined symptoms with workplace and individual factors.
Results
290 surgeons completed the survey. Neck/shoulder problems and visual symptoms were reported by 31.0% and 29.0%, respectively, 15.5% reported both problems. The prevalence and severity of neck/shoulder problems and visual symptoms were significantly associated (p < 0.001). Several workplace and individual factors were associated with these symptoms (p ≤ 0.05).
Conclusions
Several factors in the workplace environment (temperature, asymmetrical weight bearing and forward head movement) and individual (being female and wearing vision correction glasses) were significantly associated with neck/shoulder problems and visual symptoms. Evaluation of different strategies to minimise the strain on the neck/shoulder region and the visual system is required.
Access options
Buy single article
Instant access to the full article PDF.
US$ 39.95
Tax calculation will be finalised during checkout.
Subscribe to journal
Immediate online access to all issues from 2019. Subscription will auto renew annually.
US$ 119
Tax calculation will be finalised during checkout.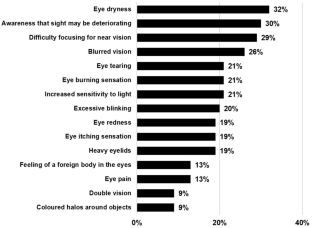 References
Alhaag MH, Ramadan MZ (2017) Using electromyography responses to investigate the effects of the display type, viewing distance, and viewing time on visual fatigue. Displays 49:51–58. https://doi.org/10.1016/j.displa.2017.07.003

Alhusuny A, Cook M, Khalil A, Xie Y, Johnston V (2020) Neck/shoulder problems and visual disturbances among surgeons: a scoping review. J Surg Res 247:413–428. https://doi.org/10.1016/j.jss.2019.09.064

Alleblas CC, de Man AM, van den Haak L, Vierhout ME, Jansen FW, Nieboer TE (2017) Prevalence of musculoskeletal disorders among surgeons performing minimally invasive surgery: a systematic review. Ann Surg. https://doi.org/10.1097/sla.0000000000002223

Baron S, Hales T, Hurrell J (1996) Evaluation of symptom surveys for occupational musculoskeletal disorders. Am J Ind Med 29:609–617. https://doi.org/10.1002/(sici)1097-0274(199606)29:6%3c609::Aid-ajim5%3e3.0.Co;2-e

Berguer R, Hreljac A (2004) The relationship between hand size and difficulty using surgical instruments: a survey of 726 laparoscopic surgeons. Surg Endosc 18:508–512. https://doi.org/10.1007/s00464-003-8824-3

Berguer R, Rab GT, Abu-Ghaida H, Alarcon A, Chung J (1997) A comparison of surgeons' posture during laparoscopic and open surgical procedures. Surg Endosc 11:139–142

Berman J, Leiter RB, Fong Y (2015) Lighting in the operating room: current technologies and considerations. In: Fong Y, Giulianotti PC, Lewis J, Groot Koerkamp B, Reiner T (eds) Imaging and visualization in the modern operating room: a comprehensive guide for physicians. Springer, New York, pp 3–15. https://doi.org/10.1007/978-1-4939-2326-7_1

Boonstra AM, Stewart RE, Köke AJA, Oosterwijk RFA, Swaan JL, Schreurs KMG, Schiphorst Preuper HR (2016) Cut-off points for mild moderate, and severe pain on the numeric rating scale for pain in patients with chronic musculoskeletal pain: variability and influence of sex and catastrophizing. Front Psychol 7:1466–1466. https://doi.org/10.3389/fpsyg.2016.01466

Cass GKS, Vyas S, Akande V (2014) Prolonged laparoscopic surgery is associated with an increased risk of vertebral disc prolapse. J Obstet Gynaecol 34:74–78. https://doi.org/10.3109/01443615.2013.831048

Cote P et al (2009) The burden and determinants of neck pain in workers: results of the Bone and Joint Decade 2000–2010 Task Force on Neck Pain and Its Associated Disorders. J Manip Physiol Ther 32:S70-86. https://doi.org/10.1016/j.jmpt.2008.11.012

Dianat I, Bazazan A, Souraki Azad MA, Salimi SS (2018) Work-related physical, psychosocial and individual factors associated with musculoskeletal symptoms among surgeons: implications for ergonomic interventions. Appl Ergon 67:115–124. https://doi.org/10.1016/j.apergo.2017.09.011

Dormann CF et al (2013) Collinearity: a review of methods to deal with it and a simulation study evaluating their performance. Ecography 36:27–46. https://doi.org/10.1111/j.1600-0587.2012.07348.x

El Shallaly G, Cuschieri A (2006) Optimum view distance for laparoscopic surgery surgical endoscopy and other interventional. Techniques 20:1879–1882. https://doi.org/10.1007/s00464-005-0162-1

Engelmann C, Ure B (2012) Effects of intraoperative breaks on mental and somatic operator fatigue: a randomized clinical. Surg Endosc 26:3704–3704. https://doi.org/10.1007/s00464-012-2362-9

Esposito C et al (2013) Work-related upper limb musculoskeletal disorders in paediatric laparoscopic surgery. A multicenter survey. J Pediatr Surg 48:1750–1756. https://doi.org/10.1016/j.jpedsurg.2013.01.054

Franasiak J, Ko EM, Kidd J, Secord AA, Bell M, Boggess JF, Gehrig PA (2012) Physical strain and urgent need for ergonomic training among gynecologic oncologists who perform minimally invasive surgery. Gynecol Oncol 126:437–442. https://doi.org/10.1016/j.ygyno.2012.05.016

Gomez-Gomez E et al (2015) Impact of 3D vision on mental workload and laparoscopic performance in inexperienced subjects. Actas Urol Esp 39:229–235. https://doi.org/10.1016/j.acuro.2014.09.008

Haddad O, Sanjari MA, Amirfazli A, Narimani R, Parnianpour M (2012) Trapezius muscle activity in using ordinary and ergonomically designed dentistry chairs. Int J Occup Environ Med 3:76–83

Hemal AK, Srinivas M, Charles AR (2001) Ergonomic problems associated with laparoscopy. J Endourol 15:499–503. https://doi.org/10.1089/089277901750299294

Jensen MP, Turner JA, Romano JM, Fisher LD (1999) Comparative reliability and validity of chronic pain intensity measures. Pain 83:157–162

Jun D, Zoe M, Johnston V, O'Leary S (2017) Physical risk factors for developing non-specific neck pain in office workers: a systematic review and meta-analysis. Int Arch Occup Environ Health 90:373–410. https://doi.org/10.1007/s00420-017-1205-3

Koneczny S (2009) The operating room: architectural conditions and potential hazards. Work 33:145–164. https://doi.org/10.3233/wor-2009-0861

Kuorinka I, Jonsson B, Kilbom A, Vinterberg H, Biering-Sorensen F, Andersson G, Jorgensen K (1987) Standardised Nordic questionnaires for the analysis of musculoskeletal symptoms. Appl Ergon 18:233–237

Lee G, Park AE (2008) Development of a more robust tool for postural stability analysis of laparoscopic surgeons. Surg Endosc 22:1087–1092. https://doi.org/10.1007/s00464-007-9664-3

Lee GI, Lee MR, Green I, Allaf M, Marohn MR (2016) Surgeons' physical discomfort and symptoms during robotic surgery: a comprehensive ergonomic survey study. Surg Endosc. https://doi.org/10.1007/s00464-016-5160-y

Linaker CH, Walker-Bone K (2015) Shoulder disorders and occupation. Best Pract Res Clin Rheumatol 29:405–423. https://doi.org/10.1016/j.berh.2015.04.001

Matern U, Koneczny S (2007) Safety, hazards and ergonomics in the operating room. Surg Endosc 21:1965–1969. https://doi.org/10.1007/s00464-007-9396-4

Nordander C et al (2016) Exposure-response relationships for work-related neck and shoulder musculoskeletal disorders. Analyses of pooled uniform data sets. Appl Ergon 55:70–84. https://doi.org/10.1016/j.apergo.2016.01.010

Plerhoples TA, Hernandez-Boussard T, Wren SM (2012) The aching surgeon: a survey of physical discomfort and symptoms following open, laparoscopic, and robotic surgery. J Robot Surg 6:65–72. https://doi.org/10.1007/s11701-011-0330-3

Quinn D, Moohan J (2015) The trainees' pain with laparoscopic surgery: what do trainees really know about theatre set-up and how this impacts their health. Gynecol Surg 12:71–76. https://doi.org/10.1007/s10397-014-0875-z

Richter HO (2014) Neck pain brought into focus. Work 47:413–418. https://doi.org/10.3233/wor-131776

Richter HO, Zetterlund C, Lundqvist LO (2011) Eye-neck interactions triggered by visually deficient computer work. Work 39:67–78. https://doi.org/10.3233/wor-2011-1152

Segui MM, Cabrero-Garcia J, Crespo A, Verdu J, Ronda E (2015) A reliable and valid questionnaire was developed to measure computer vision syndrome at the workplace. J Clin Epidemiol 68:662–673. https://doi.org/10.1016/j.jclinepi.2015.01.015

Stomberg MW, Tronstad S, Hedberg K, Bengtsson J, Jonsson P, Johansen L, Lindvall B (2010) Work-related musculoskeletal disorders when performing laparoscopic surgery. Surg Laparosc Endosc Percutan Tech 20:49–53. https://doi.org/10.1097/SLE.0b013e3181cded54

Stucky C-CH, Cromwell KD, Voss RK, Chiang Y-J, Woodman K, Lee JE, Cormier JN (2018) Surgeon symptoms, strain, and selections: Systematic review and meta-analysis of surgical ergonomics. Ann Med Surg 27:1–8. https://doi.org/10.1016/j.amsu.2017.12.013

Szeto GP, Ho P, Ting AC, Poon JT, Cheng SW, Tsang RC (2009) Work-related musculoskeletal symptoms in surgeons. J Occup Rehabil 19:175–184. https://doi.org/10.1007/s10926-009-9176-1

Takasaki H, Treleaven J, Johnston V, Jull G (2013) Contributions of physical and cognitive impairments to self-reported driving difficulty in chronic whiplash-associated disorders. Spine (Phila Pa 1976) 38:1554–1560. https://doi.org/10.1097/BRS.0b013e31829adb54

Uhrich ML, Underwood RA, Standeven JW, Soper NJ, Engsberg JR (2002) Assessment of fatigue, monitor placement, and surgical experience during simulated laparoscopic surgery. Surg Endosc 16:635–639. https://doi.org/10.1007/s00464-001-8151-5

van Det MJ, Meijerink WJ, Hoff C, Totte ER, Pierie JP (2009) Optimal ergonomics for laparoscopic surgery in minimally invasive surgery suites: a review and guidelines. Surg Endosc 23:1279–1285. https://doi.org/10.1007/s00464-008-0148-x

Wheelock A et al (2015) The impact of operating room distractions on stress workload, and teamwork. Ann Surg 261:1079–1084. https://doi.org/10.1097/sla.0000000000001051

Ye S, Jing Q, Wei C, Lu J (2017) Risk factors of non-specific neck pain and low back pain in computer-using office workers in China: a cross-sectional study. BMJ Open 7:e014914–e014914. https://doi.org/10.1136/bmjopen-2016-014914

Zhong J-Y, Lee Y-C, Hsieh C-J, Tseng C-C, Yiin L-M (2018) Association between dry eye disease air pollution and weather changes in Taiwan. Int J Environ Res Public Health 15:2269. https://doi.org/10.3390/ijerph15102269
Acknowledgement
The first author is a recipient of the University of Queensland, Research Scholarship (UQRS), Australia.
Funding
This research did not receive any specific grant from funding agencies in the public, commercial, or not-for-profit sectors.
Ethics declarations
Conflict of interest
Drs. Ameer Alhusuny, Margaret Cook, Akram Khalil and Venerina Johnston have no conflicts of interest or financial ties to disclose.
Additional information
Publisher's Note
Springer Nature remains neutral with regard to jurisdictional claims in published maps and institutional affiliations.
Appendices
Appendix 1 Participant recruitment and response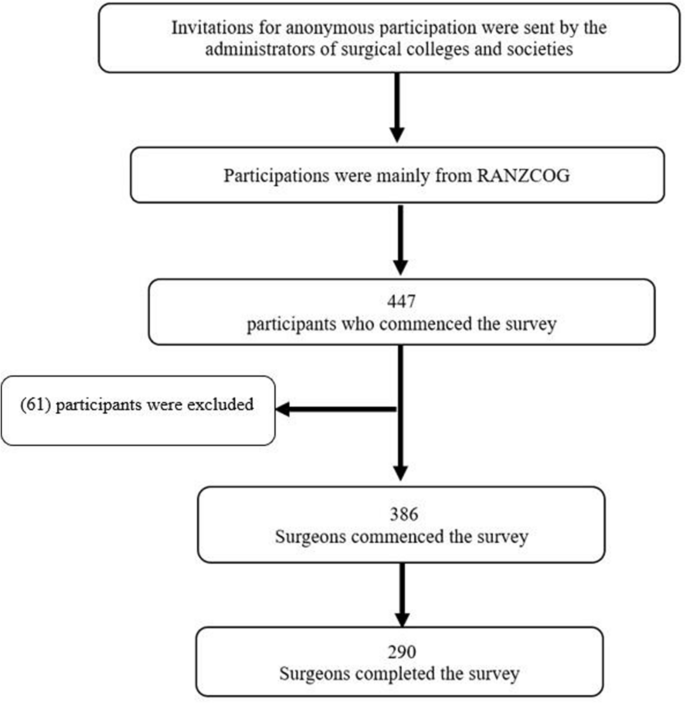 Appendix 2 Factors associated with neck/shoulder and vision symptoms among surgeons performing MIS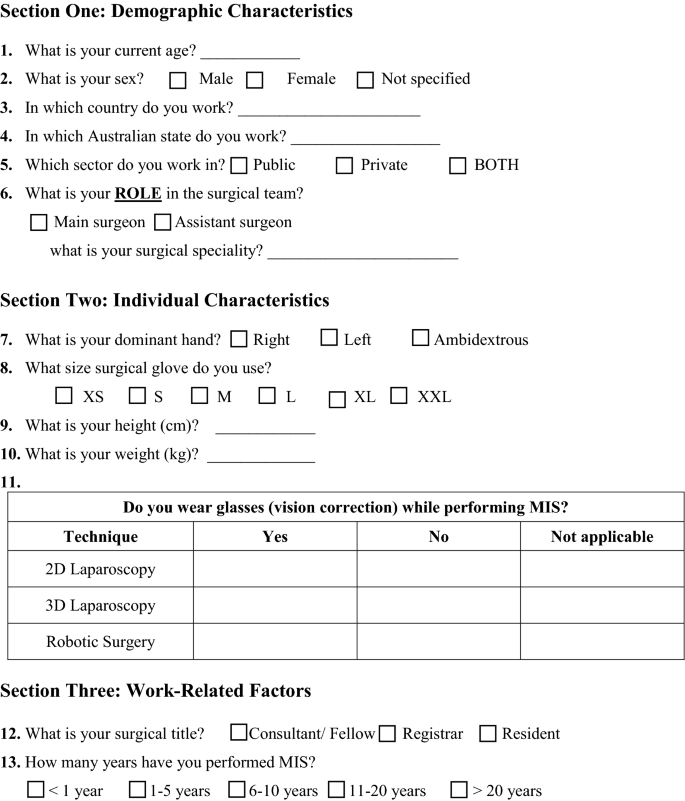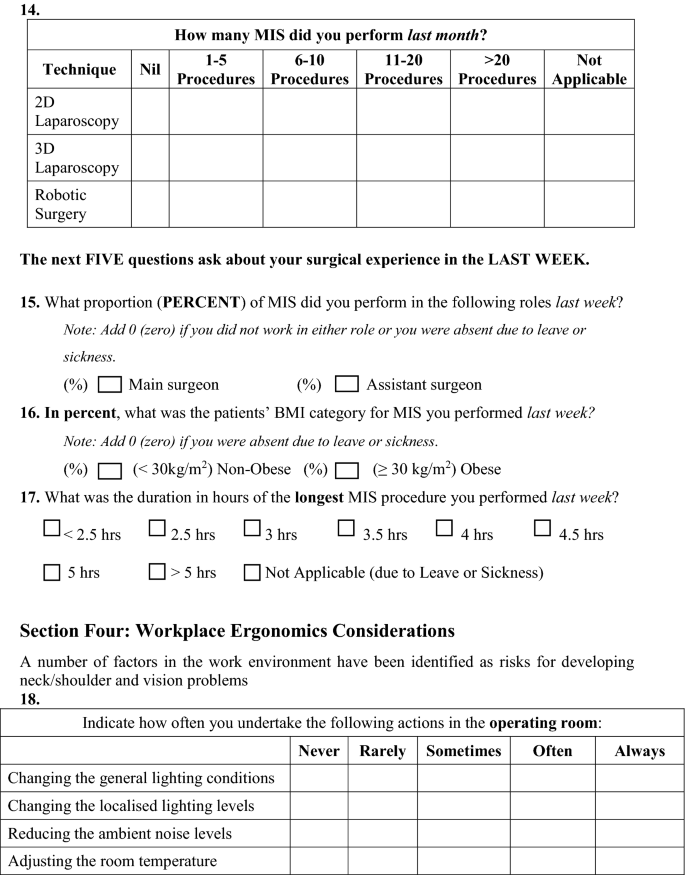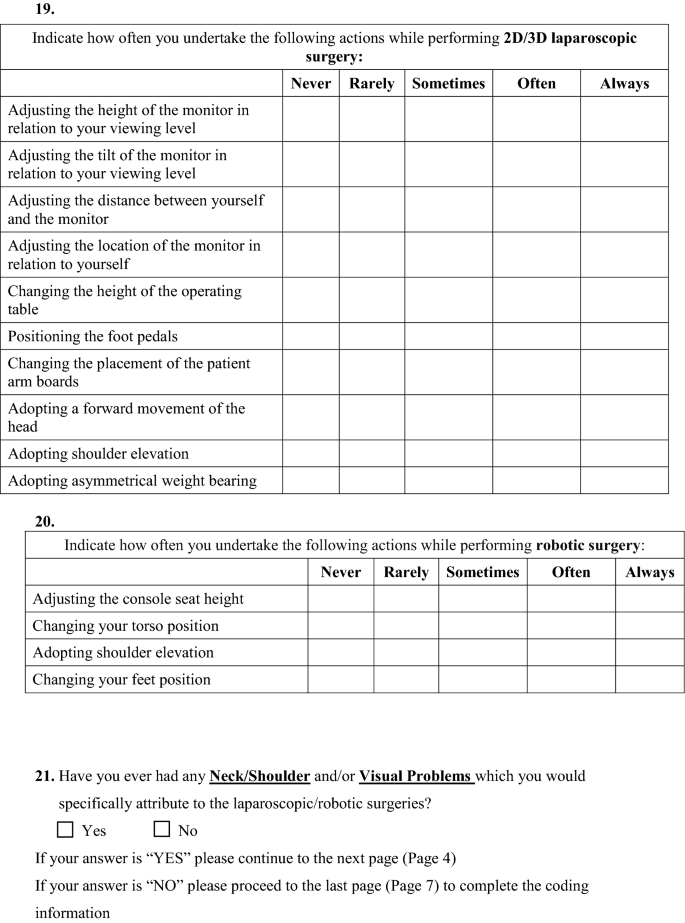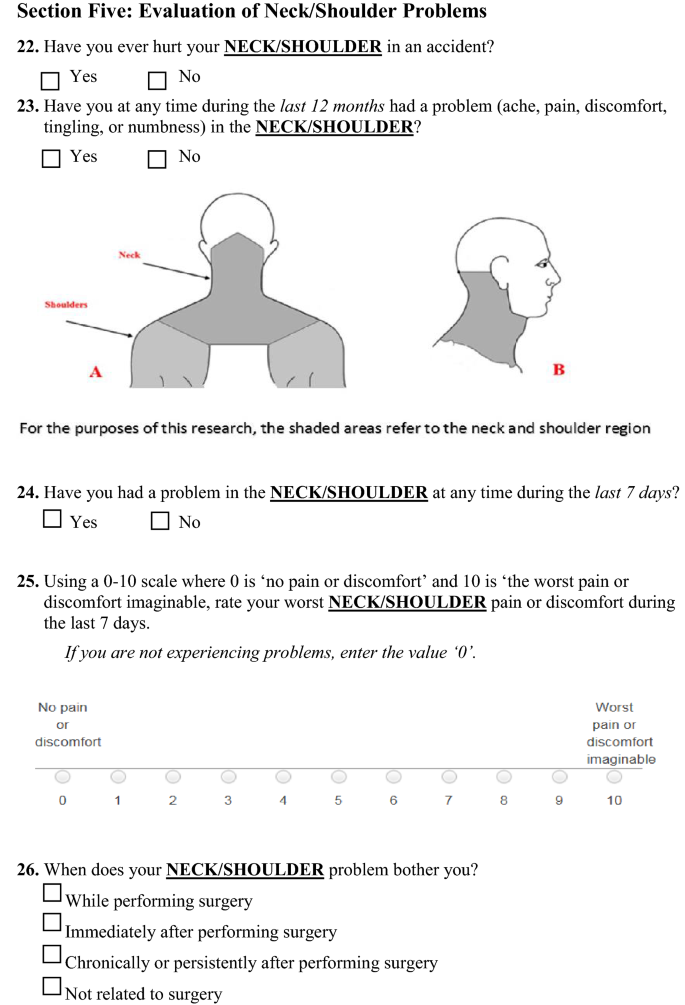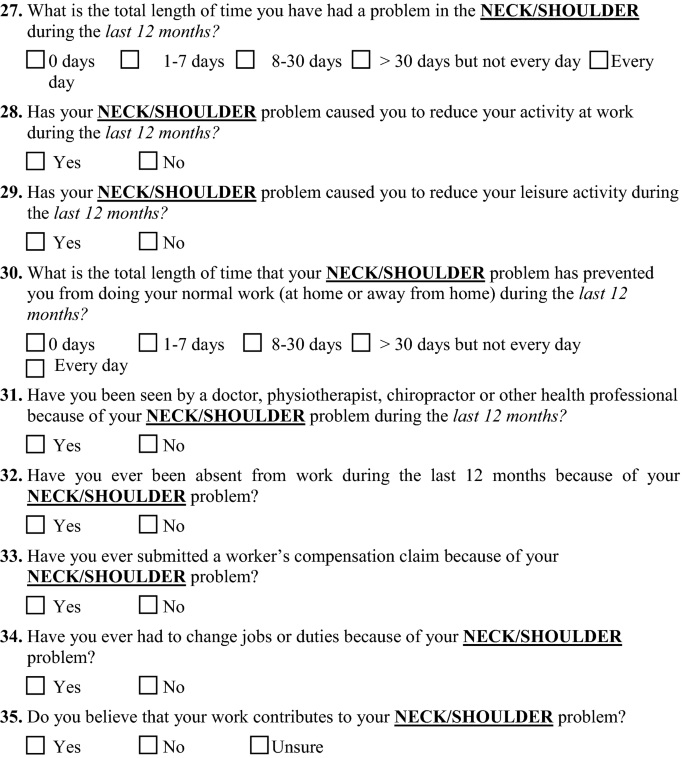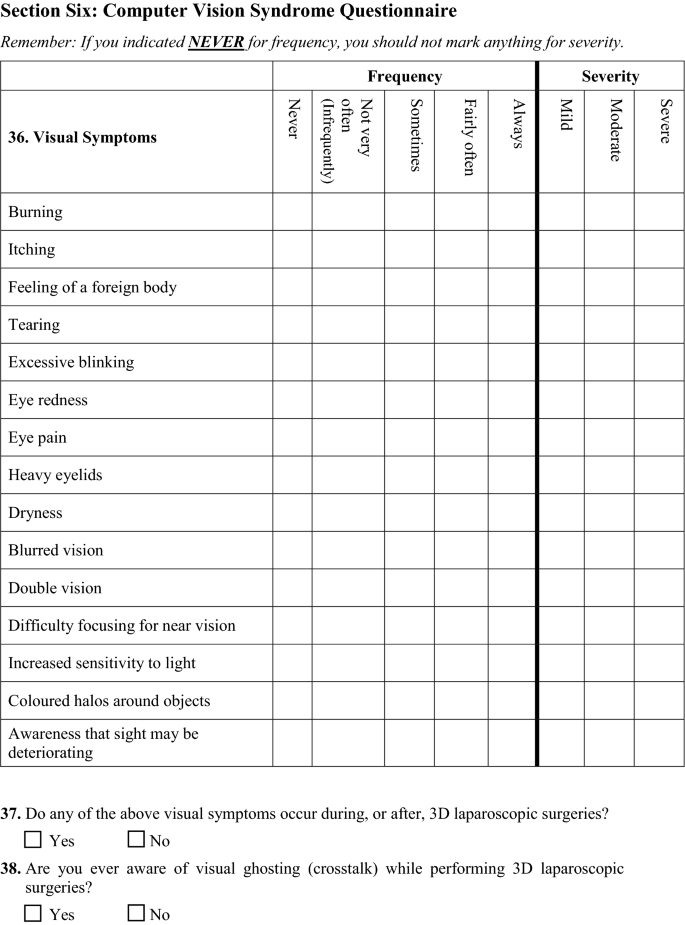 About this article
Cite this article
Alhusuny, A., Cook, M., Khalil, A. et al. Visual symptoms, Neck/shoulder problems and associated factors among surgeons performing Minimally Invasive Surgeries (MIS): A comprehensive survey. Int Arch Occup Environ Health (2021). https://doi.org/10.1007/s00420-020-01642-2
Received:

Accepted:

Published:
Keywords
Neck/shoulder

Visual

Surgeon

MIS

Prevalence

Posture