Abstract
Purpose
Cleaning work has been associated with a wide range of occupational health hazards. However, little is known about mortality risks in the cleaning industry. This study examines differences in cause-specific mortality between cleaners, manual and non-manual workers.
Methods
Using exhaustive census-linked mortality data, the total Belgian working population aged 30–60 was selected from the 1991 census. Analyses were based on 202,339 male and 58,592 female deaths between 1 March 1991 and 31 December 2011. Standardized Mortality Ratios were calculated and indirectly adjusted for smoking (SMR). In addition, Cox proportional hazards regression models were used to account for age, educational level, part-time employment and marital status.
Results
Large mortality differences were observed between cleaners, manual and non-manual workers. In 2001–2011, smoking-adjusted SMRs for all-cause mortality were higher among cleaners than among non-manual workers (Men 1.25 CI 1.22–1.28; women 1.10 CI 1.07–1.13). SMRs also show cleaners had significantly more deaths due to COPD (men 2.13 CI 1.92–2.37; women 2.03 CI 1.77–2.31); lung cancer (men 1.31 CI 1.22–1.39; women 1.21 CI 1.11–1.32); pneumonia (men 1.64 CI 1.35–1.97; women 1.31 CI 1.00–1.68); ischaemic heart diseases (men 1.22 CI 1.13–1.31; women 1.40 CI 1.25–1.57) and cerebrovascular diseases (men 1.19 CI 1.05–1.35; women 1.13 CI 1.00–1.27). Mortality risks among cleaners remained elevated after adjustment for education.
Conclusions
Respiratory and cardiovascular mortality is considerably higher for male and female cleaners than for non-manual workers.
This is a preview of subscription content,
to check access.
Access this article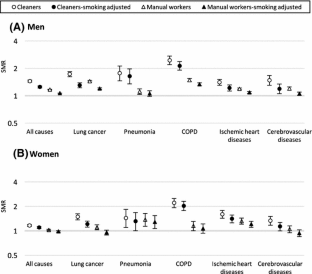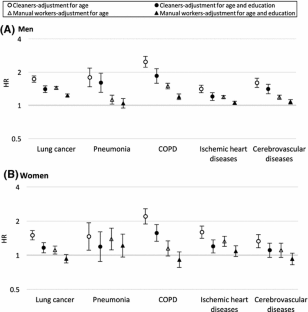 References
Axelson O, Steenland K (1988) Indirect methods of assessing the effects of tobacco use in occupational studies. Am J Ind Med 13:105–118. doi:10.1002/ajim.4700130107

CDC (2014) The health consequences of smoking—50 years of progress: a report of the surgeon general. Centers for Disease Control and Prevention (US), Atlanta (GA). Available at: https://www.surgeongeneral.gov/library/reports/50-years-of-progress/full-report.pdf. Accessed 14 Mar 2017

Charles LE, Loomis D, Demissie Z (2009) Occupational hazards experienced by cleaning workers and janitors: a review of the epidemiologic literature. Work 34:105–116. doi:10.3233/WOR-2009-0907

Cucino C, Sonnenberg A (2002) Occupational mortality from squamous cell carcinoma of the esophagus in the United States during 1991–1996. Dig Dis Sci 47:568–572. doi:10.1023/A:1017968103311

Curkendall SM, DeLuise C, Jones JK et al (2006) Cardiovascular disease in patients with chronic obstructive pulmonary disease, Saskatchewan Canada: cardiovascular disease in COPD patients. Ann Epidemiol 16:63–70. doi:10.1016/j.annepidem.2005.04.008

De Matteis S, Cullinan P (2015) Occupational asthma in cleaners: a challenging black box. Occup Environ Med. doi:10.1136/oemed-2015-102985

Eurofound (2014) Industrial cleaning: working conditions and job quality. European Foundation for the Improvement of Living and Working Conditions, Dublin. Available at: http://www.eurofound.europa.eu. Accessed 11 Jan 2017

European Agency for Safety and Health at Work (2009) The occupational safety and health of cleaning workers. Office for Official Publications of the European Communities, Luxembourg. Available at: https://osha.europa.eu/en/tools-and-publications/publications/literature_reviews/cleaning_workers_and_OSH. Accessed 11 Jan 2017

Eurostat (2015) Services to buildings and landscape activities statistics- NACE Rev. 2. Available at: http://ec.europa.eu/eurostat/statistics-explained/index.php/Services_to_buildings_and_landscape_activities_statistics_-_NACE_Rev._2. Accessed 29 Mar 2017

Federal Public Service Employment; Labour and Social Dialogue (2016) Joint Committee for the cleaning enterprises (Jc 121). Available at: http://www.employment.belgium.be/WorkArea/linkit.aspx?LinkIdentifier=id&ItemID=7992. Accessed 19 Jan 2017

Fryer PJ, Asteriadou K (2009) A prototype cleaning map: a classification of industrial cleaning processes. Trends Food Sci Technol 20:255–262. doi:10.1016/j.tifs.2009.03.005

Gamperiene M, Nygård JF, Sandanger I et al (2006) The impact of psychosocial and organizational working conditions on the mental health of female cleaning personnel in Norway. J Occup Med Toxicol 1:1–10. doi:10.1186/1745-6673-1-24

Garza JL, Cavallari ÃJM, Wakai S et al (2015) Traditional and environmentally preferable cleaning product exposure and health symptoms in custodians. Am J Ind Med 58:988–995. doi:10.1002/ajim.22484

Gerster FM, Vernez D, Wild PP, Hopf NB (2014) Hazardous substances in frequently used professional cleaning products. Int J Occup Environ Health 20:46–60. doi:10.1179/2049396713Y.0000000052

Harris E, Palmer KT, Cox V et al (2016) Trends in mortality from occupational hazards among men in England and Wales during 1979–2010. Occup Environ Med 73:385–393. doi:10.1136/oemed-2015-103336

Honjo K, Iso H, Ikeda A et al (2015) Employment situation and risk of death among middle-aged Japanese women. J Epidemiol Community Health 69:1012–1017. doi:10.1136/jech-2015-205499

Huiart L, Ernst P, Suissa S (2005) Cardiovascular morbidity and mortality in COPD. Chest 128:2640–2646. doi:10.1378/chest.128.4.2640

Huisman M, Kunst AE, Mackenbach JP (2005) Inequalities in the prevalence of smoking in the European Union: comparing education and income. Prev Med 40:756–764. doi:10.1016/j.ypmed.2004.09.022

Jaakkola JJK, Jaakkola MS (2006) Professional cleaning and asthma. Curr Opin Allergy Clin Immunol 6:85–90. doi:10.1097/01.all.0000216849.64828.55

Karjalainen A, Martikainen R, Karjalainen J et al (2002) Excess incidence of asthma among Finnish cleaners employed in different industries. Eur Respir J 19:90–95. doi:10.1183/09031936.02.00201002

Koivula I, Sten M, Mäkelä PH (1994) Risk factors for pneumonia in the elderly. Am J Med 96:313–320. doi:10.1016/0002-9343(94)90060-4

Korn EL, Graubard BI, Midthune D (1997) Time-to-event analysis of longitudinal follow-up of a survey: choice of the time-scale. Am J Epidemiol 145:72–80. doi:10.1111/mono.12024

Kumar R, Kumar S (2008) Musculoskeletal risk factors in cleaning occupation-A literature review. Int J Ind Ergon 38:158–170. doi:10.1016/j.ergon.2006.04.004

Mattei F, Guida F, Matrat M et al (2014) Exposure to chlorinated solvents and lung cancer: results of the ICARE study. Occup Environ Med 71:681–689. doi:10.1136/oemed-2014-102182

Montano D (2014) Chemical and biological work-related risks across occupations in Europe: a review. J Occup Med Toxicol Lond Engl 9:28. doi:10.1186/1745-6673-9-28

Mousaid S, Bosmans K, Huegarts K, Vanroelen C (2015) The service voucher system, health and health inequalities. Brussels. Available at: http://www.sophie-project.eu/pdf/SVS.pdf. Accessed 21 Sept 2016

Mousaid S, Huegaerts K, Bosmans K, Julià M, Benach J, Vanroelen C (2017) The quality of work in the Belgian service voucher system'. Int J Health Serv 47:40–60. doi:10.1177/0020731416677478

Nylen L, Voss M, Floderus B (2001) Mortality among women and men relative to unemployment, part time work, overtime work, and extra work: a study based on data from the Swedish twin registry. Occup Environ Med 58:52–57. doi:10.1136/oem.58.1.52

Pampel FC, Krueger PM, Denney JT (2010) Socioeconomic disparities in health behaviors. Annu Rev Sociol 36:349–370. doi:10.1146/annurev.soc.012809.102529

Preller L, Heederik D, Boleij JS et al (1995) Lung function and chronic respiratory symptoms of pig farmers: focus on exposure to endotoxins and ammonia and use of disinfectants. Occup Environ Med 52:654–660. doi:10.1136/oem.52.10.654

Richiardi L, Barone-Adesi F, Merletti F, Pearce N (2008) Using directed acyclic graphs to consider adjustment for socioeconomic status in occupational cancer studies. J Epidemiol Community Health 62:e14. doi:10.1136/jech.2007.065581

Salvi SS, Barnes PJ (2009) Chronic obstructive pulmonary disease in non-smokers. Lancet 374:733–743. doi:10.1016/S0140-6736(09)62116-4

Sjögren B, Fredlund P, Lundberg I, Weiner J (2003) Ischemic heart disease in female cleaners. Int J Occup Environ Health 9:134–137. doi:10.1179/oeh.2003.9.2.134

Soto-Campos JG, Plaza V, Soriano JB et al (2013) Causes of death in asthma, COPD and non-respiratory hospitalized patients: a multicentric study. BMC Pulm Med 13:73. doi:10.1186/1471-2466-13-73

Steenland K, Beaumont J, Halperin W (1984) Methods of control for smoking in occupational cohort mortality studies. Scand J Work Environ Health 10:143–149. doi:10.5271/sjweh.2349

Strand BH, Tverdal A (2004) Can cardiovascular risk factors and lifestyle explain the educational inequalities in mortality from ischaemic heart disease and from other heart diseases? 26 Year follow up of 50 000 Norwegian men and women. J Epidemiol Community Health 58:705–709. doi:10.1136/jech.2003.014563

Thun MJ, Carter BD, Feskanich D et al (2013) 50-Year trends in smoking-related mortality in the United States. N Engl J Med 368:351–364. doi:10.1056/NEJMsa1211127

van de Mheen PJ, Gunning-Schepers LJ (1996) Differences between studies in reported relative risks associated with smoking: an overview. Public Health Rep 111:420–427

Vandenplas O, D'Alpaos V, Evrard G et al (2013) Asthma related to cleaning agents: a clinical insight. BMJ Open 3:e003568. doi:10.1136/bmjopen-2013-003568

Vizcaya D, Christensen KY, Lavoué J, Siemiatycki J (2013) Risk of lung cancer associated with six types of chlorinated solvents: results from two case-control studies in Montreal, Canada. Occup Environ Med 70:81–85. doi:10.1136/oemed-2012-101155

Vizcaya D, Mirabelli MC, Gimeno D et al (2015) Cleaning products and short-term respiratory effects among female cleaners with asthma. Occup Environ Med. doi:10.1136/oemed-2013-102046

WIV-ISP (2015) Health Interview Survey 1997, 2001, 2004, 2008. Available at: https://hisia.wiv-isp.be/SitePages/Home.aspx. Accessed 21 Mar 2017

Zock JP (2005) World at work: cleaners. Occup Environ Med 62:581–584. doi:10.1136/oem.2004.015032
Ethics declarations
Conflict of interest
The authors declare that they have no conflict of interest.
Funding
The Research Council of Vrije Universiteit Brussel (VUB) supported the study. Laura Van den Borre is a PhD fellow at the Research Foundation-Flanders (FWO).
Electronic supplementary material
Below is the link to the electronic supplementary material.
About this article
Cite this article
Van den Borre, L., Deboosere, P. Health risks in the cleaning industry: a Belgian census-linked mortality study (1991–2011). Int Arch Occup Environ Health 91, 13–21 (2018). https://doi.org/10.1007/s00420-017-1252-9
Received:

Accepted:

Published:

Issue Date:

DOI: https://doi.org/10.1007/s00420-017-1252-9
Keywords