Abstract
Purpose
Since 1993, assiduous efforts have been made in Germany to lower the incidence of allergic cement dermatitis by reducing the content of hexavalent chromium (Cr VI). Usage of epoxy resin systems has considerably increased in the building trade in the same period. We analysed data of the Information Network of Departments of Dermatology (IVDK) to evaluate the influence of these changing occupational exposures on frequencies of sensitization.
Methods
IVDK data of 1,153 men working in the building trade (bricklayers, tile setters etc.) presenting with occupational skin disease in the years 1994–2008 were analysed, taking into consideration not only the year of patch testing, but also beginning and duration of work in the building trade.
Results
While contact sensitization to chromate decreased from 43.1 to 29.0%, sensitization to epoxy resin increased from 8.4 to 12.4%. Logistic regression analysis revealed that, compared to those who had already worked before 1994, patients having started to work in building trade after 1999 had a significantly decreased risk of chromate sensitization (odds ratio 0.42) and a significantly increased risk of sensitization to epoxy resin (odds ratio 2.79). Additionally, risk of thiuram sensitization increased with the duration of employment.
Conclusion
Our data confirm that reducing Cr VI content of cement is useful in preventing allergic cement eczema, as previously found in Scandinavia. In contrast, the increasing prevalence of contact sensitization to epoxy resin components in the building trade is alarming. Preventive measures, which have already been implemented, have to be enforced.
Access options
Buy single article
Instant access to the full article PDF.
USD 39.95
Price includes VAT (USA)
Tax calculation will be finalised during checkout.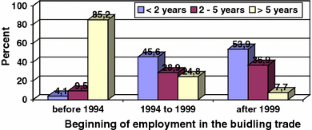 References
Anonymus (1993) Technische Regel für Gefahrstoffe (TRGS) 613 "Ersatzstoffe, Ersatzverfahren und Verwendungsbeschränkungen für chromathaltige Zemente und chromathaltige zementhaltige Zubereitungen". Bundesarbeitsblatt (BArbBl) 4:63

Anonymus (2002) Technische Regel für Gefahrstoffe (TRGS) 613 "Ersatzstoffe, Ersatzverfahren und Verwendungsbeschränkungen für chromathaltige Zemente und chromathaltige zementhaltige Zubereitungen" Bundesarbeitsblatt (BArbBl) 10:72

Anonymus (2003) Directive 2003/53/EC of the European Parliament and of the Council of 18 June 2003 amending for the 26th time Council Directive 76/769/EEC relating to restrictions on the marketing and use of certain dangerous substances and preparations (nonylphenol, nonylphenol ethoxylate and cement). Off J Eur Union L 178/24, 17.07.2003

Avnstorp C (1989) Prevalence of cement eczema in Denmark before and since addition of ferrous sulfate to Danish cement. Acta Derm Venereol (Stockh) 69:151–155

Avnstorp C (1991) Risk factors for cement eczema. Contact Dermat 25:81–88

Avnstorp C (1992) Cement eczema—an epidemiological intervention study. Acta Derm Venereol (Stockh) Suppl 179:1–22

Bock M, Schmidt A, Bruckner T, Diepgen TL (2003) Occupational skin disease in the construction industry. Br J Dermatol 149:1165–1171

Bock M, Schmidt A, Bruckner T, Diepgen TL (2004) Entwicklung der chromatallergie in der deutschen bauwirtschaft. Hautarzt 55:460–464

Condé-Salazar L, Guimaraens D, Villegas C, Romero A, Gonzalez MA (1995) Occupational allergic contact dermatitis in construction workers. Contact Dermat 33:226–230

Fisher AA (1986) Contact dermatitis, 3rd edition, Lea and Febiger Philadelphia, pp 500, 566–569, 762–772

Fregert S, Gruvberger B, Sandahl E (1979) Reduction of chromate in cement by iron sulfate. Contact Dermat 5:39–42

Geier J, Schnuch A (1995) A comparison of contact allergies among construction and non-construction workers attending contact dermatitis clinics in Germany. Results of the IVDK from November 1989 until July 1993. Am J Contact Dermat 6:86–94

Geier J, Schnuch A (1998) Kontaktallergien im Bau-Hauptgewerbe. Eine Auswertung der Daten des Informationsverbunds Dermatologischer Kliniken (IVDK) 1994–1996. Derm Beruf Umwelt 46:109–114

Geier J, Lessmann H, Hillen U, Jappe U, Dickel H, Koch P, Frosch PJ, Schnuch A, Uter W (2004) An attempt to improve diagnostics of contact allergy due to epoxy resin systems. First results of the multicentre study EPOX 2002. Contact Dermat 51:263–272

Kluger N (2007) Erfolgsstory: Maurerkrätze geht zurück. 10 Jahre chromatarmer Zement in Deutschland. BG BAU aktuell 4/2007: 16

Roto P, Sainio H, Reunala T, Laippala T (1996) Addition of ferrous sulfate to cement and risk of chromium dermatitis among construction workers. Contact Dermat 34:43–50

Rühl R, Kluger N (1995) Handbuch der Bau-Chemikalien. Ecomed Verlag, Landsberg am Lech. Chapter IV-3, p 8

Schnuch A, Uter W, Lessmann H, Arnold R, Geier J (2008a) Klinische Epidemiologie der Kontaktallergien. Das Register und das Überwachungssystem des Informationsverbundes Dermatologischer Kliniken (IVDK). Allergo J 17:611–624

Schnuch A, Aberer W, Agathos M, Becker D, Brasch J, Elsner P, Frosch PJ, Fuchs Th, Geier J, Hillen U, Löffler H, Mahler V, Richter G, Szliska C, für die Deutsche Kontaktallergie-Gruppe (2008b) Durchführung des Epikutantests mit Kontaktallergenen. Leitlinien der Deutschen Dermatologischen Gesellschaft (DDG) und der Deutschen Gesellschaft für Allergie und klinische Immunologie (DGAKI). J Dtsch Dermatol Ges 6:770–775

Struppek K, Ludwig S (1999) Prävention des Chromat-Ekzems im Baugewerbe. Derm Beruf Umwelt 47:13–15

Thyssen JP, Jensen P, Carlsen BC, Engkilde K, Menné T, Johansen JD (2009) The prevalence of chromium allergy in Denmark is currently increasing as a result of leather exposure. Br J Dermatol 161:1288–1293

Uter W, Schnuch A, Geier J, Frosch PJ (1998) Epidemiology of contact dermatitis. The Information Network of Departments of Dermatology (IVDK) in Germany. Eur J Dermatol 8:36–40

Uter W, Rühl R, Pfahlberg A, Geier J, Schnuch A, Gefeller O (2004a) Contact allergy in construction workers: results of a multifactorial analysis. Ann Occup Hyg 48:21–27

Uter W, Schnuch A, Gefeller O (2004b) Guidelines for the descriptive presentation and statistical analysis of contact allergy data. Contact Dermat 51:47–56

Uter W, Mackiewicz M, Schnuch A, Geier J (2005) Interne Qualitätssicherung von Epikutantest-Daten des multizentrischen Projektes "Informationsverbund Dermatologischer Kliniken" (IVDK). Derm Beruf Umwelt 53:107–114

Uter W, Hegewald J, Pfahlberg A, Lessmann H, Schnuch A, Gefeller O (2010) Contact allergy to thiurams: multifactorial analysis of clinical surveillance data collected by the IVDK network. Int Arch Occup Environ Health, e-pub 31 Dec 2009
Acknowledgments
The following departments of dermatology contributed to this study (in alphabetical order). Responsible physicians are mentioned in brackets. Aachen (H. Dickel), Augsburg (A. Ludwig), Basel (A. Bircher), Berlin Benjamin Franklin (B. Tebbe, R. Treudler), Berlin BWK (A. Köhler), Berlin Charité (B. Laubstein, T. Zuberbier, M. Worm), Berlin UKRV (J. Grabbe), Bern (D. Simon), Bielefeld (I. Effendy), Bochum (H. Dickel), Buxtehude (P. Große–Hüttmann, P. Hausenblas), Dortmund (B. Pilz, P.J. Frosch, C. Pirker, R. Herbst, K. Kügler), Dresden (G. Richter, R. Aschoff, P. Spornraft-Ragaller, A. Bauer), Duisburg (J. Schaller), Erlangen (K.-P. Peters, T.L. Diepgen, M. Fartasch, V. Mahler), Essen (H.-M. Ockenfels, U. Hillen), Freudenberg (Ch. Szliska), Gera (J. Meyer), Graz (B. Kränke, W. Aberer), Greifswald (M. Jünger), Göttingen (Th. Fuchs, J. Geier), Halle (G. Gaber, D. Lübbe), Hamburg (M. Kiehn, R. Weßbecher, E. Coors), Hamburg BUK (K. Breuer, U. Seemann, C. Schröder-Kraft), Hannover (T. Schaefer, Th. Werfel), Heidelberg (A. Schulze-Dirks, M. Hartmann, U. Jappe), Heidelberg AKS (H. Dickel, T.L. Diepgen, E. Weisshaar), Homburg/Saar (F.A. Bahmer, P. Koch, C. Pföhler), Jena (M. Gebhardt, A. Bauer, W. Wigger-Alberti, M. Kaatz, S. Schliemann), Kiel (J. Brasch), Krefeld (A. Wallerand, M. Lilie, S. Wassilew), Leipzig (R. Treudler), Lübeck (J. Kreusch, J. Grabbe), Mainz (D. Becker), Mannheim (Ch. Bayerl), Marburg (I. Effendy, H. Löffler, M. Hertl, W. Pfützner), Minden (R. Stadler), München LMU (B. Przybilla, F. Enders, F. Rueff, T. Oppel, P. Thomas, T. Schuh, R. Eben), München Schwabing (M. Agathos, K. Ramrath, M. Georgi), München TU (J. Rakoski, U. Darsow), Münster (B. Hellweg, R. Brehler), Nürnberg (I. Müller, D. Debus, A. Bachtler), Osnabrück (W. Uter, S.M. John, H.J. Schwanitz (+), N. Schürer, H. Dickel, Ch. Skudlik), Rostock (H. Heise (+), J. Trcka), Tübingen (G. Lischka, M. Röcken, T. Biedermann, J. Fischer), Ulm (H. Gall (+), G. Staib, P. Gottlöber), Wuppertal (O. Mainusch, J. Raguz), Würzburg (A. Trautmann), Zwickau (B. Knopf, D. Teubner), Zürich (B. Ballmer-Weber).
Conflict of interest
The authors declare that they have no conflict of interest.
About this article
Cite this article
Geier, J., Krautheim, A., Uter, W. et al. Occupational contact allergy in the building trade in Germany: influence of preventive measures and changing exposure. Int Arch Occup Environ Health 84, 403–411 (2011). https://doi.org/10.1007/s00420-010-0581-8
Received:

Accepted:

Published:

Issue Date:
Keywords
Bricklayers

Cement dermatitis

Chromate

Construction workers

Contact allergy

Epoxy resin

Occupational dermatitis

Prevention

Thiurams