Abstract
Anaemia occurs frequently in patients with heart failure and its current treatment lacks clear targets. Emerging evidence suggests that erythroid progenitor cell expansion is an integral part of physiological response to anaemia associated with chronic stress. Understanding the underlying mechanism may provide a novel approach to anaemia management. In this study, we aimed to examine a role for nitric oxide (NO) in the regulation of bone marrow erythroid progenitor response to chronic stress. For this purpose, adult male mice were subjected to 2 h daily restraint stress for 7 or 14 consecutive days. The role of NO was assessed by subcutaneous injection with NG-nitro-l-arginine methyl ester, 30 min prior to each restraint. Chronic exposure to stress resulted in significantly increased number of bone marrow erythroid progenitors, and blockade of NO biosynthesis prior to daily stress completely prevented stress-induced erythroid progenitor cell expansion. Furthermore, chronic stress exposure led to altered expression of neural, endothelial and inducible nitric oxide synthases (NOS) in the bone marrow, both on mRNA and protein level. Decreased expression of neural and endothelial NOS, as well as reduced expression of NF-kappaB/p65 in bone marrow nuclear cell fraction, was accompanied by elevated bone marrow expression of inducible NOS in chronically stressed animals. This is the first study to demonstrate a role for NO in adaptive response of erythroid progenitors to chronic stress. Targeting NO production may be beneficial to improve bone marrow dysfunction and reduced erythroid progenitor cell expansion in chronic heart failure patients.
This is a preview of subscription content, log in to check access.
Access options
Buy single article
Instant access to the full article PDF.
US$ 39.95
Price includes VAT for USA
Subscribe to journal
Immediate online access to all issues from 2019. Subscription will auto renew annually.
US$ 199
This is the net price. Taxes to be calculated in checkout.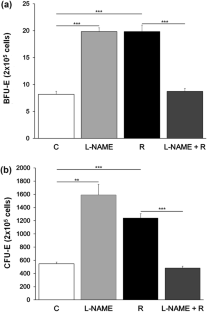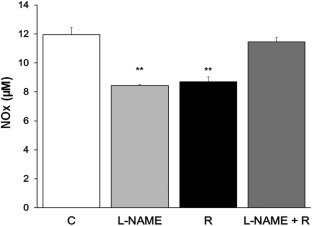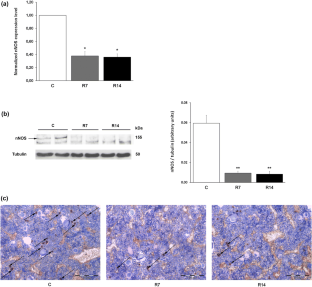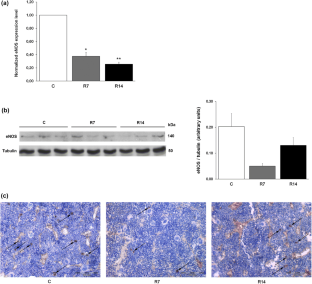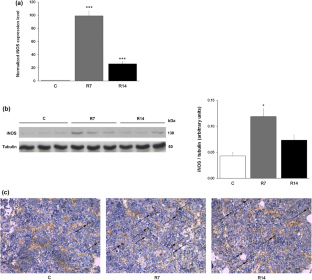 Abbreviations
NO:

Nitric oxide

nNOS:

Neuronal nitric oxide synthase

iNOS:

Inducible nitric oxide synthase

eNOS:

Endothelial nitric oxide synthase

NF-kappaB:

Nuclear factor kappa B

L-NAME:

Nω-nitro-l-arginine-methyl ester

BFU-E:

Burst-forming unit erythroid cells

CFU-E:

Colony-forming unit erythroid cells

REST:

Relative expression Software Tool
Acknowledgements
The authors would like to thank Mrs Snežana Marković for technical support.
Funding
This work was supported by the Grants (175053, 175062) from the Ministry of Education, Science and Technological Development of Republic of Serbia.
Ethics declarations
Conflict of interest
The authors confirm that there are no conflicts of interest.
Ethical approval
The experimental protocol was approved by the Ethic Committee of the Institute for Medical Research, University of Belgrade, Serbia (No O112-1/12), according to the National Law on Animal Welfare that is consistent with guidelines for animal research and principles of the European Convention for the Protection of Vertebrate Animals Used for Experimental and Other Purposes (Official Daily N. L 358/1–358/6, 18, December 1986) and Directive on the protection of animals used for scientific purposes (Directive 2010/63/EU of the European Parliament and of the Council, 22 September 2010).
Additional information
Publisher's Note
Springer Nature remains neutral with regard to jurisdictional claims in published maps and institutional affiliations.
About this article
Cite this article
Vignjević Petrinović, S., Budeč, M., Marković, D. et al. Nitric oxide-dependent expansion of erythroid progenitors in a murine model of chronic psychological stress. Histochem Cell Biol 153, 457–468 (2020). https://doi.org/10.1007/s00418-020-01856-y
Accepted:

Published:

Issue Date:
Keywords
Bone marrow

Erythroid progenitors

Nitric oxide

Stress