Abstract
Purpose
To report a retrospective series of patients implanted with a novel hydrophilic acrylic single-piece intraocular lens (IOL) designed for sutureless scleral fixation (FIL-SSF Carlevale lens, Soleko, Italy) injectable through a 2.2-mm incision.
Methods
Seventy-eight patients with minimum 6-month follow-up were divided into 6 groups: dropped nucleus, luxated IOL, trauma, aphakia, IOL exchange, and Marfan's syndrome. Surgery included peritomy and scleral flap creation at 3 and 9 o'clock position. The IOL was then injected and grasped with 25G forceps through a hole created 2 mm posterior to the limbus underneath the sculped scleral flap.
Results
The study included 78 patients (mean age 71.9 ± 12.6 years) and average follow-up 10.2 ± 4.2 months. Average surgery duration was 69.4 ± 26.1 min and vision significantly improved from 0.86 ± 0.56 logMAR to 0.38 ± 0.42 logMAR at 6 months post-operative (p < 0.001). Intraoperative complications included corneal edema, retinal tears, and vitreous bleeding each in 2/78 patients (2.5%); 1/78 (1.3%) localized retinal detachment and 1/78 (1.3%) rupture of one T-shaped IOL harpoon. Post-operative complications included 4/78 (5.1%) cystoid macular edemas, 2/78 retinal tears, 2/78 retinal detachments, 2/78 developed ocular hypertension, and 1/78 corneal decompensation requiring DSAEK.
Conclusion
The Carlevale lens is designed for sutureless intrascleral fixation and can be successfully used in a variety of indications including difficult trauma cases with good rehabilitation. An implant requires experience and delicate manipulation.
This is a preview of subscription content, log in to check access.
Access options
Buy single article
Instant access to the full article PDF.
US$ 39.95
Price includes VAT for USA
Subscribe to journal
Immediate online access to all issues from 2019. Subscription will auto renew annually.
US$ 199
This is the net price. Taxes to be calculated in checkout.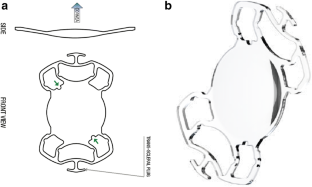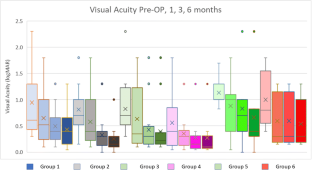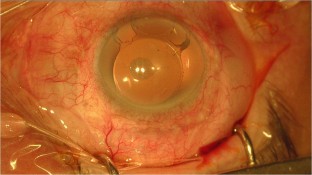 Acknowledgments
The authors would like to thank the Fondazione Roma for support.
Ethics declarations
Conflict of interest
All authors with the exception of Carlo Carlevale certify that they have no affiliations with or involvement in any organization or entity with any financial interest (such as honoraria; educational grants; participation in speakers' bureaus; membership, employment, consultancies, stock ownership, or other equity interest; and expert testimony or patent-licensing arrangements), or non-financial interest (such as personal or professional relationships, affiliations, knowledge or beliefs) in the subject matter or materials discussed in this manuscript. Carlo Carlevale receives speaker honorarium from Soleko srl but does not own stock in Soleko, neither is a member of any committee related to this IOL commercialization.
Statement of ethics
Present research complies with the guidelines for human studies and was conducted ethically in accordance with the World Medical Association Declaration of Helsinki. Informed consent was obtained by patients involved in the study.
Additional information
Publisher's note
Springer Nature remains neutral with regard to jurisdictional claims in published maps and institutional affiliations.
Electronic supplementary material
About this article
Cite this article
Rossi, T., Iannetta, D., Romano, V. et al. A novel intraocular lens designed for sutureless scleral fixation: surgical series. Graefes Arch Clin Exp Ophthalmol (2020). https://doi.org/10.1007/s00417-020-04789-3
Received:

Revised:

Accepted:

Published:
Keywords
Aphakia

Intraocular lens

Pars plana vitrectomy

Sutureless intraocular lens

Scleral fixation