Abstract
Purpose
To describe and analyze the biomicroscopic features and in vivo confocal microscopy of the crystalline form of pre-Descemet corneal dystrophy (PDCD).
Methods
We examined two non-related families using biomicroscopy, in vivo confocal microscopy, and a genetic study using a gene panel test, looking for mutations in the PIKFYVE gene.
Results
A slit-lamp examination of the first family revealed polychromatic crystalline punctiform opacities distributed all over the stroma in 8 of 11 family members in three generations with an autosomal dominant inheritance. The second family showed in three of four members in two generations the same opacities located in the pre-Descemet region. It was also a hint for autosomal dominant inheritance. The in vivo confocal microscopy identified numerous rounded and hyperreflective stromal particles measuring 10–15 μm in diameter, with the highest density in the posterior stroma and with normal keratocytes. No systemic disease was diagnosed. No variants or mutations were identified in PIKFYVE gene.
Conclusions
Polychromatic deposits in patients with Punctiform and Polychromatic Pre-Descemet corneal dystrophy can be located not only in the deep stroma but also in the anterior and middle stroma. Our presentation reveals the possibility of considering this characteristic corneal disorder as a corneal dystrophy of its own and not as a subtype of pre-Descemet corneal dystrophy.
This is a preview of subscription content, log in to check access.
Access options
Buy single article
Instant access to the full article PDF.
US$ 39.95
Price includes VAT for USA
Subscribe to journal
Immediate online access to all issues from 2019. Subscription will auto renew annually.
US$ 199
This is the net price. Taxes to be calculated in checkout.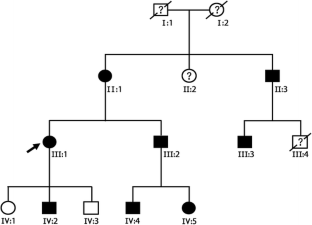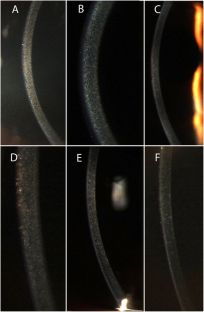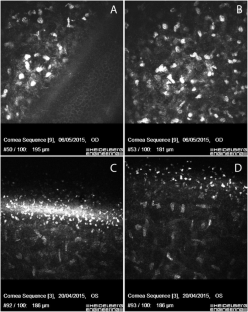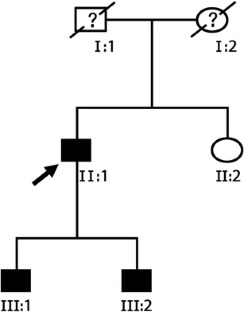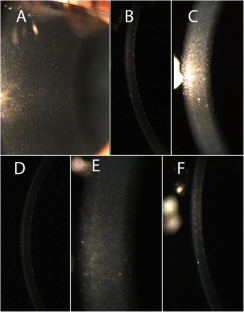 References
1.

Weiss JS, Moller HU, Aldave AJ et al (2015) IC3D classification of the corneal dystrophies—edition 2. Cornea 34:117–159

2.

Lagrou L, Midgley J, Romanchuk KG (2016) Punctiform and polychromatophilic dominant pre-Descemet corneal dystrophy. Cornea 35(4):572–575

3.

Vogt A (1923) Cornea farinata. Schweiz Med Wochenschr 53:991

4.

Grayson M, Wilbrandt H (1967) Pre-Descemet dystrophy. Am J Ophthalmol 64(2):276–282

5.

Fernandez-Sasso D, Acosta JE, Malbran E (1979) Punctiform and polychromatic pre-Descemet's dominant corneal dystrophy. Br J Ophthalmol 63(5):336–338

6.

Weiss SJ (2007) Visual morbidity in thirty-four families with Schnyder's corneal dystrophy. Trans Am Ophthalmol Soc 105:616–648

7.

Chou JL, Sink ML (2011) Corneal crystals: a precursor to cancer. Optom Vis Sci 88(4):E543–E547. https://doi.org/10.1097/OPX.0b013e31820bb227

8.

Hurley IW, Brooks AM, Reinehr DP et al (1991) Identifying anterior segment crystals. Br J Ophthalmol 75(6):329–331

9.

Dolz-Marco R, Gallego-Pinazo R, Pinazo-Durán M et al (2014) Crystalline subtype of pre-Descemetic corneal dystrophy. J Ophthalmic Vis Res 9:269–271

10.

Grupcheva CN, Malik TY, Craig JP et al (2001) Microstructural assessment of rare corneal dystrophies using real-time in vivo confocal microscopy. Clin Exp Ophthalmol 29:281–285

11.

Labbé A, Niaudet P, Loirat C et al (2009) In vivo confocal microscopy and anterior segment optical coherence tomography analysis of the cornea in nephropathic cystinosis. Ophthalmology 116(5):870–876

12.

Malhotra C, Jain AK, Diwivedi S et al (2015) Characteristics of pre-Descemet membrane cornea dystrophy by three different imaging modalities- in vivo confocal microscopy, anterior segment optical coherence tomography, and Scheimpflug corneal densitometry analysis. Cornea 34(7):829–832

13.

Ye YF, Yao YF, Zhou P, Pan F (2006) In vivo confocal microscopy of pre-Descemet's membrane corneal dystrophy. Clin Exp Ophthalmol 34(6):614–616

14.

Holopainen JM, Moilanen JA, Tervo TM (2003) In vivo confocal microscopy of fleck dystrophy and pre-Descemet's membrane corneal dystrophy. Cornea 22(2):160–163

15.

Kobayashi A, Ohkubo S, Tagawa S et al (2003) In vivo confocal microscopy in the patients with cornea farinata. Cornea 22(6):578–581
Ethics declarations
All procedures performed were in accordance with the ethical standards of the institutional research committee (La Paz University Hospital Ethics Committee) and with the 1964 Helsinki declaration and its later amendments or comparable ethical standards. Informed consent was obtained from all individual participants included in the study.
Conflict of interest
The authors declare that they have no conflict of interest.
Electronic supplementary material
First family proband in vivo confocal microscopy: In this sequence we can observe the stromal deposits from the anterior to the predescemetic stromal layers. The epithelium and endothelium were normal and Bowman's membrane is not affected. (MP4 1074 kb)
Second family proband in vivo confocal microscopy: In this sequence we can appreciate the stromal deposits only in the predescemetic layer. (MP4 3762 kb)
Second family proband in vivo confocal microscopy: In this sequence we can appreciate the stromal deposits only in the predescemetic layer. (MP4 3762 kb)
About this article
Cite this article
Recine, M.A.H., Lima, K.S.M., García, E.V. et al. Heredity and in vivo confocal microscopy of punctiform and polychromatic pre-Descemet dystrophy. Graefes Arch Clin Exp Ophthalmol 256, 1661–1667 (2018). https://doi.org/10.1007/s00417-018-3993-x
Received:

Revised:

Accepted:

Published:

Issue Date:
Keywords
Corneal crystals

Pre-Descemet corneal dystrophy

Differential diagnosis of inherited corneal crystals

DNA analysis

In vivo confocal microscopy