Abstract
Introduction
Neurosarcoidosis is associated with a significant degree of morbidity and mortality and its treatments are varied and complex. There is a paucity of information in current literature on patterns of treatment and long term outcomes. This study aimed to evaluate the clinical outcomes and responses to immunosuppressive therapy in a large cohort of neurosarcoidosis patients .
Methods
We enrolled 80 patients with a diagnosis of neurosarcoidosis. Prescription patterns and clinical outcomes before and after treatment and differences between the treatment groups were compared using Kruskal–Wallis and Mann–Witney U tests.
Results
Patients with cranial mononeuropathy other than optic neuropathy were more likely to be treated with steroids alone whereas patients with other presentations were likely to require second and third level treatments. These included azathioprine, methotrexate, mycophenolate, infliximab, and cyclophosphamide often used in combination. Prednisolone alone at onset failed in 67% of patients but appeared most effective in those with isolated facial nerve palsy. Patients treated with prednisolone plus a standard immunosuppression first line generally did well except for those with brain parenchymal disease and /or hydrocephalus who responded better to the addition of infliximab, or cyclophosphamide. Triple therapy with prednisolone + azathioprine + infliximab was associated with significantly greater improvement on the Modified Rankin Scale than prednisolone alone whether used first line (p = 0.001 corrected) or subsequently (p = 0.021 corrected). Overall favourable outcomes in the form of improvement of MRS were reported in 87%,
Conclusions
Our results provides evidence that early immunosuppressive treatments, with azathioprine, methotrexate and infliximab could effectively improve clinical outcomes in many patients with neurosarcoidosis.
Access options
Buy single article
Instant access to the full article PDF.
US$ 39.95
Tax calculation will be finalised during checkout.
Subscribe to journal
Immediate online access to all issues from 2019. Subscription will auto renew annually.
US$ 159
Tax calculation will be finalised during checkout.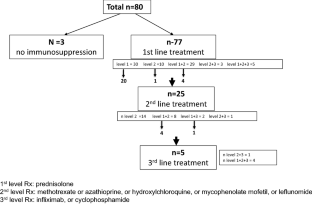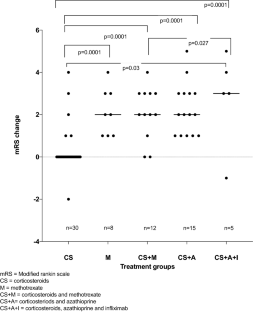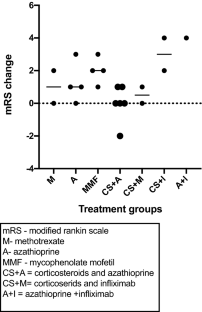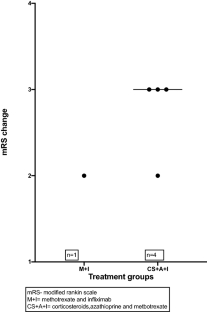 References
1.

Lower EE, Broderick JP, Brott TG, Baughman RP (1997) Diagnosis and management of neurological sarcoidosis. Arch Intern Med 157(16):1864–1868

2.

Voortman M, Drent M, Baughman RP (2019) Management of neurosarcoidosis: a clinical challenge. Curr Opin Neurol 32(3):475–483

3.

Gamal AE (2018) Sarcoidosis - symptoms, diagnosis and treatment: treatment algorithm. BMJ Best Practice 10:27–45

4.

Cremers JP, Drent M, Bast A, Shigemitsu H, Baughman RP, Valeyre D et al (2013) Multinational evidence-based world association of sarcoidosis and other granulomatous disorders recommendations for the use of methotrexate in sarcoidosis: integrating systematic literature research and expert opinion of sarcoidologists worldwide. Curr Opin Pulm Med 19(5):545–561

5.

Vorselaars ADM, Wuyts WA, Vorselaars VMM, Zanen P, Deneer VHM, Veltkamp M et al (2013) Methotrexate vs. azathioprine in second-line therapy of sarcoidosis. Chest 144(3):805–812

6.

Bitoun S, Bouvry D, Borie R, Mahevas M, Sacre K, Haroche J et al (2016) Treatment of neurosarcoidosis: a comparative study of methotrexate and mycophenolate mofetil. Neurology 87(24):2517–2521

7.

Beegle SH, Barba K, Gobunsuy R, Judson MA (2013) Current and emerging pharmacological treatments for sarcoidosis: a review. Drug Design Develop Thera 12(7):325–338

8.

Sharp M, Donnelly SC, Moller DR (2019) Tocilizumab in sarcoidosis patients failing steroid sparing therapies and anti-TNF agents. Respir Med X 1:100004

9.

Nozaki K, Judson MA (2013) Neurosarcoidosis. Curr Treat Options Neurol 15(4):492–504

10.

Grutters JC, van den Bosch JM (2006) Corticosteroid treatment in sarcoidosis. Euro Resp J 28(3):627–636

11.

Fritz D, Voortman M, van de Beek D et al (2017) Many faces of neurosarcoidosis: from chronic meningitis to myelopathy. Curr Opin Pulm Med 23:439–446

12.

Fritz D, van de Beek D, Brouwer M (2016) Clinical features, treatment and outcome in neurosarcoidosis: systematic review and meta-analysis. BMC Neurol 16:220

13.

Broderick JP, Adeoye O, Elm J (2017) Evolution of the modified Rankin scale and its use in future stroke trials. Stroke 48(7):2007–2012

14.

Affan M, Kananeh M, Schultz L, Elias S, Cerghet M (2017) Disease course and treatment of neurosarcoidosis in a single center cohort study of 113 cases. Neurology 88(16 Suppl 1):10

15.

Cohen Aubart F, Bouvry D, Galanaud D et al (2017) Long-term outcomes of refractory neurosarcoidosis treated with infliximab. J Neurol 264:891–897

16.

Gelfand JM, Bradshaw MJ, Stern BJ et al (2017) Infliximab for the treatment of CNS sarcoidosis: a multiinstitutional series. Neurology 89:2092–2100

17.

Arun T, Pattison L, Palace J (2020) Distinguishing neurosarcoidosis from multiple sclerosis based on CSF analysis: a retrospective cohort study. Neurology 10:1212

18.

Voortman M, Fritz D, Vogels OJM, Beek DVD, Vries JD, Brouwer MC et al (2019) Clinical Manifestations of Neurosarcoidosis in the Netherlands. J Neurol Neurosci 10(2):292

19.

Birnbaum AD, Rifkin LM (2014) Sarcoidosis: sex-dependent variations in presentation and management. J Ophthalmol 24:236905

20.

Scott TF, Yandora K, Valeri A, Chieffe C, Schramke C (2007) Aggressive therapy for neurosarcoidosis: long-term follow-up of 48 treated patients. Arch Neurol 64(5):691–696

21.

Lord J, Soldan M et al (2020) Neurosarcoidosis: Longitudinal experience in a single-centre, academic healthcare system. Neurol Neuroimmunol Neuroinflamm 7(4):e743

22.

Kidd DP (2020) Sarcoidosis of the central nervous system: Safety and efficacy of treatment, and experience of biological therapies. Clin Neurol Neurosurg 194:105811
Ethics declarations
Conflicts of interest
The authors declare that they have no conflict of interest.
Supplementary Information
Below is the link to the electronic supplementary material.
About this article
Cite this article
Arun, T., Palace, J. Effects of immunotherapies and clinical outcomes in neurosarcoidosis: a retrospective cohort study. J Neurol (2021). https://doi.org/10.1007/s00415-021-10421-z
Received:

Revised:

Accepted:

Published:
Keywords
Neurosarcoidosis (146)

Immunosuppression

Infliximab

Outcomes

Modified rankin scale