Abstract
The evaluation of central vestibular syndromes, especially in the acute setting, can pose a challenge even for the most experienced clinician. Of particular importance is the evaluation of ocular torsion and nystagmus, which can be sensitive for central vestibular pathology, but easily missed by the untrained eye. We present two cases of acute vestibular syndrome of central origin in which the use of magnified fundoscopy at the bedside aided the precise anatomical diagnosis to inform appropriate further management. We also review aspects of the pathophysiology and anatomy of vestibular roll plane disorders. In case 1, the finding of position-dependent ocular torsion facilitated a rapid distinction between central skew deviation and a trochlear nerve palsy. In case 2, the fundoscopic magnification identified a pure rotatory nystagmus indicative of a central vestibular disorder. Ophthalmoscopy remains a useful bedside technique in acute vertigo, but the use of inexpensive magnification with a smartphone can provide objective and recordable evidence of central vestibular pathology, aiding therapeutic decisions.
Access options
Buy single article
Instant access to the full article PDF.
US$ 39.95
Tax calculation will be finalised during checkout.
Subscribe to journal
Immediate online access to all issues from 2019. Subscription will auto renew annually.
US$ 159
Tax calculation will be finalised during checkout.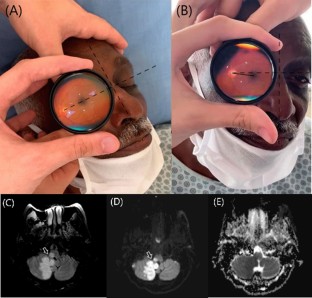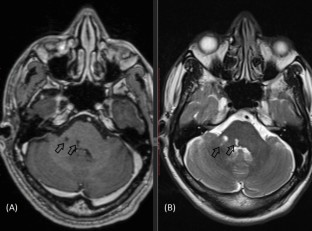 References
1.

Newman-Toker DE, Kattah JC, Talkad AV, Wang DZ, Hsieh Y-H (2009) Acute vestibular syndrome three-step bedside oculomotor exam more sensitive than early MRI DWI. Stroke. 40(11):3504–3510

2.

Kerber KA, Morgenstern LB, Meurer WJ, McLaughlin T, Hall PA, Jane Forman A, Fendrick M, Newman-Toker DE (2011) Nystagmus assessments documented by emergency physicians in acute dizziness presentations: a target for decision support? Acad Emerg Med 18(6):619–626

3.

Strupp M, Kremmyda O, Adamczyk C, Bottcher N, Muth C, Yip CW, Bremova T (2014) Central ocular motor disorders, including gaze palsy and nystagmus. J Neurol 261(Suppl 2):S542–S558

4.

Zee DS (1978) Ophthalmoscopy in examination of patients with vestibular disorders. Ann Neurol 3(4):373–4

5.

Leigh RJ, Zee DS (2015) The neurology of eye movements, 5th edn. Oxford University Press, Oxford

6.

Brandt T, Dieterich M (1994) Vestibular syndromes in the roll plane: topographic diagnosis from brainstem to cortex. Ann Neurol 36(3):337–347

7.

Gold DR, Schubert MC (2019) Ocular misalignment in dizzy patients-something's a-skew. J Neurol Phys Ther 43(Suppl 2):S27–S30

8.

Halmagyi GM, Gresty MA, Gibson WP (1979) Ocular tilt reaction with peripheral vestibular lesion. Ann Neurol 6(1):80–83

9.

Wong AM (2010) Understanding skew deviation and a new clinical test to differentiate it from trochlear nerve palsy. J AAPOS 14(1):61–7. https://doi.org/10.1016/j.jaapos.2009.11.019

10.

Choi JH, Kim HW, Choi KD, Kim MJ, Choi YR, Cho HJ, Sung SM, Kim HJ, Kim JS, Jung DS (2014) Isolated vestibular syndrome in posterior circulation stroke: frequency and involved structures. Neurol Clin Pract. https://doi.org/10.1212/CPJ.0000000000000028
Acknowledgements
The authors would like to thank Alberto Martins Pina Rodrigues for helping the recording of the images to both cases.
Ethics declarations
Conflicts of interest
The authors report no conflicts of interest.
Financial disclosures
Victor Evangelista Rodrigues Pereira reports no disclosures. Sofia Mermelstein reports no disclosures. Marcos Martins da Silva reports no disclosures. Diego Kaski reports no disclosures.
Additional information
Publisher's Note
Springer Nature remains neutral with regard to jurisdictional claims in published maps and institutional affiliations.
Supplementary Information
Below is the link to the electronic supplementary material.
About this article
Cite this article
Evangelista, V.R.P., Mermelstein, S.A., da Silva, M.M. et al. Bedside video-ophthalmoscopy as an aid in the diagnosis of central vestibular syndromes. J Neurol (2021). https://doi.org/10.1007/s00415-020-10389-2
Received:

Revised:

Accepted:

Published:
Keywords
Vestibular

Neuro-otology

Eye movements

Neuro-ophthalmology

Stroke

Fundoscopy