Abstract
Objective
To compare the efficacy of gentamicin and steroids in patients with Meniere's disease (MD).
Methods
The study protocol was structured in accordance with the Population, Intervention, Comparison and Outcome (PICO) framework. We used "Endnote" (Thomson ResearchSoft; Stanford, Connecticut, the United States) to retrieve database documents. A systematic literature search of Web of Science and PubMed Database through May 2020 was conducted using specific search terms. Inclusion criteria, exclusion criteria, vertigo improvement, and exact hearing changes were defined. Review Manager 5.3 (Cochrane) was used for data analysis.
Results
A total of 80 articles were searched from Web of Science and 23 articles were searched from PubMed database. After further reviewing the specific points of the inclusion criteria and exclusion criteria, 9 papers were finally selected. Intratympanic gentamicin (ITG) was superior to intratympanic steroid (ITS) in reducing the number of vertigo attacks (odds ratio (OR) 3.08, 95% confidence intervals (CI) [2.05–3.65]), probability (P) < 0.01). As for hearing improvement, we did the analysis twice. With all the studies included, the odds of hearing improvement (by "x") was 0.31 among patients receiving gentamicin compared to those treated by steroids (OR 0.31, 95% CI [0.16–0.61]). But after removing one study with outlying results from the analysis, this effect disappeared. Hearing loss of ITG and ITS was not statistically significant (P = 0.29).
Conclusions
ITG is superior to ITS in reducing the number of vertigo attacks in the treatment of MD (P < 0.01); the impact on hearing is more heterogeneous in the studies. Overall, there was no clear difference between ITG and ITS on hearing improvement and on hearing loss.
This is a preview of subscription content, log in to check access.
Access options
Buy single article
Instant access to the full article PDF.
US$ 39.95
Price includes VAT for USA
Subscribe to journal
Immediate online access to all issues from 2019. Subscription will auto renew annually.
US$ 199
This is the net price. Taxes to be calculated in checkout.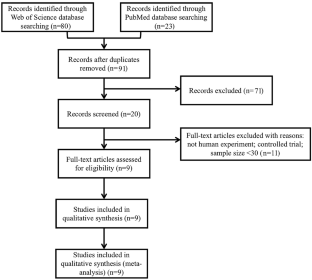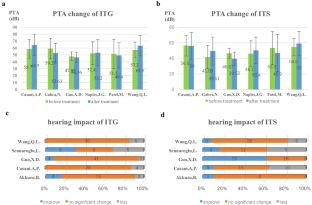 References
1.

Caulley L, Quimby A, Karsh J, Ahrari A, Tse D, Kontorinis G (2018) Autoimmune arthritis in Meniere's disease: a systematic review of the literature. Semin Arthritis Rheum 48(1):141–147

2.

Gazquez I, Soto-Varela A, Aran I, Santos S, Batuecas A, Trinidad G et al (2011) High prevalence of systemic autoimmune diseases in patients with Meniere's disease. PLoS ONE 6(10):e26759

3.

Cha YH, Brodsky J, Ishiyama G, Sabatti C, Baloh RW (2007) The relevance of migraine in patients with Meniere's disease. Acta Otolaryngol 127(12):1241–1245

4.

Frejo L, Martin-Sanz E, Teggi R, Trinidad G, Soto-Varela A, Santos-Perez S et al (2017) Extended phenotype and clinical subgroups in unilateral Meniere disease: a cross-sectional study with cluster analysis. Clin Otolaryngol 42(6):1172–1180

5.

Tyrrell JS, Whinney DJ, Ukoumunne OC, Fleming LE, Osborne NJ (2014) Prevalence, associated factors, and comorbid conditions for Meniere's disease. Ear Hear 35(4):e162–e169

6.

Lopez-Escamez JA, Carey J, Chung WH, Goebel JA, Magnusson M, Mandala M et al (2015) Diagnostic criteria for Meniere's disease. J Vestib Res 25(1):1–7

7.

Quaranta N, Picciotti P (2020) Author's reply to the Letter to the Editor "Therapeutic strategies in the treatment of Meniere's disease: the Italian experience". Eur Arch Otorhinolaryngol 277(6):1849–1850

8.

Sennaroglu L, Sennaroglu G, Gursel B, Dini FM (2001) Intratympanic dexamethasone, intratympanic gentamicin, and endolymphatic sac surgery for intractable vertigo in Meniere's disease. Otolaryngol Head Neck Surg 125(5):537–543

9.

Harner SG, Kasperbauer JL, Facer GW, Beatty CW (1998) Transtympanic gentamicin for Meniere's syndrome. Laryngoscope 108(10):1446–1449

10.

Chen FQ, Schacht J, Sha SH (2009) Aminoglycoside-induced histone deacetylation and hair cell death in the mouse cochlea. J Neurochem 108(5):1226–1236

11.

Wu Q, Zhang Y, Dai C, Kong Y, Pan L (2018) The degeneration of the vestibular efferent neurons after intratympanic gentamicin administration. J Histochem Cytochem 66(11):801–812

12.

Patel M, Agarwal K, Arshad Q, Hariri M, Rea P, Seemungal BM et al (2016) Intratympanic methylprednisolone versus gentamicin in patients with unilateral Meniere's disease: a randomised, double-blind, comparative effectiveness trial. Lancet 388(10061):2753–2762

13.

Herraiz C, Plaza G, Aparicio JM, Gallego I, Marcos S, Ruiz C (2010) Transtympanic steroids for Meniere's disease. Otol Neurotol 31(1):162–167

14.

Ren H, Yin T, Lu Y, Kong W, Ren J (2015) Intratympanic dexamethasone injections for refractory Meniere' s disease. Int J Clin Exp Med 8(4):6016–6023

15.

Sun Y, Zhang D, Sun G, Lv Y, Li Y, Li X et al (2018) RNA-sequencing study of peripheral blood mononuclear cells in sporadic Meniere's disease patients: possible contribution of immunologic dysfunction to the development of this disorder. Clin Exp Immunol 192(1):33–45

16.

Teggi R, Zagato L, Delli Carpini S, Citterio L, Cassandro C, Albera R et al (2017) Genetics of ion homeostasis in Meniere's disease. Eur Arch Otorhinolaryngol 274(2):757–763

17.

Clyde JW, Oberman BS, Isildak H (2017) Current management practices in Meniere's disease. Otol Neurotol 38(6):e159–e167

18.

Marques PS, Dias CC, Perez-Fernandez N, Spratley J (2018) Instrumental head impulse test changes after intratympanic gentamicin for unilateral definite Meniere's disease: a systematic review and meta-analysis. Auris Nasus Larynx 45(5):943–951

19.

Pullens B, Verschuur HP, van Benthem PP (2013) Surgery for Ménière's disease. Cochrane Database Syst Rev (2):CD005395. https://doi.org/10.1002/14651858.CD005395.pub2

20.

Casani AP, Piaggi P, Cerchiai N, Seccia V, Franceschini SS, Dallan I (2012) Intratympanic treatment of intractable unilateral Meniere disease: gentamicin or dexamethasone? A randomized controlled trial. Otolaryngol Head Neck Surg 146(3):430–437

21.

Gabra N, Saliba I (2013) The effect of intratympanic methylprednisolone and gentamicin injection on Meniere's disease. Otolaryngol Head Neck Surg 148(4):642–647

22.

Guo XD, Wang QL, Li Y, Zhang ZC (2016) Clinical effect of prootic and opisthotic injection of dexamethasone and gentamicin in Meniere disease therapy. Trop J Pharm Res 15(8):1781–1786

23.

Akkuzu B, Ozgirgin N, Ozluoglu LN (2006) Intratympanic treatment in Meniere's disease: the effect of gentamicin and dexamethasone on vertigo control and hearing. Kulak Burun Bogaz Ihtis Derg 16(5):193–199

24.

Syed MI, Ilan O, Leong AC, Pothier DD, Rutka JA (2015) Meniere's syndrome or disease: time trends in management and quality of evidence over the last 2 decades. Otol Neurotol 36(8):1309–1316

25.

Phillips JS, Westerberg B (2011) Intratympanic steroids for Meniere's disease or syndrome. Cochrane Database Syst Rev (7):CD008514. https://doi.org/10.1002/14651858.CD008514.pub2

26.

Weckel A, Marx M, Esteve-Fraysse MJ (2018) Control of vertigo in Meniere's disease by intratympanic dexamethasone. Eur Ann Otorhinolaryngol Head Neck Dis 135(1):7–10

27.

Naples JG, Henry L, Brant JA, Eliades SJ, Ruckenstein MJ (2019) Intratympanic therapies in Meniere disease: evaluation of outcomes and early vertigo control. Laryngoscope 129(1):216–221

28.

Wang QL, Guo XD, Mei XS, Li Y, Yao WJ, Yang XG (2017) Efficacy of intratympanic gentamicin and dexamethasone in the treatment of intractable Meniere's disease. Lin Chung Er Bi Yan Hou Tou Jing Wai Ke Za Zhi 31(2):96–99

29.

Shamas IU (2017) Short term results of intra tympanic gentamicin and dexamethasone on hearing and tinnitus in Meniere's disease: a case control study. Int Tinnitus J 21(1):21–23
Acknowledgements
This research did not receive any specific grant from funding agencies in the public, commercial, or not-for-profit sectors.
Ethics declarations
Conflicts of interest
The authors declare that they have no conflict of interest.
About this article
Cite this article
Jiang, M., Zhang, Z. & Zhao, C. What is the efficacy of gentamicin on the incidence of vertigo attacks and hearing in patients with Meniere's disease compared with steroids? A meta-analysis. J Neurol (2020). https://doi.org/10.1007/s00415-020-10011-5
Received:

Revised:

Accepted:

Published:
Keywords
Gentamicin

Steroid

Meniere disease

Meta-analysis