Abstract
Anti-N-methyl-D-aspartate receptor (NMDAR) encephalitis is a potentially fatal autoimmune disease, characterized by autoantibody-mediated neurotransmission impairment in multiple brain locations. The course of this condition often comprises altered mental status, autonomic dysfunctions, refractory seizures and hyperkinetic movement disorders. Available disease-modifying therapies include corticosteroids, i.v. immunoglobulins, plasma exchange, rituximab and cyclophosphamide. In a subgroup of patients not responding to B-cell depletion, bortezomib, a proteasome inhibitor, has shown promising evidence of efficacy. The time course of recovery from acute phase may be very slow (weeks/months), and only few data are available in literature about the concurrent management of encephalitis-associated movement disorders. We report a case of severe anti-NMDAR encephalitis in a 29-year-old woman, not responsive to first- and second-line treatments, with persistent involuntary motor manifestations. Starting three months after symptom onset, four cycles of bortezomib have been administered; subsequently we observed a progressive improvement of neurological status. Meanwhile, motor manifestations were controlled after the administration of tramadol, a non-competitive NMDA receptor antagonist.
Access options
Buy single article
Instant access to the full article PDF.
US$ 39.95
Tax calculation will be finalised during checkout.
Subscribe to journal
Immediate online access to all issues from 2019. Subscription will auto renew annually.
US$ 159
Tax calculation will be finalised during checkout.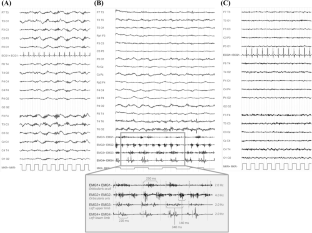 References
1.

Dalmau J, Tuzun E, Wu HY, Masjuan J, Rossi JE, Voloschin A et al (2007) Paraneoplastic anti-N-methyl-D-aspartate receptor encephalitis associated with ovarian teratoma. Ann Neurol 61(1):25–36

2.

Gable MS, Sheriff H, Dalmau J, Tilley DH, Glaser CA (2012) The frequency of autoimmune N-methyl-D-aspartate receptor encephalitis surpasses that of individual viral etiologies in young individuals enrolled in the California Encephalitis Project. Clin Infect Dis 54(7):899–904

3.

Dalmau J, Lancaster E, Martinez-Hernandez E, Rosenfeld MR, Balice-Gordon R (2011) Clinical experience and laboratory investigations in patients with anti-NMDAR encephalitis. Lancet Neurol 10(1):63–74

4.

Silveira-Moriyama L, Lin JP (2015) A field guide to current advances in paediatric movement disorders. Curr Opin Neurol 28(4):437–446

5.

Titulaer MJ, McCracken L, Gabilondo I, Armangue T, Glaser C, Iizuka T et al (2013) Treatment and prognostic factors for long-term outcome in patients with anti-NMDA receptor encephalitis: an observational cohort study. Lancet Neurol 12(2):157–165

6.

Scheibe F, Pruss H, Mengel AM, Kohler S, Numann A, Kohnlein M et al (2017) Bortezomib for treatment of therapy-refractory anti-NMDA receptor encephalitis. Neurology 88(4):366–370

7.

Cordani R, Micalizzi C, Giacomini T, Gastaldi M, Franciotta D, Fioredda F et al (2020) Bortezomib-Responsive Refractory Anti-N-Methyl-d-Aspartate Receptor Encephalitis. Pediatr Neurol 103:61–64

8.

Behrendt V, Krogias C, Reinacher-Schick A, Gold R, Kleiter I (2016) Bortezomib treatment for patients with Anti-N-Methyl-d-aspartate receptor encephalitis. JAMA Neurol 73(10):1251–1253

9.

Seifi A, Kitchen DL (2016) Management of dyskinesia in anti-NMDAR encephalitis with tramadol. Clin Neurol Neurosurg 147:105–107

10.

Ho KM (2019) Use of tramadol to attenuate severe dyskinesia in anti-N-methyl-D-aspartate receptor encephalitis. Anaesth Intensive Care 47(6):561–562

11.

Giordano A, Fazio R, Gelibter S, Minicucci F, Vabanesi M, Anzalone N et al (2020) Diagnosing autoimmune encephalitis in a real-world single-centre setting. J Neurol 267(2):449–460

12.

Varley JA, Webb AJS, Balint B, Fung VSC, Sethi KD, Tijssen MAJ et al (2019) The movement disorder associated with NMDAR antibody-encephalitis is complex and characteristic: an expert video-rating study. J Neurol Neurosurg Psychiatry 90(6):724–726

13.

Baizabal-Carvallo JF, Stocco A, Muscal E, Jankovic J (2013) The spectrum of movement disorders in children with anti-NMDA receptor encephalitis. Mov Disord 28:543–547

14.

Baizabal Carvallo JF, Cardoso F, Jankovic J (2015) Myorhythmia: phenomenology, etiology, and treatment. Mov Disord 30:171–179

15.

MacMahon M, Naysmith MR, McCallion S, Rhodes J (2013) Ketamine infusion associated with improved neurology in a patient with NMDA receptor encephalitis. Case Rep Crit Care 2013:383125. https://doi.org/10.1155/2013/383125

16.

Hara K, Minami K, Sata T (2005) The effects of tramadol and its metabolite on glycine, γ-aminobutyric acid, and N-Methyl-d-aspartate receptors expressed in xenopus oocytes. Anesth Analg 100(5):1400–1405

17.

Dengler BA, Kitchen D, Seifi A (2017) Tramadol may increase the efficacy of therapeutic plasma exchange in anti-NMDAR encephalitis. Clin Neurol Neurosurg 160:38–39

18.

Dalmau J, Geis C, Graus F (2017) Autoantibodies to synaptic receptors and neuronal cell surface proteins in autoimmune diseases of the central nervous system. Physiol Rev 97(2):839–887

19.

Moscato EH, Peng X, Jain A, Parsons TD, Dalmau J, Balice-Gordon RJ (2014) Acute mechanisms underlying antibody effects in anti-N-methyl-D-aspartate receptor encephalitis. Ann Neurol 76:108–119

20.

Gleichman AJ, Spruce LA, Dalmau J, Seeholzer SH, Lynch DR (2012) Anti-NMDA receptor encephalitis antibody binding is dependent on amino acid identity of a small region within the GluN1 amino terminal domain. J Neurosci 32:11082–11094

21.

Xu Y, Zhang K, Miao J, Zhao P, Lv M, Li J et al (2018) The spinal NR2BR/ERK2 pathway as a target for the central sensitization of collagen-induced arthritis pain. PLoS ONE 13(7):e0201021

22.

Lodge D, Mercier MS (2015) Ketamine and phencyclidine: the good, the bad and the unexpected. Br J Pharmacol 172(17):4254–4276

23.

Alexander T, Sarfert R, Klotsche J, Kuhl AA, Rubbert-Roth A, Lorenz HM et al (2015) The proteasome inhibitor bortezomib depletes plasma cells and ameliorates clinical manifestations of refractory systemic lupus erythematosus. Ann Rheum Dis 74(7):1474–1478

24.

Neubert K, Meister S, Moser K, Weisel F, Maseda D, Amann K et al (2008) The proteasome inhibitor bortezomib depletes plasma cells and protects mice with lupus-like disease from nephritis. Nat Med 14(7):748–755

25.

Scott K Hayden PJ Will A Wheatley K Coyne I (2016) Bortezomib for the treatment of multiple myeloma. Cochrane Database Syst Rev 4:CD010816

26.

Engelhardt M, Kleber M, Udi J et al (2010) Consensus statement from European experts on the diagnosis, management, and treatment of multiple myeloma: from standard therapy to novel approaches. Leuk Lymphoma 51:1424–1443

27.

National comprehensive cancer network (NCCN) (2011) NCCN clinical practice guidelines in oncology multiple myeloma. Fort Washington, PA (Ver. 1.2011)

28.

Bringhen S, Larocca A, Rossi D et al (2010) Efficacy and safety of once-weekly bortezomib in multiple myeloma patients. Blood 116:4745–4753

29.

Jakez-Ocampo J, Atisha-Fregoso Y, Llorente L (2015) Refractory primary Sjögren syndrome successfully treated with bortezomib. J Clin Rheumatol 21:31–32

30.

Zhang C, Tian DC, Yang CS, Han B, Wang J, Yang L et al (2017) Safety and efficacy of bortezomib in patients with highly relapsing neuromyelitis optica spectrum disorder. JAMA Neurol 74(8):1010–1026

31.

Winter O, Dame C, Jundt F, Hiepe F (2012) Pathogenic long-lived plasma cells and their survival niches in autoimmunity, malignancy, and allergy. J Immunol 189(11):5105–5111

32.

Schroeder C, Back C, Koc U, Strassburger-Krogias K, Reinacher-Schick A, Gold R et al (2018) Breakthrough treatment with bortezomib for a patient with anti-NMDAR encephalitis. Clin Neurol Neurosurg 172:24–26

33.

Keddie S, Crisp SJ, Blackaby J, Cox A, Coles A, Hart M et al (2018) Plasma cell depletion with bortezomib in the treatment of refractory N-methyl-d-aspartate (NMDA) receptor antibody encephalitis. Rational developments in neuroimmunological treatment. Eur J Neurol 25(11):1384–1388

34.

Shin YW, Lee ST, Kim TJ, Jun JS, Chu K (2018) Bortezomib treatment for severe refractory anti-NMDA receptor encephalitis. Ann Clin Transl Neurol 5(5):598–605

35.

Richardson PG, Sonneveld P, Schuster MW et al (2005) Bortezomib or high-dose dexamethasone for relapsed multiple myeloma. N Engl J Med 352:2487–2498
Ethics declarations
Conflicts of interest
No relevant competing interest was declared by the Authors.
Consent for publication
Informed consent for publication was obtained verbally from the spouse for the usage of clinical data in anonymized fashion. The consent was audio-recorded in the presence of an independent witness.
Ethics approval
The Ethics Committee of San Raffaele Scientific Institute waived the need for ethics approval for publication of case reports.
About this article
Cite this article
Lazzarin, S.M., Vabanesi, M., Cecchetti, G. et al. Refractory anti-NMDAR encephalitis successfully treated with bortezomib and associated movements disorders controlled with tramadol: a case report with literature review. J Neurol 267, 2462–2468 (2020). https://doi.org/10.1007/s00415-020-09988-w
Received:

Revised:

Accepted:

Published:

Issue Date:
Keywords
Anti-NMDAR encephalitis

Autoimmune encephalitis

Bortezomib

EEG

Movement disorders