Abstract
Neurofilament light chain protein (NfL) is currently the most accurate cerebrospinal fluid (CSF) biomarker in amyotrophic lateral sclerosis (ALS) in terms of both diagnostic and prognostic value, but the mechanism underlying its increase is still a matter of debate. Similarly, emerging CSF biomarkers of neurodegeneration and neuroinflammation showed promising results, although further studies are needed to clarify their clinical and pathophysiological roles. In the present study we compared the diagnostic accuracy of CSF NfL, phosphorylated (p)-tau/total (t)-tau ratio, chitinase-3-like protein 1 (YKL-40) and chitotriosidase 1 (CHIT1), in healthy controls (n = 43) and subjects with ALS (n = 80) or ALS mimics (n = 46). In ALS cases, we also investigated the association between biomarker levels and clinical variables, the extent of upper motor neuron (UMN) and lower motor neuron (LMN) degeneration, and denervation activity through electromyography (EMG). ALS patients showed higher levels of CSF NfL, YKL-40, CHIT1, and lower values of p-tau/t-tau ratio compared to both controls and ALS mimics. Among all biomarkers, NfL yielded the highest diagnostic performance (> 90% sensitivity and specificity) and was the best predictor of disease progression rate and survival in ALS. NfL levels showed a significant  correlation with the extent of LMN involvement, whereas YKL-40 levels increased together with the number of areas showing both UMN and LMN damage. EMG denervation activity did not correlate with any CSF biomarker change. These findings confirm the highest value of NfL among currently available CSF biomarkers for the diagnostic and prognostic assessment of ALS and contribute to the understanding of the pathophysiological and electrophysiological correlates of biomarker changes.
This is a preview of subscription content, log in to check access.
Access options
Buy single article
Instant access to the full article PDF.
US$ 39.95
Price includes VAT for USA
Subscribe to journal
Immediate online access to all issues from 2019. Subscription will auto renew annually.
US$ 199
This is the net price. Taxes to be calculated in checkout.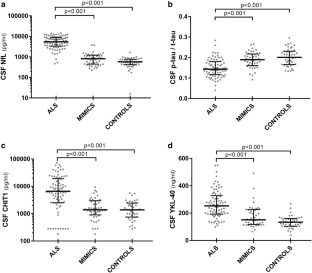 Acknowledgements
This article is in memory of Valeriano Fantin, a strong man called away by this terrible disease. This work was supported by the Italian Ministry of Health ("Ricerca Corrente"). BoReALS group: I. Bartolomei, R. Plasmati, F. Pastorelli, C. C. Quarta, V. Reale, V. Mariano, D. Milletti, R. Nasca, F. Rizzi, A. Cherici, D. Rusolo, L. Valeriani, F. Anzolin, E. Fantoni, A. Fiorito, L. Andrini, P. Avoni, V. A. Donadio, S. Capellari, S. de Pasqua, G. Rizzo, V. Vacchiano, E. Fileccia, L. Morandi, F. Marliani, L. Albini-Riccioli, P. Parchi, M. P. Foschini, A. Pession, S. Battaglia, R. Poda, D. Valenti, S. Asioli, L. Vignatelli, F. Oppi, M. Stanzani-Maserati, A. Bartoletti-Stella, C. Colombo, S. Maselli, M.P. Giannoccaro, M. Moresco, F. Salvi, R. Liguori.
Ethics declarations
Conflicts of interest
The authors declare that they have no conflict of interest.
Ethical standard
The study was conducted according to the revised Declaration of Helsinki and Good Clinical Practice guidelines and approved by the "Area Vasta Emilia Centro" ethics committee. Informed consent was given by study participants or the next of kin.
Additional information
The members of the BoReALS group are listed in the Acknowledgements.
Electronic supplementary material
Below is the link to the electronic supplementary material.
About this article
Cite this article
Abu-Rumeileh, S., Vacchiano, V., Zenesini, C. et al. Diagnostic-prognostic value and electrophysiological correlates of CSF biomarkers of neurodegeneration and neuroinflammation in amyotrophic lateral sclerosis. J Neurol 267, 1699–1708 (2020). https://doi.org/10.1007/s00415-020-09761-z
Received:

Revised:

Accepted:

Published:

Issue Date:
Keywords
Neurofilament light chain

Phosphorylated tau

Amyotrophic lateral sclerosis

Prognosis

Glial markers