Access options
Buy single article
Instant access to the full article PDF.
US$ 39.95
Tax calculation will be finalised during checkout.
Subscribe to journal
Immediate online access to all issues from 2019. Subscription will auto renew annually.
US$ 159
Tax calculation will be finalised during checkout.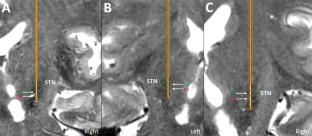 References
1.

Marin RS (1991) Apathy: a neuropsychiatric syndrome. J Neuropsychiatry Clin Neurosci 3:243–254

2.

Starkstein SE (2012) Apathy in Parkinson's disease: diagnostic and etiological dilemmas. Mov Disord 2:174–178

3.

Higuchi MA, Tsuboi Y, Inoue T, Fukuyama K, Abe H, Baba Y, Yamada T (2015) Predictors of the emergence of apathy after bilateral stimulation of the subthalamic nucleus in patients with Parkinson's disease. Neuromodulation 18:113–117

4.

Ricciardi L, Morgante L, Epifanio A, Zibetti M, Lanotte M, Lopiano L, Morgante F (2014) Stimulation of the subthalamic area modulating movement and behavior. Parkinsonism Rel Disord 20(11):1298–1300

5.

Barone P, Antonini A, Colosimo C, Marconi R, Morgante L, Avarello T et al (2009) The Priamo study: a multicenter assessment of nonmotor symptoms and their impact on quality of life in Parkinson's disease. Mov Disord 24(11):1641–1649

6.

Thobois S, Ardouin C, Lhommée E, Klinger H, Lagrange C, Xie J et al (2010) Non-motor dopamine withdrawal syndrome after surgery for Parkinson's disease: predictors and underlying mesolimbic denervation. Brain 133:1111–1127

7.

Drapier D, Drapier S, Sauleau P, Haegelen C, Raoul S, Biseul I et al (2006) Does subthalamic nucleus stimulation induce apathy in Parkinson's disease? J Neurol 253:1083–1091

8.

Le Jeune F, Drapier D, Bourguignon A, Péron J, Mesbah H, Drapier S et al (2009) Subthalamic nucleus stimulation in Parkinson disease induces apathy. A PET study. Neurology 73:1746–1751

9.

Stefurak T, Mikulis D, Mayberg H, Lang A, Hevenor S, Pahapill P et al (2003) Deep brain stimulation for Parkinson's disease dissociates mood and motor circuits: a functional MRI case study. Mov Disord 18(12):1508–1516

10.

Odekerken VJJ, van Laar T, Staal MJ, Mosch A, Hoffman CFE, Nijssen PCG et al (2013) Subthalamic nucleus versus globus pallidus bilateral deep brain stimulation for advanced Parkinson's disease (NSTAPS study): a randomized controlled trial. Lancet Neurol 12(1):37–44

11.

Czernecki V, Schüpbach M, Yaici S, Lévy R, Bardinet E, Yelnik J et al (2008) Apathy following subthalamic stimulation in Parkinson's disease: a dopamine responsive syndrome. Mov Disord 23:964–969

12.

Temel Y, Kessels A, Tan S, Topdag A, Boon P, Visser-Vandewalle V (2006) Behavioural changes after bilateral subthalamic stimulation in advanced Parkinson disease: a systematic review. Parkinsonism Relat Disord 12:265–272

13.

Solla P, Fasano A, Cannas A, Mulas CS, Marrosu MG, Lang AE, Marrosu F (2015) Dopamine agonist withdrawal syndrome (DAWS) symptoms in Parkinson's disease patients treated with levodopa–carbidopa intestinal gel infusion. Parkinsonism Relat Disord 21(8): 968–971

14.

Robert GH, Le Jeune F, Lozachmeur C, Drapier S, Dondaine T, Péron J et al (2014) Preoperative factors of apathy in subthalamic stimulated Parkinson disease. A PET study. Neurology 83(18): 1620–1626

15.

Okun MS, Wu SS, Fayad S, Ward H, Bowers D, Rosado C et al (2014) Acute and chronic mood and apathy outcomes from a randomized study of unilateral STN and GPi DBS. PLoS One 9(12):e114140

16.

Hilker R, Voges J, Weisenbach S, Kalbe E, Burghaus L, Ghaemi M et al (2004) Subthalamic nucleus stimulation restores glucose metabolism in associative and limbic cortices and in cerebellum: evidence from a FDG-PET study in advanced Parkinson's disease. J Cereb Blood Flow Metab 24:7–16
Ethics declarations
Conflicts of interest
On behalf of all authors, the corresponding author states that there is no conflict of interest.
Ethical standards
All studies in this case study have been approved by the appropriate ethics committee and have therefore been performed in accordance with the ethical standards laid down in the 1964 Declaration of Helsinki and its later amendments.
About this article
Cite this article
Zoon, T.J., de Bie, R.M., Schuurman, P.R. et al. Resolution of apathy after dorsal instead of ventral subthalamic deep brain stimulation for Parkinson's disease. J Neurol 266, 1267–1269 (2019). https://doi.org/10.1007/s00415-019-09232-0
Received:

Revised:

Accepted:

Published:

Issue Date: