Early-onset subcortical ischemic vascular dementia in an adult with mtDNA mutation 3316G>A
Dear Sirs,
The term subcortical ischemic vascular disease (SIVD) identifies a clinically homogeneous group of patients at risk for future vascular dementia (VaD) [1]. However, while cerebrovascular changes are common findings in aged subjects with or without dementia, etiology of dementing disorders in younger patients is challenging and often undetermined. We report a young woman without any conventional vascular risk factor, with a typical neuroimaging pattern of SIVD, and a clinical-cognitive profile of VaD.
A 59-year old woman complained about a 6-year history of progressive cognitive deterioration, along with apathy and depressive symptoms. Family and past medical history were uneventful. She did not take any medication. General and neurological examinations were within normal limits, except for diffuse brisk tendon reflexes. A comprehensive neuropsychological battery disclosed a global cognitive decline involving multiple domains (especially at executive functions, visual-spatial abilities, and episodic memory), together with depressed mood and impairment at both basic and instrumental activities of daily living. Extensive laboratory tests, including thyroid functions, glycated hemoglobin, homocysteine, pyruvate and lactate, serology for Lyme's disease, syphilis and HIV, anti-cardiolipin antibodies, LAC, β2-glycoprotein, anti-thrombin III, proteins C and S, were unremarkable. Trans-esophageal echocardiogram, 24-h electrocardiogram, blood pressure monitoring, cervical and transcranial duplex sonography, chest X-ray, and fundoscopy were normal. EEG demonstrated mild general slowing with theta activity. Brain MRI showed diffuse cortical–subcortical atrophy (more pronounced in the parietal–temporal lobes) and peri- and supra-ventricular white matter lesions, either isolated, multifocal, or confluent (Fig. 
1
a, b). No lesion suspicious for microbleed or contrast enhancement was detected; DWI and ADC mapping did not reveal recent lesions. PET showed parietal–temporal hypometabolism (Fig. 
1
c). Lumbar puncture was refused. Muscle biopsy revealed complex I mitochondrial respiratory chain deficiency. Genetic thrombophilia, pathogenic mutations of
APP
,
PS1
, and
PS2
, as well as mutations for MELAS, CADASIL, and Anderson-Fabry were ruled out.
APO
-
E
genotype was ε3/ε3. A homoplasmic G>A mutation was found at nucleotide 3316 of the mtDNA NADH Dehydrogenase subunit 1 (
ND1
) gene, which promotes alanine–threonine change in the peptide chain. Anti-platelet therapy was started. Over 5 years of clinical observation, cognitive and functional status gradually deteriorated.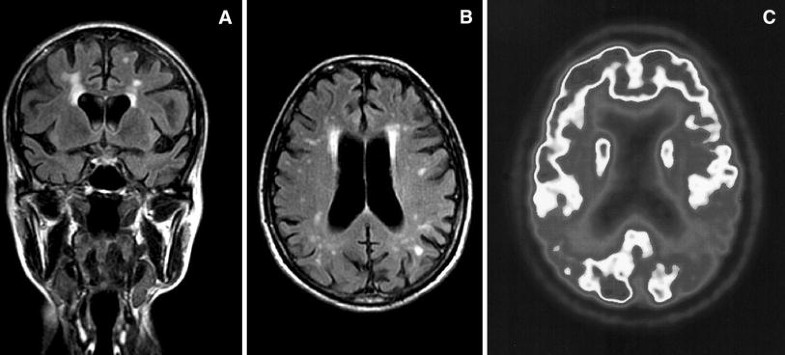 This report suggests a potential role of ND1 in the etiopathogenesis of SIVD and dementia. Such substitution causes a reduction of the respiratory chain complex I activity, supporting the hypothesis of mitochondrial respiratory chain involvement in cerebrovascular damage [2]. Although this change might be associated with nuclear or other defects influencing the severity and/or the onset of the disease, mtDNA mutations may have a cumulative effect, increasing the probability to develop an energy failure and possibly lowering the age of onset of cognitive decline, as already described in degenerative dementia [3]. Nevertheless, caution is necessary due to the high mutation rate of mtDNA that, as known, has inefficient repair systems, absence of protective histones, rare non-coding regions, and its localization near the electron transport chain.
The m.3316G>A mutation was described in patients with adult and childhood diabetes mellitus, impaired glucose tolerance, dilated cardiomyopathy, and mitochondrial disorders [4]. Mitochondrial dysfunction is a well-established hallmark of amyloid-beta (Aβ)-induced neuronal toxicity [5], and several mitochondrial mechanisms are invoked in Aβ-related cerebrovascular degeneration [2]. Recently, a connection between cerebral vessels and RAGE (receptor for advanced glycation end products), which regulates Aβ transport at the brain–blood barrier, was published in a mouse model of hypertension [6]. In the patient reported here, the mitochondrial dysfunction possibly played a role as an additional cause of vascular pathology and related cognitive impairment. Nevertheless, despite the increasing evidences, the role of mtDNA in VaD is still far to be established and the identification of further patients will help advancing knowledge in this area.
Notes
Compliance with ethical standards
Conflicts of interest
The authors declare that they have no conflict of interest.
Ethical standards
The authors state that they acted in accordance with the ethical standards of the 1964 Helsinki declaration and its later amendments.
Copyright information
© Springer-Verlag GmbH Germany, part of Springer Nature 2018