Abstract
We describe the case of a 58-year-old patient with complete callosal agenesis, who developed after a stroke a long lasting and distressing diagonistic dyspraxia. We found two original treatments to relieve the patient from his left limb conflicting movements. Reinforcing left arm sensory input minimized dyspraxic movements but was difficult to apply daily and was found unsatisfactory by the patient. As left anarchic, unwished movements of diagonistic dyspraxia have been attributed to the lack of inhibition exerted by supplementary motor area on right motor cortex, we applied sham-controlled rTMS to the right motor cortex. This procedure provided a dramatic suppression of left-hand involuntary movements. To our knowledge, this is the first description of the successful treatment of diagonistic dyspraxia.
This is a preview of subscription content, log in to check access.
Access options
Buy single article
Instant access to the full article PDF.
US$ 39.95
Price includes VAT for USA
Subscribe to journal
Immediate online access to all issues from 2019. Subscription will auto renew annually.
US$ 199
This is the net price. Taxes to be calculated in checkout.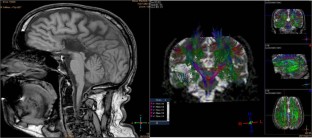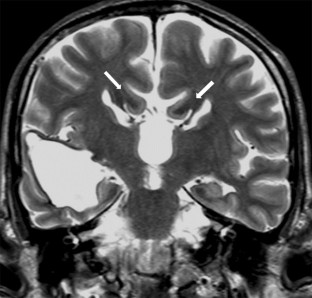 References
1.

Akelaitis AJ (1945) Studies on the corpus callosum. IV. Diagonistic dyspraxia in epileptics following partial and complete section of the corpus callosum. Am J Psychiatry 10:594–599

2.

Akelaitis AJ, Risteen WA, Herren RY, Van Wagenen WP (1942) Studies on the corpus callosum. III. A contribution to the study of dyspraxia and apraxia following partial and complete section of the corpus callosum. Arch Neurol Psychiatry 47:971–1008

3.

Bogen JE (1979) The callosal syndrome. In: Heilman KM, Valenstein E (eds) Clinical neuropsychology. Oxford University Press, New York, pp 308–359

4.

Tanaka Y, Yoshida A, Kawahata N, Hashimoto R, Obayashi T (1996) Diagonistic dyspraxia. Clinical characteristics, responsible lesion and possible underlying mechanism. Brain 119:859–873

5.

Jeeves MA (1994) Callosal agenesis. A natural split brain: overview. In: Lassonde M, Jeeves MA (eds) Callosal agenesis. A natural split brain?. Plenum Press, New York, pp 285–299

6.

Wahl M, Strominger Z, Jeremy RJ, Barkovich AJ, Wakahiro M, Sherr EH, Mukherjee P (2009) Variability of homotopic and heterotopic callosal connectivity in partial agenesis of the corpus callosum: a 3T diffusion tensor imaging and Q-Ball tractography study. Am J Neuroradiol 30:282–289

7.

Delay J (1935) Les astéréognosies. Pathologie du toucher. Masson, Paris

8.

Assal F, Schwartz S, Vuilleumier P (2007) Moving with or without will: functional neural correlates of alien hand syndrome. Ann Neurol 62:301–306

9.

Fregni F, Otachi PTM, do Valle A, Boggio PS, Thut G, Rigonatti SP et al. (2006) A randomized clinical trial of repetitive transcranial magnetic stimulation in patients with refractory epilepsy. Ann Neurol 60:447–455

10.

Lassonde M, Sauerwein HC, Lepore F (1995) Extent and limits of callosal plasticity: presence of disconnection symptoms in callosal agenesis. Neuropsychologia 33(8):989–1007

11.

Nishikawa T, Okuda J, Mizuta I, Ohno K, Jamshidi J, Tokunaga H, Ikejiri Y, Nakagawa Y, Yoshimine T, Tanabe H, Takeda M (2001) Conflict of intentions due to callosal disconnection. J Neurol Neurosurg Psychiatry 71:462–471

12.

Desmurget M, Sirigu A (2009) A parietal-premotor network for movement intention and motor awareness. Trends Cogn Sci 13(10):411–419

13.

Iacoboni M, Molnar-Szakacs I, Gallese V, Buccino G, Mazziotta JC, Rizzolatti G (2005) Grasping the intentions of others with one's own mirror neuron system. PLoS Biol 3(3):e79, 529–535

14.

Goldberg G, Mayer NH, Toglia JU (1981) Medial frontal cortex infarction and the alien hand sign. Arch Neurol 38:683–686

15.

Fecteau S, Lassonde M, Théoret H (2006) Intrahemispheric dysfunction in primary motor cortex without corpus callosum: a transcranial magnetic stimulation study. BMC Neurol 6:21. https://doi.org/10.1186/1471-2377-6-21

16.

Caslake R (2014) Difficulties with control arms in repetitive magnetic stimulation studies. J Neurol Neurosurg Psychiatry 85:1182

17.

Broadbent HJ, van den Eynde F, Guillaume S, Hanif EL, Stahl D, David AS, Campbell IC, Schmidt U (2011) Blinding success of rTMS applied to the dorsolateral prefrontal cortex in randomised sham-controlled trials: a systematic review. World J Biol Psychiatry 12:240–248
Ethics declarations
Conflicts of interest
On behalf of all authors, the corresponding author states that there is no conflict of interest.
Electronic supplementary material
Below is the link to the electronic supplementary material.
Video clip #1. Before rTMS. The patient is asked to put some pieces of money in a wallet and to give it back to the examiner. He performed correctly the task with his right hand but, when he tried to give the wallet, the left hand catched it and kept it firmly.
Video clip #2. After rTMS applied to the right motor cortex. Diagonistic dyspraxia has disappeared. The patient is able to give money back to the examiner, without any manual conflict.
Supplementary material 1 (MP4 92284 KB)
Supplementary material 2 (MP4 33902 KB)
About this article
Cite this article
Sellal, F., Cretin, B., Musacchio, M. et al. Long-lasting diagonistic dyspraxia suppressed by rTMS applied to the right motor cortex. J Neurol 266, 631–635 (2019). https://doi.org/10.1007/s00415-018-09178-9
Received:

Revised:

Accepted:

Published:

Issue Date:
Keywords
Diagnostic dyspraxia

Movement disorders

Corpus callosum

rTMS