Access options
Buy single article
Instant access to the full article PDF.
US$ 39.95
Tax calculation will be finalised during checkout.
Subscribe to journal
Immediate online access to all issues from 2019. Subscription will auto renew annually.
US$ 159
Tax calculation will be finalised during checkout.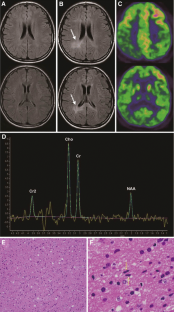 References
1.

Asada T, Takayama Y, Tokuriki Y, Fukuyama H (2007) Gliomatosis cerebri presenting as a parkinsonian syndrome. J Neuroimaging Off J Am Soc Neuroimaging 17:269–271

2.

Desclee P, Rommel D, Hernalsteen D, Godfraind C, de Coene B, Cosnard G (2010) Gliomatosis cerebri, imaging findings of 12 cases. J Neuroradiol 37:148–158

3.

Dolendo MC, Lin TP, Tat OH, Chong QT, Timothy LK (2003) Parkinsonism as an unusual presenting symptom of pineal gland teratoma. Pediatr Neurol 28:310–312

4.

Ho BL, Lieu AS, Hsu CY (2008) Hemiparkinsonism secondary to an infiltrative astrocytoma. Neurologist 14:258–261

5.

Plowman PN, Saunders CA, Maisey MN (1998) Gliomatosis cerebri: disconnection of the cortical grey matter, demonstrated on PET scan. Br J Neurosurg 12:240–244

6.

Vates GE, Chang S, Lamborn KR, Prados M, Berger MS (2003) Gliomatosis cerebri: a review of 22 cases. Neurosurgery 53:261–271 discussion 271
Acknowledgments
This study was supported by the cluster research fund of Hanyang University (HY-2009-C).
Conflicts of interest
The authors declare no financial or other conflict of interest.
Ethical standard
Informed consent was obtained from this patient according to the regulations of the Institutional Review Board of Hanyang University Medical Center.
Additional information
W. Jang and S. H. Ha contributed equally to this work.
Electronic supplementary material
Supplementary material 1 The patient shows hypomimia and monotonous speech. Bradykinesia is evident on all limbs and the trunk. The pull test at the end of the clip reveals postural instability (WMV 18290 kb)
About this article
Cite this article
Jang, W., Ha, S.H., Khang, S.K. et al. Juvenile parkinsonism as an initial manifestation of gliomatosis cerebri. J Neurol 260, 3161–3163 (2013). https://doi.org/10.1007/s00415-013-7162-1
Received:

Revised:

Accepted:

Published:

Issue Date:
Keywords
Parietal Lobe

Brain Magnetic Resonance Imaging

Motor Neuron Disease

Infiltrative Tumor

Gliomatosis Cerebri