Access options
Buy single article
Instant access to the full article PDF.
US$ 39.95
Tax calculation will be finalised during checkout.
Subscribe to journal
Immediate online access to all issues from 2019. Subscription will auto renew annually.
US$ 159
Tax calculation will be finalised during checkout.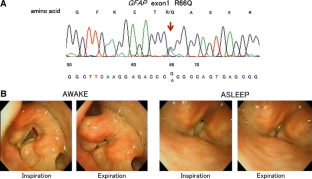 References
1.

Balbi P, Salvini S, Fundarò C, Frazzitta G, Maestri R, Mosah D, Uggetti C, Sechi G (2010) The clinical spectrum of late-onset Alexander disease: a systematic literature review. J Neurol 257:1955–1962

2.

Bannister R, Gibson W, Michaels L, Oppenheimer DR (1981) Laryngeal abductor paralysis in multiple system atrophy. A report on three necropsied cases, with observations on the laryngeal muscles and the nuclei ambigui. Brain 104:351–368

3.

Brenner M, Johnson A, Boespflug-Tanguy O, Rodriguez D, Goldman J, Messing A (2001) Mutations in GFAP, encoding glial fibrillary acidic protein, are associated with Alexander disease. Nat Genet 27:117–120

4.

Howard K, Hall D, Moon M, Agarwal P, Newman E, Brenner M (2008) Adult-onset Alexander disease with progressive ataxia and palatal tremor. Mov Disord 23:118–122

5.

Ishikawa M, Shimohata T, Ishihara T, Nakayama H, Tomita M, Nishizawa M (2010) Sleep apnea associated with floppy epiglottis in adult-onset Alexander disease: a case report. Mov Disord 25:1098–1100

6.

Isozaki E, Naito A, Horiguchi S, Kawamura R, Hayashida T, Tanabe H (1996) Early diagnosis and stage classification of vocal cord abductor paralysis in patients with multiple system atrophy. J Neurol Neurosurg Psychiatry 60:399–402

7.

Ito K, Takeuchi S, Hasuo K, Morooka M, Kubota K, Matsuda H (2009) Cerebral blood flow on ECD SPECT in a patient with adult onset Alexander disease. Clin Nucl Med 34:931–933

8.

Kyllerman M, Rosengren L, Wiklund LM, Holmberg E (2005) Increased levels of GFAP in the cerebrospinal fluid in three subtypes of genetically confirmed Alexander disease. Neuropediatrics 36:319–323

9.

Li R, Johnson A, Salomons G, Goldman J, Naidu S, Quinlan R, Cree B, Ruyle S, Banwell B, D'Hooghe M, Siebert J, Rolf C, Cox H, Reddy A, Gutiérrez-Solana L, Collins A, Weller R, Messing A, van der Knaap M, Brenner M (2005) Glial fibrillary acidic protein mutations in infantile, juvenile, and adult forms of Alexander disease. Ann Neurol 57:310–326

10.

Pareyson D, Fancellu R, Mariotti C, Romano S, Salmaggi A, Carella F, Girotti F, Gattellaro G, Carriero M, Farina L, Ceccherini I, Savoiardo M (2008) Adult-onset Alexander disease: a series of eleven unrelated cases with review of the literature. Brain 131:2321–2331

11.

Prust M, Wang J, Morizono H, Messing A, Brenner M, Gordon E, Hartka T, Sokohl A, Schiffmann R, Gordish-Dressman H, Albin R, Amartino H, Brockman K, Dinopoulos A, Dotti MT, Fain D, Fernandez R, Ferreira J, Fleming J, Gill D, Griebel M, Heilstedt H, Kaplan P, Lewis D, Nakagawa M, Pedersen R, Reddy A, Sawaishi Y, Schneider M, Sherr E, Takiyama Y, Wakabayashi K, Gorospe JR, Vanderver A (2011) GFAP mutations, age at onset, and clinical subtypes in Alexander disease. Neurology 77:1287–1294

12.

Stumpf E, Masson H, Duquette A, Berthelet F, McNabb J, Lortie A, Lesage J, Montplaisir J, Brais B, Cossette P (2003) Adult Alexander disease with autosomal dominant transmission: a distinct entity caused by mutation in the glial fibrillary acid protein gene. Arch Neurol 60:1307–1312
Acknowledgments
We thank Crimson Interactive Pvt. Ltd. for English editing and proofreading.
Conflicts of interest
None.
Electronic supplementary material
Below is the link to the electronic supplementary material.
Awake-laryngofiberscopy showed mild abduction restriction during inspiration and glottic stenosis during expiration. (MP4 3717 kb)
After intravenous diazepam (5 mg) administration, the bilateral vocal cords were almost fixed in the paramedian position, and only a 1-mm hole remained during inspiration. (MP4 4344 kb)
About this article
Cite this article
Hida, A., Ishiura, H., Arai, N. et al. Adult-onset Alexander disease with an R66Q mutation in GFAP presented with severe vocal cord paralysis during sleep. J Neurol 259, 2234–2236 (2012). https://doi.org/10.1007/s00415-012-6540-4
Received:

Revised:

Accepted:

Published:

Issue Date:
Keywords
Obstructive Sleep Apnea

Glial Fibrillary Acidic Protein

Vocal Cord

Obstructive Sleep Apnea Syndrome

Multiple System Atrophy