Abstract
Chorea and other movement disorders are rarely described as paraneoplastic. The aim of this study was to describe 13 patients with paraneoplastic chorea and dystonia collected by the members of the paraneoplastic neurological syndrome (PNS) EuroNetwork and to review 29 cases from the literature. We analyzed neurological symptoms, severity of the neurological syndrome, delay in neurological diagnosis, associated cancer, oncological and neurological treatments received, and outcome. Eleven (1.2%) out of 913 patients with PNS were identified in the EuroNetwork register. Two more patients not included in the register were added. The overall population consisted of 13 patients with a median age of 75 years (range 49–82 years). In most patients, the movement disorder was classical choreoathetosis with symmetric involvement of the trunk, neck, and limbs. A minority of patients presented unilateral chorea, dystonia, and orobuccal dyskinesia. Associated symptoms, as polyneuropathy, encephalitis, psychiatric disturbances, or visual defects, were often present. The movement disorder usually had a subacute course. The most frequently associated cancer was small cell lung cancer (SCLC). Lymphoma, bowel, or kidney cancers were also reported. CV2/CRMP5 was the most frequently associated antibody, followed by Hu. Hyperintense lesions of the basal ganglia on T2-weighted images were seldom observed. Response to cancer therapy was observed in a minority of patients, but survival was short (17 months). As in other neurological diseases, movement disorders should also be suspected as paraneoplastic when they develop subacutely in older patients (usually over 50) and often in the presence of other ancillary neurological symptoms.
Access options
Buy single article
Instant access to the full article PDF.
US$ 39.95
Tax calculation will be finalised during checkout.
Subscribe to journal
Immediate online access to all issues from 2019. Subscription will auto renew annually.
US$ 159
Tax calculation will be finalised during checkout.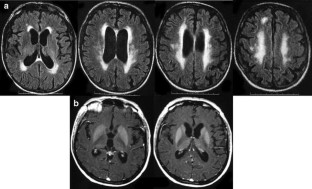 Abbreviations
PNS:

Paraneoplastic neurological syndrome

MRS:

Modified Rankin scale

OCD:

Obsessive compulsive disorder

SCLC:

Small cell lung cancer

Non SCLC:

Non small cell lung cancer

HL:

Hodgkin's lymphoma

Non-HL:

Non-Hodgkin's lymphoma

SLE:

Systemic lupus erythematosus

CNS:

Central nervous system

CSF:

Cerebrospinal fluid

MRI:

Magnetic resonance imaging
References
1.

Cardoso F, Seppi K, Mair KJ, Wenning GK, Poewe W (2006) Seminar on choreas. Lancet Neurol 5:589–602

2.

Albin RL, Bromberg MB, Penney JB, Knapp R (1988) Chorea and dystonia: a remote effect of carcinoma. Mov Disord 3:162–169

3.

Heckmann J, Lang CJ, Druschky A, Claus D, Bartels O, Neundörfer B (1997) Chorea resulting from paraneoplastic encephalitis. Mov Disord 12:464–466

4.

Batchelor TT, Platten M, Palmer-Toy DE, Hunter GJ, Lev MH, Dalmau J, Hochberg FH (1998) Chorea as a paraneoplastic complication of Hodgkin's disease. J Neurooncol 36:185–190

5.

Nuti A, Ceravolo R, Salvetti S, Gambaccini G, Bonuccelli U, Capochiani E (2000) Paraneoplastic choreic syndrome during non-Hodgkin's lymphoma. Mov Disord 15:350–352

6.

Tani T, Piao Y, Mori S, Ishihara N, Tanaka K, Wakabayashi K, Takahashi H (2000) Chorea resulting from paraneoplastic striatal encephalitis. J Neurol Neurosurg Psychiatry 69:512–551

7.

Croteau D, Owainati A, Dalmau J, Rogers LR (2001) Response to cancer therapy in a patient with a paraneoplastic choreiform disorder. Neurology 57:719–722

8.

Kujawa KA, Niemi VR, Tomasi MA, Mayer NW, Cochran E, Goetz CG (2001) Ballistic-choreic movements as the presenting feature of renal cancer. Arch Neurol 58:1133–1135

9.

Vernino S, Tuite P, Adler CH, Meschia JF, Boeve BV, Boasberg P, Parigi JE, Lennon VA (2002) Paraneoplastic chorea associated with CRMP-5 neuronal antibody and lung carcinoma. Ann Neurol 51:625–630

10.

Tremont-Lukats IW, Fuller GN, Ribalta T, Giglio P, Groves MD (2002) Paraneoplastic chorea: case study with autopsy confirmation. Neuro Oncol 4:192–195

11.

Samii A, Dahlen DD, Spence AM, Maronian NC, Kraus EE, Lennon VA (2003) Paraneoplastic movement disorder in a patient with non-Hodgkin's lymphoma and CRMP-5 autoantibody. Mov Disord 18:1556–1558

12.

Kinirons P, Fulton A, Keoghan M, Brennan P, Farrell MA, Moroney JT (2003) Paraneoplastic limbic encephalitis (PLE) and chorea associated with CRMP-5 neuronal antibody. Neurology 61:1623–1624

13.

Dorban S, Gille M, Kessler R, Piéret F, Declercq I, Sindic CJ (2004) Chorea-athetosis in the anti-Hu syndrome. Rev Neurol (Paris) 160:126–129

14.

Muehlschlegel S, Okun MS, Foote KD, Coco D, Yachnis AT, Fernandez HH (2005) Paraneoplastic chorea with leukoencephalopathy presenting with obsessive-compulsive and behavioural disorder. Mov Disord 20:1523–1527

15.

Krolak-Salmon P, Androdias G, Meyronet D, Aguera M, Honnorat J, Vighetto A (2006) Slow evolution of cerebellar degeneration and chorea in a man with anti-Yo antibodies. Eur J Neurol 13:307–308

16.

Kellinghaus C, Kraus J, Blaes F, Nabavi DG, Schäbitz WR (2007) CRMP-5 autoantibodies in testicular cancer associated with limbic encephalitis and choreiform dyskinesias. Eur Neurol 57:241–243

17.

Graus F, Delattre JY, Antoine JC, Dalmau J, Giometto B, Grisold W, Honnorat J, Smitt PS, Vedeler Ch, Verschuuren JJ, Vincent A, Voltz R (2004) Recommended diagnostic criteria for paraneoplastic neurological syndromes. J Neurol Neurosurg Psychiatry 75:1135–1140

18.

Willinson HJ, Ang W, Gilhus NE, Graus F, Liblau R, Vedeler C, Vincent A (2000) EFNS task force report: a questionnaire-based survey on the service provision and quality assurance for determination of diagnostic antibody test in European neuroimmunology centers. Eur J Neurol 7:625–628

19.

Gultekin SH, Rosenfeld MR, Voltz R, Eichen J, Posner JB, Dalmau J (2000) Paraneoplastic limbic encephalitis: neurological symptoms, immunological findings and tumour association in 50 patients. Brain 123:1481–1494

20.

Graus F, Keime-Guibert F, Reñé R, Benyahia B, Ribalta T, Ascaso C, Escaramis G, Delattre JY (2001) Anti-Hu-associated paraneoplastic encephalomyelitis: analysis of 200 patients. Brain 124:1138–1148

21.

Shams'ili S, Grefkens J, De Leeuw B, van den Bent M, Hooijkaas H, van der Holt B, Vecht C, Sillevis Smitt P (2003) Paraneoplastic cerebellar degeneration associated with antineuronal antibodies: analysis of 50 patients. Brain 126:1409–1418

22.

Tüzün E, Dalmau J (2007) Limbic encephalitis and variants: classification, diagnosis and treatment. Neurologist 13:261–271

23.

Jummani R, Okun M (2001) Sydenham chorea. Arch Neurol 58:311–313

24.

Cervera R, Asherson RA, Font J, Cervera R, Asherson RA, Font J, Tikly M, Pallarés L, Chamorro A, Ingelmo M (1997) Chorea in the antiphospholipid syndrome. Clinical, radiologic, and immunologic characteristics of 50 patients from our clinics and the recent literature. Medicine (Baltimore) 76:203–212

25.

Langbehn DR, Brinkman RR, Falush D, Paulsen JS, Hayden MR (2004) International Huntington's Disease Collaborative Group. A new model for prediction of the age of onset and penetrance for Huntington's disease based on CAG length. Clin Genet 65:267–277

26.

Wild EJ, Tabrizi SJ (2007) The differential diagnosis of chorea. Pract Neurol 7:360–373

27.

Dalmau J, Rosenfeld MR (2008) Paraneoplastic syndromes of the CNS. Lancet Neurol 7:327–340

28.

Honnorat J, Cartalat-Carel S, Ricard D, Camdessanche JP, Carpentier AF, Rogemond V, Chapuis F, Aguera M, Decullier E, Duchemin AM, Graus F, Antoine JC (2009) Onco-neural antibodies and tumour type determine survival and neurological symptoms in paraneoplastic neurological syndromes with Hu or CV2/CRMP5 antibodies. J Neurol Neurosurg Psychiatry 80:412–416

29.

Scheid R, Voltz R, Guthke T, Bauer J, Sammler D, von Cramon DY (2003) Neuropsychiatric findings in anti-Ma2-positive paraneoplastic limbic encephalitis. Neurology 61:1159–1161

30.

Maia DP, Teixeira AL, Quintão Cunningham MC, Cardoso F (2005) Obsessive compulsive behavior, hyperactivity, and attention deficit disorder in Sydenham chorea. Neurology 64:1799–1801

31.

Maina G, Albert U, Bogetto F, Borghese C, Berro AC, Mutani R, Rossi F, Vigliani MC (2009) Anti-brain antibodies in adult patients with obsessive-compulsive disorder. J Affect Disord 116:192–200

32.

Dalmau J, Lancaster E, Martinez-Hernadez E, Rosenfeld MR, Balice-Gordon R (2011) Clinical experience and laboratory investigations in patients with NMDAR encephalitis. Lancet Neurol 10:63–79

33.

Rankin J (1957) Cerebral vascular accidents in patients over the age of 60. II. Prognosis. Scott Med J 2:200–215

34.

Psimaras D, Carpentier A, Rossi C, PNS Euronetwork (2010) CSF study in paraneoplastic syndrome. J Neurol Neurosurg Psychiatry 81:42–45

35.

Saiz A, Bruna J, Stourac P, Vigliani MC, Giometto B, Grisold W, Honnorat J, Psimaras D, Voltz R, Graus F (2009) Anti-Hu-associated brainstem encephalitis. J Neurol Neurosurg Psychiatry 80:404–440

36.

Rogemond V, Honnorat J (2000) Anti-CV2 autoantibodies and paraneoplastic neurological syndromes. Clin Rev Allergy Immunol 19:51–59

37.

Honnorat J, Cartalat-Carel S (2004) Advances in paraneoplastic neurological syndromes. Curr Opin Oncol 16:614–620

38.

Voltz R (2002) Paraneoplastic neurological syndromes: an update on diagnosis, pathogenesis, and therapy. Lancet Neurol 1:294–305

39.

Rojas I, Graus F, Keime-Guibert F, Reñé R, Delattre JY, Ramón JM, Dalmau J, Posner J (2000) Long-term clinical outcome of paraneoplastic cerebellar degeneration and anti-Yo antibodies. Neurology 55:713–715

40.

Sahashi K, Sakai K, Mano K, Hirose G (2003) Anti-Ma2 antibody related paraneoplastic limbic/brain stem encephalitis associated with breast cancer expressing Ma1, Ma2, and Ma3 mRNAs. J Neurol Neurosurg Psychiatry 74:1332–1335
Acknowledgments
We thank Ms. Joanne Fleming for her technical support. This study was supported by Grants QLG1-CT-2002-01756 and LSSM-CT-2005-518174 of the European Commission.
Conflict of interest
None.
Additional information
Members of PNS EuroNetwork are given in the Appendix.
Electronic supplementary material
Below is the link to the electronic supplementary material.
Video 1: Symmetric chorea in a patient CV2-positive developing a SCLC (Patient no. 7): 1 (WMV 1577 kb)
Appendix
Appendix
The PNS EuroNetwork is formed by: B. Giometto, Treviso, Italy; P. Tonali, Rome, Italy; M.C. Vigliani, Torino, Italy; J. Honnorat, Lyon, France; R. Voltz, Cologne, Germany; F. Graus, Barcelona, Spain; P. Stourac, Brno, Czech Republic; R. Fazio, Milan, Italy; P. Sillevis Smitt, Rotterdam, Netherlands; J. Verschuuren, Leiden, Netherlands; A. Carpentier, Paris, France; A. Vincent, Oxford, UK; J. C. Antoine, St. Etienne, France; J. Rees, London, UK; W. Grisold, Vienna, Austria; C. Vedeler, Bergen, Norway; R. Zoran, Ljubljana, Slovenia; (the late) I. Hart, Liverpool, UK; L. Lorusso, Chiari, Italy; G. Bertolini, Bergamo, Italy; G. Vita, Messina, Italy; F. Blaes, Giessen, Germany; S. Rauer, Freiburg, Germany.
About this article
Cite this article
Vigliani, M.C., Honnorat, J., Antoine, JC. et al. Chorea and related movement disorders of paraneoplastic origin: the PNS EuroNetwork experience. J Neurol 258, 2058–2068 (2011). https://doi.org/10.1007/s00415-011-6074-1
Received:

Accepted:

Published:

Issue Date:
Keywords
Paraneoplastic

Chorea

Dystonia

Movement disorder

Cancer