Abstract
A synthetic head model developed to reproduce military injuries was assessed in two different scenarios involving shooting through intermediate targets (a laminated vehicle windscreen in scenario 1 and a military helicopter windscreen in scenario 2) with 7.62 × 39-mm mild steel core (MSC) ammunition. The injury patterns resulting from the two scenarios were assessed by a military radiologist and a forensic pathologist with combat injury experience and found to be clinically realistic.
Access options
Buy single article
Instant access to the full article PDF.
US$ 39.95
Tax calculation will be finalised during checkout.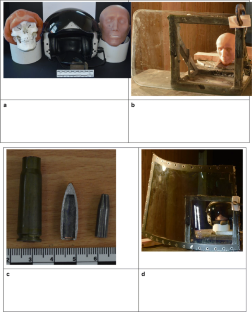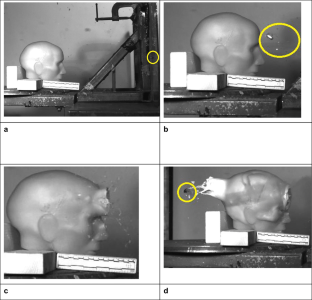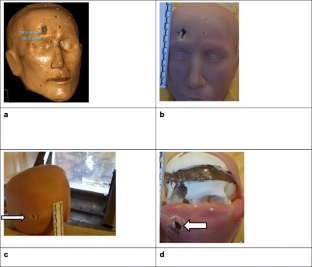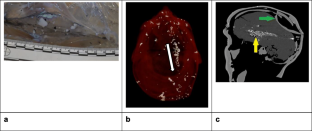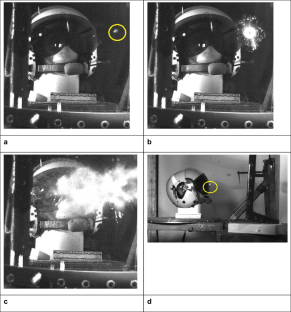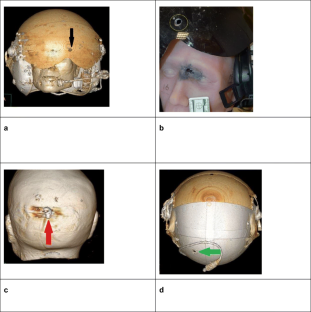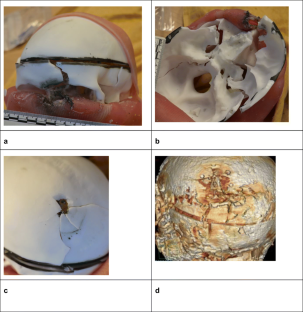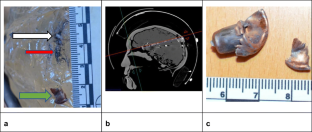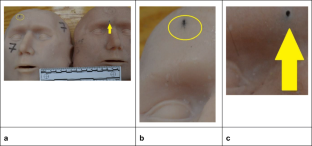 References
1.

Mahoney PF, Carr DJ, Harrison K, McGuire R, Hepper A, Flynn D, Delaney RJ, Gibb I (2019) Forensic reconstruction of two military shooting incidents using an anatomically correct synthetic skull with a surrogate skin/soft tissue layer. Int J Legal Med 133:151–162

2.

Mahoney PF, Carr DJ, Arm R, Gibb I, Hunt N, Delaney RJ (2017) Ballistic impacts on an anatomically correct synthetic skull with a surrogate skin/soft tissue layer. Int J Legal Med 132:519–530

3.

Kieser DC, Carr DJ, Leclair SCJ, Horsfall I, Theis JC, Swain MV, Kieser JA (2013) Clothing increases the risk of indirect ballistic fractures. J Orthop Surg Res 8:1–7. https://doi.org/10.1186/1749-799X-8-42

4.

Stevenson T, Carr DJ, Gibb I, Stapley S (2019) The effect of military clothing on gunshot wound patterns in a cadaveric animal limb model. Int J Legal Med. https://doi.org/10.1007/s00414-019-02135-9

5.

Farrugia A, Raul JS, Geraut A, Tortel MC, Ludes B (2009) Destabilisation and intracranial fragmentation of a full metal jacket bullet. J Forensic Legal Med 16:400–402

6.

Mahoney PF, Carr DJ, Miller D, Teagle M (2017) Effect of helmet materials and simulated bone and tissue layers on bullet behaviour in a gelatine model of overmatch penetrating head injury. Int J Legal Med 131:1765–1776

7.

Lambert HC (1994) The effects of commercial tempered glass on rifle bullet deflection. Californian State University

8.

Harper WW (1939) Behaviour of bullets fired through glass. Am Inst Crim L Criminol 29:718–723

9.

Thornton JI, Cashman PJ (1985) The Effect of Tempered Glass on Bullet Trajectory. J Forensic Sci 31:743–746

10.

Wilgus G, White JB (2013) An Investigation of the Effects of Laminated Glass on Bullet Deflection. J Forensic Identif 63:226–232

11.

DiMaio VJM (2016) Introduction to the classification of gunshot wounds. Gunshot wounds: practical aspects of firearms, ballistics and forensic techniques, 3rd edn. CRC Press, Boca Raton, pp 57–108

12.

Hueske EE (2016) Bullet hole and wound characteristics. Practical analysis and reconstruction of shooting incidents, 2nd edn. CRC press, Taylor & Francis Group, Boca Raton, pp 223–257

13.

Mahoney PF, Carr DJ, Delaney R et al (2017) Does preliminary optimisation of an anatomically correct skull-brain model produce clinically realistic ballistic injury fracture patterns? Int J Legal Med 131:1043–1053

14.

Russell R, Hunt N, Delaney R (2014) The mortality peer review panel: a report on the deaths on operations of UK service personnel. J R Army Med Corps 160:150–154

15.

Mabbott AJ (2015) The overmatching of armour, PhD thesis. Cranfield University

16.

Karger B, Puskas Z, Ruwald B, Teige K, Schuirer G (1998) Morphological findings in the brain after experimental gunshots using radiology, pathology and histology. Int J Legal Med 111:314–319

17.

Oehmichen M, Gehl H-B, Meissner C, Petersen D, Höche W, Gerling I, König HG (2003) Forensic pathological aspects of post-mortem imaging of gunshot injury to the head: documentation and biometric data. Acta Neuropathol 105:570–580
Acknowledgments
1. Cranfield University and Defence Academy of the United Kingdom, Shrivenham, SN6 8LA
David Miller, Alan Peare, Ian Morton, Liz Nelson
2. Centre for Defence Radiology, Queen Elizabeth Hospital Birmingham, Mindelsohn Way, Birmingham B15 2TH.
Catherine Bean
Lauren Potts
Military CT Specialist Radiographers
3. Nottingham Trent University, Flexural Composites Research Laboratory, 107 Bonington Building, Dryden Street, Nottingham, NG1 4GG, UK
Richard Arm, Research Fellow
4. Boeing UK for providing the helicopter windscreen.
5. This case report formed part of the work for a doctoral thesis. The full thesis is available at: https://dspace.lib.cranfield.ac.uk/handle/1826/13280
Funding
Funding was provided by the Royal Centre for Defence Medicine
Ethics declarations
Ethical statement
Ethical approval was granted by Cranfield University for this work and the previous experiments leading up to this work.
Conflict of interest
The authors declare that they have no conflicts of interest.
Informed consent
Informed consent is not applicable as the work does not involve human subjects and the targets are inanimate objects.
Additional information
Publisher's note
Springer Nature remains neutral with regard to jurisdictional claims in published maps and institutional affiliations.
About this article
Cite this article
Mahoney, P.F., Carr, D.J., Delaney, R.J. et al. Shooting through windscreens: ballistic injury assessment using a surrogate head model—two case reports. Int J Legal Med 134, 1409–1417 (2020). https://doi.org/10.1007/s00414-019-02170-6
Received:

Accepted:

Published:

Issue Date:
Keywords
Window shooting

7.62 × 39 mm MSC ammunition

Aviation helmet

Ballistic head injury