Abstract
A single gunshot (or multiple) does (do) not necessarily lead to immediate loss of consciousness or rapid neurological deficits, so the victim may be able to repeatedly pull the trigger before achieving the lethal effect. Despite multiple gunshot wounds can lead to the suspicious participation of other person to the death of the victim, in the medico-legal literature suicides with multiple gunshot wounds are reported, demonstrating the ability of the victim to act after two or more gunshots. In this case, a 47-years-old man was found dead in a pool of blood in the kitchen of his house. According to findings and analysis, the victim modified a single-shot, pneumatic toy gun branded "Condor" Cal. 7 mm (a gun that is made mainly with "ZAMAK" zinc-based alloy, designed to shoot one soft-polymer bullet at a time, with an initial kinetic energy lower than 1 Joule) into an improvised firearm weapon. With this gun, the victim achieved shooting of two bullets into his head, both entering from the right temporal region of his head, with one stopped in the left occipital lobe and the other one in the left temporal lobe. His death was caused by cranium-meningo-encephalic gunshot wounds. The conditions supporting the hypothesis that the victim was able to fire two shots to his head before the onset of incapacitation (the type of bullets used, the location of injuries and their consequences) and the characteristics that typically allow to distinguish the manner of death (suicide vs homicide) were evaluated. Based on all the collected elements, it was possible to confirm that suicide was the manner of death. This case underlines the importance of evaluating all available elements (post-mortem imaging, autopsy and toxicological findings, ballistics and neuropathological evaluations) to distinguish suicide from homicide and to prevent incorrect conclusions.
This is a preview of subscription content, log in to check access.
Access options
Buy single article
Instant access to the full article PDF.
US$ 39.95
Price includes VAT for USA
Subscribe to journal
Immediate online access to all issues from 2019. Subscription will auto renew annually.
US$ 199
This is the net price. Taxes to be calculated in checkout.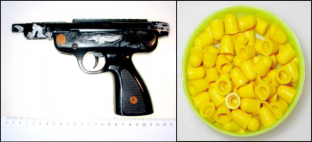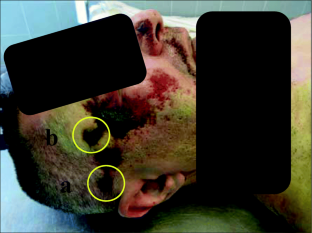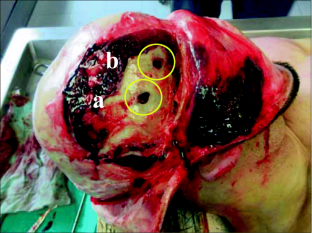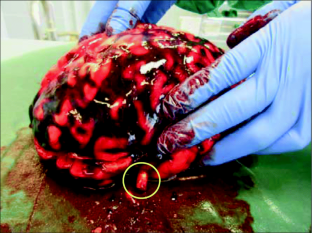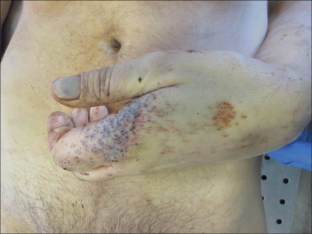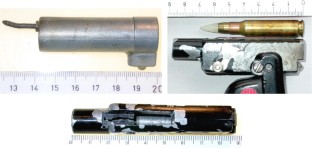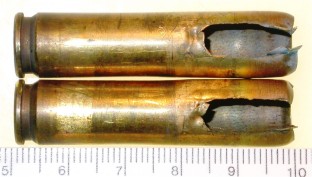 References
1.

Karger B (1995) Penetrating gunshots to the head and lack of immediate incapacitation. I. Wound ballistics and mechanisms of incapacitation. Int J Legal Med 108:53–61

2.

Aesch B, Lefrancq T, Destrieux C, Saint-Martin P (2014) Fatal gunshot wound to the head with lack of immediate incapacitation. Am J Forensic Med Pathol 35:86–88

3.

Newgard K (1992) The physiological effects of handgun bullets: the mechanisms of wounding and incapacitation. Wound Ballistics Rev 1(3):12–17

4.

Karger B, Brinkmann B (1997) Multiple gunshot suicides: potential for physical activity and medico-legal aspects. Int J Legal Med 110:188–192

5.

Arunkumar P, Maiese A, Bolino G, Gitto L (2015) Determined to die! Ability to act following multiple self-inflicted gunshot wounds to the head. The Cook County Office of medical examiner experience (2005–2012) and review of literature. J Forensic Sci 60(5):1373–1379

6.

Karger B, Billeb E, Koops E, Brinkmann B (2002) Autopsy features relevant for discrimination between suicidal and homicidal gunshot injuries. Int J Legal Med 116:273–278

7.

Stone CI (1992) Characteristics of firearms and gunshot wounds as markers of suicide. Am J Forensic Med Pathol 13:275–280

8.

Eisele JW, Reay DT, Cook A (1981) Sites of suicidal gunshot wounds. J Forensic Sci 26:480–485

9.

Di Maio VJM (2016) Gunshot wounds, practical aspects of firearms, ballistics and forensic techniques, 3rd edn. CRC Press, Boca Raton, FL

10.

Hejna P, Safr M, Zátopková L (2012) The ability to act - multiple suicidal gunshot wounds. J Forensic Legal Med 19:1–6

11.

Boxho P (1999) Fourteen shots for a suicide. Forensic Sci Int 101(1):71–77

12.

Racette S, Sauvageau A (2008) Suicide by drowning after two gunshots to the head: a case report. Med Sci Law 48:170–172

13.

Hejna P (2010) Multiple suicidal injuries with shotgun slugs. Int J Legal Med 124:79–82

14.

Introna F, Smialek JE (1989) Suicide from multiple gunshot wounds. Am J Forensic Med Pathol 10:275–284

15.

Karger B (1995) Penetrating gunshots to the head and lack of immediate incapacitation. II. Review of case reports. Int J Legal Med 108:117–126

16.

Marnerides A, Zagelidou E, Leontari R (2013) An unusual case of multiple-gunshot suicide of an alcohol-intoxicated cancer sufferer with prolonged physical activity. J Forensic Sci 58:537–539

17.

Levy V, Rao VJ (1988) Survival time in gunshot and stab wound victims. Am J Forensic Med Pathol 9(3):215–217

18.

Karger B, Puskas Z, Ruwald B, Teige K, Schuirer G (1998) Morphological findings in the brain after experimental gunshots using radiology, pathology and histology. Int J Legal Med 111(6):314–319

19.

Strassmann G (1935) Uber Lebensdauer und Handlungsfohigkeit Schwerverletzer. Deut Ztschr f d Ges Gerichtl Med 24:393

20.

Hudson P (1981) Multishot firearm suicide – examination of 58 cases. Am J Forensic Med and Pathol 2(3):239–242

21.

Oehmichen M, Meissner C, König HG, Gehl HB (2004) Gunshot injuries to the head and brain caused by low-velocity handguns and rifles. A review. Forensic Sci Int 146:111–120

22.

Guareschi G (1935) Studio per quattro colpi di pistola al capo. Arch Antropol Crim Psichiatr Med Leg 58:558–562

23.

Karger B, Nüsse R, Schroeder G, Wüstenbecker S, Brinkmann B (1996) Backspatter from experimental close-range shots to the head. I. Macrobackspatter. Int J Legal Med 109:66–74

24.

Sellier K (1986) Death: accident or suicide by use of firearms. Forensic Sci Prog 1:91–115

25.

Durmic T, Radnic B, Bogdanovic M, Atanasijevic T (2019) Two cases of firearm-related murder-suicide: forensic implications of the ability to act. Med Sci Law 59(2):78–82
Additional information
Publisher's note
Springer Nature remains neutral with regard to jurisdictional claims in published maps and institutional affiliations.
About this article
Cite this article
Maghin, F., Antonietti, A., Farina, D. et al. A case of suicide by double gunshot wounds to the head: the ability to act after the first shot. Int J Legal Med 133, 1469–1476 (2019). https://doi.org/10.1007/s00414-019-02085-2
Received:

Accepted:

Published:

Issue Date:
Keywords
Forensic science

Multiple gunshot wounds

Suicide

Ability to act

Incapacitation