Abstract
Due to its protected anatomical location, cerebrospinal fluid (CSF) is a very stable fluid which undergoes comparatively little change in the early post-mortem phase. While many immunohistochemical markers already established for clinical diagnostic issues in tissue samples obtained by biopsy could meanwhile be translated also to post-mortem tissue, no systematic immunocytochemical investigations have generally been conducted on post-mortem body fluids and for CSF specifically, have not been established at all. CSF as the fluid directly surrounding the brain should also be examined to allow a more detailed characterization of processes in the central nervous system. Comparing traumatized tissue and CSF can complete forensic assessment and complement neuropathological evaluation.
This is a preview of subscription content, log in to check access.
Access options
Buy single article
Instant access to the full article PDF.
US$ 39.95
Price includes VAT for USA
Subscribe to journal
Immediate online access to all issues from 2019. Subscription will auto renew annually.
US$ 199
This is the net price. Taxes to be calculated in checkout.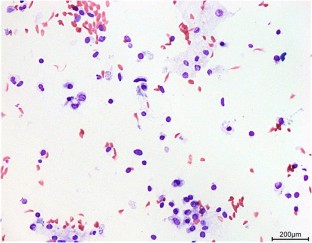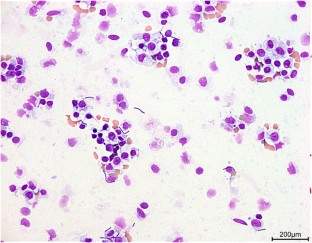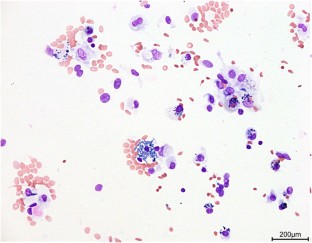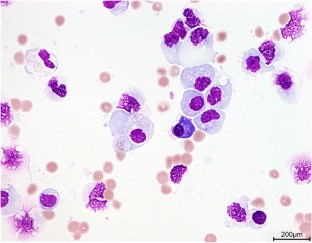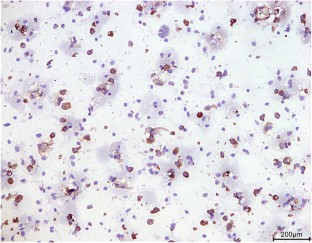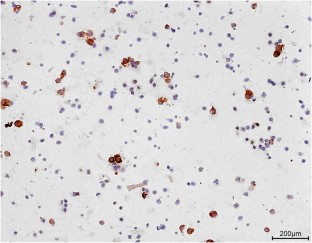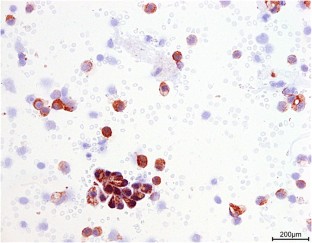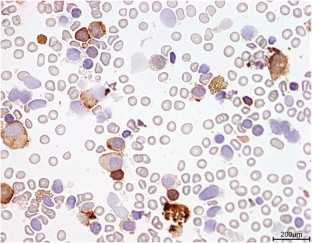 References
1.

Friedrich G (1986) Forensische postmortale Biochemie. In: Forster B (ed) Praxis der Rechtsmedizin. Thieme, Stuttgart, pp 789–831

2.

Kernbach G, Brinkmann B (1983) Postmortale Pathochemie für die Feststellung der Todesursache "Coma diabeticum". Pathologe 4:235–240

3.

Palmiere C, Mangin P (2012) Postmortem chemistry update part II. Int J Legal Med 126:199–215

4.

Trautz F, Dressler J, Stassart R, Muller W, Ondruschka B (2018) Proposals for best-quality immunohistochemical staining of paraffin-embedded brain tissue slides in forensics. Int J Legal Med 132(4):1103–1109

5.

Wyler D, Marty W, Bär W (1994) Correlation between the post-mortem cell content of cerebrospinal fluid and time of death. Int J Legal Med 106:194–199

6.

Swain R, Kumar A, Sahoo J, Lakshmy R, Gupta S, Bhardwaj D, Pandey R (2015) Estimation of post-mortem interval: a comparison between cerebrospinal fluid and vitreous humour chemistry. J Forensic Legal Med 36:144–148

7.

Mangin P, Lugnier A-A, Chaumont A-J, Offner M, Grucker M (1993) Forensic significance of postmortem estimation of the blood cerebrospinal fluid barrier permeability. Forensic Sci Int 22:143–149

8.

Hausmann R, Betz P (2000) The time course of the vascular response to human brain injury- an immunohistochemical study. Int J Legal Med 113:288–292

9.

Hausmann R, Betz P (2001) Course of glial immunoreactivity for vimentin, tenascin and alpha 1-antichymotrypsin after traumatic injury to human brain. Int J Legal Med 114:338–342

10.

Oehmichen M, Walter T, Meissner C, Friedrich H (2003) Time course of cortical hemorrhages after closed traumatic brain injury: statistical analysis of posttraumatic histomorphological alterations. J Neurotrauma 20:87–103

11.

Dreßler J, Hanisch U, Kuhlisch E, Geiger K (2007) Neuronal and glial apoptosis in human traumatic brain injury. Int J Legal Med 121:365–375

12.

Krohn M, Dreßler J, Bauer M, Schober K, Franke H, Ondruschka B (2015) Immunohistochemical investigation of S100 and NSE in cases of traumatic brain injury and its application for survival time determination. J Neurotrauma 32:430–440

13.

Ondruschka B, Schuch S, Pohlers D, Franke H, Dreßler J (2018) Acute phase response after fatal traumatic brain injury. Int J Legal Med 132:531–539

14.

Bayer R, Franke H, Ficker C, Richter M, Lessig R, Büttner A, Weber M (2015) Alterations of neuronal precursor cells in stages of human adult neurogenesis in heroin addicts. Drug Alcohol Depend 156:139–149

15.

Büttner A (2011) The neuropathology of drug abuse. Neuropathol Appl Neurobiol 37:118–134

16.

Weber M, Scherf N, Kahl T, Braumann U, Scheibe P, Kuska J, Bayer R, Büttner A, Franke H (2013) Quantitative analysis of astrogliosis in drug-dependent humans. Brain Res 1500:72–87

17.

Weis S, Büttner A (2017) Neurotoxicology and drug-related disorders. Handb Clin Neurol 145:181–192

18.

Jones K, Krous H, Nadeau J, Blackbourne B, Zielke H, Gozal D (2003) Vascular endothelial growth factor in cerebrospinal fluid of infants who died of sudden infant death syndrome: evidence for antecedent hypoxia. Pediatrics 111:358–363

19.

Quan L, Ishikawa T, Hara J, Michiue T, Chen J-H, Wang Q, Zhu B, Maeda H (2011) Postmortem serotonin levels in cerebrospinal and pericardial fluids with regard to the cause of death in medicolegal autopsy. Leg Med (Tokyo) 13:75–78

20.

Rognum I, Tran H, Haas E, Hyland K, Paterson D, Haynes R, Broadbelt K, Harty B, Mena O, Krous H, Kinney H (2014) Serotonin metabolites in the cerebrospinal fluid in sudden infant death syndrome. J Neuropathol Exp Neurol 73:115–122

21.

Agoston DV, Shutes-David A, Peskind E (2017) Biofluid biomarkers of traumatic brain injury. Brain Inj 31:1195–1203

22.

Olczak M, Niderla-Bielinska J, Kwiatkowska M, Samojlowicz D, Tarka S, Wierzba-Bobrowicz T (2017) Tau protein (MAPT) as a possible biochemical marker of traumatic brain injury in pstmortem examination. Forensic Sci Int 280:1–7

23.

Ondruschka B, Sieber M, Kirsten H, Franke H, Dreßler J (2018) Measurement of cerebral biomarkers proving traumatic brain injury in post-mortem body fluids. Neurotrauma 17:2044–2055

24.

Sieber M, Dreßler J, Franke H, Pohlers D, Oehmichen M (2018) Post-mortem biochemistry of NSE and S100B: a supplemental tool for detecting a lethal traumatic brain injury. J Forensic Legal Med 55:65–73

25.

Oerter S, Förster C, Bohnert M (2018) Validation of sodium/glucose cotransporter proteins in human brain as a potential marker for temporal narrowing of the trauma formation. Int J Legal Med. https://doi.org/10.1007/s00414-018-1893-6

26.

Ondruschka B, Pohlers D, Somemr G, Schober J, Teupser D, Franke H, Dreßler J (2013) S100B and NSE as useful postmortem biochemical markers of traumatic brain injury in autopsy cases. J Neurotrauma 30:1862–1871

27.

Deutsche Gesellschaft für Rechtsmedizin (2017) Die rechtsmedizinische Leichenöffnung. AWMF. https://www.awmf.org/leitlinien/detail/II/054-001.html

28.

Dettmeyer R (2018) Forensic histopathology. 2nd. Springer, Berlin

29.

Hanrieder J, Wetterhall M, Enblad P, Hillered L, Bergquist J (2009) Temporally resolved differential proteomic analysis of human ventricular CSF monitoring traumatic brain injury biomarker candidates. J Neurosci Methods 177:469–478

30.

Hausmann R, Betz P (2002) The course of MIB-1 expression by cerebral macrophages following human brain injury. Leg Med (Tokyo) 4:79–83

31.

Garland J, Philox W, Kesha K, Morrow P, Lam L, Spark A, Palmiere C, Elstub H, Cala A, Stables S, Tse R (2018) Differences in sampling site on the postmortem cerebrospinal fluid biochemistry: a preliminary study. Am J Forensic Med Pathol 39:304–308
Acknowledgements
We would like to thank the preparators Heiko Besenfelder and Max Perschneck for their excellent support in collecting the specimens and Michaela Hartmann as well as the team of the CSF laboratory of the Neurological University Hospital for producing the preparations and stains.
Ethics declarations
This study has been reviewed and approved by the ethic committee of the University of Wuerzburg.
Conflict of interest
The authors declare that they have no potential conflict of interest.
Additional information
Publisher's note
Springer Nature remains neutral with regard to jurisdictional claims in published maps and institutional affiliations.
About this article
Cite this article
Bohnert, S., Ondruschka, B., Bohnert, M. et al. Post-mortem cerebrospinal fluid diagnostics: cytology and immunocytochemistry method suitable for routine use to interpret pathological processes in the central nervous system. Int J Legal Med 133, 1141–1146 (2019). https://doi.org/10.1007/s00414-019-02050-z
Received:

Accepted:

Published:

Issue Date:
Keywords
CSF

Cerebrospinal fluid

Forensic neuropathology

Forensic neurotraumatology

Cytology

Immunocytochemistry