Abstract
The pattern of gunshot residue (GSR) includes important information about muzzle-target distance since a larger GSR distribution diameter indicates a larger shooting distance. GSR may not be visible to the naked eye when, for example, it is located on dark textiles. In such cases, further procedures need to be performed in order to visualize the pattern of GSR. Besides chemical procedures, an alternative light source or infrared photography can be utilized for non-destructive GSR visualization. In the work presented, these two techniques are compared based on shooting experiments using 26 different dark textiles. Within the range of the alternative light source, the use of a 440-nm light in combination with an orange-colored filter led to the best visualization of GSR in the form of fluorescent particles. Infrared photography, on the other hand, visualized GSR as dark particles, whereas—ideally—the dark textile reflected the infrared light and appeared bright. The comparison of both techniques revealed that the GSR distribution visualized by infrared photography was not identical to the GSR distribution visualized with 440-nm illumination in combination with an orange-colored filter. We concluded that infrared photography visualizes the inner powder soot zone, whereas illumination at 440 nm leads to fluorescence of the outer powder soot zone, which can be visualized using an orange-colored filter. Knowledge of this difference in visualization of the two powder soot zones is important for forensic practitioners assessing firing distances. In the literature, however, this difference is not noted as clearly.
This is a preview of subscription content, log in to check access.
Access options
Buy single article
Instant access to the full article PDF.
US$ 39.95
Price includes VAT for USA
Subscribe to journal
Immediate online access to all issues from 2019. Subscription will auto renew annually.
US$ 199
This is the net price. Taxes to be calculated in checkout.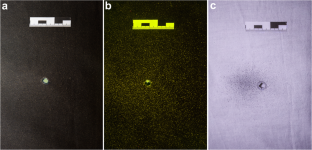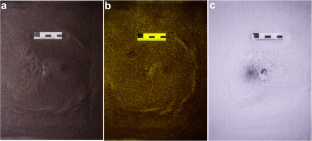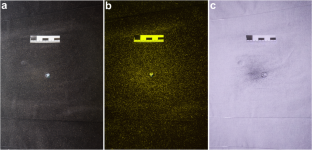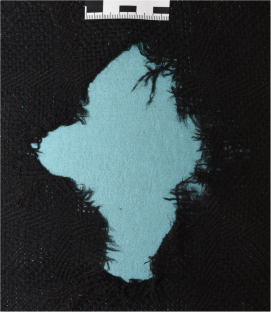 References
1.

Karger B (2004) Schussverletzungen. In: Brinkmann B, Madea B (eds) Handbuch gerichtliche Medizin. Springer, Berlin, pp 593–682

2.

Pollak S (2015) Schussverletzungen. In: Madea B (ed) Rechtsmedizin, 3rd edn. Springer, Berlin Heidelberg, pp 245–262

3.

Di Maio VJM (2016) Introduction to the classification of gunshot wounds. In: Di Maio VJM (ed) Gunshot wounds. Practical aspects of firearms, ballistics, and forensic techniques, 3rd edn. CRC Press, Boca Raton London New York, pp 57–108

4.

Brown H, Cauchi DM, Holden JL, Allen FCL, Cordner S, Thatcher P (1999) Image analysis of gunshot residue on entry wounds II - a statistical estimation of firing range. Forensic Sci Int 100:179–186

5.

Neri M, Turillazzi E, Riezzo I, Fineschi V (2007) The determination of firing distance applying a microscopic quantitative method and confocal laser scanning microscopy for detection of gunshot residue particles. Int J Legal Med 121:287–292

6.

Sellier K, Kneubuehl BP (2001) Wundballistik und ihre ballistischen Grundlagen, 2nd edn. Springer, Berlin

7.

Mohd Nor F, Das S (2012) Gunshot wound in skeletonised human remains with partial adipocere formation. J Forensic Legal Med 19:42–45

8.

Kobayashi M, Sakurada K, Nakajima M, Iwase H, Hatanaka K, Matsuda Y, Ikegaya H, Takatori T (1999) A 'keyhole lesion' gunshot wound in an adipocere case. Legal Med 1:170–173

9.

Ferllini R (2010) Tissue preservation and projectile context in a Spanish Civil War victim. J Forensic Legal Med 17:285–288

10.

Baraybar JP, Gasior M (2006) Forensic anthropology and the most probable cause of death in cases of violations against international humanitarian law: An example from Bosnia and Herzegovina. J Forensic Sci 51:103–108

11.

Marin N, Buszka J (2013) UV and narrowband visible light imaging. In: Miller LS (ed) Alternate light source imaging. Forensic photography techniques. Anderson Publishing Elsevier, Amsterdam, pp 25–61

12.

Sellier K (1967) Schussentfernungsbestimmung. Verlag Max Schmidt-Römhild, Lübeck

13.

Berendes A, Neimke D, Schumacher R, Barth M (2006) A versatile technique for the investigation of gunshot residue patterns on fabrics and other surfaces: M-XRF. J Forensic Sci 51:1085–1090

14.

Atwater CS, Durina ME, Durina JP, Blackledge RD (2006) Visualization of gunshot residue patterns on dark clothing. J Forensic Sci 51:1091–1095

15.

Dalby O, Butler D, Birkett JW (2010) Analysis of gunshot residue and associated materials: a review. J Forensic Sci 55:924–943

16.

Bailey JA, Casanova RS, Bufkin K (2006) A method for enhancing gunshot residue patterns on dark and multicolored fabrics compared with the modified griess test. J Forensic Sci 51:812–814

17.

Kersh KL, Childers JM, Justice D, Karim G (2014) Detection of gunshot residue on dark-colored clothing prior to chemical analysis. J Forensic Sci 59:754–762

18.

Brazeau J, Wong R (1997) Analysis of gunshot residues on human tissues and clothing by x-ray microfluorescence. J Forensic Sci 42:424–428

19.

Hofer R, Graf S, Christen S (2017) The use of unburned propellant powder for shooting-distance determination. Part I: Infrared luminescence. Forensic Sci Int 273:10–19

20.

Zapata F, López-López M, Amigo JM, García-Ruiz C (2018) Multi-spectral imaging for the estimation of shooting distances. Forensic Sci Int 282:80–85

21.

Marsh N (2014) Light as a forensic photographer's tool. In: Forensic photography. A practitioner's guide. Wiley Blackwell, Chichester

22.

Robinson EM, Brown K, Watkins D (2016) Ultraviolet, Infrared, and Fluorescence. In: Robinson EM (ed) Crime scene photography, 3rd edn. Academic Press Elsevier, London, pp 365–409

23.

Marin N, Buszka J (2013) Electromagnetic radiation. In: Miller LS (ed) Alternate light source imaging. Forensic photography techniques. Anderson Publishing Elsevier, Amsterdam, pp 1–9

24.

Davies A (2018) Ultraviolet fluorescence photography. In: Peres M (ed) Digital ultraviolet and infrared photography. Taylor and Francis, New York, pp 71–102

25.

Trostle F (1988) Photographic examination of gunshot powder burn patterns through the use of infrared film. J Forensic Identif 38:57–61

26.

Lin AC, Hsieh HM, Tsai LC, Linacre A, Lee JC (2007) Forensic applications of infrared imaging for the detection and recording of latent evidence. J Forensic Sci 52:1148–1150

27.

Stein D, Yu JC (2013) The use of near-infrared photography to image fired bullets and cartridge cases. J Forensic Sci 58:1330–1335

28.

Sterzik V, Bohnert M (2016) Reconstruction of crimes by infrared photography. Int J Legal Med 130:1379–1385

29.

Sterzik V, Bohnert M (2015) Bloodstain pattern analysis by infrared photography. In: 19th Nordic Congress on Forensic Medicine & 1st Annual Meeting of NAFT. S J F S, Stockholm, p 35

30.

Sterzik V, Panzer S, Apfelbacher M, Bohnert M (2016) Searching for biological traces on different materials using a forensic light source and infrared photography. Int J Legal Med 130:599–605

31.

Redsicker DR (2001) Evidence documentation. In: The practical methodology of forensic photography, 2nd edn. CRC Press, Boca Raton, pp 199–242

32.

Plattner T, Kneubuehl BP, Thali M, Zollinger U (2003) Gunshot residue patterns on skin in angled contact and near contact gunshot wounds. Forensic Sci Int 138:68–74

33.

Di Maio VJM (1999) Gunshot wounds, 2nd edn. CRC Press, New York
Acknowledgements
The authors wish to thank the Institute of Forensic Medicine, Cantonal Hospital, and the Department of Crime Scene Investigation, Cantonal Police, St. Gallen, Switzerland, for the realization of preliminary tests.
Ethics declarations
Conflict of interest
The authors declare that they have no conflicts of interest.
About this article
Cite this article
Barrera, V., Fliss, B., Panzer, S. et al. Gunshot residue on dark materials: a comparison between infrared photography and the use of an alternative light source. Int J Legal Med 133, 1115–1120 (2019). https://doi.org/10.1007/s00414-018-1965-7
Received:

Accepted:

Published:

Issue Date:
Keywords
Shooting distance

Infrared photography

Crime scene investigation

Gunshot residue GSR

Forensic light source

Alternative light source