Abstract
Y chromosome short tandem repeats (Y-STRs) are commonly used to analyze male-specific DNA. Although biallelic patterns due to duplication events have been detected at some loci, Y-STRs generally appear as a single peak except for DYS385 because the Y chromosome is haploid. STR loci in regions of segmental duplication by homologous recombination on the Y chromosome exhibit double allelic peaks, rather than single peaks. In this study, we report a bi- and triallelic pattern observed simultaneously in DYS390, DYS518, and DYS643. A bi- and triallelic pattern has not previously been observed simultaneously for these three loci. We also identified the copy number variation in the region including these loci by the microarray-based analysis. Given the peak balance pattern, the copy number variation, and the close position of these three loci on the Y chromosome, we consider that this phenomenon is caused by a segmental duplication in the euchromatin region. By ruling out mixed samples, a common interpretation of multiple peaks, these results have practical implications for the interpretation of Y-STR results in forensics analyses.
This is a preview of subscription content, log in to check access.
Access options
Buy single article
Instant access to the full article PDF.
US$ 39.95
Price includes VAT for USA
Subscribe to journal
Immediate online access to all issues from 2019. Subscription will auto renew annually.
US$ 199
This is the net price. Taxes to be calculated in checkout.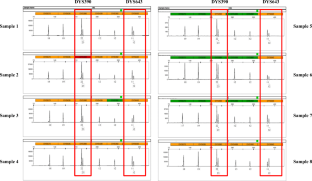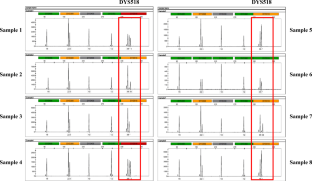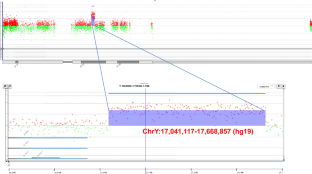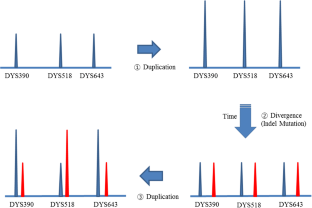 References
1.

Kayser M, Caglià A, Corach D, Fretwell N, Gehrig C, Graziosi G, Heidorn F, Herrmann S, Herzog B, Hidding M, Honda K, Jobling M, Krawczak M, Leim K, Meuser S, Meyer E, Oesterreich W, Pandya A, Parson W, Penacino G, Perez-Lezaun A, Piccinini A, Prinz M, Schmitt C, Schneider PM, Szibor R, Teifel-Greding J, Weichhold G, de Knijff P, Roewer L (1997) Evaluation of Y-chromosomal STRs: a multicenter study. Int J Legal Med 110:125–133

2.

Kurihara R, Yamamoto T, Uchihi R, Li SL, Yoshimoto T, Ohtaki H, Kamiyama K, Katsumata Y (2004) Mutations in 14 Y-STR loci among Japanese father-son haplotypes. Int J Legal Med 118:125–131

3.

Diederiche M, Martin P, Amorim A, Corte-Real F, Gusmão L (2005) A case of double alleles at three Y-STR loci: forensic implications. Int J Legal Med 119:223–225

4.

Kirsch S, Münch C, Jiang Z, Cheng Z, Chen L, Batz C, Eichler EE, Schempp W (2008) Evolutionary dynamics of segmental duplications from human Y-chromosomal euchromatin/heterochromatin transition regions. Genome Res 18:1030–1042

5.

Kuroda-Kawaguchi T, Skaletsky H, Brown LG, Minx PJ, Cordum HS, Waterston RH, Wilson RK, Silber S, Oates R, Rozen S, Page DC (2001) The AZFc region of the Y chromosome features massive palindromes and uniform recurrent deletions in infertile men. Nat Genet 29:279–286

6.

Bosch E, Jobling MA (2003) Duplications of the AZFa region of the human Y chromosome are mediated by homologous recombination between HERVs and are compatible with male fertility. Hum Mol Genet 12:341–347

7.

Butler JM, Decker AE, Kline MC, Vallone PM (2005) Chromosomal duplications along the Y-chromosome and their potential impact on Y-STR interpretation. J Forensic Sci 50(4):853–859

8.

Purps J, Siegert S, Willuweit S, Nagy M, Alves C, Salazar R, Angustia SMT, Santos LH, Anslinger K, Bayer B, Ayub Q, Wei W, Xue Y, Tyler-Smith C, Bafalluy MB, Martínez-Jarreta B, Egyed B, Balitzki B, Tschumi S, Ballard D, Court DS, Barrantes X, Bäßler G, Wiest T, Berger B, Niederstätter H, Parson W, Davis C, Budowle B, Burri H, Borer U, Koller C, Carvalho EF, Domingues PM, Chamoun WT, Coble MD, Hill CR, Corach D, Caputo M, D'Amato ME, Davison S, Decorte R, Larmuseau MHD, Ottoni C, Rickards O, Lu D, Jiang C, Dobosz T, Jonkisz A, Frank WE, Furac I, Gehrig C, Castella V, Grskovic B, Haas C, Wobst J, Hadzic G, Drobnic K, Honda K, Hou Y, Zhou D, Li Y, Hu S, Chen S, Immel UD, Lessig R, Jakovski Z, Ilievska T, Klann AE, García CC, de Knijff P, Kraaijenbrink T, Kondili A, Miniati P, Vouropoulou M, Kovacevic L, Marjanovic D, Lindner I, Mansour I, al-Azem M, Andari AE, Marino M, Furfuro S, Locarno L, Martín P, Luque GM, Alonso A, Miranda LS, Moreira H, Mizuno N, Iwashima Y, Neto RSM, Nogueira TLS, Silva R, Nastainczyk-Wulf M, Edelmann J, Kohl M, Nie S, Wang X, Cheng B, Núñez C, Pancorbo MM, Olofsson JK, Morling N, Onofri V, Tagliabracci A, Pamjav H, Volgyi A, Barany G, Pawlowski R, Maciejewska A, Pelotti S, Pepinski W, Abreu-Glowacka M, Phillips C, Cárdenas J, Rey-Gonzalez D, Salas A, Brisighelli F, Capelli C, Toscanini U, Piccinini A, Piglionica M, Baldassarra SL, Ploski R, Konarzewska M, Jastrzebska E, Robino C, Sajantila A, Palo JU, Guevara E, Salvador J, Ungria MCD, Rodriguez JJR, Schmidt U, Schlauderer N, Saukko P, Schneider PM, Sirker M, Shin KJ, Oh YN, Skitsa I, Ampati A, Smith TG, Calvit LS, Stenzl V, Capal T, Tillmar A, Nilsson H, Turrina S, de Leo D, Verzeletti A, Cortellini V, Wetton JH, Gwynne GM, Jobling MA, Whittle MR, Sumita DR, Wolańska-Nowak P, Yong RYY, Krawczak M, Nothnagel M, Roewer L (2014) A global analysis of Y-chromosomal haplotype diversity for 23 STR loci. Forensic Sci Int Genet 12:12–23

9.

Bai R, Liu Y, Li Z, Jin H, Tian Q, Shi M, Ma S (2016) Developmental validation of a novel 5 dye Y-STR system comprising the 27 YfilerPlus loci. Sci Rep 6. https://doi.org/10.1038/srep29557

10.

Aguilar-Velázquez JA, Martínez-Cortés G, Inclán-Sánchez A, Romero-Rentería O, Díaz-Navarro XX, Rangel-Villalobos H (2016) Population data of 23 STR loci (PowerPlex® Fusion System) in Mexican Mestizos from the West Region. Int J Legal Med 130:1489–1491

11.

Ji J, Ren Z, Zhang H, Wang Q, Wang J, Kong Z, Xu C, Tian M, Huang J (2017) Genetic profile of 23 Y chromosomal STR loci in Guizhou Shui population, southwest China. Forensic Sci Int Genet 28:e16–e17

12.

Park MJ, Lee HY, Kim NY, Sim JE, Yang WI, Cho SH, Shin KJ (2007) Genetic characteristics of 22 Y-STR loci in Koreans. Korean. J Leg Med 31:162–170

13.

Cho NS, Choi DH, Kim YJ, Hong SB, Kim SH, Lee WH, Han MS (2016) An expanded Korean reference DB of Y-chromosome STR haplotype for forensic application. J Sci Crim Investig 10:48–54

14.

Kim SH, Kim NY, Kim KS, Kim JJ, Park JT, Chung KW, Han MS, Kim W (2009) Population genetics and mutational events at 6 Y-STRs in Korean population. Forensic Sci Int Genet 3:e53–e54

15.

Cho NS, Jeong KS, Lee SJ, Kim JY, Hwang IK, Han MS (2016) Report on the atypical alleles observed in 17 Y-STR haplotypes of Koreans. Kor J Forens Sci 17:61–65

16.

Lim SK, Xue Y, Parkin EJ, Tyler-Smith C (2007) Variation of 52 new Y-STR loci in the Y Chromosome Consortium worldwide panel of 76 diverse individuals. Int J Legal Med 121:124–127

17.

Kumar S, Stecher G, Tamura K (2016) Molecular evolutionary genetics analysis version 7.0 for bigger datasets. Mol Biol Evol 33:1870–1874

18.

Willuweit S, Roewer L (2015) The new Y Chromosome Haplotype Reference Database. Forensic Sci Int 15:43–48

19.

Sharp AJ, Locke DP, McGrath SD, Cheng Z, Bailey JA, Vallente RU, Pertz LM, Clark RA, Schwartz S, Segraves R, Oseroff VV, Albertson DG, Pinkel D, Eichler EE (2005) Segmental duplications and copy-number variation in the human genome. Am J Hum Genet 77:78–88

20.

Casper J, Zweig AS, Villarreal C, Tyner C, Speir ML, Rosenbloom KR, Raney BJ, Lee CM, Lee BT, Karolchik D, Hinrichs AS, Haeussler M, Guruvadoo L, Navarro Gonzalez J, Gibson D, Fiddes IT, Eisenhart C, Diekhans M, Clawson H, Barber GP, Armstrong J, Haussler D, Kuhn RM, Kent WJ (2018) The UCSC Genome Browser database: 2018 update. Nucleic Acids Res 46:D762–D769

21.

Wong KK, deLeeuw RJ, Dosanjh NS, Kimm LR, Cheng Z, Horsman DE, MacAulay C, Ng RT, Brown CJ, Eichler EE, Lam WL (2007) A comprehensive analysis of common copy-number variations in the human genome. Am J Hum Genet 80(1):91–104

22.

Ballantyne KN, Keerl V, Wollstein A, Choi Y, Zuniga SB, Ralf A, Vermeulen M, de Knijff P, Kayser M (2012) A new future of forensic Y-chromosome analysis: rapidly mutating Y-STRs for differentiating male relatives and paternal lineages. Forensic Sci Int Genet 6:208–218

23.

Jung JY, Park JH, Oh YL, Kwon HS, Park HC, Park KH, Kim EH, Lee DS, Lim SK (2016) Forensic genetic study of 29 Y-STRs in Korean population. Legal Med 23:17–20
Funding
This study was funded by the National Forensic Service [NFS2018DNA03] and Ministry of Oceans and Fisheries [20140428].
Ethics declarations
Conflict of interest
The authors declare that they have no conflict of interest.
About this article
Cite this article
Park, H., Lee, E., Nam, Y. et al. Genetic variation for three Y-STR loci: DYS390, DYS518, and DYS643. Int J Legal Med 133, 1007–1013 (2019). https://doi.org/10.1007/s00414-018-1947-9
Received:

Accepted:

Published:

Issue Date:
Keywords
Segmental duplication

Biallelic pattern

DYS390

DYS518

DYS643