Abstract
Objective
Custody conditions in police cells are often demeaning and considered inappropriate for human beings. The detention of young adolescents in police custody has received little attention. Our study aimed to describe the characteristics of adolescents under 18 detained in custody.
Methods
We studied all arrestees aged 13–17 examined in 1 year (January 01–December 31, 2014) in a suburban district near Paris. We evaluated the proportion of adolescents under 18 among all arrestees detained in custody and their medical history, addictive behaviors, perceived health status, and opinion on custody.
Results
Arrestees aged 13–17 accounted for 1859 individuals. They were predominantly males (94%) and accounted for 19% of all examinations in custody. Nearly half of the arrestees aged 13–15 (42%), and two thirds of those aged 16–17 (65%) had been previously detained in police cells. Somatic and psychiatric disorders were reported by 7% and 4%, respectively, of arrestees aged 13–17. Alcohol, tobacco, and cannabis consumption were reported by 5%, 24%, and 12%, respectively, of arrestees aged 13–15. These proportions were lower than the 16%, 50%, and 35%, respectively, reported by arrestees aged 16–17 (p < 0.0001). Assaults were reported by 18% of arrestees aged 13–17. They had a fair, bad, or very bad opinion on custody in 43% of cases.
Conclusion
The detention of adolescents in police stations is commonly associated with assaults at the time of arrest. High proportions of adolescent arrestees smoke tobacco or cannabis. We suggest that the medical examination in custody could be an opportunity for adolescents to initiate access to health care.
This is a preview of subscription content, log in to check access.
Access options
Buy single article
Instant access to the full article PDF.
US$ 39.95
Price includes VAT for USA
Subscribe to journal
Immediate online access to all issues from 2019. Subscription will auto renew annually.
US$ 199
This is the net price. Taxes to be calculated in checkout.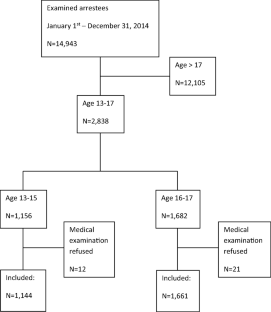 References
1.

French code of penal procedure. Article 62–2. https://www.legifrance.gouv.fr/affichCodeArticle.do?cidTexte=LEGITEXT000006071154&idArticle=LEGIARTI000023865405. Accessed 8 Feb 2018

2.

Lancet (1993) Three-faced practice: doctors and police custody. Lancet 341:1245–1247

3.

Payne-James JJ, Anderson WR, Green PG, Johnston A (2009) Provision of forensic medical services to police custody suites in England and Wales: current practice. J Forensic Legal Med 16:189–195

4.

Heide S, Stiller D, Lessig R, Lautenschläger C, Birkholz M, Früchtnicht W (2012) Medical examination of fitness for police custody in two large German towns. Int J Legal Med 126:27–35

5.

Ceelen M, Dorn T, Buster M, Stirbu I, Donker G, Das K (2012) Health-care issues and health-care use among detainees in police custody. J Forensic Legal Med 19:324–331

6.

Observatoire national de la délinquance et des réponses pénales (2010) La garde à vue en France. Focus n° 4 http://www.ville.gouv.fr/IMG/pdf/FOCUS_4_v4_1_.pdf. Accessed 8 Feb 2018

7.

French code of criminal procedure. Article 63–3, https://www.legifrance.gouv.fr/affichCodeArticle.do;jsessionid=7B1C0FB8D25D0D97C45A094DB27B1589.tpdila13v_3?idArticle=LEGIARTI000023876554&cidTexte=LEGITEXT000006071154&categorieLien=id&dateTexte=. Accessed 8 Feb 2018]

8.

Ordonnance n° 45–174 du 2 février 1945 relative à l'enfance délinquante, http://www.legifrance.gouv.fr/affichTexte.do?cidTexte=LEGITEXT000006069158. Accessed 8 Feb 2018

9.

Chariot P, Martel P, Penneau M, Debout M (2008) Guidelines for doctors attending detainees in police custody: a consensus conference in France. Int J Legal Med 122:73–76

10.

Agence nationale d'accréditation et d'évaluation en santé (2004) Consensus conference. Doctors' attendance on detainees in police custody, http://www.has-sante.fr/portail/upload/docs/application/pdf/garde_a_vue_gb.pdf. Accessed 8 Feb 2018

11.

Verdier E, Denis C, Bourokba N, Chauvin P, Chariot P (2018) Social vulnerabilities and health conditions of arrestees in the Greater Paris area, France, in 2013: a multicentre cross-sectional study. Int J Legal Med 132:897–905. https://doi.org/10.1007/s00414-017-1727-y

12.

Chariot P, Beaufrère A, Denis C, Dang C, Vincent R, Boraud C (2014) Detainees in police custody in the Paris, France area: medical data and high-risk situations (a prospective study over 1 year). Int J Legal Med 128:853–860

13.

Gilard-Pioc S, Dang-Hauter C, Denis C, Boraud C, Chariot P (2013) Personnes placées en garde à vue en Seine-Saint-Denis : données médicales et situations à risque, étude descriptive. Presse Med 42:e293–e299

14.

McKinnon IG, Grubin D (2013) Health screening of people in police custody. Evaluation of current police screening procedures in London, UK. Eur J Pub Health 23:399–405

15.

Payne-James JJ, Green PG, Green N, McLachlan GM, Munro MH, Moore TC (2010) Healthcare issues of detainees in police custody in London, UK. J Forensic Legal Med 17:11–17

16.

Ordonnance n° 45–174 du 2 février 1945 relative à l'enfance délinquante, foreword (1945) http://www.textes.justice.gouv.fr/art_pix/exposemotifsordonnance.pdf. Accessed 8 Feb 2018

17.

Bolin K, Jones D (2006) Oral health needs of adolescents in a juvenile detention facility. J Adolesc Health 38:755–757

18.

Feldmann JM (2008) Caring for incarcerated youth. Curr Opin Pediatr 20:398–402

19.

Belenko S, Dembo R, Rollie M, Childs K, Salvatore C (2009) Detecting, preventing, and treating sexually transmitted diseases among adolescent arrestees: an unmet public health need. Am J Public Health 99:1032–1041

20.

Chariot P, Briffa H, Lepresle A, Lefèvre T, Boraud C (2013) Fitness for detention in police custody: a practical proposal for improving the format of medical opinion. J Forensic Legal Med 20:980–985

21.

European Health Expectancy Monituring Unit (2010) The Minimum European Health Module. http://www.eurohex.eu/pdf/Reports_2010/2010TR4.6_Health%20Module.pdf. Accessed 8 Feb 2018

22.

Cox B, van Oyen H, Cambois E, Jagger C, le Roy S, Robine JM, Romieu I (2009) The reliability of the minimum European health module. Int J Public Health 54:55–60

23.

Le Graët A (2014) Majeurs et mineurs mis en cause par les services de Police en 2013, ONDRP. http://www.inhesj.fr/sites/default/files/files/ondrp_ra_2014/ft_mineurs_majeurs.pdf. Accessed 8 Feb 2018

24.

Direction de l'administration pénitentiaire (2015) Statistiques mensuelles de la population détenue et écrouée, http://www.justice.gouv.fr/prison-et-reinsertion-10036/les-chiffres-clefs-10041/statistiques-mensuelles-de-la-population-detenue-et-ecrouee-27838.html. Accessed Feb 8 2018

25.

Beaufrère A, Chariot P (2015) The health of older arrestees in police cells. Age Ageing 44:662–667

26.

Lalam N. La cannette et le sandwich (2013) La participation des jeunes dans le trafic de stupéfiants. In: L'intervention sociale à l'épreuve des trafics de drogue, ADAP 13: 45–52. http://www.transverscite.org/IMG/pdf/l__intervention_sociale_a_l__epreuve_des_trafics_de_drogues.pdf. Accessed 8 Feb 2018

27.

Bertrand O (2013) Trafic de drogue : à Marseille, les jeunes en première ligne. Libération. 2013 May 10. http://www.liberation.fr/societe/2013/05/10/trafic-de-drogue-a-marseille-les-jeunes-en-premiere-ligne_902143. Accessed 8 Feb 2018

28.

Godeau E, Navarro F, Arnaud C (2012) La santé des collégiens en France, 2010. Données françaises de l'enquête internationale Health Behaviour in School-aged Children (HBSC), INPES. http://www.inpes.sante.fr/CFESBases/catalogue/detaildoc.asp?numfiche=1412. Accessed 8 Feb 2018

29.

Spilka S, Le Nézet O, Ngantcha M (2015) Les drogues à 17 ans : analyse de l'enquête ESCAPAD 2014, OFDT. http://www.ofdt.fr/BDD/publications/docs/eftxssv5.pdf. Accessed 8 Feb 2018

30.

Chariot P, Lepresle A, Lefèvre T, Boraud C, Barthès A, Tedlaouti M (2014) Alcohol and substance screening and brief intervention for detainees kept in police custody. A feasibility study. Drug Alcohol Depend 134:235–241

31.

Clement R, Gerardin M, Vigneau Victorri C, Guigand G, Wainstein L, Jolliet P (2013) Medical, social, and law characteristics of intoxicant's users medically examined in police custody. J Forensic Legal Med 20:1083–1086

32.

Guignard R, Beck F, Richard J-B, Peretti-Watel P (2010) Le tabagisme en France. http://www.inpes.sante.fr/CFESBases/catalogue/pdf/1513.pdf. Accessed 8 Feb 2018

33.

Gahide S, Lepresle A, Boraud C, Mahindhoratep TS, Chariot P (2012) Reported assaults and observed injuries in detainees held in police custody. Forensic Sci Int 223:184–188

34.

Défenseur des droits (2013) Décision MDS-2013-141 du 2 juillet 2013 relative au déroulement d'une garde à vue. http://www.defenseurdesdroits.fr/fr/actions/protection-des-droits-libertes/decision/decision-mds-2013-141-du-2-juillet-2013-relative-au. Accessed 8 Feb 2018

35.

Défenseur des droits (2013) Décision du Défenseur des droits MDS-2013-234 http://www.defenseurdesdroits.fr/fr/actions/protection-des-droits-libertes/decision/decision-mds-2013-234-du-19-novembre-2013-relative. Accessed 8 Feb 2018

36.

Commission nationale de déontologie de la sécurité (2008) La déontologie des forces de sécurité en présence de mineur. http://www.cnds.defenseurdesdroits.fr/rapports/ra_pdf/Etude_Mineurs.pdf. Accessed 8 Feb 2018

37.

Pound P, Campbell R (2015) Locating and applying sociological theories of risk-taking to develop public health interventions for adolescents. Health Sociol Rev 24:64–80

38.

Golzari M, Hunt SJ, Anoshiravani A (2006) The health status of youth in juvenile detention facilities. J Adolesc Health 38:776–782

39.

Kinner SA, Degenhardt L, Coffey C, Sawyer S, Hearps S, Patton G (2014) Complex health needs in the youth justice system: a survey of community-based and custodial offenders. J Adolesc Health 54:521–526

40.

Faure S, Conte P (2010) "Les policiers se servent de la garde à vue comme d'une punition" - Libération, Mar 3, 2010. http://www.liberation.fr/societe/2010/03/03/les-policiers-se-servent-de-la-garde-a-vue-comme-d-une-punition_613028. Accessed 8 Feb 2018
About this article
Cite this article
Coudert, C., Vidal, C., Lefèvre, T. et al. Adolescent arrestees detained in police cells: an observational study in the Paris, France, area. Int J Legal Med 133, 1251–1258 (2019). https://doi.org/10.1007/s00414-018-1942-1
Received:

Accepted:

Published:

Issue Date:
Keywords
Adolescent

Police custody

Assault

Addictive behaviors

Medical examination

Health care