Abstract
Injuries resulting from blows with beer steins are a frequent occurrence during annual autumn fairs or at beer halls in South Germany and Austria. The majority of these cases are tried in court and thus being assessed by a forensic medicine expert. The article at hand gives a short overview on the injury potential of one-litre beer steins and explains the key variables to consider when analyzing beer stein injuries. On the basis of representative cases, which were assessed by specialists from the Institute of Legal Medicine of the Munich University over the last 5 years, the main biomechanical aspects and resulting injuries of one-litre beer stein assaults are discussed. Several severe and potentially life-threatening injuries have been observed after an assault with a one-litre beer stein. There is a discrepancy between the mechanical stability of brand new and used steins and the corresponding injuries, which can be explained by a decrease in impact tolerance of the steins with their use. In general, a blow with a one-litre glass or stonework beer stein to the head can cause severe and even life-threatening blunt as well as sharp trauma injuries.
This is a preview of subscription content, log in to check access.
Access options
Buy single article
Instant access to the full article PDF.
US$ 39.95
Price includes VAT for USA
Subscribe to journal
Immediate online access to all issues from 2019. Subscription will auto renew annually.
US$ 199
This is the net price. Taxes to be calculated in checkout.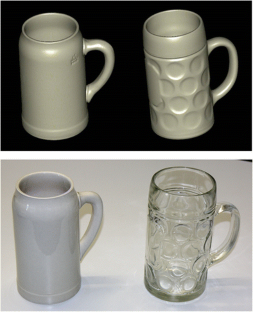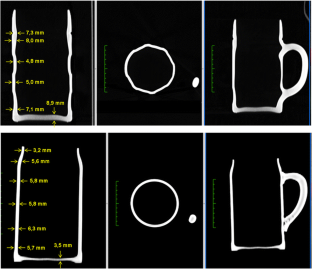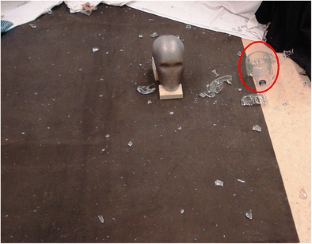 References
1.

Sicherheitsreport 2013. Polizeipräsidium München. Access via internet www.polizei.bayern.de (15.09.2017)

2.

Sicherheitsreport 2014. Polizeipräsidium München. Access via internet www.polizei.bayern.de (15.09.2017)

3.

Sicherheitsreport 2015. Polizeipräsidium München. Access via internet www.polizei.bayern.de (15.09.2017)

4.

Sicherheitsreport 2016. Polizeipräsidium München. Access via internet www.polizei.bayern.de (15.09.2017)

5.

Das 179. Münchner Oktoberfest. Münchner Statistik, 2. Quartalsheft, Jahrgang 2013. Statistisches Amt der Landeshauptstadt München. Access via internet https://www.muenchen.de/rathaus/dam/jcr:6b201efa-12fb-4539.../mb13201.pdf (15.09.2017)

6.

Dorfner P (2014). Analyse von Maßkrugschlägen hinsichtlich potentiell lebensgefährlicher Verletzungen. Dissertation, Ludwig-Maximilian University Munich

7.

Cormier J, Manoogian S, Bisplinghoff J, Rowson S, SantagoA MNC, Duma S (2010) Ann Adv Automot Med 54:3–14

8.

Nahum AM, Gatts CW, Danforth JP (1968). Impact tolerance of the skull. Proc 12th Stapp car crash conference: 302-317

9.

Allsop D, Perl R, Warner C (1991). Force/deflection and fracture characteristics of the temporo-parietal region of the human head. Proc 35th Stapp car crash conference: 269-278

10.

Schneider DC, Nahum AM (1972). Impact studies of facial bones and skull. Proc 16th Stapp car crash conference: 186-203

11.

Nyquist GW, Cavanaugh JM, Goldberg SJ, King AI (1986). Facial impact tolerance and response. Proc 30th Stapp car crash conference: 379-400

12.

Yoganandan N, Pintar F (2004) Biomechanics of temporo-parietal skull fracture. Clin Biomech 19:225–239

13.

Sheperd JP, Huggett RH, Kidner G (1993) Impact resistance of bar glasses. J Trauma 35(6):936–938

14.

Bolliger SA, Ross S, Oesterhelweg L, Thali MJ, Kneubuehl BP (2009) Are full or empty beer bottles sturdier and does their fracture-threshold suffice to break the human skull? J Forensic Legal Med 16(3):138–142

15.

Kunz SN, Tutsch-Bauer E, Graw M, Adamec J (2016) Blows to the skull with a beer stein. Biomechanical aspects of a 0.5l beer stein as a striking weapon. Rechtsmedizin 26(3):189–196

16.

Kunz SN, Lochner S, Bedacht M, Adamec J (2016) Specific biomechanical aspects of a beermug injury. Kriminalistik 2:87–93
Ethics declarations
Conflict of interest
The authors declare that they have no conflict of interest.
About this article
Cite this article
Adamec, J., Dorfner, P., Graw, M. et al. Injury potential of one-litre beer steins. Int J Legal Med 133, 1075–1081 (2019). https://doi.org/10.1007/s00414-018-1803-y
Received:

Accepted:

Published:

Issue Date:
Keywords
Beer stein

Head injury

Assault

Blunt force