Abstract
Purpose
We investigated the incidence and distribution of post-mortem gas detected with multidetector computed tomography (MDCT) to identify factors that could distinguish artifactual gas from cardiac air embolism.
Material and methods
MDCT data of 119 cadavers were retrospectively examined. Gas was semiquantitatively assessed in selected blood vessels, organs, and body spaces (82 total sites).
Results
Seventy-four of the 119 cadavers displayed gas (62.2%; CI 95% 52.8–70.9), and 56 (75.7%) displayed gas in the heart. Most gas was detected in the hepatic parenchyma (40%), right heart (38% ventricle, 35% atrium), inferior vena cava (30% infrarenally, 26% suprarenally), hepatic veins (26% left, 29% middle, 22% right), and portal spaces (29%). Male cadavers displayed gas more frequently than female cadavers. Gas was detected 5–84 hours after death; therefore, the post-mortem interval could not reliably predict gas distribution (rho = 0.719, p < 0.0001). We found that a large amount of putrefaction-generated gas in the right heart was associated with aggregated gas bubbles in the hepatic parenchyma (sensitivity = 100%, specificity = 89.7%). In contrast, gas in the left heart (sensitivity = 41.7%, specificity = 100%) or in periumbilical subcutaneous tissues (sensitivity = 50%, specificity = 96.3%) could not predict gas due to putrefaction.
Conclusion
This study is the first to show that the appearance of post-mortem gas follows a specific distribution pattern. An association between intracardiac gas and hepatic parenchymal gas could distinguish between post-mortem-generated gas and vital air embolism. We propose that this finding provides a key for diagnosing death due to cardiac air embolism.
Access options
Buy single article
Instant access to the full article PDF.
US$ 39.95
Tax calculation will be finalised during checkout.
Subscribe to journal
Immediate online access to all issues from 2019. Subscription will auto renew annually.
US$ 119
Tax calculation will be finalised during checkout.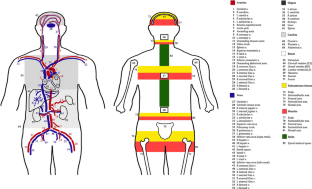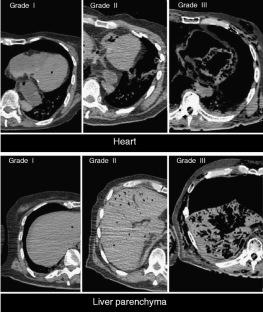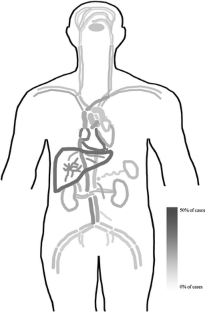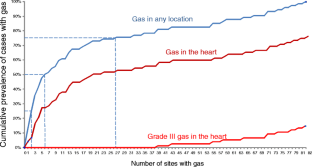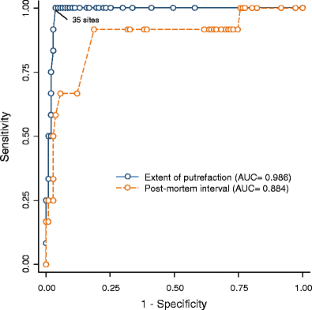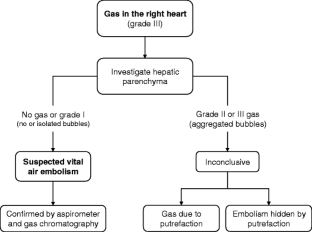 References
1.

O'Donnell C, Woodford N (2008) Post-mortem radiology–a new sub-speciality? Clin Radiol 63(11):1189–1194

2.

O'Donnell C, Rotman A, Collett S, Woodford N (2007) Current status of routine post-mortem CT in Melbourne, Australia. Forensic Sci Med Pathol 3(3):226–232

3.

Losasso TJ, Muzzi DA, Dietz NM, Cucchiara RF (1992) Fifty percent nitrous oxide does not increase the risk of venous air embolism in neurosurgical patients operated upon in the sitting position. Anesthesiology 77(1):21–30

4.

Papadopoulos G, Kuhly P, Brock M, Rudolph KH, Link J, Eyrich K (1994) Venous and paradoxical air embolism in the sitting position. a prospective study with transoesophageal echocardiography. Acta Neurochir 126(2–4):140–143

5.

Palmon S, Moore L, Lundberg J, Toung T (1997) Venous air embolism: a review. J Clin Anesth 9(3):252–257

6.

Muth C, Shank E (2000) Gas embolism. N Engl J Med 342(7):476–482

7.

Tan B, Saunier C, Cotton F, Gueugniaud P, Piriou V (2008) Thoracoabdominal CT scan: a useful tool for the diagnosis of air embolism during an endoscopic retrograde cholangiopancreatography. Ann Fr Anesth Rèanim 27(3):240–243

8.

Helmberger TK, Roth U, Empen K (2002) Massive air embolism during interventional laser therapy of the liver: successful resuscitation without chest compression. Cardiovasc Interv Radiol 25(4):335–336

9.

Grabherr S, Lesta MDM, Rizzo E, Mangin P, Bollmann M (2008) Forensic imaging. Rev Méd Suisse 4(164):1609–1614

10.

Bolliger SA, Thali MJ, Ross S, Buck U, Naether S, Vock P (2008) Virtual autopsy using imaging: bridging radiologic and forensic sciences. a review of the Virtopsy and similar projects. Eur Radiol 18(2):273–282

11.

Paperno S, Riepert T, Krug B, Rothschild MA, Schultes A, Staak M, Lackner L (2005) Value of postmortem computed tomography in comparison to autopsy. Rofo 177(1):130–136

12.

Payne-James J (2003) Forensic medicine: clinical and pathological aspects. Greenwich Medical Media, San Francisco

13.

Aghayev E, Yen K, Sonnenschein M, Jackowski C, Thali M, Vock P, Dirnhofer R (2005) Pneumomediastinum and soft tissue emphysema of the neck in postmortem CT and MRI; a new vital sign in hanging? Forensic Sci Int 153(2–3):181–188

14.

Dirnhofer R, Jackowski C, Vock P, Potter K, Thali MJ (2006) VIRTOPSY: minimally invasive, imaging-guided virtual autopsy. Radiographics 26(5):1305–1333

15.

Thali MJ, Jackowski C, Oesterhelweg L, Ross SG, Dirnhofer R (2007) VIRTOPSY–the Swiss virtual autopsy approach. Leg Med (Tokyo) 9(2):100–104

16.

Jackowski C, Thali M, Sonnenschein M, Aghayev E, Yen K, Dirnhofer R, Vock P (2004) Visualization and quantification of air embolism structure by processing postmortem MSCT data. J Forensic Sci 49(6):1339–1342

17.

Shiotani S, Kohno M, Ohashi N, Atake S, Yamazaki K, Nakayama H (2005) Cardiovascular gas on non-traumatic postmortem computed tomography (PMCT): the influence of cardiopulmonary resuscitation. Radiat Med 23(4):225–229

18.

Kauczor HU, Riepert T, Wolcke B, Lasczkowski G, Mildenberger P (1995) Fatal venous air embolism: proof and volumetry by helical CT. Eur Radiol 21:155–157

19.

Frey S (1929) Luftembolie. Ergeb Chir 22:95–161

20.

Bajanowski B, West A, Brinkmann B (1998) Proof of fatal air embolism. Int J Leg Med 111(4):208–211

21.

Mercier L (1837) Observation sur l'introduction de l'air dans les veines et sur la manière dont il produit la mort. Gaz Med 5:481–487

22.

Dyrenfurth F (1924) Zur Technik der Feststellung des Todes an Luftembolie. Dtsch Z Gerichtl Med 3:145–146

23.

Jackowski C, Sonnenschein M, Thali MJ, Aghayev E, Yen K, Dirnhofer R, Vock P (2007) Intrahepatic gas at postmortem computed tomography: forensic experience as a potential guide for in vivo trauma imaging. J Trauma 62(4):979–988

24.

Brinkmann B (2003) Handbuch gerichtliche Medizin. Springer, Berlin
Acknowledgments
The authors would like to thank Professor Richard Dirnhofer for his experienced assistance.
Electronic Supplementary Material
Below is the link to the electronic supplementary material.
About this article
Cite this article
Egger, C., Bize, P., Vaucher, P. et al. Distribution of artifactual gas on post-mortem multidetector computed tomography (MDCT). Int J Legal Med 126, 3–12 (2012). https://doi.org/10.1007/s00414-010-0542-5
Received:

Accepted:

Published:

Issue Date:
Keywords
Forensic medicine

Computed tomography

Post-mortem changes

Putrefaction

Gas embolism