Abstract
To better investigate the behavior of titanium (Ti) isotopes during magmatic processes, we report high-precision Ti isotope compositions for 60 terrestrial igneous rocks from different geological settings worldwide. Based on their major element compositions and petrographic descriptions, these samples can be subdivided into two groups: Fe-Ti oxide unsaturated and Fe-Ti oxide saturated. The Fe-Ti oxide unsaturated group samples show a narrow δ49/47Ti (δ49/47Ti = [(49Ti/47Ti)sample/(49Ti/47Ti)OL-Ti] × 1000) range (− 0.036 ± 0.043‰ to 0.082 ± 0.021 ‰), and no correlation between δ49/47Ti and the degree of differentiation is observed. By contrast, Fe-Ti oxide saturated group samples show a remarkable δ49/47Ti variation, ranging from 0.005 ± 0.018‰ to 1.914 ± 0.006 ‰, which are positively correlated with SiO2 contents, and negatively correlated with MgO contents. In particular, multiple SiO2 vs. δ49/47Ti trends are observed in Fe-Ti oxide saturated group, which are controlled by crystal fractionation degrees, magma SiO2 compositions, and Fe-Ti oxide compositions during magma differentiation.
This is a preview of subscription content, log in to check access.
Access options
Buy single article
Instant access to the full article PDF.
US$ 39.95
Price includes VAT for USA
Subscribe to journal
Immediate online access to all issues from 2019. Subscription will auto renew annually.
US$ 199
This is the net price. Taxes to be calculated in checkout.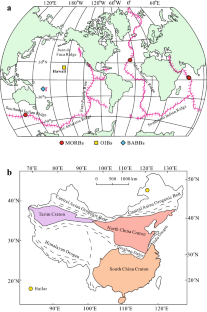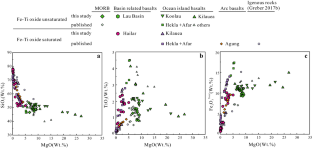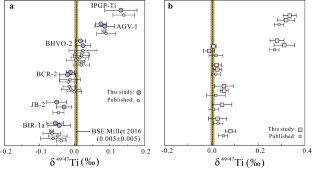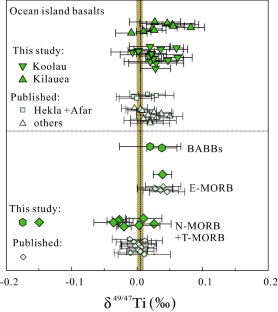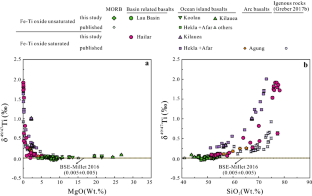 References
Antonelli MA, Schiller M, Schauble EA, Mittal T, DePaolo DJ, Chacko T, Grew ES, Tripoli B (2019) Kinetic and equilibrium Ca isotope effects in high-T rocks and minerals. Earth Planet Sci Lett 517:71–82

Badullovich N, Moynier F, Creech J, Teng FZ, Sossi PA (2017) Tin isotopic fractionation during igneous differentiation and Earth's mantle composition. Geochem Persp Let 5:24–28

Baldridge WS, McGetchin TR, Frey FA, Jarosewich E (1973) Magmatic evolution of Hekla. Iceland Contrib Miner Petrol 42:245–258

Ballhaus C (1993) Redox states of lithospheric and asthenospheric upper mantle. Contrib Miner Petrol 114:331–348

Bosi F, Halenius U, Skogby H (2009) Crystal chemistry of the magnetite-ulvospinel series. Am Mineral 94:181–189

Carmichael ISE, Ghiorso MS (1986) Oxidation-reduction relations in basic magma: a case for homogeneous equilibrium. Earth Planet Sci Lett 78:200–210

Chen H, Savage PS, Teng FZ, Helz RT, Moynier F (2013) Zinc isotope fractionation during magmatic differentiation and the isotopic composition of the bulk Earth. Earth Planet Sci Lett 369–370:34–42

Clayton RN, Hinton RW, Davis AM (1988) Isotopic variations in the rock-forming elements in meteorites. Philos Trans R Soc A 325:483–501

Danyushevsky LV, Eggins SM, Falloon TJ, Christie DM (2000) H2O abundance in depleted to moderately enriched Mid-ocean ridge magmas; Part I: Incompatible behaviour, implications for mantle storage, and origin of regional variations. J Petrol 41:1329–1364

Danyushevsky LV, Falloon TJ, Sobolev AV, Crawford AJ, Carroll M, Price RC (1993) The H2O content of basalt glasses from southwest Pacific backarc basins. Earth Planet Sci Lett 117:347–362

Dauphas N, Pourmand A, Teng FZ (2009) Routine isotopic analysis of iron by HR-MC-ICPMS: how precise and how accurate? Chem Geol 267:175–184

Davis AM, Zhang J, Greber ND, Hu J, Tissot FL, Dauphas N (2018) Titanium isotopes and rare earth patterns in CAIs: evidence for thermal processing and gas-dust decoupling in the protoplanetary disk. Geochim Cosmochim Acta 221:275–295

Dempsey S. R. (2012). Geochemistry of the volcanic rocks form the Sunda arc. Ph.D. thesis. Durham University

Deng Z, Moynier F, Sossi PA, Chaussidon M (2018a) Bridging the depleted MORB mantle and the continental crust using titanium isotopes. Geochem Perspect Lett 1:53–64

Deng Z, Moynier F, van Zuilen K, Sossi PA, Pringle EA, Chaussidon M (2018b) Lack of resolvable titanium stable isotopic variations in bulk chondrites. Geochim Cosmochim Acta 239:409–419

Deng Z, Chaussidon M, Savage P, Robert F, Pik R, Moynier F (2019) Titanium isotopes as a tracer for the plume or island arc affinity of felsic rocks. Proc Natl Acad Sci USA. https://doi.org/10.1073/pnas.1809164116

Farges F, Brown GE Jr, Rehr JJ (1996a) Coordination chemistry of Ti(IV) in silicate glasses and melts: I. XAFS study of titanium coordination in oxide compounds. Geochim Cosmochim Acta 60:3023–3038

Farges F, Brown GE Jr, Rehr JJ (1996b) Coordination chemistry of Ti(IV) in silicate glasses and melts: II. Glasses at ambient temperature and pressure. Geochim Cosmochim Acta 60:3039–3053

Feng C, Qin T, Huang S, Wu Z, Huang F (2014) First principles investigations of equilibrium calcium isotope fractionation between clinopyroxene and Ca-doped orthopyroxene. Geochim Cosmochim Acta 143:132–142

Field L, Blundy J, Calvert A, Yirgu G (2013) Magmatic history of Dabbahu, a composite volcano in the Afar Rift, Ethiopia. Geol Soc Am Bull 125:128–147

Frey FA, Garcia MO, Roden MF (1994) Geochemical characteristics of Koolau Volcano: implications of intershield geochemical differences among Hawaiian volcanoes. Geochim Cosmochim Acta 58:1441–1462

Frey FA, Huang S, Xu G, Jochum KP (2016) The Geochemical components that distinguish Loa- and Kea-Trend Hawaiian shield lavas. Geochim Cosmochim Acta 185:160–181

Gale A, Dalton CA, Langmuir CH, Su Y, Schilling JG (2013) The mean composition of ocean ridge basalts. Geochem Geophys Geosyst 14:489–518

Greaney AT, Rudnick RL, Helz RT, Gaschnig RM, Piccoli PM, Ash RD (2017) The behavior of chalcophile elements during magmatic differentiation as observed in Kilauea Iki lava lake, Hawaii. Geochim Cosmochim Acta 210:71–96

Greber ND, Dauphas N, Bekker A, Ptácěk MP, Bindeman IN, Hofmann A (2017a) Titanium isotopic evidence for felsic crust and plate tectonics 3.5 billion years ago. Science 357:1271–1274

Greber ND, Dauphas N, Puchtel IS, Hofmann BA, Arndt NT (2017b) Titanium stable isotopic variations in chondrites, achondrites and lunar rocks. Geochim Cosmochim Acta 213:534–552

Gualda GAR, Ghiorso MS, Lemons RV, Carley TL (2012) Rhyolite-MELTS: a modified calibration of MELTS optimized for silica-rich, fluid-bearing magmatic systems. J Petrol 53:875–890

Hauri EH, Whitehead JA, Hart SR (1994) Fluid dynamic and geochemical aspects of entrainment in mantle plumes. J Geophys Res 99:24275–24300

Helz RT (1987) Differentiation behavior of Kilauea Iki lava lake, Kilauea Volcano, Hawaii: an overview of past and current work. In: Mysen BO (ed) Magmatic processes: physicochemical principles, vol. 1. Geochemical Society Special Publication, pp 241–258

Helz RT (2012) Trace element analyses of core samples from the 1967–1988 drillings of Kilauea Iki Lava Lake, Hawaii. USGS Open-file Report 2012-1050

Helz RT, Thornber CR (1987) Geothermometry of Kilauea Iki Lava Lake, Hawaii. Bull Volcanol 49:651–668

Helz RT, Kirschenbaum H, Marinenko JM, Qian R (1994) Whole-rock analyses of core samples from the 1967, 1975, 1979 and 1981 drillings of Kilauea Iki lava lake, Hawaii. USGS Open-file Report 94-684

Howard CJ, Sabine TM, Dickson F (1991) Structural and thermal parameters for rutile and anatase. Acta Crystallogr B 47:462–468

Huang J, Zhang XC, Chen S, Tang LM, Wörner G, Yu HM, Huang F (2018) Zinc isotopic systematics of Kamchatka-Aleutian arc magmas controlled by mantle melting. Geochim Cosmochim Acta 238:85–101

Huang S, Frey FA (2005) Recycled oceanic crust in the Hawaiian Plume: evidence from temporal geochemical variations within the Koolau Shield. Contrib Minerol Petrol 149(5):556–575

Huang S, Farkas J, Jacobsen SB (2010) Calcium isotopic fractionation between clinopyroxene and orthopyroxene from mantle peridotites. Earth Planet Sci Lett 292:337–344

Huang S, Farkas J, Jacobsen SB (2011) Stable calcium isotopic compositions of Hawaiian shield lavas: evidence for recycling of ancient marine carbonates into the mantle. Geochem Cosmochim Acta 75:4987–4997

Huang S, Humayun M, Frey FA (2007) Iron/manganese ratio and manganese content in shield lavas from Ko'olau Volcano, Hawai'i. Geochem Cosmochim Acta 71:4557–4569

Jackson MG, Weis D, Huang S (2012) Major element variations in Hawaiian shield lavas: source features and perspectives from global ocean island basalt (OIB) systematics. Geochem Geophys Geosyst 13:Q09009. https://doi.org/10.1029/2012GC004268

Johnson AC, Aarons SM, Dauphas N, Nie NX, Zeng H, Helz RT, Romaniello SJ, Anbar AD (2019) Titanium isotopic fractionation in Kilauea Iki lava lake driven by oxide crystallization. Geochem Cosmochim Acta 264:180–190

Kato C, Moynier F, Foriel J, Teng FZ, Puchtel IS (2017) The gallium isotopic composition of the bulk silicate Earth. Chem Geol 448:164–172

Kommescher S, Fonseca ROC, Kurzweil F, Thiemens MM, Münker C, Sprung P (2020) Unravelling lunar mantle source processes via the Ti isotope composition of lunar basalts. Geochem Perspect Lett 13:13–18

Kööp L, Davis AM, Nakashima D, Park C, Krot AN, Nagashima K, TennerT J, Heck PR, Kita NT (2016a) A link between oxygen, calcium and titanium isotopes in 26Al-poor hibonite-rich CAIs from Murchison and implications for the heterogeneity of dust reservoirs in the solar nebula. Geochim Cosmochim Acta 189:70–95

Kööp L, Nakashima D, Heck PR, KitaN T, Tenner TJ, Krot AN, Nagashima K, Park C, Davis AM (2016b) New constraints on the relationship between 26Al and oxygen, calcium, and titanium isotopic variation in the early Solar System from a multielement isotopic study of spinel-bonite inclusions. Geochim Cosmochim Acta 184:151–172

Lassiter JC, Hauri EH (1998) Osmium-isotope variations in Hawaiian lavas: evidence for recycled oceanic lithosphere in the Hawaiian plume. Earth Planet Sci Lett 164(3–4):483–496

Leitzke FP, Fonseca ROC, Göttlicher J, Steininger R, Jahn S, Prescher C, Lagos M (2018) Ti K-edge XANES study on the coordination number and oxidation state of Titanium in pyroxene, olivine, armalcolite, ilmenite, and silicate glass during mare basalt petrogenesis. Contrib Minerol Petrol 173:103

Leya I, Schönbächler M, Krähenbühl M, Halliday AN (2009) New titanium isotope data for Allende and Efremovka CAIs. Astrophys J 702:1118–1126

Leya I, Schönbächler M, Wiechert U, Krähenbühl U, Halliday AN (2008) Titanium isotopes and the radial heterogeneity of the solar system. Earth Planet Sci Lett 266(3):233–244

Li SQ, Hegner E, Yang YZ, Wu JD, Chen F (2014) Age constraints on late Mesozoic lithospheric extension and origin of bimodal volcanic rocks from the Hailar basin, NE China. Lithos 190–191:204–219

Li Y, Wang W, Huang S, Wang K, Wu Z (2019) First principles investigation of the concentration effect on equilibrium fractionation of K isotopes in feldspars. Geochim Cosmochim Acta 245:374–384

Liu SA, Huang J, Liu J, Wörner G, Yang W, Tang YJ, Chen Y, Tang L, Zheng J, Li S (2015) Copper isotopic composition of the silicate Earth. Earth Planet Sci Lett 427:95–103

Macris CA, Manning CE, Young ED (2015) Crystal chemical constraints on inter-mineral Fe isotope fractionation and implications for Fe isotope disequilibrium in San Carlos mantle xenoliths. Geochim Cosmochim Acta 154:168–185

Mandl MB (2019) Titanium isotope fractionation on the Earth and moon: constraints on magmatic processes and moon formation. Ph.D. thesis. ETH Zürich. https://doi.org/10.3929/ethz-b-000351171

Millet MA, Dauphas N (2014) Ultra-precise titanium stable isotope measurements by double-spike high resolution MCICP- MS. J Anal At Spectrom 29:1444–1458

Millet MA, Dauphas N, Greber ND, Burton KW, Dale CW, Debret B, Macpherson CG, Nowell GM, Williams HM (2016) Titanium stable isotope investigation of magmatic processes on the Earth and Moon. Earth Planet Sci Lett 449:197–205

Niederer FR, Papanastassiou DA, Wasserburg GJ (1980) Endemic isotopic anomalies in titanium. Astrophys J 240:L73–L77

Niemeyer S (1988) Titanium isotopic anomalies in chondrules from carbonaceous chondrites. Geochim Cosmochim Acta 52:309–318

Norman MD, GarciaM O (1999) Primitive magmas and source characteristics of the Hawaiian Plume: petrology and geochemistry of shield picrites. Earth Planet Sci Lett 168:27–44

Parkinson IJ, Arculus RJ (1999) The redox state of subduction zones: Insights from arcperidotites. Chem Geol 160:409–423

Pearce CR, Cohen AS, Parkinson IJ (2009) Quantitative separation of molybdenum and rhenium from geological materials for isotopic determination by MC-ICPMS. Geostand Geoanal Res 33:219–229

Pietruszka AJ, Heaton DE, Marske JP, Garcia MO (2015) Two magma bodies beneath the summit of Kīlauea Volcano unveiled by isotopically distinct melt deliveries from the mantle. Earth Planet Sci Lett 413:90–100

Pietruszka AJ, Norman MD, Garcia MO, Marske JP, Burns DH (2013) Chemical heterogeneity in the Hawaiian mantle plume from the alteration and dehydration of recycled oceanic crust. Earth Planet Sci Lett 361:298–309

Pitcher L, Helz RT, Walker RJ, Piccoli P (2009) Fractionation of platinum-group elements and Re during crystallization of basalt in Kilauea Iki Lava Lake, Hawaii. Chem Geol 260:196–210

Rudge JF, Reynolds BC, Bourdon B (2009) The double spike toolbox. Chem Geol 265:420–431

Shields WR, Murphy JT, Cantazaro EJ, Garner EL (1966) Absolute isotopic abundance ratios and the atomic weight of a reference sample of chromium. J Res Natl Bur Stand 70A:193–197

Simon JI, Jordan MK, Tappa MJ, Schauble EA, Kohl IE, Young ED (2017) Calcium and titanium isotope fractionation in refractory inclusions: tracers of condensation and inheritance in the early solar protoplanetary disk. Earth Planet Sci Lett 472:277–288

Smyth JR, Bish L (1988) Crystal structure and cation sites of the rock forming minerals. Allen & Unwin, Boston

Sobolev AV, Chaussidon M (1996) H2O concentrations in primary melts from supra-subduction zones and mid-ocean ridges: Implications for H2O storage and recycling in the mantle. Earth Planet Sci Lett 137:45–55

Sobolev AV, Hofmann AW, Kuzmin DV, Yaxley GM, Arndt NT, Chung S-L, Danyushevsky LV, Elliott T, Frey FA, Garcia MO, Gurenko AA, Kamenetsky VS, Kerr AC, Krivolutskaya NA, Matvienkov VV, Nikogosian IK, Rocholl A, Sigurdsson IA, Sushchevskaya NM, Teklay M (2007) The amount of recycled crust in sources of mantle-derived melts. Science 316(5823):412–417

Sobolev AV, Hofmann AW, Sobolev SV, Nikogosian IK (2005) An olivine-free mantle source of Hawaiian shield basalts. Nature 434:590–597

Tang SH, Li J, Ma JX, Zhao XM, Zhu XK (2018) Titanium separation and Titanium isotope determination by double spike multicollector inductively coupled plasma mass spectrometry. Chin J Anal Chem 46(10):1830–1835

Teng FZ, Dauphas N, Helz RT (2008) Iron isotope fractionation during magmatic differentiation in Kilauea Iki lava lake. Science 320(5883):1620–1622

Teng FZ, Dauphas N, Helz RT, Gao S, Huang S (2011) Diffusion-driven magnesium and iron isotope fractionation in Hawaiian olivine. Earth Planet Sci Lett 308:317–324

Teng FZ, Li WY, Ke S, Marty B, Dauphas N, Huang S, Wu FY, Pourmand A (2010) Magnesium isotopic composition of the Earth and chondrites. Geochim Cosmochim Acta 74:4150–4166

Teng FZ, Wadhwa M, Helz RT (2007) Investigation of magnesium isotope fractionation during basalt differentiation: implications for a chondritic composition of the terrestrial mantle. Earth Planet Sci Lett 261(1–2):84–92

Teplow W, Marsh B, Hulen J, Spielman P, Kaleeikini M, Fitch D, Rickard W (2009) Dacite melt at the Puna Geothermal Venture well field, Big Island of Hawaii. Trans Geotherm Resour Council 33:989–994

Tomascak PB, Tera F, Helz R, Walker RJ (1999) The absence of lithium isotope fractionation during basalt differentiation: new measurements by multicollector sector ICP-MS. Geochim Cosmochim Acta 63:907–910

Trinquier A, Elliott T, Ulfbeck D, Coath C, Krot AN, Bizzarro M (2009) Origin of nucleosynthetic isotope heterogeneity in the solar protoplanetary disk. Science 324:374–376

Wallace PJ (1998) Water and partial melting in mantle plumes: Inferences from the dissolved H2O concentrations of Hawaiian basaltic magmas. Geophys Res Lett 25:3639–3642

Wang W, Huang S, Huang F, Zhao X, Wu Z (2020) Equilibrium inter-mineral titanium isotope fractionation: Implication for high-temperature titanium isotope geochemistry. Geochim Cosmochim Acta 269:540–553

Wang ZZ, Liu SA, Liu J, Huang J, Xiao Y, Chu ZY, Zhao XM, Tang L (2017a) Zinc isotope fractionation during mantle melting and constraints on the Zn isotope composition of Earth's upper mantle. Geochim Cosmochim Acta 198:151–167

Wang W, Zhou C, Qin T, Kang JT, Huang S, Wu Z, Huang F (2017b) Effect of Ca content on equilibrium Ca isotope fractionation between orthopyroxene and clinopyroxene. Geochim Cosmochim Acta 219:44–56

Williams CD, Janney PE, Hines RR, Wadhwa M (2016) Precise titanium isotope compositions of refractory inclusions in the Allende CV3 chondrite by LA-MC-ICPMS. Chem Geol 436:1–10

Williams NH (2015) Titanium isotope cosmochemistry. Ph.D. thesis, Manchester University. https://www.escholar.manchester.ac.uk/uk-ac-man-scw:259269. Accessed 15 Feb 2015

Xia Y, Li S, Huang F (2017) Iron and zinc isotope fractionation during magmatism in the continental crust: evidence from bimodal volcanic rocks from Hailar basin, NE China. Geochim Cosmochim Acta 213:35–46

Young ED, Manning CE, Schauble EA, Shahar A, Macris CA, Lazar C, Jordan M (2015) High-temperature equilibrium isotope fractionation of non-traditional stable isotopes: experiments, theory, and applications. Chem Geol 395:176–195

Young ED, Tonui E, Manning CE, Schauble E, Macris CA (2009) Spinel–olivine magnesium isotope thermometry in the mantle and implications for the Mg isotopic composition of Earth. Earth Planet Sci Lett 288:524–533

Zhang H, Wang Y, He Y, Teng FZ, Jacobsen SB, Helz RT, Marsh BD, Huang S (2018) No measurable calcium isotopic fractionation during crystallization of Kilauea Iki Lava Lake. Geochem Geophys Geosyst 19:3128–3139

Zhang J, Dauphas N, Davis AM, Pourmand A (2011) A new method for MC-ICPMS measurement of titanium isotopic composition: identification of correlated isotope anomalies in meteorites. J Anal At Spectrom 26:2197–2205

Zhang J, Dauphas N, Davis AM, Leya I, Fedkin A (2012) The proto-Earth as a significant source of lunar material. Nat Geosci 5:251–255

Zhang J, Huang S, Davis AM, Dauphas N, Hashimoto A, Jacobsen SB (2014) Calcium and titanium isotopic fractionations during evaporation. Geochim Cosmochim Acta 140:365–380

Zhu XK, Makishima A, Guo Y, Belshaw NS, O'Nions RK (2002) High precision measurement of titanium isotope ratios by plasma source mass spectrometry. Int J Mass Spectrom 220:21–29
Acknowledgements
This work is supported by Natural Science Foundation of China (41473005, 41973015, 41673021, 41688103 and 41873027) and the National Key R&D Program of China (2019YFA0708400). We thank Nicolas Dauphas for sharing the OL-Ti standard, Zhengbin Deng for sharing the IGPG-Ti standard, and Jian Huang and Fang Huang for providing several of the samples for this study. Shichun Huang, Wenzhong Wang and Dehong Du are thanked for discussion. We warmly thank the editor Timothy L. Grove and anonymous reviewers for their constructive comments and suggestions.
Additional information
Publisher's Note
Springer Nature remains neutral with regard to jurisdictional claims in published maps and institutional affiliations.
Communicated by Timothy L. Grove.
Electronic supplementary material
Below is the link to the electronic supplementary material.
About this article
Cite this article
Zhao, X., Tang, S., Li, J. et al. Titanium isotopic fractionation during magmatic differentiation. Contrib Mineral Petrol 175, 67 (2020). https://doi.org/10.1007/s00410-020-01704-1
Received:

Accepted:

Published:
Keywords

Ti isotopes

Mass dependent isotope fractionation

Magmatic differentiation

Igneous rocks