Abstract
Numerous analyses of multiple ilmenite, titanomagnetite, sanidine, plagioclase, biotite, orthopyroxene, and clinopyroxene crystals (when present) in each of 24 single-clast pumices from the Bishop Tuff (BT), CA are presented, together with whole-rock compositions on the same single clasts. Data from multiple Fe–Ti oxide grains in each sample, coupled with an assessment of analytical uncertainty, show that there is a single population of ilmenite and titanomagnetite in each of 20 samples and no more than two populations of ilmenite and/or titanomagnetite in the remaining four. A statistical evaluation of microprobe uncertainty (for beam conditions of 15 kV and 10 nA) constrains the minimum number of ilmenite (≥ 21) and titanomagnetite (≥ 56) analyses required to obtain Fe–Ti two-oxide temperatures with propagated uncertainties ≤ ± 10 °C. Thermometry results confirm a continuous range (~ 700–800 °C) across the BT deposit. Plagioclase displays a bimodal compositional pattern, where a predominantly sodic (An14–15) vs. calcic (An22–23) population is found in single clasts where pyroxene is absent vs. present; the latter coincides with geochemical evidence for mixing between high-SiO2 rhyolite and less differentiated melts as previously documented in the literature. When sanidine rims are paired with plagioclase, calculated two-feldspar temperatures (~ 690–780 °C) are strongly correlated (R2 = 0.94) with Fe–Ti two-oxide temperatures. Application of plagioclase–liquid hygrometry reveals a systematic decrease in melt water content (~ 7.2–4.1 wt%) with increasing temperature across the BT deposit, consistent with experiments from the literature that show cotectic crystallization of quartz–sanidine–plagioclase in rhyolite melt requires a concomitant decrease of ~ 3 wt% H2O between 700 and 800 °C at 200 MPa. Single-clast, whole-rock concentrations of some elements (e.g., Rb) correlate strongly with Fe–Ti oxide temperature (R2 = 0.95). The Mg# in biotite also correlates strongly with temperature (R2 = 0.97), as do the Mg# values in orthopyroxene and clinopyroxene with whole-rock Mg# (R2 = 0.6 and 0.8, respectively) and melt water content (R2 = 0.7 for both). Evidence points to biotite crystallization in all BT samples from high-SiO2 rhyolite melt, which was already continuously zoned in composition and temperature prior to mixing with less differentiated melts, as previously noted in the literature. In contrast, several lines of evidence, including hydrous phase-equilibrium experiments on rhyolites from the literature, show that both pyroxenes in BT pumices co-crystallized with calcic plagioclase (~ An21–29), in equilibrium with both titanomagnetite and ilmenite, after mixing between less differentiated melt(s) and relatively hot (≥ 755 °C) high-SiO2 rhyolite.
This is a preview of subscription content, log in to check access.
Access options
Buy single article
Instant access to the full article PDF.
US$ 39.95
Price includes VAT for USA
Subscribe to journal
Immediate online access to all issues from 2019. Subscription will auto renew annually.
US$ 199
This is the net price. Taxes to be calculated in checkout.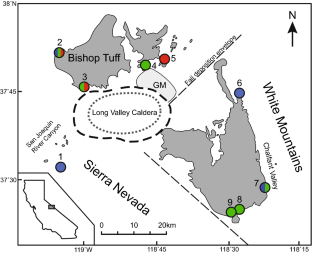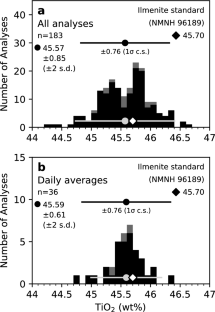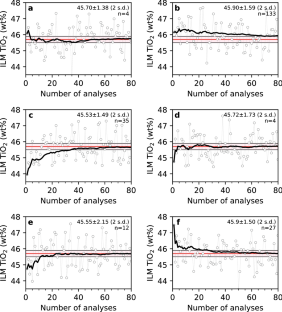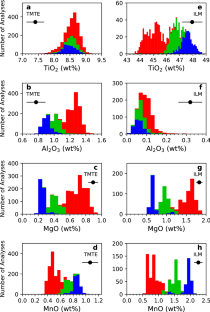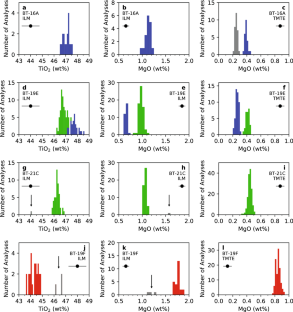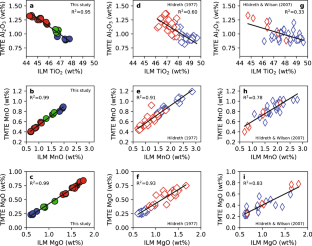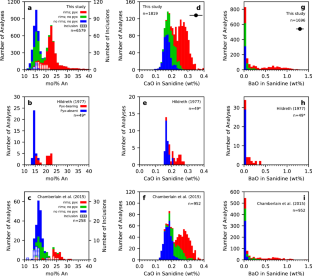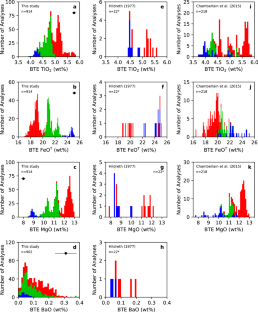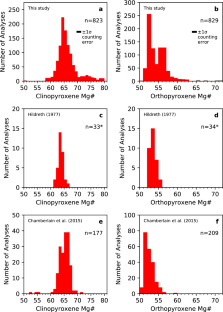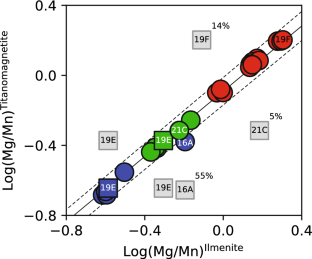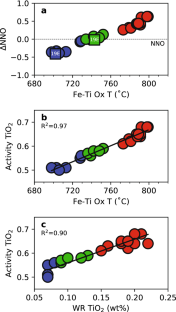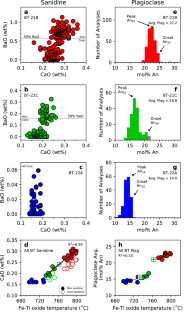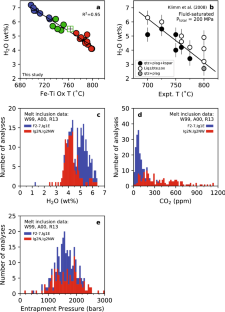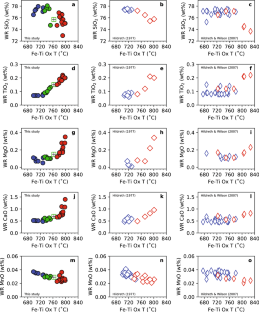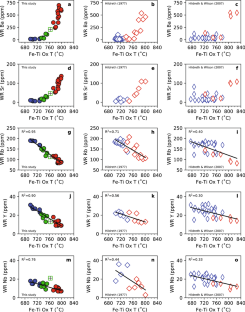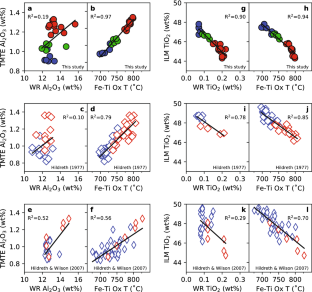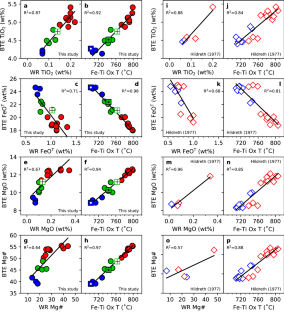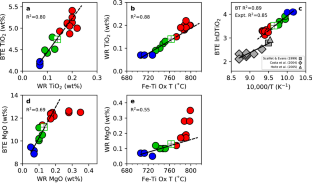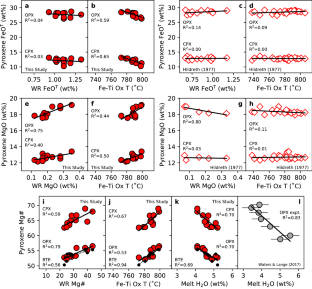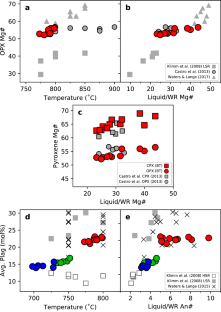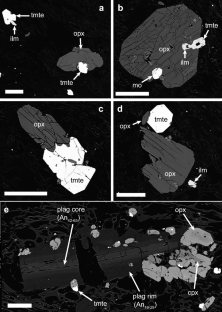 References
Andersen DJ, Lindsley DH (1988) Internally consistent solution models for Fe–Mg–Mn–Ti oxides: Fe–Ti oxides. Am Mineral 73:714–726

Andersen NL, Jicha BR, Singer BS, Hildreth W (2017) Incremental heating of Bishop Tuff sanidine reveals preeruptive radiogenic Ar and rapid remobilization from cold storage. Proc Natl Acad Sci 114(47):12407–12412

Anderson AT, Davis AM, Lu F (2000) Evolution of Bishop Tuff rhyolitic magma based on melt and magnetite inclusions and zoned phenocrysts. J Petrol 41:449–473

Bacon CR, Hirschmann MM (1988) Mg/Mn partitioning as a test for equilibrium between coexisting Fe–Ti oxides. Am Mineral 73:57–61

Bindeman IN, Valley JW (2002) Oxygen isotope study of the Long Valley magmatic system, California: isotope thermometry and convection in large silicic magma bodies. Contrib Mineral Petrol 144:185–205

Blundy JD, Wood BJ (1991) Crystal-chemical controls on the partitioning of Sr and Ba between plagioclase feldspar, silicate melts, and hydrothermal solutions. Geochim Cosmochim Acta 55:193–209

Boehnke P, Watson EB, Trail D, Harrison TM, Schmitt AK (2013) Zircon saturation re-visited. Chem Geol 351:324–334

Buddington AF, Lindsley DH (1964) Iron-titanium oxide minerals and synthetic equivalents. J Petrol 5(2):310–357

Castro JM, Schipper CI, Mueller SP, Militzer AS, Amigo A, Parejas CS, Jacob D (2013) Storage and eruption of near-liquidus rhyolite magma at Cordón Caulle, Chile. Bull Volcanol 75:702

Chamberlain KJ, Morgan DJ, Wilson CJN (2014a) Timescales of mixing and mobilization in the Bishop Tuff magma body: perspectives from diffusion chronometry. Contrib Mineral Petrol 168:1034–1058

Chamberlain KJ, Wilson CJN, Wooden JL, Charlier BLA, Ireland TR (2014b) New perspectives on the Bishop Tuff from zircon textures, ages and trace elements. J Petrol 55:395–426

Chamberlain KJ, Wilson CJN, Wallace PJ, Millet MA (2015) Micro-analytical perspectives on the Bishop Tuff and its magma chamber. J Petrol 56:605–640

Costa F, Scaillet B, Pichavant M (2004) Petrological and experimental constraints on the pre-eruptive conditions of Holocene Dacite from Volcán San Pedro (36 C, Chilean Andes) and the importance of sulphur in silicic subduction-related magmas. J Petrol 45:855–881

Elkins LT, Grove TL (1990) Ternary feldspar experiments and thermodynamic models. Am Mineral 75:544–559

Evans BW, Bachmann O (2013) Implications of equilibrium and disequilibrium among crystal phases in the Bishop Tuff. Am Mineral 98:271–274

Evans BW, Scaillet B, Kuehner SM (2006) Experimental determination of coexisting iron-titanium oxides in the systems FeTiAlO, FeTiAlMgO, FeTiAlMnO, and FeTiAlMgMnO at 800 and 900 C, 1–4 kbar, and relatively high oxygen fugacity. Contrib Mineral Petrol 152:149–167

Evans BW, Hildreth W, Bachmann O, Scaillet B (2016) In defense of magnetite-ilmenite thermometry in the Bishop Tuff and its gradients in silicic magma reservoirs. Am Mineral 101:469–482

Ewart A, Griffin WL (1994) Application of proton-microprobe data to trace element partitioning in volcanic rocks. Chem Geol 117:251–284

Gardner JE, Befus KS, Gualda GAR, Ghiorso MS (2014) Experimental constraints on rhyolite-MELTS and the Late Bishop Tuff magma body. Contrib Mineral Petrol 168:1051

Ghiorso M, Evans BW (2008) Thermodynamics of rhombohedral oxide solutions and revision of the Fe–Ti two-oxide geothermometer and oxygen barometer. Am J Sci 308:957–1039

Ghiorso MS, Gualda GAR (2013) A method for estimating the activity of titania in magmatic liquids from the compositions of coexisting rhombohedral and cubic iron-titanium oxides. Contrib Mineral Petrol 165:73–81

Ghiorso MS, Gulada GAR (2015) An H2O–CO2 mixed fluid saturation model compatible with rhyolite-MELTS. Contrib Mineral Petrol 169:53

Ghiorso MS, Sack RO (1991) Fe–Ti oxide geothermometry: thermodynamic forumulation and the estimation of intensive variables in silicic magmas. Contrib Mineral Petrol 108:485–510

Gualda GAR, Ghiorso MS (2013) The Bishop Tuff giant magma body: an alternative to the Standard Model. Contrib Mineral Petrol 166:755–775

Gualda GAR, Ghiorso MS (2014) Phase-equilibrium geobarometers for silicic rocks based on rhyolite-MELTS. Part 1: Principles, procedures and evaluation of the method. Contrib Mineral Petrol 168:1033

Hanchar JM (2003) Zircon saturation thermometry. Rev Mineral Geochem 53(1):89–112

Hervig RL, Dunbar NW (1992) Cause of chemical zoning in the Bishop (California) and Bandelier (New Mexico) magma chambers. Earth Planet Sci Lett 11:97–108

Hildreth EW (1977) The magma chamber of the Bishop Tuff: gradients in temperature, pressure, and composition. PhD thesis. University of California, Berkeley, California

Hildreth W (1979) The Bishop Tuff: evidence for the origin of compositional zonation in silicic magma chambers. In: Chapin CE, Elston WE (eds) Ash-flow tuffs. Geol Soc Am Spec Pap, vol 180, pp 43–75

Hildreth W (2017) A refreshing overview of the Bishop Tuff. In: Hildreth W, Fierstein J (eds) Geologic field-trip guide to Long Valley Caldera, California. U.S. Geological Survey Scientific Investigations Report 2017-5022-L

Hildreth W, Wilson CJN (2007) Compositional zoning of the Bishop Tuff. J Petrol 48:934–952

Hirschmann MM, Ghiorso MS, Davis FA, Gordon SM, Mukherjee S, Grove TL, Krawczynski M, Medard E, Till CB (2008) Library of experimental phase relations: a database and web portal for experimental magmatic phase equilibria data. Geochem Deophys Geosyst 9:Q03011. https://doi.org/10.1029/2007/GC001894

Holtz F, Sato H, Lewis J, Behrens H, Nakada S (2005) Experimental petrology of the 1991–1995 Unzen Dacite, Japan. Part 1: Phase relations, phase composition and pre-eruptive conditions. J Petrol 46:319–337

Huang R, Audétat A (2012) The titanium-in-quartz (TitaniQ) thermobarometer: a critical examination and re-calibration. Geochim Cosmochim Acta 84:75–89

Jarosewich E, Nelen JA, Norberg JA (1980) Reference samples for electron microprobe analysis. Geostand Newslett 4:43–47

Johannes W, Holtz F (1996) Petrogenesis and experimental petrology of granitic rocks: minerals and rock series, vol 22. Springer, Berlin

Klimm K, Holtz F, King PL (2008) Fractionation vs. magma mixing in the Wangrah Suite A-type granites, Lachlan Fold Belt, Australia: Experimental constraints. Lithosphere 102:415–434

Kress V, Carmichael ISE (1991) The compressibility of silicate liquids containing Fe2O3 and the effect of composition, temperature, oxygen fugacity and pressure on their redox states. Contrib Mineral Petrol 108:82–92

Lindsley DH, Frost BR, Andersen DJ, Davidson PM (1990) Fe–Ti oxide-silicate equilibria: assemblages with orthopyroxene. In: Spencer RJ, Chou IM (eds) Fluid–mineral interactions: a tribute to HP Eugster: Geochem Soc Spec Pub, vol 2, pp 103–119

Lu F, Anderson AT, Davis AM (1992) Melt inclusions and crystal-liquid separation in rhyolitic magma of the Bishop Tuff. Contrib Mineral Petrol 110:395–399

Mahood G, Hildreth W (1983) Large partition coefficients for trace elements in high-silica rhyolites. Geochim Cosmochim Acta 47:11–30

Pamukcu AS, Ghiorso MS, Gualda GAR (2016) High-Ti, bright-CL rims on volcanic quartz: a result of very rapid growth. Contrib Mineral Petrol 171:105

Peppard T, Steele IM, Davis AM, Wallace PJ, Anderson AT (2001) Zoned quartz phenocrysts from the rhyolitic Bishop Tuff. Am Mineral 86:1034–1052

Putirka KD (2008) Thermometers and barometers for volcanic systems. Rev Mineral Geochem 69:61–120

Reid MR, Vazquez JA, Schmitt K (2011) Zircon-scale insights into the history of a Supervolcano, Bishop Tuff, Long Valley, California, with implications for the Ti-in-zircon geothermometer. Contrib Mineral Petrol 161:293–311

Roberge J, Wallace PJ, Kent AJR (2013) Magmatic processes in the Bishop Tuff rhyolitic magma based on trace elements in melt inclusions and pumice matrix glass. Contrib Mineral Petrol 165:237–257

Scaillet B, Evans BW (1999) The 15 June 1991 eruption of Mount Pinatubo. I. Phase equilibria and pre-eruption P–T–fO2–fH2O conditions of the dacite magma. J Petrol 40:381–411

Scaillet B, Hildreth W (2001) Experimental constraints on the origin and evolution of the Bishop Tuff. In: Penrose conference, 2001, Mammoth, United States. hal-00102616

Thomas JB, Thomas JB, Watson EB, Spear FS, Shemella FS, Nayak SK, Lanzirotti A (2010) TitaniQ under pressure: the effect of pressure and temperature on the solubility of Ti in quartz. Contrib Mineral Petrol 160:743–759

Thomas JB, Watson EB et al (2012) Application of the Ti-in-quartz thermobarometer to rutile-free systems. Reply to: a comment on: "TitaniQ under pressure: the effect of pressure and temperature on the solubility of Ti in quartz" by Thomas et al. Contrib Mineral Petrol 164:369–374

Thomas JB, Watson EB, Spear FS, Wark DA (2015) TitaniQ recrystallized: experimental confirmation of the Ti-in-quartz calibrations. Contrib Mineral Petrol 169:27

Venezky DY, Rutherford MJ (1999) Petrology and Fe–Ti oxide reequilibration of the 1991 Mount Unzen mixed magma. J Volcan Geotherm Res 89:213–230

Walker GPL (1972) Crystal concentration in ignimbrites. Contrib Mineral Petrol 36:135–136

Wallace PJ, Anderson AT, Davis AM (1999) Gradients in H2O, CO2, and exsolved gas in a large-volume silicic magma system: interpreting the record preserved in melt inclusions from the Bishop Tuff. J Geophys Res 104:20097–20122

Wark DA, Hildreth W, Spear FS, Cherniak DJ, Watson EB (2007) Pre-eruption recharge of the Bishop magma system. Geology 35:235–238

Waters LE, Andrews BJ (2016) The role of superheating in the formation of Glass Mountain obsidians (Long Valley, CA) inferred through crystallization of sanidine. Contrib Miner Petrol 171(10):79

Waters LE, Lange RA (2013) Crystal-poor, multiply saturated rhyolites (obsidians) from the Cascade and Mexican arcs: evidence of degassing-induced crystallization of phenocrysts. Contrib Mineral Petrol 166:731–754

Waters LE, Lange RA (2015) An updated calibration of the plagioclase-liquid hygrometer-thermometer applicable to basalts through rhyolites. Am Mineral 100:2172–2184

Waters LE, Lange RA (2017) An experimental study of Fe2+-MgKD between orthopyroxene and rhyolite: a strong dependence on H2O in the melt. Contrib Mineral Petrol 172:42

Waters LE, Andrews BJ, Lange RA (2015) Rapid crystallization of plagioclase phenocrysts in silicic melts during fluid-saturated ascent: phase equilibrium and decompression experiments. J Petrol 56:981–1006

Watson EB, Wark DA, Thomas JB (2006) Crystallization thermometers for zircon and rutile. Contrib Mineral Petrol 151:413–433

Wilson CJN, Hildreth W (1997) The Bishop Tuff: new insights from eruptive stratigraphy. J Geol 105(407):439

Wilson CJN, Seward TM, Allan ASR, Charlier BLA, Bello L (2012) A comment on: 'TitaniQ under pressure: the effect of pressure and temperature on the solubility of Ti in quartz', by Jay B. Thomas, E. Bruce Watson, Frank S. Spear, Philip T. Shemella, Saroj K. Nayak and Antonio Lanziriotti. Contrib Mineral Petrol 164:359–368
Acknowledgements
This study stands on the shoulders of the remarkably large body of published work on the Bishop Tuff deposit, especially the pioneering and comprehensive studies of Wes Hildreth and colleagues over the years, and the improved calibration of the Fe–Ti two-oxide thermometer provided by Mark Ghiorso and Bernard Evans. We thank Mark Ghiorso, Colin Wilson, and John Wolff for their thoughtful and extensive reviews that led to substantial improvements in the manuscript. Additional editoral comments from Gordon Moore helped strengthened the paper. We are also grateful to Wes Hildreth for his helpful informal review. This work was supported by National Science Foundation grant EAR-1250368.
Additional information
Publisher's Note
Springer Nature remains neutral with regard to jurisdictional claims in published maps and institutional affiliations.
Communicated by Gordon Moore.
Electronic supplementary material
Below is the link to the electronic supplementary material.
About this article
Cite this article
Jolles, J.S.R., Lange, R.A. High-resolution Fe–Ti oxide thermometry applied to single-clast pumices from the Bishop Tuff: a re-examination of compositional variations in phenocryst phases with temperature. Contrib Mineral Petrol 174, 70 (2019). https://doi.org/10.1007/s00410-019-1597-z
Received:

Accepted:

Published:
Keywords
Rhyolite

Fe–Ti oxides

Biotite

Pyroxene

Plagioclase

Sanidine

Two-feldspar thermometry