Abstract
Background
Chronic hepatitis C virus (HCV) infection is associated with increased risk of hepatocellular carcinoma. However, whether HCV infection also increases the risk of extra-hepatic cancer is still not well-established. This systematic review and meta-analysis was conducted in order to investigate the relationship between chronic HCV infection and lung cancer.
Materials and Methods
A systematic review was performed using MEDLINE and EMBASE databases from inception to November 2019 with search strategy that included the terms for "hepatitis C virus" and "cancer". Eligible studies must be cohort studies that included patients with chronic HCV infection and comparators without HCV infection, then followed them for incident lung cancer. Relative risk, incidence rate ratio, standardized incidence ratio or hazard risk ratio of this association along with associated 95% confidence interval (CI) were extracted from each eligible study and combined for the calculation of the pooled effect estimate using the random effect, generic inverse variance method.
Results
A total of 20,459 articles were identified using the aforementioned search strategy. After two rounds of review, eight studies fulfilled the inclusion criteria and were included into the meta-analysis. Chronic HCV infection was significantly associated with an increased risk of lung cancer with the pooled relative risk of 1.94 (95% CI 1.56–2.42; I2 = 87%). Funnel plot was fairly symmetric and not suggestive of presence of publication bias.
Conclusions
The current study demonstrated that chronic HCV infection is significantly associated with a 1.94-fold increased risk of developing lung cancer. However, further studies are still needed to investigate if this association is causative.
This is a preview of subscription content, log in to check access.
Access options
Buy single article
Instant access to the full article PDF.
US$ 39.95
Price includes VAT for USA
Subscribe to journal
Immediate online access to all issues from 2019. Subscription will auto renew annually.
US$ 99
This is the net price. Taxes to be calculated in checkout.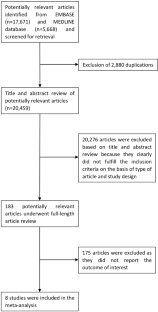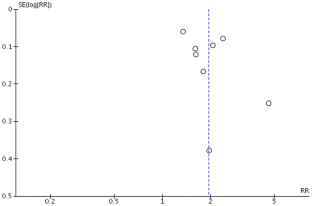 References
1.

Bray F, Ferlay J, Soerjomataram I, Siegel RL, Torre LA, Jemal A (2018) Global cancer statistics 2018: GLOBOCAN estimates of incidence and mortality worldwide for 36 cancers in 185 countries. Cancer J Clin 68(6):394–424. https://doi.org/10.3322/caac.21492

2.

Travis WD, Brambilla E, Nicholson AG, Yatabe Y, Austin JHM, Beasley MB, Chirieac LR, Dacic S, Duhig E, Flieder DB, Geisinger K, Hirsch FR, Ishikawa Y, Kerr KM, Noguchi M, Pelosi G, Powell CA, Tsao MS, Wistuba I (2015) The 2015 World Health Organization classification of lung tumors: impact of genetic, clinical and radiologic advances since the 2004 classification. J Thorac Oncol 10(9):1243–1260. https://doi.org/10.1097/jto.0000000000000630

3.

Malhotra J, Malvezzi M, Negri E, La Vecchia C, Boffetta P (2016) Risk factors for lung cancer worldwide. Eur Respir J 48(3):889–902. https://doi.org/10.1183/13993003.00359-2016

4.

Brenner DR, McLaughlin JR, Hung RJ (2011) Previous lung diseases and lung cancer risk: a systematic review and meta-analysis. PLoS ONE 6(3):e17479. https://doi.org/10.1371/journal.pone.0017479

5.

Collaborators POH (2017) Global prevalence and genotype distribution of hepatitis C virus infection in 2015: a modelling study. Lancet Gastroenterol Hepatol 2(3):161–176. https://doi.org/10.1016/s2468-1253(16)30181-9

6.

Manns MP, Buti M, Gane E, Pawlotsky J-M, Razavi H, Terrault N, Younossi Z (2017) Hepatitis C virus infection. Nat Rev Dis Primers 3(1):17006. https://doi.org/10.1038/nrdp.2017.6

7.

Platt L, Easterbrook P, Gower E, McDonald B, Sabin K, McGowan C, Yanny I, Razavi H, Vickerman P (2016) Prevalence and burden of HCV co-infection in people living with HIV: a global systematic review and meta-analysis. Lancet Infect Dis 16(7):797–808. https://doi.org/10.1016/s1473-3099(15)00485-5

8.

Spearman CW, Dusheiko GM, Hellard M, Sonderup M (2019) Hepatitis C. Lancet 394(10207):1451–1466. https://doi.org/10.1016/S0140-6736(19)32320-7

9.

Millman AJ, Nelson NP, Vellozzi C (2017) Hepatitis C: review of the epidemiology, clinical care, and continued challenges in the direct acting antiviral era. Curr Epidemiol Rep 4(2):174–185. https://doi.org/10.1007/s40471-017-0108-x

10.

Lingala S, Ghany MG (2015) Natural history of hepatitis C. Gastroenterol Clin North Am 44(4):717–734. https://doi.org/10.1016/j.gtc.2015.07.003

11.

Wang P, Jing Z, Liu C, Xu M, Wang P, Wang X, Yin Y, Cui Y, Ren D, Rao X (2017) Hepatitis C virus infection and risk of thyroid cancer: a systematic review and meta-analysis. Arab J Gastroenterol 18(1):1–5. https://doi.org/10.1016/j.ajg.2017.01.003

12.

Wijarnpreecha K, Nissaisorakarn P, Sornprom S, Thongprayoon C, Thamcharoen N, Maneenil K, Podboy AJ, Cheungpasitporn W (2016) Hepatitis C infection and renal cell carcinoma: a systematic review and meta-analysis. World J Gastrointest Pathophysiol 7(4):314–319. https://doi.org/10.4291/wjgp.v7.i4.314

13.

Omland LH, Farkas DK, Jepsen P, Obel N, Pedersen L (2010) Hepatitis C virus infection and risk of cancer: a population-based cohort study. Clin Epidemiol 2:179–186. https://doi.org/10.2147/clep.s10193

14.

Swart A, Burns L, Mao L, Grulich AE, Amin J, O'Connell DL, Meagher NS, Randall DA, Degenhardt L, Vajdic CM (2012) The importance of blood-borne viruses in elevated cancer risk among opioid-dependent people: a population-based cohort study. BMJ Open. https://doi.org/10.1136/bmjopen-2012-001755

15.

Allison RD, Tong X, Moorman AC, Ly KN, Rupp L, Xu F, Gordon SC, Holmberg SD (2015) Increased incidence of cancer and cancer-related mortality among persons with chronic hepatitis C infection, 2006–2010. J Hepatol 63(4):822–828. https://doi.org/10.1016/j.jhep.2015.04.021

16.

Htoo PT, Arduino JM, He J (2016) Chronic hepatitis C virus infection and cancer risks: a population-based cohort study. Hepatology 64(1):403A–404A

17.

Kamiza AB, Su F-H, Wang W-C, Sung F-C, Chang S-N, Yeh C-C (2016) Chronic hepatitis infection is associated with extrahepatic cancer development: a nationwide population-based study in Taiwan. BMC Cancer 16(1):861–861. https://doi.org/10.1186/s12885-016-2918-5

18.

Younossi ZM, Nyberg AH, Sadikova E, Shi JM, Cheetham TC, Chiang KM, Nyberg LM (2016) Increased cancer rates in CHC patients: an analysis of the Cancer Registry in a large U.S. HMO. Hepatol Int 10(1):S114. https://doi.org/10.1007/s12072-016-9707-8

19.

Liu X, Chen Y, Wang Y, Dong X, Wang J, Tang J, Sundquist K, Sundquist J, Ji J (2017) Cancer risk in patients with hepatitis C virus infection: a population-based study in Sweden. Cancer Med 6(5):1135–1140. https://doi.org/10.1002/cam4.988

20.

Wang W, Lo-Re V, Guo Y, Xiao H, Brown J, Park H (2019) IN1 the increased risks of non-hepatic cancers among hepatitis C virus (HCV) infected patients: a population-based cohort study in the US. Value Health 22:S40. https://doi.org/10.1016/j.jval.2019.04.044

21.

Wells G, Shea B, O'Connell D et al (2014) The Newcastle-Ottawa Scale (NOS) for assessing the quality of non-randomized studies in meta-analysis. Available at http://www.ohri.ca/programs/clinical_epidemiology/oxford.asp. Accessed 3 June 2020

22.

DerSimonian R, Laird N (1986) Meta-analysis in clinical trials. Control Clin Trials 7(3):177–188. https://doi.org/10.1016/0197-2456(86)90046-2

23.

Higgins JP, Thompson SG, Deeks JJ, Altman DG (2003) Measuring inconsistency in meta-analyses. BMJ 327(7414):557–560. https://doi.org/10.1136/bmj.327.7414.557

24.

Kao C-F, Chen S-Y, Chen J-Y, Wu Lee Y-H (2004) Modulation of p53 transcription regulatory activity and post-translational modification by hepatitis C virus core protein. Oncogene 23(14):2472–2483. https://doi.org/10.1038/sj.onc.1207368

25.

Alisi A, Giambartolomei S, Cupelli F, Merlo P, Fontemaggi G, Spaziani A, Balsano C (2003) Physical and functional interaction between HCV core protein and the different p73 isoforms. Oncogene 22(17):2573–2580. https://doi.org/10.1038/sj.onc.1206333

26.

Deng L, Nagano-Fujii M, Tanaka M, Nomura-Takigawa Y, Ikeda M, Kato N, Sada K, Hotta H (2006) NS3 protein of Hepatitis C virus associates with the tumour suppressor p53 and inhibits its function in an NS3 sequence-dependent manner. J Gen Virol 87(6):1703–1713. https://doi.org/10.1099/vir.0.81735-0

27.

Majumder M, Ghosh AK, Steele R, Ray R, Ray RB (2001) Hepatitis C virus NS5A physically associates with p53 and regulates p21/waf1 gene expression in a p53-dependent manner. J Virol 75(3):1401–1407. https://doi.org/10.1128/jvi.75.3.1401-1407.2001

28.

Zito Marino F, Bianco R, Accardo M, Ronchi A, Cozzolino I, Morgillo F, Rossi G, Franco R (2019) Molecular heterogeneity in lung cancer: from mechanisms of origin to clinical implications. Int J Med Sci 16(7):981–989. https://doi.org/10.7150/ijms.34739

29.

Lan KH, Sheu ML, Hwang SJ, Yen SH, Chen SY, Wu JC, Wang YJ, Kato N, Omata M, Chang FY, Lee SD (2002) HCV NS5A interacts with p53 and inhibits p53-mediated apoptosis. Oncogene 21(31):4801–4811. https://doi.org/10.1038/sj.onc.1205589

30.

Ghosh AK, Majumder M, Steele R, Meyer K, Ray R, Ray RB (2000) Hepatitis C virus NS5A protein protects against TNF-alpha mediated apoptotic cell death. Virus Res 67(2):173–178. https://doi.org/10.1016/s0168-1702(00)00141-6

31.

Labi V, Erlacher M (2015) How cell death shapes cancer. Cell Death Dis 6(3):e1675–e1675. https://doi.org/10.1038/cddis.2015.20

32.

Wajant H (2009) The role of TNF in cancer. Results Probl Cell Differ 49:1–15. https://doi.org/10.1007/400_2008_26

33.

Hoshida Y, Fuchs BC, Bardeesy N, Baumert TF, Chung RT (2014) Pathogenesis and prevention of hepatitis C virus-induced hepatocellular carcinoma. J Hepatol 61(1 Suppl):S79–S90. https://doi.org/10.1016/j.jhep.2014.07.010

34.

Liao QJ, Ye LB, Timani KA, She YL, Yang XJ, Ye L, Wu ZH (2005) Hepatitis C virus non-structural 5A protein can enhance full-length core protein-induced nuclear factor-kappaB activation. World J Gastroenterol 11(41):6433–6439. https://doi.org/10.3748/wjg.v11.i41.6433

35.

Li X-D, Sun L, Seth RB, Pineda G, Chen ZJ (2005) Hepatitis C virus protease NS3/4A cleaves mitochondrial antiviral signaling protein off the mitochondria to evade innate immunity. Proc Natl Acad Sci USA 102(49):17717. https://doi.org/10.1073/pnas.0508531102

36.

Fuertes MB, Woo SR, Burnett B, Fu YX, Gajewski TF (2013) Type I interferon response and innate immune sensing of cancer. Trends Immunol 34(2):67–73. https://doi.org/10.1016/j.it.2012.10.004

37.

Crotta S, Stilla A, Wack A, D'Andrea A, Nuti S, D'Oro U, Mosca M, Filliponi F, Brunetto RM, Bonino F, Abrignani S, Valiante NM (2002) Inhibition of natural killer cells through engagement of CD81 by the major hepatitis C virus envelope protein. J Exp Med 195(1):35–41. https://doi.org/10.1084/jem.20011124

38.

Zhang J, Basher F, Wu JD (2015) NKG2D ligands in tumor immunity: two sides of a coin. Front Immunol 6:97–97. https://doi.org/10.3389/fimmu.2015.00097

39.

Pockley AG, Vaupel P, Multhoff G (2020) NK cell-based therapeutics for lung cancer. Expert Opinion on Biological Therapy 20(1):23–33. https://doi.org/10.1080/14712598.2020.1688298

40.

Fehniger TA, Cooper MA, Nuovo GJ, Cella M, Facchetti F, Colonna M, Caligiuri MA (2003) CD56bright natural killer cells are present in human lymph nodes and are activated by T cell-derived IL-2: a potential new link between adaptive and innate immunity. Blood 101(8):3052–3057. https://doi.org/10.1182/blood-2002-09-2876

41.

Abel AM, Yang C, Thakar MS, Malarkannan S (2018) Natural killer cells: development, maturation, and clinical utilization. Front Immunol 9:1869. https://doi.org/10.3389/fimmu.2018.01869

42.

Sorensen HT, Friis S, Olsen JH, Thulstrup AM, Mellemkjaer L, Linet M, Trichopoulos D, Vilstrup H, Olsen J (1998) Risk of liver and other types of cancer in patients with cirrhosis: a nationwide cohort study in Denmark. Hepatology 28(4):921–925. https://doi.org/10.1002/hep.510280404

43.

Mbizvo GK, Bennett K, Simpson CR, Duncan SE, Chin RFM (2018) Accuracy and utility of using administrative healthcare databases to identify people with epilepsy: a protocol for a systematic review and meta-analysis. BMJ Open 8(6):e020824. https://doi.org/10.1136/bmjopen-2017-020824

44.

Vutcovici M, Bitton A, Sewitch M, Brassard P, Patenaude V, Suissa S (2014) Time-related bias in administrative health database studies of disease incidence. Epidemiology 25(6):930–932. https://doi.org/10.1097/ede.0000000000000182

45.

Hashimoto RE, Brodt ED, Skelly AC, Dettori JR (2014) Administrative database studies: goldmine or goose chase? Evid Based Spine Care J 5(2):74–76. https://doi.org/10.1055/s-0034-1390027

46.

de Oliveria Andrade LJ, D'Oliveira A, Melo RC, De Souza EC, Costa Silva CA, Paraná R (2009) Association between hepatitis C and hepatocellular carcinoma. J Glob Infect Dis 1(1):33–37. https://doi.org/10.4103/0974-777X.52979

47.

Raz DJ, Gomez SL, Chang ET, Kim JY, Keegan THM, Pham J, Kukreja J, Hiatt RA, Jablons DM (2008) Epidemiology of non-small cell lung cancer in Asian Americans: incidence patterns among six subgroups by nativity. J Thorac Oncol 3(12):1391–1397. https://doi.org/10.1097/JTO.0b013e31818ddff7

48.

Oh CM, Roh YH, Lim D, Kong HJ, Cho H, Hwangbo B, Won YJ, Jung KW, Oh K (2020) Pulmonary tuberculosis is associated with elevated risk of lung cancer in Korea: the nationwide cohort study. J Cancer 11(7):1899–1906. https://doi.org/10.7150/jca.37022

49.

Zhou F, Zhou C (2018) Lung cancer in never smokers-the East Asian experience. Translational lung cancer research 7(4):450–463. https://doi.org/10.21037/tlcr.2018.05.14
Funding
This research did not receive any specific grant from funding agencies in the public, commercial, or not-for-profit sectors.
Ethics declarations
Conflicts of interest
We do not have any financial or non-financial potential conflicts of interest.
Informed consent
All authors had given consent for publication.
Additional information
Publisher's Note
Springer Nature remains neutral with regard to jurisdictional claims in published maps and institutional affiliations.
Electronic supplementary material
Below is the link to the electronic supplementary material.
About this article
Cite this article
Ponvilawan, B., Charoenngam, N., Rujirachun, P. et al. Chronic Hepatitis C Virus Infection is Associated with an Increased Risk of Lung Cancer: A Systematic Review and Meta-analysis. Lung (2020). https://doi.org/10.1007/s00408-020-00365-y
Received:

Accepted:

Published:
Keywords
Hepatitis C virus

HCV

Lung cancer

Lung carcinoma

Meta-analysis