Abstract
Background
Conventional technique for transcutaneous bone-anchored hearing implants surgery requires the elevation of a large retroauricular skin flap to expose the site of implantation, that may cause a large scar and the interruption of retroauricular vasculature.
Methods
A less invasive, endoscopic-assisted modification of the surgical technique is described, which provides access to the implant site through two small skin incisions and the creation of a pocket in the retroauricular area.
Conclusion
Endoscopic-assisted bone-anchored hearing implant surgery could be a viable option for transcutaneous bone-anchored hearing implant surgery, especially for pediatric patients.
Access options
Buy single article
Instant access to the full article PDF.
US$ 39.95
Tax calculation will be finalised during checkout.
Subscribe to journal
Immediate online access to all issues from 2019. Subscription will auto renew annually.
US$ 119
Tax calculation will be finalised during checkout.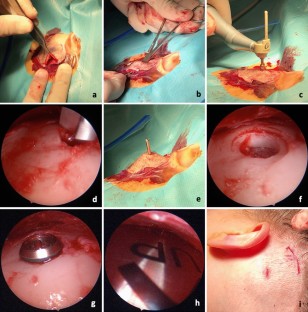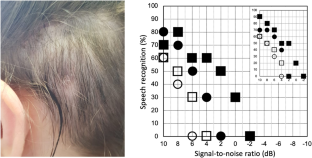 References
1.

Lippmann E, Pritchett C, Ittner C, Hoff SR (2018) Transcutaneous osseointegrated implants for pediatric patients with aural atresia. JAMA Otolaryngol Head Neck Surg 144:704–709

2.

Cochlear Baha 4 Attract System Surgical Procedure. Surgery Guide. Cochlear Americas. 2014.

3.

Löhler J, Gräbner F, Wollenberg B, Schlattmann P, Schönweiler R (2017) Sensitivity and specificity of the abbreviated profile of hearing aid benefit (APHAB). Eur Arch Oto-Rhino-Laryngol 274:3593–3598

4.

Gatehouse S, Noble W (2004) The speech, spatial and qualities of hearing scale (SSQ). Int J Audiol 43:85–99

5.

Kompis M, Pfiffner F, Krebs M, Caversaccio MD (2011) Factors influencing the decision for baha in unilateral deafness: the bern benefit in single-sided deafness questionnaire. Adv Otorhinolaryngol 71:103–111

6.

Perenyi A, Bere Z, Jarabin J et al (2017) Vascular mapping of the retroauricular skin—proposal for a posterior superior surgical incision for transcutaneous bone-conduction hearing implants. J Otolaryngol Head Neck Surg 46:1–8

7.

Baker S, Centric A, Chennupati SK (2015) Innovation in abutment-free bone-anchored hearing devices in children: updated results and experience. Int J Pediatr Otorhinolaryngol 79:1667–1672

8.

Oberlies NR, Castaño JE, Freiser ME, McCoy JL, Shaffer AD, Jabbour N (2020) Outcomes of BAHA connect vs BAHA attract in pediatric patients. Int J Pediatr Otorhinolaryngol 135:1–5

9.

Dimitriadis PA, Carrick S, Ray J (2017) Intermediate outcomes of a transcutaneous bone conduction hearing device in a paediatric population. Int J Pediatr Otorhinolaryngol 94:59–63

10.

Giannantonio S, Scorpecci A, Pacifico C, Marsella P (2018) A functional and anatomical comparison between two passive transcutaneous bone conduction implants in children. Int J Pediatr Otorhinolaryngol 108:202–207

11.

Dolhen P, Lipski S, Touijar R, Van Bogaert J (2020) Minimal invasive pocket technique for magnet bone implant hearing aid without fixation. Eur Arch Oto-Rhino-Laryngol 277:715–725

12.

Barry JY, Reghunathan S, Jacob A (2017) First report: linear incision for placement of a magnetically coupled bone-anchored hearing implant. Otol Neurotol 38:221–224

13.

Reddy-Kolanu G, Marshall A (2016) Implantation of the cochlear Baha® 4 attract system through a linear incision. Ann R Coll Surg Engl 98:437–438

14.

Cedars E, Chan D, Lao A, Hardies L, Meyer A, Rosbe K (2016) Conversion of traditional osseointegrated bone-anchored hearing aids to the Baha® attract in four pediatric patients. Int J Pediatr Otorhinolaryngol 91:37–42

15.

Turrini M, Cutugno F, Maturi P, Prosser S, Leoni FA, Arslan E (1993) Bisyllabic words for speech audiometry: a new italian material. Acta Otorhinolaryngol Ital 13:63–77
Ethics declarations
Conflict of interest
The authors declare no conflicts of interest to disclose.
Informed consent
Specific informed consent was obtained for the surgical procedure and for the publication of clinical images for scientific purposes.
Ethical approval
The study was performed in accordance with the ethical standards as laid down in the 1964 Declaration of Helsinki and its later amendments.
Additional information
Publisher's Note
Springer Nature remains neutral with regard to jurisdictional claims in published maps and institutional affiliations.
About this article
Cite this article
Muzzi, E., Marchi, R. & Orzan, E. Endoscopic-assisted pediatric transcutaneous bone-anchored hearing implant: how I do it. Eur Arch Otorhinolaryngol (2021). https://doi.org/10.1007/s00405-021-06690-z
Received:

Accepted:

Published:
Keywords
Bone conduction hearing

Auditory prosthesis

Endoscopic surgical procedure