Abstract
Purpose
Current population-based estimates of the incidence and prognosis of lung metastases of hypopharyngeal cancer are lacking. The purpose of the study is to characterize the incidence proportions and survival probability of patients with hypopharyngeal cancer and lung metastases.
Materials and methods
We identified 2714 adult patients diagnosed with hypopharyngeal cancer between 2010 and 2014 for whom the status of lung metastases was known from the SEER database. Multivariable logistic and Cox regression models were performed to identify the risk factors associated with the presence of lung metastases at diagnosis and 5-year all-cause mortality, respectively.
Results
We identified 128 patients with lung metastases at the time of diagnosis of hypopharyngeal cancer. Females were less likely to have lung metastases. Incidences of lung metastases were higher among patients with histological grade III/IV. For each 10 mm increase in tumor size, the odds of having lung metastases increased by 6.6%. Patients with lung metastases had a shorter survival time.
Conclusion
Our study provides insight into the epidemiology of lung metastases in patients with hypopharyngeal cancer. When the tumor is diagnosed, we should pay close attention to the sex, race, tumor size and histological grade to quickly detect the distant metastases.
Access options
Buy single article
Instant access to the full article PDF.
US$ 39.95
Tax calculation will be finalised during checkout.
Subscribe to journal
Immediate online access to all issues from 2019. Subscription will auto renew annually.
US$ 119
Tax calculation will be finalised during checkout.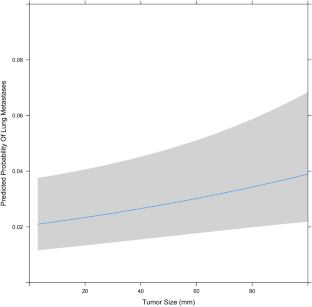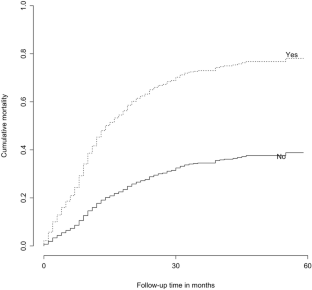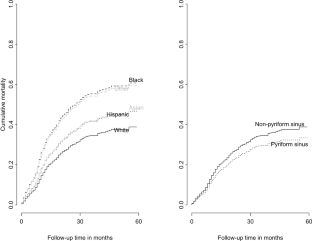 References
1.

Ampil F, Previgliano C, Porter C, Richards T, Takalkar A (2019) Metachronous mediastinal and lung metastases from head and neck cancer: a case series, literature review and considerations for treatment. Oral Oncol 102:104518

2.

Ayantunde AA, Parsons SL (2007) Pattern and prognostic factors in patients with malignant ascites: A retrospective study. Ann Oncol 18:945–949

3.

Beltran H, Robinson BD, Tagawa ST (2010) Primary squamous cell carcinoma of the urinary bladder presenting as peritoneal carcinomatosis. Adv Urol 2010:179250

4.

Bollig CA, Newberry CI, Galloway TLI, Zitsch RP, Hanly EK, Zhu VL, Pagedar N, Nallani R, Bur AM, Spanos WC, Jorgensen JB (2020) Prognostic impact of metastatic site and pattern in patients with metastatic head and neck cancer. Laryngoscope. https://doi.org/10.1002/lary.29208

5.

Duprez F, Berwouts D, De Neve W, Bonte K, Boterberg T, Deron P, Huvenne W, Rottey S, Mareel M (2017) Distant metastases in head and neck cancer. Head Neck 39:1733–1743

6.

Lardinois I, Dequanter D, Lechien JR, Bouland C, Javadian R, Rodriguez A, Loeb I, Journe F, Saussez S (2020) Survival and treatment outcome of head and neck cancer patients with pulmonary oligometastases. Clin Otolaryngol. https://doi.org/10.1111/coa.13668

7.

Macherey SPS, Doerr F, Grönke S, Heldwein M, Quaas A, Zander T, Hekmat K (2015) Surgical therapy of lung metastases from head and neck cancer. HNO 62:9

8.

Madiba TE, Haffejee AA, Mbete DL (1993) Squamous cell carcinoma of the oesophagus–an unusual presentation with malignant ascites. A case report. S Afr J Surg 31:137–139

9.

Pfister DGSS, Brizel DM, Burtness B, Busse PM, Caudell JJ, Cmelak AJ, Colevas AD, Dunphy F, Eisele DW, Foote RL, Gilbert J, Gillison ML, Haddad RI, Haughey BH, Hicks WL Jr, Hitchcock YJ, Jimeno A, Kies MS, Lydiatt WM, Maghami E, McCaffrey T, Mell LK, Mittal BB, Pinto HA, Ridge JA, Rodriguez CP, Samant S, Shah JP, Weber RS, Wolf GT, Worden F, Yom SS, McMillian N, Hughes M (2015) Head and neck cancers, version 1. 2015. J Natl Compr Canc Netw 13:9

10.

Pracy P, Loughran S, Good J, Parmar S, Goranova R (2016) Hypopharyngeal cancer: United kingdom national multidisciplinary guidelines. J Laryngol Otol 130:S104–S110

11.

Spector JG, Sessions DG, Haughey BH, Chao KS, Simpson J, El Mofty S, Perez CA (2001) Delayed regional metastases, distant metastases, and second primary malignancies in squamous cell carcinomas of the larynx and hypopharynx. Laryngoscope 111:1079–1087

12.

Wakasaki T, Omori H, Sueyoshi S, Rikimaru F, Toh S, Taguchi K, Higaki Y, Morita M, Masuda M (2016) A case of peritoneal metastasis during treatment for hypopharyngeal squamous cell carcinoma. World J Surg Oncol 14:265

13.

Wong ZW, Leong SS, Tan T, Mancer K (2004) A case of metastatic squamous cell carcinoma of the hypopharynx manifesting as acute abdomen. Ann Acad Med Singapore 33:356–358

14.

Yarmohammadi H, Mansoori B, Wong V, Tacher V, Wilkins LR, Pavlidakey PG, Haaga JR (2014) Squamous cell carcinoma arising from ovarian mature cystic teratoma and causing small bowel obstruction. J Cancer Res Ther 10:770–772
Acknowledgements
We thank Arthur Gewei Liu who as a native speaker proofread this paper.
Ethics declarations
Conflict of interest
The authors declare that they have no conflict of interest.
Ethical approval
This study was approved by the institutional review board at Zhongshan Hospital of Fudan University. Since it was a secondary analysis based on an existing database, written and informed consent was waived.
Data availability statement
The datasets generated during and/or analyzed during the current study are available from the corresponding author on reasonable request.
Additional information
Publisher's Note
Springer Nature remains neutral with regard to jurisdictional claims in published maps and institutional affiliations.
About this article
Cite this article
Shen, N., Li, T., Zhou, L. et al. Lung metastases in newly diagnosed hypopharyngeal cancer: a population-based study. Eur Arch Otorhinolaryngol (2021). https://doi.org/10.1007/s00405-021-06675-y
Received:

Accepted:

Published:
Keywords
Hypopharyngeal cancer

Lung metastases

SEER