Abstract
Purpose
The peritonsillar abscess (PTA)–rheumatoid arthritis (RA) association remains unclear. Here, the effects of RA on PTA incidence and prognosis are elucidated.
Methods
We compared PTA incidence and prognosis of 30,706 RFCIP-registered patients with RA (RA cohort) with matched individuals without RA from another database of 1 million randomly selected people representing Taiwan's population (non-RA cohort).
Results
The RA cohort had significantly higher PTA incidence [incidence rate ratio (IRR) (95% CI) 1.73 (1.10–2.71), P = 0.017) and cumulative incidence (P = 0.016, Kaplan–Meier curves). Cox regression analyses demonstrated RA cohort to have an estimated 1.72-fold increased PTA risk (95% CI 1.09–2.69, P = 0.019). PTA was more likely within the first 5 years of RA diagnosis (for < 1, 1–5, and ≥ 5 postdiagnosis years, IRRs: 2.67, 2.31, and 1.10, respectively, and P = 0.063, 0.021, and 0.794, respectively; average onset duration: 4.3 ± 3.3 years after RA diagnosis). PTA increased length of hospital stay significantly and risk of complication with deep neck infection nonsignificantly [6.5 ± 4.5 vs 4.6 ± 2.8 days (P = 0.045) and 18.52% vs 7.81% (P = 0.155), respectively]. Moreover, RA-cohort patients not receiving RA therapy exhibited 5.06-fold higher PTA risk than those receiving RA-related therapy (95% CI 1.75–14.62, P = 0.003).
Conclusions
In patients with RA, PTA incidence is the highest within 5 years of RA diagnosis, and RA therapy is essential for reducing PTA risk.
Level of evidence
4.
Access options
Buy single article
Instant access to the full article PDF.
US$ 39.95
Tax calculation will be finalised during checkout.
Subscribe to journal
Immediate online access to all issues from 2019. Subscription will auto renew annually.
US$ 119
Tax calculation will be finalised during checkout.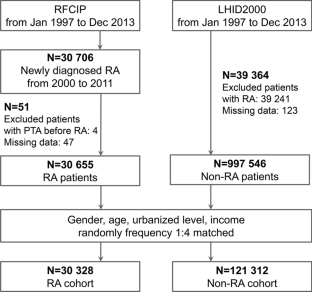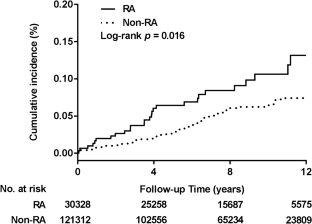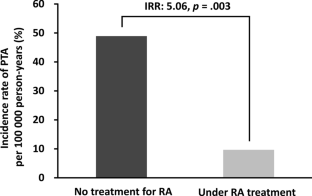 References
1.

Galioto NJ (2008) Peritonsillar abscess. Am Fam Physician 77(2):199–202

2.

Chau JK, Seikaly HR, Harris JR, Villa-Roel C, Brick C, Rowe BH (2014) Corticosteroids in peritonsillar abscess treatment: a blinded placebo-controlled clinical trial. Laryngoscope 124(1):97–103. https://doi.org/10.1002/lary.24283

3.

Powell J, Wilson JA (2012) An evidence-based review of peritonsillar abscess. Clin Otolaryngol 37(2):136–145. https://doi.org/10.1111/j.1749-4486.2012.02452.x

4.

Yang W, Hu L, Wang Z, Nie G, Li X, Lin D, Luo J, Qin H, Wu J, Wen W, Lei W (2015) Deep neck infection: a review of 130 cases in Southern China. Medicine 94(27):e994. https://doi.org/10.1097/md.0000000000000994

5.

Eftekharian A, Roozbahany NA, Vaezeafshar R, Narimani N (2009) Deep neck infections: a retrospective review of 112 cases. Eur Arch Oto-rhino-laryngol 266(2):273–277. https://doi.org/10.1007/s00405-008-0734-5

6.

Huang TT, Liu TC, Chen PR, Tseng FY, Yeh TH, Chen YS (2004) Deep neck infection: analysis of 185 cases. Head Neck 26(10):854–860. https://doi.org/10.1002/hed.20014

7.

Bottin R, Marioni G, Rinaldi R, Boninsegna M, Salvadori L, Staffieri A (2003) Deep neck infection: a present-day complication. A retrospective review of 83 cases (1998–2001). Eur Arch Oto-rhino-laryngol 260(10):576–579. https://doi.org/10.1007/s00405-003-0634-7

8.

Ridder GJ, Technau-Ihling K, Sander A, Boedeker CC (2005) Spectrum and management of deep neck space infections: an 8-year experience of 234 cases. Otolaryngol Head Neck Surg 133(5):709–714. https://doi.org/10.1016/j.otohns.2005.07.001

9.

Coutinho AE, Chapman KE (2011) The anti-inflammatory and immunosuppressive effects of glucocorticoids, recent developments and mechanistic insights. Mol Cell Endocrinol 335(1):2–13. https://doi.org/10.1016/j.mce.2010.04.005

10.

McLean-Tooke A, Aldridge C, Waugh S, Spickett GP, Kay L (2009) Methotrexate, rheumatoid arthritis and infection risk—what is the evidence? Rheumatology 48(8):867–871. https://doi.org/10.1093/rheumatology/kep101

11.

Chang GH, Ding MC, Chen YC, Yang YH, Liu CY, Chang PJ, Lee CP, Lin MH, Hsu CM, Wu CY, Lin KM, Tsai MS (2019) Real-world evidence for increased deep neck infection risk in patients with rheumatoid arthritis. Laryngoscope. https://doi.org/10.1002/lary.28272

12.

Chang G-H, Chen Y-C, Lin K-M, Yang Y-H, Liu C-Y, Lin M-H, Wu C-Y, Hsu C-M, Tsai M-S (2019) Real-world database examining the association between Sjögren's syndrome and chronic rhinosinusitis. J Clin Med 8(2):155

13.

NHRI (Accessed May 2019) Sampling method and representativeness of Longitudinal Health Insurance Database (LHID)

14.

Tsai MS, Lee LA, Tsai YT, Yang YH, Liu CY, Lin MH, Hsu CM, Chen CK, Li HY (2018) Sleep apnea and risk of vertigo: a nationwide population-based cohort study. Laryngoscope 128(3):763–768. https://doi.org/10.1002/lary.26789

15.

Chang GH, Tsai MS, Liu CY, Lin MH, Tsai YT, Hsu CM, Yang YH (2017) End-stage renal disease: a risk factor of deep neck infection—a nationwide follow-up study in Taiwan. BMC Infect Dis 17(1):424. https://doi.org/10.1186/s12879-017-2531-5

16.

Arnett FC, Edworthy SM, Bloch DA, Mcshane DJ, Fries JF, Cooper NS, Healey LA, Kaplan SR, Liang MH, Luthra HS, Medsger TA Jr, Mitchell DM, Neustadt DH, Pinals RS, Schaller JG, Sharp JT, Wilder RL, Hunder GG (1988) The American rheumatism association 1987 revised criteria for the classification of rheumatoid arthritis. Arthritis Rheum 31(3):315–324. https://doi.org/10.1002/art.1780310302

17.

Wu CS, Lai MS, Gau SS, Wang SC, Tsai HJ (2014) Concordance between patient self-reports and claims data on clinical diagnoses, medication use, and health system utilization in Taiwan. PLoS ONE 9(12):e112257. https://doi.org/10.1371/journal.pone.0112257

18.

Cheng CL, Chien HC, Lee CH, Lin SJ, Yang YH (2015) Validity of in-hospital mortality data among patients with acute myocardial infarction or stroke in National Health Insurance Research Database in Taiwan. Int J Cardiol 201:96–101. https://doi.org/10.1016/j.ijcard.2015.07.075

19.

Hsieh CY, Chen CH, Li CY, Lai ML (2015) Validating the diagnosis of acute ischemic stroke in a National Health Insurance claims database. J Formosan Med Assoc 114(3):254–259. https://doi.org/10.1016/j.jfma.2013.09.009

20.

Simon LM, Matijasec JW, Perry AP, Kakade A, Walvekar RR, Kluka EA (2013) Pediatric peritonsillar abscess: Quinsy ie versus interval tonsillectomy. Int J Pediatr Otorhinolaryngol 77(8):1355–1358. https://doi.org/10.1016/j.ijporl.2013.05.034

21.

Shen TC, Lin CL, Chen CH, Tu CY, Hsia TC, Shih CM, Hsu WH, Chang YJ (2014) Increased risk of chronic obstructive pulmonary disease in patients with systemic lupus erythematosus: a population-based cohort study. PLoS ONE 9(3):e91821. https://doi.org/10.1371/journal.pone.0091821

22.

Su VY, Hu LY, Yeh CM, Chiang HL, Shen CC, Chou KT, Chen TJ, Lu T, Tzeng CH, Liu CJ (2017) Chronic obstructive pulmonary disease associated with increased risk of bipolar disorder. Chron Respir Dis 14(2):151–160. https://doi.org/10.1177/1479972316680846

23.

Kinder AJ, Hassell AB, Brand J, Brownfield A, Grove M, Shadforth MF (2005) The treatment of inflammatory arthritis with methotrexate in clinical practice: treatment duration and incidence of adverse drug reactions. Rheumatology 44(1):61–66. https://doi.org/10.1093/rheumatology/keh512

24.

Jobanputra P, Wilson J, Douglas K, Burls A (2004) A survey of British rheumatologists' DMARD preferences for rheumatoid arthritis. Rheumatology 43(2):206–210. https://doi.org/10.1093/rheumatology/keh003

25.

Mikuls TR, O'Dell J (2000) The changing face of rheumatoid arthritis therapy: results of serial surveys. Arthritis Rheum 43(2):464–465. https://doi.org/10.1002/1529-0131(200002)43:2%3c464::AID-ANR30%3e3.0.CO;2-U

26.

Christensen LB, Petersen PE, Thorn JJ, Schiodt M (2001) Dental caries and dental health behavior of patients with primary Sjogren syndrome. Acta Odontol Scand 59(3):116–120

27.

Li S, Yu Y, Yue Y, Zhang Z, Su K (2013) Microbial infection and rheumatoid arthritis. J Clin Cell Immunol 4(6):174. https://doi.org/10.4172/2155-9899.1000174

28.

Hyldgaard C, Hilberg O, Pedersen AB, Ulrichsen SP, Lokke A, Bendstrup E, Ellingsen T (2017) A population-based cohort study of rheumatoid arthritis-associated interstitial lung disease: comorbidity and mortality. Ann Rheum Dis 76(10):1700–1706. https://doi.org/10.1136/annrheumdis-2017-211138

29.

Ryan S, Papanikolaou V, Keogh I (2014) Appraisal of the peri-hospital management and evolving microbiology of peritonsillar abscess disease. B-ENT 10:15–20

30.

Ozbek C, Aygenc E, Unsal E, Ozdem C (2005) Peritonsillar abscess: a comparison of outpatient i.m. clindamycin and inpatient i.v. ampicillin/sulbactam following needle aspiration. Ear Nose Throat J 84(6):366–368

31.

Alaani A, Griffiths H, Minhas S, Olliff J, Lee A (2005) Parapharyngeal abscess: diagnosis, complications and management in adults. Eur Arch Oto-rhino-laryngol 262:345–350. https://doi.org/10.1007/s00405-004-0800-6

32.

Geerts JW, van Driel EM, Janssen MJ (2015) Descending mediastinitis in Epstein-Barr virus infection. J Clin Microbiol 53(5):1781–1782. https://doi.org/10.1128/jcm.03578-14

33.

Monobe H, Suzuki S, Nakashima M, Tojima H, Kaga K (2007) Peritonsillar abscess with parapharyngeal and retropharyngeal involvement: incidence and intraoral approach. Acta oto-laryngologica Supplementum 559:91–94. https://doi.org/10.1080/03655230701597341

34.

Kawabata M, Umakoshi M, Makise T, Miyashita K, Harada M, Nagano H, Ohori J, Kurono Y (2016) Clinical classification of peritonsillar abscess based on CT and indications for immediate abscess tonsillectomy. Auris Nasus Larynx 43(2):182–186. https://doi.org/10.1016/j.anl.2015.09.014

35.

Smitten AL, Choi HK, Hochberg MC, Suissa S, Simon TA, Testa MA, Chan KA (2008) The risk of hospitalized infection in patients with rheumatoid arthritis. J Rheumatol 35(3):387–393

36.

Bernatsky S, Hudson M, Suissa S (2007) Anti-rheumatic drug use and risk of serious infections in rheumatoid arthritis. Rheumatology 46(7):1157–1160. https://doi.org/10.1093/rheumatology/kem076

37.

Coblyn JS (2008) Infections, drugs, and rheumatoid arthritis. What have we learned? J Rheumatol 35(3):375–376

38.

Sakai R, Cho SK, Nanki T, Koike R, Watanabe K, Yamazaki H, Nagasawa H, Amano K, Tanaka Y, Sumida T, Ihata A, Yasuda S, Nakajima A, Sugihara T, Tamura N, Fujii T, Dobashi H, Miura Y, Miyasaka N, Harigai M (2014) The risk of serious infection in patients with rheumatoid arthritis treated with tumor necrosis factor inhibitors decreased over time: a report from the registry of Japanese rheumatoid arthritis patients on biologics for long-term safety (REAL) database. Rheumatol Int 34(12):1729–1736. https://doi.org/10.1007/s00296-014-3045-8

39.

Gabriel SE (2001) The epidemiology of rheumatoid arthritis. Rheum Dis Clin North Am 27(2):269–281

40.

van der Linden MP, le Cessie S, Raza K, van der Woude D, Knevel R, Huizinga TW, van der Helm-van Mil AH (2010) Long-term impact of delay in assessment of patients with early arthritis. Arthritis Rheum 62(12):3537–3546. https://doi.org/10.1002/art.27692
Acknowledgments
We extend our gratitude to Chiayi Chang Gung Memorial Hospital's Health Information and Epidemiology Laboratory for providing valuable comments and assistance in our data analysis. This manuscript was edited by Wallace Academic Editing.
Funding
The study was financially supported by grants from the Chang Gung Memorial Hospital, Taiwan (CGRPG6G0021).
Ethics declarations
Conflict of interest
The authors have no other funding, financial relationships, or conflicts of interest to disclose.
Additional information
Publisher's Note
Springer Nature remains neutral with regard to jurisdictional claims in published maps and institutional affiliations.
About this article
Cite this article
Ding, MC., Tsai, MS., Yang, YH. et al. Patients with comorbid rheumatoid arthritis are predisposed to peritonsillar abscess: real-world evidence. Eur Arch Otorhinolaryngol (2021). https://doi.org/10.1007/s00405-021-06638-3
Received:

Accepted:

Published:
Keywords
Cervical abscess

Cervical cellulitis

Autoimmune

Risk factor

Nationwide database

National health insurance research database