Abstract
Objectives
Head and neck surgery is associated with a steep learning curve, creating a need for effective training methods. Live animal models can be useful in acquiring the required skills and techniques to perform tracheostomy, neck dissection, and laryngectomy. The aim of this study is to assess the feasibility and usefulness of a porcine model to teach tracheostomy, neck dissection, and laryngectomy, describing the similarities between a swine head and neck surgical model and the human cervical area.
Methods
Twelve surgical training sessions were held with the use of a live porcine model maintained under general anaesthesia; a total of 39 procedures were performed. In each session, one otolaryngology resident per year performed a procedure to acquire the targeted competencies for their respective year of training. Each procedure was time recorded and evaluated based on a modified Objective Structured Assessment of Technical Skills. Linear regression was used to analyse the data and express the results as percentages.
Results
Training exercises were performed in shorter times over the study period. A 9% reduction in the time spent was observed. There was a global improvement in the evaluation made by OSATS score of 6% in the first period (2018–2019) and 58% in the second period (2019–2020).
Conclusion
The porcine model was both manageable and helpful in providing training despite slight anatomical differences between human beings and pigs. However, more studies are necessary to guarantee that the competencies acquired with this type of training are transferable to real-life interventions.
Level of evidence
Level 5.
Access options
Buy single article
Instant access to the full article PDF.
US$ 39.95
Tax calculation will be finalised during checkout.
Subscribe to journal
Immediate online access to all issues from 2019. Subscription will auto renew annually.
US$ 119
Tax calculation will be finalised during checkout.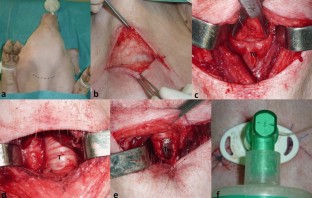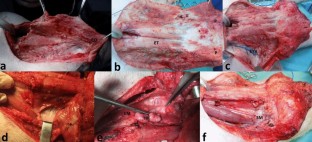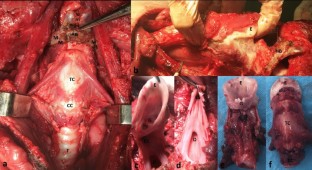 References
1.

Cheong J (1989) The use of animals in medical education: a question of necessity vs. desirability. Theor Med 10(1):53–57

2.

English DC (1989) Using animals for the training of physicians and surgeons. Theor Med 10(1):43–52

3.

Simkin DJ, Greene JA, Jung J, Sacks BC, Fessler HE (2017) The death of animals in Medical School. N Engl J Med 376(8):713–715

4.

Rusche B (2003) The 3Rs and animal welfare–conflict or the way forward? Altex 20(Suppl 1):63–76

5.

Del Cañizo López JF, López Martín D, Lledó García E, García BP (2008) Diseño de modelos experimentales en investigación quirúrgica. Actas Urol Esp 32(1):27–40

6.

Ghirelli M, Mattioli F, Federici G, Ferri G, Malagoli A, Trebbi M et al (2019) Ex vivo Porcine larynx model for microlaryngoscopy laryngeal surgery: proposal for a structured surgical training. J Voice 34(4):625–635

7.

Cheng P-C, Cho T-Y, Hsu W-L, Lo W-C, Wang C-T, Cheng P-W et al (2019) Training residents to perform tracheotomy using a live swine model. Ear Nose Throat J 98(7):E87-91

8.

Reznick R, Regehr G, MacRae H, Martin J, McCulloch W (1997) Testing technical skill via an innovative "bench station" examination. Am J Surg 173(3):226–230

9.

Hansen LA, Boss GR (2002) Use of live animals in the curricula of U.S. medical schools: survey results from 2001. Acad Med J Assoc Am Med Coll 77(11):1147–1149

10.

Badash I, Burtt K, Solorzano CA, Carey JN (2016) Innovations in surgery simulation: a review of past, current and future techniques. Ann Transl Med 4(23):453–453

11.

Okhovat S, Milner TD, Clement WA, Wynne DM, Kunanandam T (2019) Validation of animal models for simulation training in Pediatric Laryngotracheal Reconstruction. Ann Otol Rhinol Laryngol 30:3489419870820

12.

Arnold CR, Kloss F, Singh S, Vasiljevic D, Stigler R, Auberger T et al (2016) A domestic porcine model for studying the effects of radiation on head and neck cancer. Oral Surg Oral Med Oral Pathol Oral Radiol 123(5):536–543

13.

Aske KC, Waugh CA (2017) Expanding the 3R principles: more rigour and transparency in research using animals. EMBO Rep 18(9):1490–1492

14.

Birchall MA, Kingham PJ, Murison PJ, Ayling SM, Burt R, Mitchard L et al (2011) Laryngeal transplantation in minipigs: vascular, myologic and functional outcomes. Eur Arch Oto-Rhino-Laryngol 268(3):405–414

15.

Alessa MA, Kwak SH, Lee YW, Kang M-L, Sung H-J, Ahn SH et al (2018) Porcine as a training module for head and neck microvascular reconstruction. J Vis Exp 139:58104

16.

González-García JA, Chiesa-Estomba CM, Larruscain E, Álvarez L, Sistiaga JA (2020) Porcine experimental model for gracilis free flap transfer to the head and neck area with novel donor site description. J Plast Reconstr Aesthetic Surg 73(1):111–117

17.

Swindle MM, Smith AC (eds) (2016) Swine in the laboratory: surgery, anesthesia, imaging, and experimental techniques, 3rd edn. CRC Press Taylor and Francis Group, Boca Raton, p 593

18.

del Navas-Aparicio MC, Mora-Mesén C, Rojas-Madrigal A, Acuña-Navas MJ, Umaña-Calderón A (2013) Guía práctica para disección e identificación de estructuras anatómicas a nivel facial en un animal porcino. Rev Esp Cir Oral Maxilofac 35(2):69–73

19.

Anderson DD, Long S, Thomas GW, Putnam MD, Bechtold JE, Karam MD (2016) Objective structured assessments of technical skills (OSATS) does not assess the quality of the surgical result effectively. Clin Orthop 474(4):874–881

20.

Jelovsek JE, Kow N, Diwadkar GB (2013) Tools for the direct observation and assessment of psychomotor skills in medical trainees: a systematic review. Med Educ 47(7):650–673

21.

Hatala R, Cook DA, Brydges R, Hawkins R (2015) Constructing a validity argument for the objective structured assessment of technical skills (OSATS): a systematic review of validity evidence. Adv Health Sci Educ Theory Pract 20(5):1149–1175
Funding
The authors declare that they have no relevant or material financial interests that relate to the research described in this paper. Nothing to disclose.
Ethics declarations
Conflict of interest
None.
Additional information
Publisher's Note
Springer Nature remains neutral with regard to jurisdictional claims in published maps and institutional affiliations.
Supplementary Information
Below is the link to the electronic supplementary material.
Supplementary file1 (MP4 238611 KB)
About this article
Cite this article
Alcalá Rueda, I., Villacampa Aubá, J.M., Encinas Vicente, A. et al. A live porcine model for surgical training in tracheostomy, neck dissection, and total laryngectomy. Eur Arch Otorhinolaryngol (2021). https://doi.org/10.1007/s00405-021-06613-y
Received:

Accepted:

Published:
Keywords
Resident education

Training program

Head and neck

Laboratory animal model