Abstract
Objectives/hypothesis
To present a modified endoscopic medial maxillectomy (MEMM) approach to control maxillary sinus pathologies.
Methods
MEMM was completed in 13 fresh-frozen specimens. An MEMM includes cutting the nasolacrimal duct, inferior meatus flap, and repositioning the inferior turbinate (IT). The following measurements were obtained: length of IT, height from the nasal floor to valve of Hasner, height of the IT at the level of valve of Hasner, height of the IT at the insertion of the middle turbinate, and distance from the piriform aperture to the posterior wall of maxillary sinus and to the posterior border of palatine bone. Similar measurements were also performed on craniofacial computed tomography (CT) scans (n = 50). The surgical technique was performed in a case series (n = 8).
Results
The mean of the specimens was 82 (range 70–95) years old. The average area of the harvested inferior meatus flap area was 9.6 ± 1.0 cm2. In the radiologic study, the mean maximum antrostomy area was 8.8 ± 1.7 cm2 and the IT area overlapping the antral window was 5.8 ± 1.1 cm2, the area allowing a double window control was 3.1 ± 1.9 cm2, the posterior IT insertion length was 0.7 ± 0.4 cm, and the inferior meatus flap covering the inferior meatotomy had an area measuring 6.7 ± 1.7 cm2. Eight patients underwent MEMM for various benign conditions showing no recurrence after 26 month follow-up.
Conclusion
The proposed modifications of MEMM provide a "double" window maxillary sinus control with access to all maxillary walls and preservation of the IT.
Access options
Buy single article
Instant access to the full article PDF.
US$ 39.95
Tax calculation will be finalised during checkout.
Subscribe to journal
Immediate online access to all issues from 2019. Subscription will auto renew annually.
US$ 119
Tax calculation will be finalised during checkout.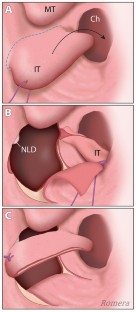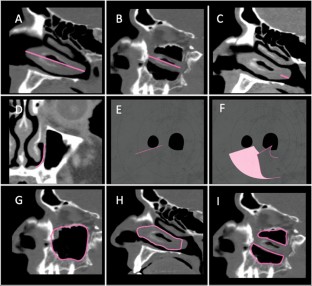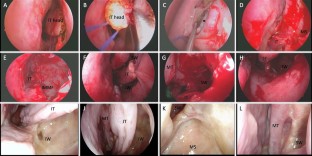 References
1.

Kamel R (1995) Transnasal endoscopic medial maxillectomy in inverted papilloma. Laryngoscope 105:847–853

2.

Wormald P, Ooi E, Van Hasselt C et al (2003) Endoscopic removal of sinonasal inverted papilloma including endoscopic medial maxillectomy. Laryngoscope 113:867–873

3.

Nakayama T, Asaka D, Okushi T (2012) Endoscopic medial maxillectomy with preservation of inferior turbinate and nasolacrimal duct. Am J Rhinol Allergy 26:405–408. https://doi.org/10.2500/ajra.2012.26.3791

4.

Lee H, Poh H, Chong F et al (2009) Changes of airflow pattern in inferior turbinate hypertrophy: a computational fluid dynamics model. Am J Rhinol Allergy 23:153–158

5.

Lindemann J, Keck T, Leiacker R et al (2008) Early influence of bilateral turbinoplasty combined with septoplasty on intranasal air conditioning. Am J Rhinol 22:542–545

6.

Wu V, Siu J, Yip J (2018) Endoscopic management of maxillary sinus inverted papilloma attachment sites to minimize disease recurrence IP attachment sites in MS. J Otolaryngol Head Neck Surg 47:24

7.

Tong C, Patel N, Maina I et al (2019) Inverted papilloma with multifocal attachment is associated with increased recurrence. Int Forum Allergy Rhinol 9:865–869. https://doi.org/10.1002/alr.22342

8.

Han JK, Smith TL, Loehrl T et al (2001) An evolution in the management of sinonasal inverting papilloma. Laryngoscope 111:1395–1400

9.

Lang J, Sakals E (1981) Uber die höhe der cavitas nasi, die länge ihres bodens und masse sowie anordnung der conchae nasales und der apertura sinus sphenoidalis [The height of the cavitas nasi, the length of the bony palate, and the size and arrangement of the conchae nasales and apertura sinus sphenoidalis]. Anat Anz 149(4):297–318

10.

El-Anwar M, Hamed A, Abdulmonaem G (2017) Computed tomography measurement of inferior turbinate in asymptomatic adult. Int Arch Otorhinolaryngol 21:366–370

11.

Balbach L, Trinkel V, Güldner C (2011) Radiological examinations of the anatomy of the inferior turbinarte using digital volumen tomography (DVT). Rhinology 49:248–252

12.

Upadhyay S, Dolci R, Buohliqah L (2016) Effect of incremental endoscopic maxillectomy on surgical exposure of the pterygopalatine and infratemporal fossae. J Neurol Surg B 77:66–74

13.

Weber R, Werner J, Hildenbrand T (2010) Endonasal endoscopic medial maxillectomy with preservation of the inferior turbinate. Am J Rhinol Allergy 24:132–135

14.

Suzuki M, Nakamura Y, Nakayama M et al (2011) Modified transnasal endoscopic medial maxillectomy with medial shift of preserved inferior turbinate and nasolacrimal duct. Laryngoscope 121:2399–2401

15.

Wang E, Gullung J, Schlosser R (2011) Modified endoscopic medial maxillectomy for recalcitrant chronic maxillary sinusitis. Int Forum Allergy Rhinol 1:493–497

16.

Gras-Cabrerizo JR, Massegur-Solench H, Pujol-Olmo A et al (2011) Endoscopic medial maxillectomy with preservation of inferior turbinate: how do we do it? Eur Arch Otorhinolaryngol 268:389–392

17.

Rutherford K, Brown S (2010) Endoscopic resection of maxillary sinus inverted papillomas with inferior turbinate preservation. Otolaryngol Head Neck Surg 142:760–762

18.

Wang C, Han D, Zhang L (2012) Modified endoscopic maxillary medial sinusotomy for sinonasal inverted papilloma with attachment to the anterior medial wall of maxillary sinus. ORL 74:97–101

19.

Erbek S, Koycu A, Buyuklu F (2015) Endoscopic modified medial maxillectomy for treatment of inverted papilloma originating from the maxillary sinus. J Craniofacial Surg. https://doi.org/10.1097/SCS.0000000000001589

20.

Pagella F, Pusateri A, Matti E et al (2017) "TuNa-saving" endoscopic medial maxillectomy: a surgical technique for maxillary inverted papilloma. Eur Arch Otorhinolaryngol 274:2785–2791

21.

Wang F, Yang Y, Wang S et al (2017) Management of maxillary sinus inverted papiloma via endoscopic partial medial maxillectomy with an inferior turbinate reversing approach. Eur Arch Otorhinolaryngol 274:4155–4159. https://doi.org/10.1007/s00405-017-4749-7

22.

Thulasidas P, Vaidyanathan V (2014) Role of modified endoscopic medial maxillectomy in persistent chronic maxillary sinusitis. Int Arch Otorhinolaryngol 18:159–164

23.

Woodworth B, Parker R, Schlosser R (2006) Modified endoscopic medial maxillectomy for chronic maxillary sinusitis. Am J Rhinol 20:317–319

24.

Jung Y, Park G (2018) Inferior turbinate swing technique: a novel surgical route to approach maxillary sinus area pathology. Otolaryngol Head Neck Surg 159:796–798. https://doi.org/10.1177/0194599818785143

25.

Turri-Zanoni M, Battaglia P, Karligkiotis A et al (2017) Transnasal endoscopic partial maxillectomy: operative nuances and proposal for a comprehensive classification system based on 1378 cases. Head Neck 39(4):754–766. https://doi.org/10.1002/hed.24676

26.

Koh L, Dhepnorrarat R (2018) The modified endoscopic pre-lacrimal approach: how I do it. Aust J Otolaryngol. https://doi.org/10.21037/ajo.2018.10.03

27.

Yu Q, Guan G, Zhan N (2018) Intranasal endoscopic prelacrimal recess approach for maxillary sinus inverted papilloma. Eur Arch Otorhinolaryngol 275:2297–2302. https://doi.org/10.1007/s00405-018-5078-1

28.

Tepedino MS, Ferrão ACM (2020) Reversible endoscopic medial maxillectomy: endonasal approach to diseases of the maxillary sinus. Int Arch Otorhinolaryngol 24(2):e247–e252
Ethics declarations
Conflict of interest
M. Bernal-Sprekelsen: Advisory Board Lab. Salvat, Barcelona, Spain.
Ethical approval
All procedures performed in studies involving human participants were in accordance with the ethical standards of the institutional and/or national research committee and with the 1964 Helsinki declaration and its later amendments or comparable ethical standards.
Additional information
Publisher's Note
Springer Nature remains neutral with regard to jurisdictional claims in published maps and institutional affiliations.
About this article
Cite this article
Vicario-Quiñones, F., Santamaría-Gadea, A., Bedoya, D. et al. Endoscopic maxillectomy: anatomo-radiological description of the "double" maxillary sinus window. Eur Arch Otorhinolaryngol (2021). https://doi.org/10.1007/s00405-021-06604-z
Received:

Accepted:

Published:
Keywords
Maxillary sinus

Maxillectomy

Modified endoscopic medial maxillectomy

Inverted papilloma

Chronic sinusitis