Abstract
Purpose
The aim of the study was to assess the prognostic capacity of the recently described weighted lymph node ratio (WLNR) in patients with head and neck squamous cell carcinoma (HNSCC) who undergo salvage neck dissection for regional recurrence.
Material and methods
We retrospectively studied 197 adult patients with head and neck squamous cell carcinoma treated with salvage neck dissection from 1990 to 2017.
Results
The mean value for the WLNR for all patients was 26.2%. We established a classification based on the WLNR values taking 10.8% as the cut-off point. Five-year disease-specific survival for patients with WLNR ≤ 10.8% (n = 89, 45.2%) was 39.9% (IC 95% 29.4–50.4%), and for patients with WLNR ≥ 10.8% (n = 108, 54.8%) it was 20.5% (IC 95% 12.3–28.7%) (p = 0.007). The multivariate analysis showed the WLNR had a significant prognostic capacity.
Conclusions
As a variable that integrates data related to the number of metastatic nodes with extracapsular spread to the LNR, the WLNR has a prognostic value in the pathological assessment of HNSCC patients with regional recurrence treated with salvage neck dissection.
Access options
Buy single article
Instant access to the full article PDF.
US$ 39.95
Tax calculation will be finalised during checkout.
Subscribe to journal
Immediate online access to all issues from 2019. Subscription will auto renew annually.
US$ 119
Tax calculation will be finalised during checkout.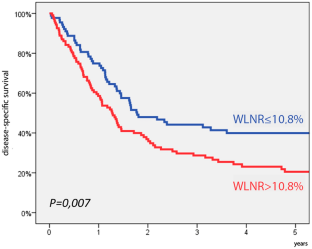 Availability of data and materials
Data and materials will be freely available if needed.
References
1.

Goodwin WJ Jr (2000) Salvage surgery for patients with recurrent squamous cell carcinoma of the upper aerodigestive tract: When do the ends justify the means? Laryngoscope 110:1–18. https://doi.org/10.1097/00005537-200003001-00001

2.

Gañán L, López M, García J, Esteller E, Quer M, León X (2016) Management of recurrent head and neck cancer: variables related to salvage surgery. Eur Arch Otorhinolaryngol 273(12):4417–4424

3.

de Juan J, García J, López M et al (2013) Inclusion of extracapsular spread in the pTNM classification system: a proposal for patients with head and neck carcinoma. JAMA Otolaryngol Head Neck Surg 139(5):483–488

4.

León X, Rigó A, Farré N et al (2017) Prognostic significance of extracapsular spread in isolated neck recurrences in head and neck squamous cell carcinoma patients. Eur Arch Otorhinolaryngol 274(1):527–533

5.

Wreesmann VB, Katabi N, Palmer FL, Montero PH, Migliacci JC, Gönen M, Carlson D, Ganly I, Shah JP, Ghossein R, Patel SG (2016) Influence of extracapsular nodal spread extent on prognosis of oral squamous cell carcinoma. Head Neck 38(Suppl 1):E1192–E1199

6.

de Brasilino CM (1998) Quantitative analysis of the extent of extracapsular invasion and its prognostic significance: a prospective study of 170 cases of carcinoma of the larynx and hypopharynx. Head Neck 20(1):16–21

7.

León X, Neumann E, Gutierrez A, García J, Quer M, López M (2020) Prognostic capacity of the lymph node ratio in squamous cell carcinomas of the head and neck. ActaOtorrinolaringolEsp 71(5):265–274

8.

León X, Neumann E, Gutiérrez A, García J, López M, Quer M (2020) Weighted lymph node ratio: new tool in the assessment of postoperative staging of the neck dissection in HPV-negative head and neck squamous cell carcinoma patients. Head Neck 42(10):2912–2919. https://doi.org/10.1002/hed.26340

9.

UICC International Union Against Cancer (2016). In: Brierley JD, Gospodarowicz MK, Ch W (eds) TNM Classification of Malignant Tumors, 8th edn. Wiley-Blackwell, Oxford, England

10.

Chung EJ, Lee SH, Baek SH, Bae WJ, Chang YJ, Rho YS (2015) Clinical outcome and prognostic factors after salvage surgery for isolated regional squamous cell carcinoma recurrences. Head Neck 37(11):1612–1617

11.

Giger R, Fink R, Demattè M, Visini M, Elicin O, Anschuetz L (2021) Outcome of salvage therapy in isolated regional recurrence in head and neck squamous cell carcinoma. Laryngoscope 131:67–72. https://doi.org/10.1002/lary.28550

12.

Grandi C, Mingardo M, Guzzo M, Licitra L, Podrecca S, Molinari R (1993) Salvage surgery of cervical recurrences after neck dissection or radiotherapy. Head Neck 15(4):292–295

13.

Krol BJ, Righi PD, Paydarfar JA et al (2000) Factors related to outcome of salvage therapy for isolated cervical recurrence of squamous cell carcinoma in the previously treated neck: a multi-institutional study. Otolaryngol Head Neck Surg 123(4):368–376

14.

- Quer M, León X, Casasayas M, Sansa A, López M, García Lorenzo J. (2020) Salvage surgery in head and neck cancer: external validation of predictors of disease-specific survival [published online ahead of print, 2020 Jun 29]. Oral Oncol

15.

Kharytaniuk N, Molony P, Boyle S, O'Leary G, Werner R, Heffron C, Feeley L, Sheahan P (2016) Association of extracapsular spread with survival according to human papillomavirus status in oropharynx squamous cell carcinoma and carcinoma of unknown primary site. JAMA Otolaryngol Head Neck Surg 142(7):683–690

16.

de Kort WWB, Maas SLN, Van Es RJJ, Willems SM (2019) Prognostic value of the nodal yield in head and neck squamous cell carcinoma: a systematic review. Head Neck 41(8):2801–2810

17.

Talmi YP, Takes RP, Alon EE, Nixon IJ, López F, de Bree R, Rodrigo JP, Shaha AR, Halmos GB, Rinaldo A, Ferlito A (2018) Prognostic value of lymph node ratio in head and neck squamous cell carcinoma. Head Neck 40(5):1082–1090

18.

Negm H, Mosleh M, Fathy H, Hareedy A, Elbattawy A (2013) Cytokeratin immunohistochemically detected nodal micrometastases in N0 laryngeal cancer: impact on the overall occult metastases. Eur Arch Otorhinolaryngol 270(3):1085–1092
Funding
Grant from Plan Estatal de I + D + I del Instituto de Salud Carlos III: FIS PI19/01661 a XL (cofunded by the European Regional Development Fund (ERDF), A Way to Build Europe).
Ethics declarations
Conflict of interest
Authors listed declare no conflicte of interest.
Ethical approval
All procedures performed in this study involving human participants were in accordance with the ethical standards of the institutional, regional and national research committee and with the 1964 Declaration of Helsinki and its later amendments or comparable ethical standards.
Informed consent
For this type of study, formal consent is not required.
Consent for publication
All listed authors give their permission to submit this manuscript.
Additional information
Publisher's Note
Springer Nature remains neutral with regard to jurisdictional claims in published maps and institutional affiliations.
Electronic supplementary material
Below is the link to the electronic supplementary material.
About this article
Cite this article
Neumann, E.D., Sansa, A., Casasayas, M. et al. Prognostic capacity of the weighted lymph node ratio in head and neck squamous cell carcinoma patients treated with salvage neck dissection. Eur Arch Otorhinolaryngol (2021). https://doi.org/10.1007/s00405-020-06598-0
Received:

Accepted:

Published:
Keywords
Lymph node ratio

Extracapsular spread

Prognostic capacity

Salvage neck dissection