Abstract
Purpose
Enhanced management of the pre-term patient has resulted in improved survival rates in increasingly premature patients. Although prematurity predisposes to congenital airway pathology, there is also increased risk of endotracheal intubation, and therefore acquired subglottic pathology. We sought to evaluate airway pathology in children outside the neonatal period with a history of prematurity to explore the relationship between prematurity and upper airway pathologies.
Methods
Data for patients undergoing elective microlaryngobronchoscopy (MLB) at our centre were collected prospectively over a 5-year period. Patients identified as premature were sub-classified by the grade of prematurity.
Results
339 patients over 1 month of age underwent MLB, of which 56 (16.5%) were born prematurely. Of those with identified airway pathology, 49 (23.4%) were born prematurely, accounting for 32.6% of subglottic stenosis (n = 30), 24% of laryngomalacia (n = 13) and 19% of laryngeal cleft diagnoses (n = 16). 49 premature patients (87.5%) had one or more airway pathologies diagnosed. Multi-level airway pathology was seen in twelve premature infants (21.4%), demonstrating a statistically significant association (odds ratio 3.396; 95% CI 1.697–6.842; p value < 0.0016). Incidence of airway pathology, the severity of airway disease and multi-level airway pathology were not related to the grade of prematurity.
Conclusions
Premature patients account for a significant proportion of the workload within our tertiary centre due to improving neonatal care and survival in pre-term infants. We suggest early paediatric ENT evaluation for ex-premature patients with symptoms of airway pathology, with a low threshold for MLB. Improving neonatal survival rates in ever-increasing prematurity will require the further provision of specialist paediatric ENT services to manage their ongoing care.
Access options
Buy single article
Instant access to the full article PDF.
US$ 39.95
Tax calculation will be finalised during checkout.
Subscribe to journal
Immediate online access to all issues from 2019. Subscription will auto renew annually.
US$ 119
Tax calculation will be finalised during checkout.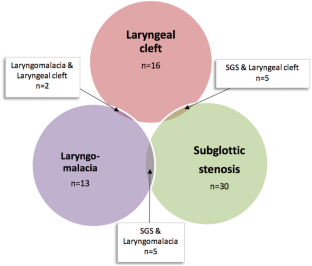 References
1.

World Health Organisation. Preterm birth. https://www.who.int/news-room/fact-sheets/detail/preterm-birth. Published 2019. Accessed 3 March 2019

2.

Rahbar R, Rouillon I, Roger G et al (2006) The presentation and management of laryngeal cleft: a 10-year experience. Arch Otolaryngol Head Neck Surg 132(12):1335–1341. https://doi.org/10.1001/archotol.132.12.1335

3.

da Silva OP Factors influencing acquired upper airway obstruction in newborn infants receiving assisted ventilation because of respiratory failure: an overview. J Perinatol 16(4):272–275. https://www.ncbi.nlm.nih.gov/pubmed/8866296.

4.

Santhakumaran S, Statnikov Y, Gray D et al (2017) Survival of very preterm infants admitted to neonatal care in England 2008–2014: time trends and regional variation. Arch Dis Child Fetal Neonatal Ed. https://doi.org/10.1136/archdischild-2017-312748

5.

Quinn J, Munoz FM, Gonik B et al (2016) Preterm birth: case definition & guidelines for data collection, analysis, and presentation of immunisation safety data. Vaccine 34(49):6047–6056. https://doi.org/10.1016/j.vaccine.2016.03.045

6.

Howson C, Kinney M, Lawn J (2012) March of Dimes, PMNCH, Save the Children, WHO. Born too soon: the global action report on preterm birth. World Health Organisation. ISBN 9789241503433

7.

Jefferson ND, Cohen AP, Rutter MJ (2016) Subglottic stenosis. Semin Pediatr Surg 25(3):138–143. https://doi.org/10.1053/j.sempedsurg.2016.02.006

8.

Mok Q (2017) Airway problems in neonates-a review of the current investigation and management strategies. Front Pediatr 5(March):1–10. https://doi.org/10.3389/fped.2017.00060

9.

Walner DL, Loewen MS, Kimura RE (2001) Neonatal subglottic stenosis–incidence and trends. Laryngoscope 111(1):48–51. https://doi.org/10.1097/00005537-200101000-00009

10.

Myer CM, O'Connor DM, Cotton RT (1994) Proposed grading system for subglottic stenosis based on endotracheal tube sizes. Ann Otol Rhinol Laryngol 103(4):319–323. https://doi.org/10.1177/000348949410300410

11.

Benjamin B, Inglis A (1989) Minor congenital laryngeal clefts: diagnosis and classification. Ann Otol Rhinol Laryngol 98(6):417–420. https://doi.org/10.1177/000348948909800603

12.

Thomas RE, Rao SC, Minutillo C, Vijayasekaran S, Nathan EA (2018) Severe acquired subglottic stenosis in neonatal intensive care graduates: a case–control study. Arch Dis Child Fetal Neonatal Ed 103(4):F349–F354. https://doi.org/10.1136/archdischild-2017-312962

13.

Downing GJ, Kilbride HW (1995) Evaluation of airway complications in high-risk preterm infants: application of flexible fiberoptic airway endoscopy. Pediatrics 95(4):567–572. https://www.ncbi.nlm.nih.gov/pubmed/7700760.
Funding
This research did not receive any specific grant from funding agencies in the public, commercial, or not-for-profit sectors.
Ethics declarations
Conflict of interest
The authors declare that they have no conflict of interest.
Ethical approval
This study was approved by our in-hospital clinical governance and audit board.
Additional information
Publisher's Note
Springer Nature remains neutral with regard to jurisdictional claims in published maps and institutional affiliations.
About this article
Cite this article
Vakharia, N., Maity, A., Bajaj, G. et al. Prematurity and associated future paediatric airway pathology: experience from a single tertiary paediatric ENT centre. Eur Arch Otorhinolaryngol 277, 3179–3184 (2020). https://doi.org/10.1007/s00405-020-06115-3
Received:

Accepted:

Published:

Issue Date:
Keywords
Prematurity

Microlaryngobronchoscopy

Subglottic stenosis

Laryngeal cleft

Laryngomalacia

Paediatric airway