Abstract
Background and objectives
The aim of this study was to evaluate the ability of recognizing some important elements of the skull base in axial CT-scan cuts, including the optic canal (OC), superior orbital fissure (SOF), vidian canal (VC), foramen rotundum (FR), jugular foramen (JF) and hypoglossal canal (HC).
Methods
In this study, 25 otolaryngology residents and 25 recently graduated otolaryngologists were evaluated in terms of their recognition of skull base elements, using 30 axial CT-scan cuts. Two months later, the exam related to skull base CT scans was taken in groups after a brief anatomy courses for otolaryngology residents.
Results
The percentage of correct answers from otolaryngology residents regarding OC, SOF, VC, FR, JF, and HC in the first exam were 74 ± 26, 47 ± 34, 65 ± 30, 41 ± 38, 58 ± 26, and 68 ± 32, respectively. The correct answer for each element was similar between groups, and the differences were not statistically significant (p > 0.05). p value for the differences observed regarding the percentage of correct answers for the second exam between trained otolaryngology residents and recent otolaryngology graduates regarding OC and JF was no significant (p > 0.05) but significant for the other elements with better result in trained otolaryngology residents and most for SOF (p > 0.0001).
Conclusion
This study showed that the ability of recognition for the mentioned elements in axial CT-scan cuts was low among otolaryngology residents and graduated otolaryngologists. The proposed novel method for distinguishing SOF from OC had a powerful and long-lasting effect on trainee.
This is a preview of subscription content, log in to check access.
Access options
Buy single article
Instant access to the full article PDF.
US$ 39.95
Price includes VAT for USA
Subscribe to journal
Immediate online access to all issues from 2019. Subscription will auto renew annually.
US$ 199
This is the net price. Taxes to be calculated in checkout.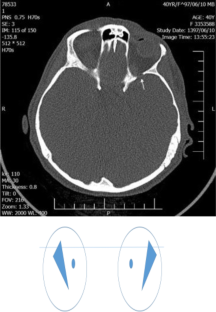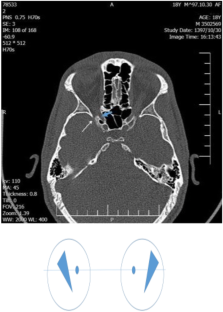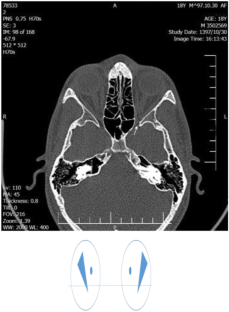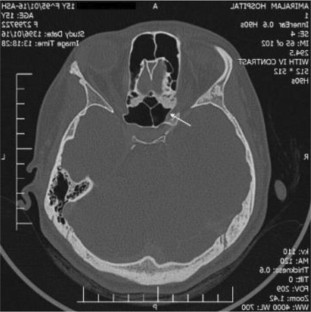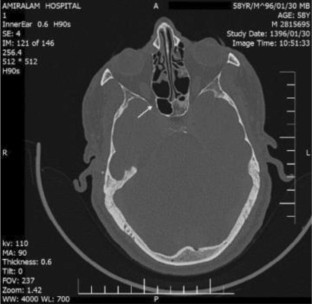 References
1.

Solari D, Chiaramonte C, Di Somma A, Dell'Aversana Orabona G, de Notaris M, Angileri FF, Cavallo LM, Montagnani S, Tschabitscher M, Cappabianca P (2014) Endoscopic anatomy of the skull base explored through the nose. World Neurosurg 82(6 Suppl):S164–S170. https://doi.org/10.1016/j.wneu.2014.08.005

2.

Di Ieva A, Bruner E, Haider T, Rodella LF, Lee JM, Cusimano MD, Tschabitscher M (2014) Skull base embryology: a multidisciplinary review. Childs Nerv Syst 30(6):991–1000. https://doi.org/10.1007/s00381-014-2411-x

3.

Dallan I, Castelnuovo P, de Notaris M, Sellari-Franceschini S, Lenzi R, Turri-Zanoni M, Battaglia P, Prats-Galino A (2013) Endoscopic endonasal anatomy of superior orbital fissure and orbital apex regions: critical considerations for clinical applications. Eur Arch Otorhinolaryngol 270(5):1643–1649. https://doi.org/10.1007/s00405-012-2281-3

4.

Mohebbi A, Rajaeih S, Safdarian M, Omidian P (2017) The sphenoid sinus, foramen rotundum and vidian canal: a radiological study of anatomicalrelationships. Braz J Otorhinolaryngol 83(4):381–387. https://doi.org/10.1016/j.bjorl.2016.04.013

5.

Budu V, Mogoanta CA, Fanuta B, Bulescu I (2013) The anatomical relations of the sphenoid sinus and their implications in sphenoid endoscopic surgery. Rom J Morphol Embryol 54(1):13–16

6.

Ettl A, Zwrtek K, Daxer A, Salomonowitz E (2000) Anatomy of the orbital apex and cavernous sinus on high-resolution magnetic resonance images. Surv Ophthalmol 44(4):303–323. https://doi.org/10.1016/s0039-6257(99)00115-0

7.

Abhinav K, Acosta Y, Wang WH, Bonilla LR, Koutourousiou M, Wang E, Synderman C, Gardner P, Fernandez-Miranda JC (2015) Endoscopic endonasal approach to the optic canal: anatomic considerations and surgical relevance. Neurosurgery 11(Suppl 3):431–445; discussion 445–436. https://doi.org/10.1227/NEU.0000000000000900

8.

Fu Z, Chen Y, Jiang W, Yang S, Zhang J, Zhang W, Zhang S, Ke Y (2014) The anatomical and clinical details of the pterygoid canal: a three-dimensionalreconstructive virtual anatomic evaluation based on CT. Surg Radiol Anat 36(2):181–188. https://doi.org/10.1007/s00276-013-1161-x

9.

Vaezi A, Cardenas E, Pinheiro-Neto C, Paluzzi A, Branstetter BF 4th, Gardner PA, Snyderman CH, Fernandez-Miranda JC (2015) Classification of sphenoid sinus pneumatization: relevance for endoscopic skull base surgery. Laryngoscope 125(3):577–581. https://doi.org/10.1002/lary.24989

10.

Kassam AB, Vescan AD, Carrau RL, Prevedello DM, Gardner P, Mintz AH, Snyderman CH, Rhoton AL (2008) Expanded endonasal approach: vidiancanal as a landmark to the petrous internal carotid artery. J Neurosurg 108(1):177–183. https://doi.org/10.3171/JNS/2008/108/01/0177

11.

Plzak J, Kratochvil V, Kesner A, Surda P, Vlasak A, Zverina E (2017) Endoscopic endonasal approach for mass resection of the pterygopalatine fossa. Clinics (Sao Paulo) 72(9):554–561. https://doi.org/10.6061/clinics/2017(09)06

12.

Kasemsiri P, Solares CA, Carrau RL, Prosser JD, Prevedello DM, Otto BA, Old M, Kassam AB (2013) Endoscopic endonasal transpterygoidapproaches: anatomical landmarks for planning the surgical corridor. Laryngoscope 123(4):811–815. https://doi.org/10.1002/lary.23697

13.

Aihara K, Morita A (2005) Dumbbell-shaped hypoglossal schwannoma in an elderly woman: a clinical dilemma. Surg Neurol 63(6):526–528;discussion 528. https://doi.org/10.1016/j.surneu.2004.07.045
Acknowledgements
The present study was conducted in Amir Alam Hospital, Tehran, Iran. Those who participated in this study are kindly acknowledged. The manuscript has been read and approved by all authors.
Funding
This study received no funding.
Ethics declarations
Conflict of interest
The authors declare no conflict of interest.
Ethical approval
All procedures performed in the study involving human participants were in accordance with the ethical standards of the institutional research committee and with the 1964 Helsinki declaration.
Informed consent
Informed consent was obtained from all individual participants included in the study.
Availability of data and material
Data and material of present work are available by Reza Erfanian by email (r_erfanian@sina.tums.ac.ir).
Code availability
Not applicable.
Additional information
Publisher's Note
Springer Nature remains neutral with regard to jurisdictional claims in published maps and institutional affiliations.
About this article
Cite this article
Mohammadzadeh, M., Abdullah, H., Davoodian, A. et al. Assessing the abilities of senior otolaryngology residents and graduated otolaryngologists in recognizing skull base elements in axial CT scan: proposing a new method for differentiating superior orbital fissure and optic canal. Eur Arch Otorhinolaryngol (2020). https://doi.org/10.1007/s00405-020-06108-2
Received:

Accepted:

Published:
Keywords
Optic canal

Superior orbital fissure

Vidian canal

Foramen rotundum

Hypoglossal canal

Radiology teaching