Abstract
Introduction
Most of the individuals suffering from tinnitus report of negative effects on their lives to the extent that clinical intervention is necessary. Although traditional tinnitus management has proven to be effective in treating tinnitus, there are a few drawbacks. The major drawback is the lack of professionals for the treatment of tinnitus, especially in remote areas. Considering the growing usage of the internet as a platform for availing treatment, there is a requirement for the development of applications in the health care sector. Recent search related to tinnitus treatment revealed that more than 200 applications are available online in the most popular platforms like Android and iOS. However, most of the applications for the treatment of tinnitus lack validation, and thus, there is a need for research on this ground.
Method
Five studies evaluating the efficacy of Internet/app delivered tinnitus treatments were identified. The treatment forms included were Tinnitus E-program, Mobile serious game, Tinnitus web-based sound therapy, and Tailor-made notch music therapy delivered through a smart phone.
Results
Each study used a variety of standardized and validated questionnaires to measure the outcome of the treatment. The outcome measures were diverse, but both Internet/app-based and traditional methods like Tinnitus Retraining Therapy, Cognitive Behavioral Therapy, and Acceptance and Commitment Therapy had similar improvements in terms of tinnitus distress and quality of life.
Conclusion
It can be construed that the development of tinnitus treatment applications and web-based platforms will have a significant impact on the normal life of individuals with tinnitus.
This is a preview of subscription content, log in to check access.
Access options
Buy single article
Instant access to the full article PDF.
US$ 39.95
Price includes VAT for USA
Subscribe to journal
Immediate online access to all issues from 2019. Subscription will auto renew annually.
US$ 199
This is the net price. Taxes to be calculated in checkout.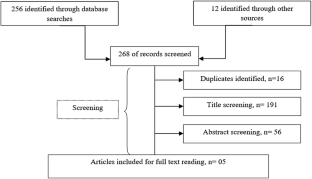 References
1.

Adams PF, Hendershot GE, Marano MA (1999) Current estimates from the national health interview survey 200:99–1528

2.

Baumeister H, Reichler L, Munzinger M, Lin J (2014) The impact of guidance on Internet-based mental health interventions—a systematic review. Internet Intervent 1(4):205–215

3.

Beatty L, Lambert S (2013) A systematic review of internet-based self-help therapeutic interventions to improve distress and disease-control among adults with chronic health conditions. Clin Psychol Rev 33(4):609–622

4.

Beukes EW, Baguley DM, Allen PM, Manchaiah V, Andersson G (2018) Audiologist-guided internet-based cognitive behavior therapy for adults with tinnitus in the United Kingdom: a randomized controlled trial. Ear Hear 39(3):423–433

5.

Bhatt JM, Lin HW, Bhattacharyya N (2016) Prevalence, severity, exposures, and treatment patterns of tinnitus in the United States. JAMA Otolaryngol-Head Neck Surg 142(10):959–965

6.

Davis A, El Refaie A (2000) Epidemiology of tinnitus. Tinnitus handbook (Singular Audiology Text). Singular Pub. Group, San Diego

7.

Dobie RA (2004) Overview: suffering from tinnitus. Theory and Management, Tinnitus, pp 1–7

8.

Eggermont JJ (1990) On the pathophysiology of tinnitus; a review and a peripheral model. Hear Res 48:111–123

9.

Eysenbach G (2005) The law of attrition. J Med Internet Res 7(1):e11

10.

Grapp M, Hutter E, Argstatter H, Plinkert PK, Bolay HV (2013) Music therapy as an early intervention to prevent chronification of tinnitus. Int J Clin Exp Med 6(7):589

11.

Green S, Higgins J, Alderson P, Clarke M, Mulrow CD, Oxman AD (2008) Cochrane handbook for systematic reviews of interventions. Wiley, West Sussex

12.

Greenwell K, Featherstone D, Hoare DJ (2015) The application of intervention coding methodology to describe the tinnitus e-programme, an internet-delivered self-help intervention for tinnitus. Am J Audiol 24(3):311–315

13.

Heller AJ (2003) Classification and epidemiology of tinnitus. Otolaryngol Clin North Am 36(2):239–248

14.

Henry JA, Dennis KC, Schechter MA (2005) General review of tinnitus. J Speech Lang Hear Res 48:1204–1235

15.

Henry JA, Thielman E, Zaugg T, Kaelin C, Chang B, Hahn S et al (2017) Development and field testing of a smartphone "App" for tinnitus management development and field testing of a smartphone '"App"' for tinnitus management. Int J Audiol 56(10):784–792

16.

Henry JA, Zaugg TL, Myers PJ, Kendall CJ, Turbin MB (2009) Principles and application of educational counseling used in progressive audiologic tinnitus management. Noise Health 11(42):33

17.

Hesser H, Gustafsson T, Lundén C, Henrikson O, Fattahi K, Johnsson E et al (2012) A randomized controlled trial of internet-delivered cognitive behavior therapy and acceptance and commitment therapy in the treatment of tinnitus. J Consult Clin Psychol 80(4):649

18.

Hobson J, Chisholm E, El Refaie A (2012) Sound therapy (masking) in the management of tinnitus in adults. Cochrane Database Syst Rev (11)

19.

Jalessi M, Farhadi M, Asghari A, Kamrava SK, Amintehran E, Ghalehbaghi S et al (2013) Tinnitus: an epidemiologic study in Iranian population. Acta Medica Iranica 51(12):886–891

20.

Jastreboff PJ (1995) Tinnitus as a phantom perception theories and clinical implications. Mech Tinnitus

21.

Jastreboff PJ, Hazell JWP, Vernon JA (1998) Treatment of tinnitus based on a neurophysiological model. Tinnitus Treat Relief 201–217

22.

Jastreboff PJ (1990) Phantom auditory perception (tinnitus): mechanisms of generation and perception. Neurosci Res 8(4):221–254

23.

Jun HJ, Park MK (2013) Cognitive behavioral therapy for tinnitus: evidence and efficacy. Korean J Audiol 17(3):101

24.

Kalle S, Schlee W, Pryss RC, Probst T, Reichert M, Langguth B, Spiliopoulou M (2018) Review of smart services for tinnitus self-help, diagnostics and treatments. Front Neurosci 12:541

25.

Khedr EM, Ahmed MA, Shawky OA, Mohamed ES, El Attar GS, Mohammad KA (2010) Epidemiological study of chronic tinnitus in Assiut, Egypt. Neuroepidemiology 35(1):45–52

26.

KochKin S, Tyler R, Born J (2011) MarkeTrak VIII: the prevalence of tinnitus in the United States and the self-reported efficacy of various treatments. Hear Rev 18(12):10–27

27.

Macea DD, Gajos K, Calil YAD, Fregni F (2010) The efficacy of Web-based cognitive behavioral interventions for chronic pain: a systematic review and meta-analysis. J Pain 11(10):917–929

28.

Mahboubi H, Ziai K, Djalilian HR (2012) Customized web-based sound therapy for tinnitus. Int Tinnitus J 17(1):26–30

29.

Martin WH (1995) Spectral analysis of brain activity in the study of tinnitus. Mech Tinnitus 163–179

30.

Møller AR (2003) Pathophysiol Tinnitus 36:249–266. https://doi.org/10.1016/S0030-6665(02)00170-6

31.

Nondahl DM, Cruickshanks KJ, Dalton DS, Klein BEK, Klein R, Schubert CR et al (2007) The impact of tinnitus on quality of life in older adults. J Am Acad Audiol 18(3):257–266

32.

Nondahl DM, Cruickshanks KJ, Huang G-H, Klein BEK, Klein R, Javier Nieto F, Tweed TS (2011) Tinnitus and its risk factors in the Beaver Dam offspring study. Int J Audiol 50(5):313–320

33.

Nondahl DM, Cruickshanks KJ, Wiley TL, Klein R, Klein BEK, Tweed TS (2002) Prevalence and 5-year incidence of tinnitus among older adults: the epidemiology of hearing loss study. J Am Acad Audiol 13(6):323–331

34.

Ochi K, Eggermont JJ (1996) Effects of salicylate on neural activity in cat primary auditory cortex. Hear Res 95(1–2):63–76

35.

Park RJ, Moon JD (2014) Prevalence and risk factors of tinnitus: the Korean national health and nutrition examination survey 2010–2011, a cross-sectional study. Clin Otolaryngol 39(2):89–94

36.

Quaranta A, Assennato G, Sallustio V (1996) Epidemiology of hearing problems among adults in Italy. Scand Audiol Suppl 42:9–13

37.

Schickler M, Pryss R, Reichert M, Schobel J, Langguth B, Schlee W (2016) Using mobile serious games in the context of chronic disorders: a mobile game concept for the treatment of tinnitus. In: 29th IEEE Int'l Symp on computer-based medical systems, pp 343–348

38.

Shargorodsky J, Curhan GC, Farwell WR (2010) Prevalence and characteristics of tinnitus among US adults. Am J Med 123(8):711–718

39.

Sindhusake D, Mitchell P, Newall P, Golding M, Rochtchina E, Rubin G (2003) Prevalence and characteristics of tinnitus in older adults: the Blue Mountains Hearing Study: Prevalencia y características del acúfeno en adultos mayores: el Estudio de Audición Blue Mountains. Int J Audiol 42(5):289–294

40.

Stypulkowski PH (1990) Mechanisms of salicylate ototoxicity. Hear Res 46(1–2):113–145

41.

Tunkel DE, Bauer CA, Sun GH, Rosenfeld RM, Chandrasekhar SS, Cunningham ER Jr et al (2014) Clinical practice guideline: tinnitus. Otolaryngol-Head Neck Surg 151(2_suppl):S1–S40

42.

Webb T, Joseph J, Yardley L, Michie S (2010) Using the internet to promote health behavior change: a systematic review and meta-analysis of the impact of theoretical basis, use of behavior change techniques, and mode of delivery on efficacy. J Med Internet Res 12(1):e4

43.

Weise C, Kleinstäuber M, Andersson G (2016) Internet-delivered cognitive-behavior therapy for tinnitus: a randomized controlled trial. Psychosom Med 78(4):501–510

44.

Westin VZ, Schulin M, Hesser H, Karlsson M, Noe RZ, Olofsson U et al (2011) Acceptance and commitment therapy versus tinnitus retraining therapy in the treatment of tinnitus: a randomised controlled trial. Behav Res Ther 49(11):737–747

45.

Wu V, Cooke B, Eitutis S, Simpson MTW, Beyea JA (2018) Approach to tinnitus management. Can Fam Physician 64(7):491–495

46.

Young S, Young M, Hong M, Yoo S, Oh D (2016) Tinnitus therapy using tailor-made notched music delivered via a smartphone application and Ginko combined treatment : a pilot study. Auris Nasus Larynx Nasus Larynx 44(5):528–533. https://doi.org/10.1016/j.anl.2016.11.003
Acknowledgements
Authors acknowledge the Director, All India Institute of Speech and Hearing, Mysuru and HOD-Audiology, All India Institute of Speech and Hearing, Mysuru for permitting to publish this research work.
Ethics declarations
Conflict of interest
There is no conflict of interest to disclose.
Additional information
Publisher's Note
Springer Nature remains neutral with regard to jurisdictional claims in published maps and institutional affiliations.
About this article
Cite this article
Nagaraj, M.K., Prabhu, P. Internet/smartphone-based applications for the treatment of tinnitus: a systematic review. Eur Arch Otorhinolaryngol 277, 649–657 (2020). https://doi.org/10.1007/s00405-019-05743-8
Received:

Accepted:

Published:

Issue Date:
Keywords
Cognitive behavioral therapy

Tinnitus applications

Android

iOS