Abstract
In our hypothesis, the newly developed program SPM (surgical procedure manager) will ensure successful standardization and efficiency of the FESS (functional endoscopic sinus surgery) and therefore make a decisive contribution in terms of economization and improvement of intraoperative quality. Between 27th March 2015 and 8th October 2015, data from 259 FESS procedures were collected using the SPM. The study took place at the surgical desk, an operating room in the ACQUA clinic in Leipzig, Germany. 233 FESS (90%) of the total FESS (n = 259, 100%) were conducted entirely with SPM. 26 SPM terminations (10%) of 259 FESS remain, which are classified as actual SPM terminations—when the surgeon intentionally stops the SPM. The maximum time slot decreased clearly from 1 h 39 min (period A) to 1 h 10 min (period B). A time reduction can also be seen with the minimum duration of 13.5 min compared to 11 min. The variability of the time slot also decreases since the standard deviation is reduced by 4.5 min. On the basis of available recordings it can be postulated that the application of SPM is suitable for standardization for FESS. Standardization by means of SPM and minimal development can be recognized over a period of time. The SPM makes it possible to transfer the general advantages of mechanization on a concrete FESS and do not influence the medical processes nor even restrict the medical freedom. The users are still entirely free in the implementation of the respective procedure.
This is a preview of subscription content, log in to check access.
Access options
Buy single article
Instant access to the full article PDF.
US$ 39.95
Price includes VAT for USA
Subscribe to journal
Immediate online access to all issues from 2019. Subscription will auto renew annually.
US$ 199
This is the net price. Taxes to be calculated in checkout.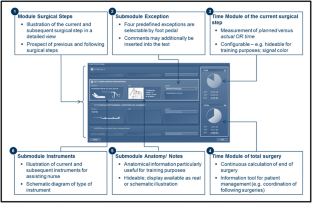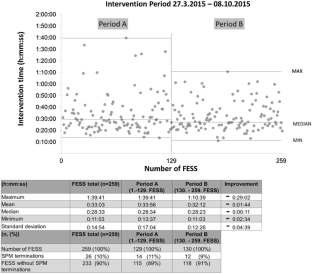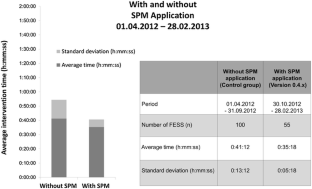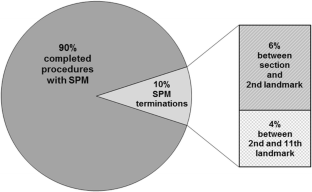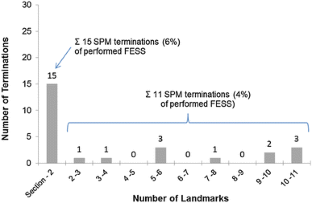 Abbreviations
CRS:

Chronic rhinosinusitis

DVT:

Digital volume tomography, also known as cone beam computed tomography (CBCT)

ENT:

Ear nose and throat

EXH:

Exceptional handling

FESS:

Functional endoscopic sinus surgery

OIT:

Onboard information terminal

PPN:

Procedure point navigation

RGH:

Regular handling

SMGS:

Surgical management and guidance system

SOH:

Surgical operation handbook

SOP:

Standard operating procedure

SP-c:

Conventional septoplasty

SPI:

Surgical process institute

SPM:

Surgical procedure manager

TOS:

Technical officer of surgery
References
1.

Köcher R (2016) MLP Gesundheitsreport 2016. Mlp. doi:10.1017/CBO9781107415324.004

2.

Goepfert A (2016) Strukturierte patientenzentrierte Medizin durch Produktorientierung. In: Lohmann H, Kehrein I, Rippmann K (eds) Markenmedizin für informierte Patienten: Strukturierte Behandlungsabläufe auf digitalem Workflow. medhochzwei Verlag GmbH, Heidelberg, pp 25–29

3.

Neumuth T, Jannin P, Schlomberg J, Meixensberger J, Wiedemann P, Burgert O (2011) Analysis of surgical intervention populations using generic surgical process models. Int J Comput Assist Radiol Surg 6(1):59–71. doi:10.1007/s11548-010-0475-y

4.

Strauss G, Koulechov K, Hofer M, Dittrich E, Grunert R, Moeckel H et al (2007) The navigation-controlled drill in temporal bone surgery: a feasibility study. Laryngoscope 117(3):434–441. doi:10.1097/MLG.0b013e31802c93a1

5.

Green B, Parry D, Oeppen RS, Plint S, Dale T, Brennan PA (2016) Situational awareness—what it means for clinicians, its recognition and importance in patient safety. Oral Dis. doi:10.1111/odi.12547

6.

Messerklinger W (1970) Endoscopy of the nose. Monatsschrift für Ohrenheilkunde und Laryngo-Rhinologie 104(10):451–456

7.

Statistisches Bundesamt, Zweigstelle Bonn. Krankenhausstatistik—Diagnosedaten der Patienten und Patientinnen in Krankenhäusern. DRC statistics from 2010 to 2014: Operationen und Prozeduren der vollstationären Patientinnen und Patienten in Krankenhäusern, Ausführliche Darstellung. http://www.gbe-bund.de. Accessed 6 June 2016

8.

Oeken J, Bootz F (2004) Severe complications after endonasal nasal sinus surgery An unresolved problem. HNO 52(6):549–553. doi:10.1007/s00106-003-0861-7

9.

Klimek L, Mosges R (1998) Computer-assisted surgery in the ENT specialty. Developments and experiences from the first decade. Laryngo Rhino Otol 77(5):275–282. doi:10.1055/s-2007-996974 (English Abstract, Journal Article, Research Support, Non-U.S. Gov't, Review)

10.

Oeken J, Törpel J (2008) The influence of navigation on endoscopic sinus surgery. HNO 56(2):151–157. doi:10.1007/s00106-007-1580-2

11.

Fokkens WJ, Lund VJ, Mullol J, Bachert C, Alobid I, Baroody F et al (2012) European position paper on rhinosinusitis and nasal polyps 2012. Rhinology 50(SUPPL. 23):4–305. doi:10.4193/Rhino12.000

12.

Hopkins C, Browne JP, Slack R, Lund V, Brown P (2007) The Lund–Mackay staging system for chronic rhinosinusitis: how is it used and what does it predict? Otolaryngol Head Neck Surg 137(4):555–561. doi:10.1016/j.otohns.2007.02.004

13.

Bundesverband für Ambulantes Operieren e.V. (2016). http://www.operieren.de/content/e3224/e10/e1071/e1076/e1098/. Accessed 9 May 2016

14.

Stammberger H, Posawetz W (1990) Functional endoscopic sinus surgery. Eur Arch Oto Rhino Laryngol 247(2):63–76. doi:10.1007/BF00183169

15.

Simmen D, Jones N (2005) Chirurgie der Nasennebenhöhlen und der vorderen Schädelbasis. Georg Thieme Verlag, Stuttgart

16.

Strauss G, Gollnick I, Neumuth T, Meixenberger J, Lueth TC (2013) The 'Surgical Deck': a new generation of integrated operational rooms for ENT. Laryngorhinootologie 92(2):102–112. doi:10.1055/s-0032-1321849

17.

Manzey D, Luz M, Mueller S, Dietz A, Meixensberger J, Strauss G (2011) Automation in surgery: the impact of navigated-control assistance on performance, workload, situation awareness, and acquisition of surgical skills. Hum Factors J Hum Factors Ergon Soc 53(6):584–599. doi:10.1177/0018720811426141

18.

Strauss G, Koulechov K, Richter R, Dietz A, Trantakis C, Lüth T (2005) Navigated control in functional endoscopic sinus surgery. Int J Med Robot Comput Assist Surg MRCAS 1(3):31–41. doi:10.1002/rcs.25

19.

Strauss G, Limpert E, Strauss M, Hofer M, Dittrich E, Nowatschin S, Lüth T (2009) Evaluation of a daily used navigation system for FESS. Laryngorhinootologie 88(12):776–781. doi:10.1055/s-0029-1237352

20.

Strauß G, Schaller S, Zaminer B, Heininger S, Hofer M, Manzey D et al (2011) Clinical experiences with an automatic collision warning system. HNO 59(5):470–479. doi:10.1007/s00106-010-2237-0

21.

Luz M, Manzey D, Modemann S, Strauss G (2015) Less is sometimes more: a comparison of distance-control and navigated-control concepts of image-guided navigation support for surgeons. Ergonomics 58(3):383–393. doi:10.1080/00140139.2014.970588

22.

Trojandt G (2016) Spitzenqualität garantiert an jedem Tag. In: Lohmann H, Kehrein I, Rippmann K (eds) Markenmedizin für informierte Patienten: Strukturierte Behandlungsabläufe auf digitalem Workflow. medhochzwei Verlag GmbH, Heidelberg

23.

Sugino T, Kawahira H, Nakamura R (2014) Surgical task analysis of simulated laparoscopic cholecystectomy with a navigation system. Int J Comput Assist Radiol Surg 9(5):825–836. doi:10.1007/s11548-013-0974-8
Ethics declarations
Conflict of interest
All authors of this study declare that they have no conflict of interest
Financial disclosure
No financial disclosure.
Ethical approval
All procedures performed in studies involving human participants were in accordance with the ethical standards of the institutional and/or national research committee and with the 1964 Helsinki declaration and its later amendments or comparable ethical standards.
Informed consent
Informed consent was obtained from all individual participants included in the study.
Recommended link
https://www.youtube.com/watch?v=tBKH_NlEjm4 (German language).
About this article
Cite this article
Feige, K., Gollnick, I., Schmitz, P. et al. The application of surgical procedure manager (SPM): first experience with FESS. Eur Arch Otorhinolaryngol 274, 3407–3416 (2017). https://doi.org/10.1007/s00405-017-4658-9
Received:

Accepted:

Published:

Issue Date:
Keywords
FESS

SPM

Surgical procedure manager

Workflow surgery

Endoscopic surgery