Abstract
Purpose
Due to insufficient and conflicting prospective evidence, the recommendations on when to apply adjuvant radiochemotherapy in early-stage cervical cancer vary between international guidelines. In this population-based study, we evaluated the outcome of patients with early-stage cervical cancer based on risk factors and the adjuvant therapy they received.
Methods
The effect of primary therapy (surgery and radiochemotherapy RCT, surgery and radiotherapy RT, and surgery alone) on overall survival (OS) and recurrence-free survival (RFS) was evaluated in the complete cohort of 442 patients and in subgroups according to risk profile and nodal status.
Results
In low-risk patients, there was no difference in OS (p = 0.276) depending on whether patients received adjuvant therapy or not. Concerning RFS, patients with RT (including one patient with RCT) exhibited a significantly worse outcome compared to the group with surgery alone (p = 0.015). In intermediate-risk patients, the administration of adjuvant RT significantly benefited RFS when compared to surgery only in multivariate analysis (p = 0.031). Concerning OS, no significant influence for adjuvant treatment could be seen (p = 0.354). Though trends towards better OS and RFS could be observed in patients of the high-risk group—both in RCT and RT groups compared to surgery alone—the effects did not prove to be significant.
Conclusion
Our study reaffirms the evidence against the use of adjuvant radio(chemo)therapy in low-risk early-stage cervical cancer. In intermediate-, and less pronounced in high-risk patients, however, it seems to be beneficial. The role of adjuvant radio(chemo)therapy in early cervical cancer should be further investigated in prospective randomized trials.
Access options
Buy single article
Instant access to the full article PDF.
US$ 39.95
Tax calculation will be finalised during checkout.
Subscribe to journal
Immediate online access to all issues from 2019. Subscription will auto renew annually.
US$ 119
Tax calculation will be finalised during checkout.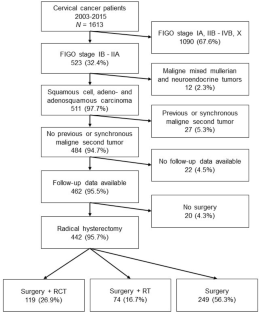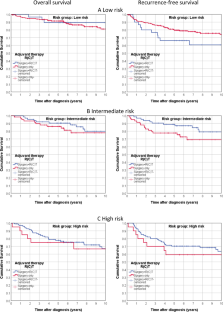 Availability of data and materials
The datasets generated and/or analyzed during the current study are not publicly available due to preservation of privacy but are available from the corresponding author on reasonable request.
References
1.

Robert Koch Institut Bericht zum Krebsgeschehen in Deutschland (2016) https://edoc.rki.de/bitstream/handle/176904/3264/28oaKVmif0wDk.pdf?sequence=1&isAllowed=y. Accessed 09 Apr 2020

2.

National Comprehensive Cancer Network® NCCN Clinical Practice Guidelines in Oncology Cervical cancer: Version 3.2019 — January 10, 2019. https://www.nccn.org/professionals/physician_gls/pdf/cervical_blocks.pdf. Accessed 17 Mar 2019

3.

Deutsche Krebsgesellschaft, Deutsche Krebshilfe, AWMF S3-Leitlinie Diagnostik, Therapie und Nachsorge der Patientin mit Zervixkarzinom: Langversion, 1.0, 2014, AWMF-Registernummer: 032/033OL. http://leitlinienprogramm-onkologie.de/Leitlinien.7.0.html,. Accessed 17 Mar 2019

4.

Landoni F, Maneo A, Colombo A et al (1997) Randomised study of radical surgery versus radiotherapy for stage Ib–IIa cervical cancer. Lancet 350(9077):535–540. https://doi.org/10.1016/S0140-6736(97)02250-2

5.

Falcetta FS, Medeiros LR, Edelweiss MI et al (2016) Adjuvant platinum-based chemotherapy for early stage cervical cancer. Cochrane Database Syst Rev 11:CD005342. https://doi.org/10.1002/14651858.CD005342.pub4

6.

Peters WA, Liu PY, Barrett RJ et al (2000) Concurrent chemotherapy and pelvic radiation therapy compared with pelvic radiation therapy alone as adjuvant therapy after radical surgery in high-risk early-stage cancer of the cervix. J ClinOncol 18(8):1606–1613. https://doi.org/10.1200/JCO.2000.18.8.1606

7.

Sedlis A, Bundy BN, Rotman MZ et al (1999) A randomized trial of pelvic radiation therapy versus no further therapy in selected patients with stage IB carcinoma of the cervix after radical hysterectomy and pelvic lymphadenectomy: a gynecologic oncology group study. GynecolOncol 73(2):177–183. https://doi.org/10.1006/gyno.1999.5387

8.

Rotman M, Sedlis A, Piedmonte MR et al (2006) A phase III randomized trial of postoperative pelvic irradiation in stage IB cervical carcinoma with poor prognostic features: follow-up of a gynecologic oncology group study. Int J RadiatOncolBiol Phys 65(1):169–176. https://doi.org/10.1016/j.ijrobp.2005.10.019

9.

Takekuma M, Kasamatsu Y, Kado N et al (2017) The issues regarding postoperative adjuvant therapy and prognostic risk factors for patients with stage I–II cervical cancer: a review. J ObstetGynaecol Res 43(4):617–626. https://doi.org/10.1111/jog.13282

10.

Lahousen M, Haas J, Pickel H et al (1999) Chemotherapy versus radiotherapy versus observation for high-risk cervical carcinoma after radical hysterectomy: a randomized, prospective. Multicenter Trial GynecolOncol 73(2):196–201. https://doi.org/10.1006/gyno.1999.5343

11.

Ryu SY, Kim MH, Nam BH et al (2014) Intermediate-risk grouping of cervical cancer patients treated with radical hysterectomy: a Korean Gynecologic Oncology Group study. Br J Cancer 110(2):278–285. https://doi.org/10.1038/bjc.2013.716

12.

Uno T, Ito H, Isobe K et al (2005) Postoperative pelvic radiotherapy for cervical cancer patients with positive parametrial invasion. GynecolOncol 96(2):335–340. https://doi.org/10.1016/j.ygyno.2004.09.061

13.

Gynecologic Oncology Group radiation therapy with or without chemotherapy in patients with stage I–IIA cervical cancer who previously underwent surgery. https://clinicaltrials.gov/ct2/show/NCT01101451. Accessed 10 Sep 2020

14.

Scharl S, Papathemelis T, Kronberger K et al (2018) Does post-operative radiochemotherapy improve survival in high-grade endometrial cancer patients? Results of a population-based cohort analysis of a cancer registry. Arch GynecolObstet 297(5):1245–1253. https://doi.org/10.1007/s00404-018-4708-6

15.

Papathemelis T, Scharl S, Kronberger K et al (2017) Survival benefit of pelvic and paraaortic lymphadenectomy in high-grade endometrial carcinoma: a retrospective population-based cohort analysis. J Cancer Res ClinOncol 143(12):2555–2562. https://doi.org/10.1007/s00432-017-2508-1

16.

Papathemelis T, Knobloch S, Gerken M et al (2019) Impact of nodal status and treatment strategy on overall survival in advanced stage cervical cancer. J Cancer Res ClinOncol. https://doi.org/10.1007/s00432-019-02890-7

17.

Charlson ME, Pompei P, Ales KL et al (1987) A new method of classifying prognostic comorbidity in longitudinal studies: development and validation. J Chronic Dis 40(5):373–383

18.

Monk BJ, Wang J, Im S et al (2005) Rethinking the use of radiation and chemotherapy after radical hysterectomy: a clinical-pathologic analysis of a Gynecologic Oncology Group/Southwest Oncology Group/Radiation Therapy Oncology Group trial. GynecolOncol 96(3):721–728. https://doi.org/10.1016/j.ygyno.2004.11.007

19.

Sun F, Li Y, Liu J et al (2014) Impact of postoperative adjuvant therapy on prognosis of low-risk cervical cancer: analysis of 208 cases. Nan Fang Yi Ke Da XueXueBao 34(3):401–405

20.

Trifiletti DM, Swisher-McClure S, Showalter TN et al (2015) Postoperative chemoradiation therapy in high-risk cervical cancer: re-evaluating the findings of gynecologic oncology group study 109 in a large, population-based cohort. Int J RadiatOncolBiol Phys 93(5):1032–1044. https://doi.org/10.1016/j.ijrobp.2015.09.001
Ethics declarations
Conflict of interest
The authors declare that they have no conflict of interest.
Ethics approval
All procedures performed in this study were in accordance with the ethical standards of the institutional and national research committee and with the 1964 Helsinki Declaration and its later amendments. This article does not contain any studies with human participants or animals performed by any of the authors.
Additional information
Publisher's Note
Springer Nature remains neutral with regard to jurisdictional claims in published maps and institutional affiliations.
Supplementary Information
Below is the link to the electronic supplementary material.
About this article
Cite this article
Scharl, S., Becher, C., Gerken, M. et al. Is there a benefit for adjuvant radio(chemo)therapy in early cervical cancer? Results from a population-based study. Arch Gynecol Obstet (2021). https://doi.org/10.1007/s00404-021-05989-w
Received:

Accepted:

Published:
Keywords
Cervical cancer

Radio(chemo)therapy

Adjuvant therapy

Risk groups