Abstract
Purpose
Although shoulder dystocia (ShD) is associated with fetal macrosomia and vacuum-assisted delivery (VAD), the independent role of the latter in the occurrence of ShD is yet to be completely elucidated, as it is difficult to study its true independent contribution to ShD formation in the presence of many confounding factors. Therefore, we aimed to study whether VAD is independently associated with an increased risk for ShD among macrosomic newborns.
Methods
A retrospective cohort study from a single tertiary medical center including all women who delivered vaginally a macrosomic infant during 2011–2020. We allocated the study cohort into two groups: (1) VAD (2) spontaneous vaginal deliverys, and analyzed risk factors for ShD. A multivariate regression analysis was performed to identify determinants independently associated with ShD occurrence.
Results
Of 2,664 deliveries who met the study inclusion criteria, 118 (4.4%) were VAD. The rate of ShD in the entire cohort was 108/2664 (4.1%). The following factors were more frequent among the VAD group: no previous vaginal delivery [odds ratio (OR) 2.4 (95% confidence interval (CI) 1.4–4.0, p < 0.001)], prolonged second stage (OR 11.9; 95% CI 8.1–17.6, p < 0.01), induction of labor (OR 2.4; 95% CI 1.5–3.8, p < 0.01) and ShD (OR 2.0; 95% CI 1.0–4.1, p = 0.04). ShD was associated with higher rates of maternal height < 160 cm (OR 2.0; 95% CI 1.3–3.1, p < 0.01), pregestational diabetes (OR 7.2; 95% CI 2.0–26.8, p = 0.01), hypertensive disorder (OR 2.6; 95% CI 1.1–6.2, p = 0.02) and higher birthweight (mean 4,124 vs. 4,167 g, p < 0.01). On multivariate regression analysis, the following factors remained independently associated with ShD occurrence: increased birthweight (aOR 1.0; 95% CI 1.0–1.0, p < 0.01), pregestational diabetes (aOR 5.3; 95% CI 1.1–25.0, p = 0.03), while maternal height was negatively associated with ShD (aOR 0.9; 95% CI 0.9–0.9, p < 0.01).
Conclusion
In deliveries of neonates above 4000 g, VAD did not independently increase the risk of ShD occurrence. Therefore, when expeditious delivery of a macrosomic infant is required, VAD is a viable option.
Access options
Buy single article
Instant access to the full article PDF.
US$ 39.95
Tax calculation will be finalised during checkout.
Subscribe to journal
Immediate online access to all issues from 2019. Subscription will auto renew annually.
US$ 119
Tax calculation will be finalised during checkout.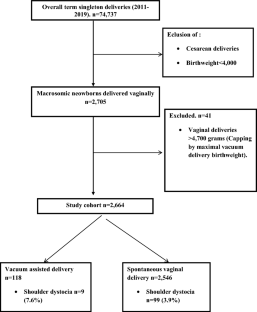 Abbreviations
ShD:

Shoulder dystocia

VAD:

Vacuum-assisted delivery
References
1.

Bulletins—Obstetrics CoP (2017) Practice bulletin No 178: shoulder dystocia. ObstetGynecol 129(5):e123–e133

2.

Gherman RB, Chauhan SP, Lewis DF (2012) A survey of central association members about the definition, management, and complications of shoulder dystocia. ObstetGynecol 119(4):830–837

3.

Nesbitt TS, Gilbert WM, Herrchen B (1998) Shoulder dystocia and associated risk factors with macrosomic infants born in California. Am J ObstetGynecol 179(2):476–480

4.

Mehta SH, Bujold E, Blackwell SC, Sorokin Y, Sokol RJ (2004) Is abnormal labor associated with shoulder dystocia in nulliparous women? Am J Obstet Gynecol. 190(6):1604–1607

5.

Hansen A, Chauhan SP (2014) Shoulder dystocia: definitions and incidence. SeminPerinatol 38(4):184–188

6.

Dall'Asta A, Ghi T, Pedrazzi G, Frusca T (2016) Does vacuum delivery carry a higher risk of shoulder dystocia? Review and meta-analysis of the literature. Eur J ObstetGynecolReprodBiol 204:62–68

7.

Levin G, Meyer R, Yagel S, David M, Yinon Y, Rottenstreich A (2020) Which way is better to deliver the very heavy baby: mode of delivery, maternal and neonatal outcome. Arch GynecolObstet 3:2–23

8.

Vidarsdottir H, Geirsson RT, Hardardottir H, Valdimarsdottir U, Dagbjartsson A (2011) Obstetric and neonatal risks among extremely macrosomic babies and their mothers. Am J ObstetGynecol 204(5):423.e1–6

9.

Tsur A, Batsry L, Toussia-Cohen S, Rosenstein MG, Barak O, Brezinov Y et al (2019) Development and validation of a machine learning model for prediction of shoulder dystocia. Ultrasound ObstetGynecol 2:110–129

10.

Sheiner E, Levy A, Hershkovitz R, Hallak M, Hammel RD, Katz M et al (2006) Determining factors associated with shoulder dystocia: a population-based study. Eur J ObstetGynecolReprodBiol 126(1):11–15

11.

Kolderup LB, Laros RK, Musci TJ (1997) Incidence of persistent birth injury in macrosomic infants: association with mode of delivery. Am J ObstetGynecol 177(1):37–41

12.

Herzberg S, Kabiri D, Mordechai T, Haj Yahya R, Chill H, Levitt L et al (2017) Fetalmacrosomia as a risk factor for shoulder dystocia during vacuum extraction. J MaternFetal Neonatal Med 30(15):1870–1873

13.

Cheng YW, Norwitz ER, Caughey AB (2006) The relationship of fetal position and ethnicity with shoulder dystocia and birth injury. Am J ObstetGynecol 195(3):856–862

14.

Revicky V, Mukhopadhyay S, Morris EP, Nieto JJ (2012) Can we predict shoulder dystocia? Arch GynecolObstet 285(2):291–295

15

Overland EA, Vatten LJ, Eskild A (2012) Risk of shoulder dystocia: associations with parity and offspring birthweight. A population study of 1 914 544 deliveries. ActaObstetGynecol Scand. 91(4):483–488

16.

Carpenter MW, Coustan DR (1982) Criteria for screening tests for gestational diabetes. Am J ObstetGynecol 144(7):768–773

17.

Salomon LJ, Alfirevic Z, Da Silva CF, Deter RL, Figueras F, Ghi T et al (2019) ISUOG practice guidelines: ultrasound assessment of fetal biometry and growth. Ultrasound ObstetGynecol 53(6):715–723

18

Hadlock FP, Harrist RB, Carpenter RJ, Deter RL, Park SK (1984) Sonographic estimation of fetal weight. The value of femur length in addition to head and abdomen measurements. Radiology 150(2):535–540

19.

Chauhan SP, Laye MR, Lutgendorf M, McBurney JW, Keiser SD, Magann EF et al (2014) A multicenter assessment of 1,177 cases of shoulder dystocia: lessons learned. Am J Perinatol 31(5):401–406

20.

Belfort MA, Dildy GA, Saade GR, Suarez V, Clark SL (2007) Prediction of shoulder dystocia using multivariate analysis. Am J Perinatol 24(1):5–10

21.

Åberg K, Norman M, Pettersson K, Ekéus C (2016) Vacuum extraction in fetalmacrosomia and risk of neonatal complications: a population-based cohort study. ActaObstetGynecolScand 95(10):1089–1096

22.

Overland EA, Spydslaug A, Nielsen CS, Eskild A (2009) Risk of shoulder dystocia in second delivery: does a history of shoulder dystocia matter? Am J ObstetGynecol 200(5):506.e1–6

23.

Gudmundsson S, Henningsson AC, Lindqvist P (2005) Correlation of birth injury with maternal height and birthweight. BJOG 112(6):764–767

24.

Mazouni C, Porcu G, Cohen-Solal E, Heckenroth H, Guidicelli B, Bonnier P et al (2006) Maternal and anthropomorphic risk factors for shoulder dystocia. ActaObstetGynecolScand 85(5):567–570

25

ACOG (2017) Practice, bulletin, No, 178 shoulder dystocia. ObstetGynecol 129(5):e123–e133

26.

Levy A, Sheiner E, Hammel RD, Hershkovitz R, Hallak M, Katz M et al (2006) Shoulder dystocia: a comparison of patients with and without diabetes mellitus. Arch GynecolObstet 273(4):203–206

27.

Malinowska-Polubiec A, Romejko-Wolniewicz E, Szostak O, Dobrowolska-Redo A, Tolloczko J, Zareba-Szczudlik J et al (2014) Shoulder dystocia in diabetic and non-diabetic pregnancies. NeuroEndocrinolLett 35(8):733–740

28.

Secher AL, Bytoft B, Tabor A, Damm P, Mathiesen ER (2015) Fetalsonographic characteristics associated with shoulder dystocia in pregnancies of women with type 1 diabetes. ActaObstetGynecolScand 94(10):1105–1111
Funding
No external funding was used in this conduct of this study.
Ethics declarations
Conflict of interest
Authors declare that they have no conflict of interest.
Human and animal rights
For this type of study, formal consent is not required and was waived by the institutional review board approval (The study was approved by the Sheba Medical Center Committee for Human Subjects Research (IRB number 5503–18-SMC, 28/10/2018).
Ethical standards
All procedures performed in studies involving human participants were in accordance with the ethical standards of the institutional and/or national research committee and with the 1964 Helsinki declaration and its later amendments or comparable ethical standards.
Additional information
Publisher's Note
Springer Nature remains neutral with regard to jurisdictional claims in published maps and institutional affiliations.
Supplementary Information
Below is the link to the electronic supplementary material.
About this article
Cite this article
Levin, G., Tsur, A., Rottenstreich, A. et al. The association of vacuum-assisted delivery and shoulder dystocia among macrosomic newborns: a retrospective study. Arch Gynecol Obstet (2021). https://doi.org/10.1007/s00404-020-05941-4
Received:

Accepted:

Published:
Keywords
Birthweight

Macrosomia

Risk factors

Shoulder dystocia

Vacuum

Operative delivery