Abstract
Purpose
The aim of the study was to determine whether celiac disease affects ovarian reserve assessed by antral follicle counting, ovarian volume, and anti-müllerian hormone in adolescent patients.
Methods
This case–control multicenter trial was performed from January 1, 2017 to May 31, 2018 and included 45 girls. On days 2–5 of the menstrual cycle, measurements of serum follicle stimulating hormone, luteinizing hormone, estradiol, prolactin, and anti-müllerian hormone were performed. Antral follicle counts and ovarian volumes were determined on the same day.
Results
Evaluation was made of 21 (47.7%) celiac patients with a mean age of 15.8 ± 1.3 years, and 24 (52.3%) healthy control subjects with a mean age of 16.2 ± 1.2. There was no difference between the groups in respect of right and left ovarian volumes (p = 0.790 and p = 0.670, respectively). Serum levels of anti-müllerian hormone of the celiac patients and controls were found comparable [(3.7 ± 2.9 (0.5–12) and 3.6 ± 1.8 (1.2–8.1)] ng/mL, respectively, p = 0.915).
Conclusions
Celiac disease may not affect the ovarian reserve determined with established ovarian reserve markers including antral follicle counting, ovarian volume, and anti-müllerian hormone in adolescent patients.
Trial registration
ClinicalTrials.gov identifier (NCT number): NCT04024449
This is a preview of subscription content, log in to check access.
Access options
Buy single article
Instant access to the full article PDF.
US$ 39.95
Price includes VAT for USA
Subscribe to journal
Immediate online access to all issues from 2019. Subscription will auto renew annually.
US$ 199
This is the net price. Taxes to be calculated in checkout.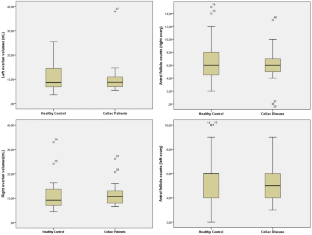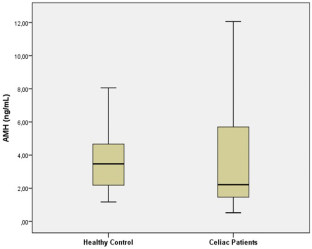 Abbreviations
AMH:

Anti-müllerian hormone

AFCs:

Antral Follicle Counts

CD:

Celiac disease

E2:

Estradiol

FSH:

Follicle stimulating hormone

GFD:

Gluten-free diet

Kg:

Kilogram

LH:

Luteinizing hormone

Ml:

Milliliter

mIU:

Mili international unit

ng:

Nanogram

PRL:

Prolactin

pg:

Picogram
References
1.

Guandalini S, Setty M (2008) Celiac disease. Curr Opin Gastroenterol 24:707–712

2.

Kang JY, Kang AHY, Green A et al (2013) Systematic review: worldwide variation in the frequency of celiac disease and changes over time. Aliment Pharmacol Ther 38:226–245

3.

Jadresin O, Misak Z, Sanja K et al (2008) Compliance with gluten-free diet in children with coeliac disease. J Pediatr Gastroenterol Nutr 47:344–348

4.

Lionetti E, Catassi C (2011) New clues in celiac disease epidemiology, pathogenesis, clinical manifestations, and treatment. Int Rev Immunol 30:219–231

5.

Mantegazza C, Zuccotti GV, Dilillo D et al (2015) Celiac disease in children: a review. Int J Dig Dis 1(1):9

6.

Eliakim R, Sherer DM (2001) Celiac disease: fertility and pregnancy. Gynecol Obstet Invest 51:3–7

7.

Freeman HJ (2010) Reproductive changes associated with celiac disease. World J Gastroenterol 16:5810–5814

8.

Oberhuber G, Granditsch G, Vogelsang H (1999) The histopathology of coeliac disease: time for a standardized report scheme for pathologists. Eur J Gastroenterol Hepatol 11:1185–1194

9.

Tal R, Seifer DB (2017) Ovarian reserve testing: a user's guide. Am J Obstet Gynecol 217:129–140

10.

Husby S, Koletzko S, Korponay-Szabó IR et al (2012) ESPGHAN working group on coeliac disease diagnosis; ESPGHAN gastroenterology committee; European society for pediatric gastroenterology, hepatology, and nutrition. European society for pediatric gastroenterology, hepatology, and nutrition guidelines for the diagnosis of coeliac disease. J Pediatr Gastroenterol Nutr 54:136–160

11.

de Onis M, Onyango AW, Borghi E et al (2007) Development of a WHO growth reference for school-aged children and adolescents. Bull World Health Organ 85:660–667

12.

WHO software World Health Organization (WHO) (2009) WHO anthroplus for personal computers manual software for assessing growth of the world's children and adolescents. https://www.who.int/growthref/tools/who_anthroplus_manual.pdf. Accessed June 2019

13.

Santonicola A, Iovino P, Cappello C et al (2011) From menarche to menopause: the fertile life span of celiac women. Menopause 18:1125–1130

14.

Prashant S, Shubhangi A, Suman L et al (2016) Celiac disease in women with Infertility: a meta-analysis. J Clin Gastroenterol 50:33–39

15.

Zugna D, Richiardi L, Akre Stephansson O et al (2010) A nationwide population based study to determine whether coeliac disease is associated with infertility. Gut 59:1471–1475

16.

Nenna R, Mennini M, Petrarca L et al (2011) Immediate effect on fertility of a gluten-free diet in women with untreated coeliac disease. Gut 60:1023–1024

17.

Kotze L (2004) Gynecologic and obstetric findings related to nutritional status and adherence to a gluten-free diet in Brazilian patients with celiac disease. J Clin Gastroenterol 38:567–574

18.

Sher KS, Mayberry JF (1996) Female fertility, obstetric and gynaecological history in coeliac disease: a case control study. Acta Paediatr 412:76–77

19.

Pellicano R, Astegiano M, Bruno M et al (2007) Women and celiac disease: association with unexplained infertility. Minerva Med 98:217–219

20.

Martinelli P, Troncone R, Paparo F et al (2000) Coeliac disease and unfavourable outcome of pregnancy. Gut 46:332–335

21.

Sheiner E, Peleg R, Levy A (2006) Pregnancy outcome of patients with known celiac disease. Eur J Obstet Gynecol Reprod Biol 129:41–45

22.

Grossmann B, Saur S, Rall K et al (2020) Prevalence of autoimmune disease in women with premature ovarian failure. Eur J Contracept Reprod Health Care 25(1):72–75

23.

Cakmak E, Karakus S, Demirpence O et al (2018) Ovarian reserve assessment in celiac patients of reproductive age. Med Sci Monit 24:1152–1157
Acknowledgements
We thank to Caroline J. Walker for English editing this paper.
Funding
The authors have not received to support our research.
Ethics declarations
Conflict of interest
All authors declare that we have no conflict of interest in connection with this paper. All authors approved the final manuscript as submitted and agreed to be accountable for all aspects of the work.
Informed consent
Informed consent was obtained from all individual participants included in the study.
Ethical approval
All procedures performed in the study were in accordance with the ethical standards of the institutional and/or national research committee and with the 1964 Helsinki declaration and its later amendments or comparable ethical standards.
Additional information
Publisher's Note
Springer Nature remains neutral with regard to jurisdictional claims in published maps and institutional affiliations.
About this article
Cite this article
Comba, C., Comba, A., Yılmaz, H. et al. Celiac disease does not influence markers of ovarian reserve in adolescent girls. Arch Gynecol Obstet (2020). https://doi.org/10.1007/s00404-020-05666-4
Received:

Accepted:

Published:
Keywords
Celiac disease

Anti-müllerian hormone

Adolescent

Follicle stimulating hormone

Antral follicle counts