Abstract
Background
Ovarian pregnancy (OP) is a rare form of ectopic pregnancy and is still a medical challenge. Therefore, more studies about the time trends, risk factors and diagnostic measurements are needed for the efficient treatment of OP.
Methods
The datum of OP patients who were treated at the Second Hospital of Hebei Medical University from 2003 to 2018 was collected and a retrospective cohort study was preformed between OP and tubal pregnancy.
Results
79 of all 6943 ectopic pregnancy (1.14%) were OP. The prevalence of OP following assisted reproductive technology showed an increasing trend over time, from 8.33% to 15.22%. Previous abdominal surgery was one of the risk factors of OP (OR 0.41, 95% CI 0.18–0.95, p = 0.04). Merely 2 (2.53%) patients were sonographically diagnosed as OP accorded with their discharge diagnosis. However, 56 (80.0%) accumulation of blood in the pelvis formed echo free areas could be clearly found by ultrasonography. A significant difference was found in serum β-hCG level among OP patients and tubal pregnancy patients (2762.73 ± 1915.24 mmol/L vs 1034.20 ± 915.32 mmol/L, p < 0.001).
Conclusions
The prevalence of OP following assisted reproductive technology is on the rise. History of abdominal surgery may be a high risk factor for OP patients who have the tendency of high β-hCG levels. The ultrasonic preoperative diagnosis is conductive to the early diagnosis of OP though the diagnosis accuracy is low.
This is a preview of subscription content, log in to check access.
Access options
Buy single article
Instant access to the full article PDF.
US$ 39.95
Price includes VAT for USA
Subscribe to journal
Immediate online access to all issues from 2019. Subscription will auto renew annually.
US$ 199
This is the net price. Taxes to be calculated in checkout.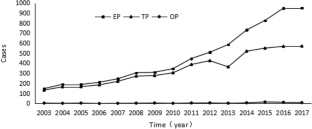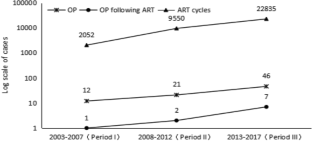 Availability of data and materials
References
1.

Aydin T, Yucel B, Aksoy H, Ekemen S (2016) Successful laparoscopic management of a rare complication after embryo transfer: ovarian pregnancy. A case report and up-to-date literature review. Wideochir Inne Tech Maloinwazyjne 10(4):574–579. https://doi.org/10.5114/wiitm.2015.55893

2.

Shan N, Dong D, Deng W, Fu Y (2014) Unusual ectopic pregnancies: a retrospective analysis of 65 cases. J Obstet Gynaecol Res 40(1):147–154. https://doi.org/10.1111/jog.12146

3.

Zhu Q, Li C, Zhao WH, Yuan JJ, Yan MX, Qin GJ, Zhang J (2014) Risk factors and clinical features of ovarian pregnancy: a case–control study. BMJ Open 4(12):e006447. https://doi.org/10.1136/bmjopen-2014-006447

4.

Shaw JL, Dey SK, Critchley HO, Horne AW (2010) Current knowledge of the aetiology of human tubal ectopic pregnancy. Hum Reprod Update 16(4):432–444. https://doi.org/10.1093/humupd/dmp057

5.

Farquhar CM (2005) Ectopic pregnancy. Lancet 366(9485):583–591. https://doi.org/10.1016/S0140-6736(05)67103-6

6.

Spiegelber O (1878) Zur casuistic der ovarial Schwangerschft. Archiv für Gynaekologie 13:73–76. https://doi.org/10.1007/bf01991416

7.

Melcer Y, Smorgick N, Vaknin Z, Mendlovic S, Raziel A, Maymon R (2015) Primary ovarian pregnancy: 43 years experience in a single institute and still a medical challenge. Isr Med Assoc J 17(11):687–690

8.

Ghi T, Banfi A, Marconi R, Iaco PD, Pilu G, Aloysio DD, Pelusi G (2005) Three-dimensional sonographic diagnosis of ovarian pregnancy. Ultrasound Obstet Gynecol 26(1):102–104. https://doi.org/10.1002/uog.1933

9.

Delplanque S, Le Lous M, Flévin M, Bauville E, Moquet PY, Dion L, Fauconnier A, Guérin S, Leveque J, Lavoué V, Nyangoh Timoh K (2020) Effectiveness of conservative medical treatment for non-tubal ectopic pregnancies: a multicenter study. J Gynecol Obstet Hum Reprod 20:101762. https://doi.org/10.1016/j.jogoh.2020.101762

10.

Killick SR (2007) Ultrasound and the receptivity of the endometrium. Reprod Biomed Online 15(1):63–67. https://doi.org/10.1016/S1472-6483(10)60693-1

11.

Paltieli Y, Eibschitz I, Ziskind G, Ohel G, Silbermann M, Weichselbaum A (2000) High progesterone levels and ciliary dysfunction—a possible cause of ectopic pregnancy. J Assist Reprod Genet 17(2):103–106. https://doi.org/10.1023/a:1009465900824

12.

Seshadri S, Shirley P, Jaiganesh T, Uchil D, Jolaoso A (2010) In vitro fertilisation and embryo transfer for bilateral salpingectomies results in a ruptured ovarian ectopic pregnancy due to a tubal stump fistula: a case report and review of the literature. BMJ Case Rep. https://doi.org/10.1136/bcr.09.2009.2291

13.

Ko PC, Liang CC, Lo TS, Huang HY (2011) Six cases of tubal stump pregnancy: complication of assisted reproductive technology? Fertil Steril 95(7):2432.e1–4. https://doi.org/10.1016/j.fertnstert.2011.03.069

14.

Lesny P, Killick SR, Robinson J, Raven G, Maguiness SD (1999) Junctional zone contractions and embryo transfer: is it safe to use a tenaculum? Hum Reprod 14(9):2367–2370. https://doi.org/10.1093/humrep/14.9.2367

15.

Strandell A, Waldenstrom U, Nilsson L, Hamberger L (1994) Hydrosalpinx reduces in-vitro fertilization/embryo transfer rates. Hum Reprod 9(5):861–863. https://doi.org/10.1093/oxfordjournals.humrep.a138606

16.

Nackley AC, Mausher SJ (1998) The significance of hydrosalpinx in in vitro fertilization. Fertil Steril 69(3):373–384. https://doi.org/10.1016/S0015-0282(97)00484-6

17.

Eschenbach DA (1992) Earth, motherhood, and the intrauterine device. Fertil Steril 57(6):1177–1179. https://doi.org/10.1016/S0015-0282(16)55069-9

18.

Belfar H, Heller K, Edelstone DI, Hill LM, Martin JG (1991) Ovarian pregnancy resulting in a surviving neonate: ultrasound findings. J Ultrasound Med 10(8):465–467. https://doi.org/10.7863/jum.1991.10.8.465

19.

Scutiero G, Di Gioia P, Spada A, Greco P (2012) Primary ovarian pregnancy and its management. JSLS 16(3):492–494. https://doi.org/10.4293/108680812X13462882736385

20.

Goyal LD, Tondon R, Goel P, Sehgal A (2014) Ovarian ectopic pregnancy: a 10 years'experience and review of literature. Iran J Reprod Med 12(12):825–830

21.

Goksedef BP, Kef S, Akca A, Bayik RN, Cetin A (2011) Risk factors for rupture in tubal ectopic pregnancy: definition of the clinical findings. Eur J Obstet Gynecol Reprod Biol 154(1):96–99. https://doi.org/10.1016/j.ejogrb.2010.08.016

22.

Gracia CR, Barnhart KT (2001) Diagnosing ectopic pregnancy: decision analysis comparing six strategies. Obstet Gynecol 97(3):464–470. https://doi.org/10.1016/S0029-7844(00)01159-5

23.

Odejinmi F, Rizzuto M, Macrae R, Olowu O, Hussain M (2009) J Minim Invasive Gynecol 16(3):354–359. https://doi.org/10.1016/j.jmig.2009.01.002

24.

Hwang DW, Choi HW, Choi YY, Kim HS, Kim YA, Chun KC (2020) Obstet Gynecol Sci 63(2):209–212. https://doi.org/10.5468/ogs.2020.63.2.209

25.

Di Luigi G, Patacchiola F, La Posta V, Bonitatibus A, Ruggeri G, Carta G (2012) Clin Exp Obstet Gynecol 39(3):390–393

26.

Elwell KE, Sailors JL, Denson PK, Hoffman B, Wai CY (2015) Unruptured second-trimester ovarian pregnancy. J Obstet Gynaecol Res 41(9):1483–1486. https://doi.org/10.1111/jog.12726
Acknowledgements
The authors would like to thank Dr. Liu Bin for contributing to the draft manuscript.
Ethics declarations
Conflict of interest
The authors declare that they have no conflicts of interest/competing interests.
Ethics approval and consent to participate
This respective study was approved by the Research and Ethical Committee of the Second Hospital of Hebei Medical University, China, basing on the 1964 Helsinki declaration and its later amendments.
Consent for publication
The submission of this manuscript has been approved by all authors.
Code availability
Not applicable.
Additional information
Publisher's Note
Springer Nature remains neutral with regard to jurisdictional claims in published maps and institutional affiliations.
About this article
Cite this article
Zheng, J., Liu, M., Zhou, X. et al. An investigation of the time trends, risk factors, role of ultrasonic preoperative diagnosis of 79 ovarian pregnancy. Arch Gynecol Obstet (2020). https://doi.org/10.1007/s00404-020-05648-6
Received:

Accepted:

Published:
Keywords
Ovarian pregnancy

Tubal pregnancy

Ectopic pregnancy

Assisted reproductive technology

Risk factor

Ultrasonic