Abstract
Objective
Women with inflammatory bowel disease (IBD) have an increased risk for adverse pregnancy outcome, so as women using assisted reproduction technology (ART). However, data are scarce regarding the risk imposed by the combination of both. Thus, we aimed to assess pregnancy outcome in these women.
Methods
A retrospective case–control study, of women with IBD who conceived using ART due to female infertility. The study group (IBD-ART) was matched using propensity score and compared in a 1:1 ratio with three control groups, IBD patients who conceived spontaneously (IBD-SP), women using ART (H-ART) and women who conceived spontaneously (H-SP).
Results
The study group comprised of 49 women with IBD conceived via ART that gave birth at our center during the study period. All studied groups did not differ in demographics and obstetric characteristics. IBD groups (both ART and spontaneous) were comparable in disease status prior and throughout pregnancy. Maternal outcome showed no difference regarding preterm birth and pregnancy complications among all studied groups. Women in the IBD-ART group had decreased rates of vaginal delivery (34.7% vs 57.1%, p = 0.032) and higher rates of elective CS (32.7% vs 14.3%, p = 0.048) in comparison to H-SP group, but comparable rates to both IBD-SP and H-ART groups. Neonatal outcomes were comparable among all studied groups. In a sub-analysis by disease type, a higher rate of gestational diabetes was found among ulcerative colitis patients using ART (29.4% Crohn's vs 6.1% UC, p = 0.025).
Conclusion
Patients with IBD undergoing ART have comparable pregnancy outcome to women using ART and to patients with IBD with spontaneous pregnancy.
This is a preview of subscription content, log in to check access.
Access options
Buy single article
Instant access to the full article PDF.
US$ 39.95
Price includes VAT for USA
Subscribe to journal
Immediate online access to all issues from 2019. Subscription will auto renew annually.
US$ 199
This is the net price. Taxes to be calculated in checkout.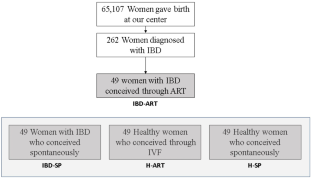 References
1.

Molodecky NA, Soon S, Rabi DM, Ghali WA, Ferris M, Chernoff G, Kaplan GG (2012) Increasing incidence and prevalence of the inflammatory bowel diseases with time, based on systematic review. Gastroenterology 142(1):46–54

2.

Mountifield RE, Prosser R, Bampton P, Muller K, Andrews JM (2010) Pregnancy and IBD treatment: this challenging interplay from a patients' perspective. J Crohn's Colitis 4(2):176–182

3.

Mountifield R, Bampton P, Prosser R, Muller K, Andrews JM (2009) Fear and fertility in inflammatory bowel disease: a mismatch of perception and reality affects family planning decisions. Inflamm Bowel Dis 15(5):720–725

4.

Ban L, Tata LJ, Humes DJ, Fiaschi L, Card T (2015) Decreased fertility rates in 9639 women diagnosed with inflammatory bowel disease: a United Kingdom population-based cohort study. Aliment Pharmacol TheR 42(7):855–866

5.

Elbaz G, Fich A, Levy A, Holcberg G, Sheiner E (2005) Inflammatory bowel disease and preterm delivery. Int J Gynecol Obstet 90(3):193–197

6.

Nørgård B, Fonager K, Sørensen HT, Olsen J (2000) Birth outcomes of women with ulcerative colitis: a nationwide Danish cohort study. Am J Gastroenterol 95(11):3165–3170

7.

Wispelwey BP, Sheiner E (2013) Inflammatory bowel disease and preterm delivery. Arch Gynecol Obstet 288(4):725–730

8.

Cornish J, Tan E, Teare J, Teoh TG, Rai R, Clark SK, Tekkis PP (2007) A meta-analysis on the influence of inflammatory bowel disease on pregnancy. Gut 56(6):830–837

9.

Dominitz JA, Young JC, Boyko EJ (2002) Outcomes of infants born to mothers with inflammatory bowel disease: a population-based cohort study. Am J Gastroenterol 97(3):641–648

10.

Ferraretti AP, Nygren K, Nyboe Andersen A, de Mouzon J, Kupka M, Calhaz-Jorge C, Wyns C, Gianaroli L, Goossens V (2017) Trends over 15 years in ART in Europe: an analysis of 6 million cycles. Human Reprod Open. https://doi.org/10.1093/hropen/hox012

11.

Shevell T, Malone FD, Vidaver J, Porter TF, Luthy DA, Comstock CH, Craigo S (2005) Assisted reproductive technology and pregnancy outcome. Obstet Gynecol 106(5):1039–1045

12.

Schieve LA, Meikle SF, Ferre C, Peterson HB, Jeng G, Wilcox LS (2002) Low and very low birth weight in infants conceived with use of assisted reproductive technology. N Eng J Med 346(10):731–737

13.

Maman E, Lunenfeld E, Levy A, Vardi H, Potashnik G (1998) Obstetric outcome of singleton pregnancies conceived by in vitro fertilization and ovulation induction compared with those conceived spontaneously. Fertil Steril 70(2):240–245

14.

Gaudoin M, Dobbie R, Finlayson A, Chalmers J, Cameron IT, Fleming R (2003) Ovulation induction/intrauterine insemination in infertile couples is associated with low-birth-weight infants. Am J Obstet Gynecol 188(3):611–616

15.

Nørgård BM, Larsen PV, Fedder J, De Silva PS, Larsen MD, Friedman S (2016) Live birth and adverse birth outcomes in women with ulcerative colitis and Crohn's disease receiving assisted reproduction: a 20-year nationwide cohort study. Gut 65(5):767–776

16.

Lewis JD, Chuai S, Nessel L, Lichtenstein GR, Aberra FN, Ellenberg JH (2008) Use of the noninvasive components of the Mayo score to assess clinical response in ulcerative colitis. Inflamm Bowel Dis 14(12):1660–1666

17.

Brahmania M, Bernstein CN (2014) Physician global assessments or blood tests do not predict mucosal disease activity in ulcerative colitis. Can J Gastroenterol Hepatol 28(6):325–329

18.

O'Toole A, Nwanne O, Tomlinson T (2015) Inflammatory bowel disease increases risk of adverse pregnancy outcomes: a meta-analysis. Dig Dis Sci 60(9):2750–2761

19.

Mahadevan U, Sandborn WJ, Li DK, Hakimian S, Kane S, Corley DA (2007) Pregnancy outcomes in women with inflammatory bowel disease: a large community-based study from Northern California. Gastroenterology 133(4):1106–1112

20.

Van der Woude CJ, Ardizzone S, Bengtson MB, Fiorino G, Fraser G, Katsanos K, Selinger C (2015) The second European evidenced-based consensus on reproduction and pregnancy in inflammatory bowel disease. J Crohn's Colitis 9(2):107–124

21.

Blencowe H, Cousens S, Oestergaard MZ, Chou D, Moller AB, Narwal R, Lawn JE (2012) National, regional, and worldwide estimates of preterm birth rates in the year 2010 with time trends since 1990 for selected countries: a systematic analysis and implications. Lancet 379(9832):2162–2172

22.

Nguyen GC, Boudreau H, Harris ML, Maxwell CV (2009) Outcomes of obstetric hospitalizations among women with inflammatory bowel disease in the United States. Clin Gastroenterol Hepatol 7(3):329–334

23.

Ananthakrishnan AN, Cheng A, Cagan A, Cai T, Gainer VS, Shaw SY, Liao KP (2015) Mode of childbirth and long-term outcomes in women with inflammatory bowel diseases. Dig Dis Sci 60(2):471–477

24.

Stojnic J, Radunovic N, Jeremic K, Kotlica BK, Mitrovic M, Tulic I (2013) Perinatal outcome of singleton pregnancies following in vitro fertilization. Clin Exp Obstet Gynecol 40(2):277–283

25.

Singer T, Divon M, Borodo K, Sicherman N, Barnhard Y, Barad DH (2008) A comparison of the cesarean section rates between IVF and non IVF groups and between donor eggs and non donor eggs groups in singleton pregnancies in patients older than 40. Fertil Steril 90:S401–S402

26.

Boyd HA, Basit S, Harpsøe MC, Wohlfahrt J, Jess T (2015) Inflammatory bowel disease and risk of adverse pregnancy outcomes. PloS one 10(6):e0129567. https://doi.org/10.1371/journal.pone.0129567

27.

Bortoli A, Pedersen N, Duricova D, D′ Inca R, Gionchetti P, Panelli MR, Riegler G (2011) Pregnancy outcome in inflammatory bowel disease: prospective European case-control ECCO-EpiCom study, 2003–2006. Aliment Pharmacol Ther 34(7):724–734

28.

Freud A, Beharier O, Walfisch A, Sergienko R, Landau D, Sheiner E (2016) Maternal inflammatory bowel disease during pregnancy is not a risk factor for long-term morbidity of the offspring. J Crohn's Colitis 10(11):1267–1272

29.

Leung YP, Kaplan GG, Coward S, Tanyingoh D, Kaplan BJ, Johnston DW, Seow CH (2015) Intrapartum corticosteroid use significantly increases the risk of gestational diabetes in women with inflammatory bowel disease. J Crohn's Colitis 9(3):223–230

30.

Lin K, Martin CF, Dassopoulos T, Degli Esposti SD, Wolf DC, Beaulieu DB, Mahadevan U (2014) 2 pregnancy outcomes amongst mothers with inflammatory bowel disease exposed to systemic corticosteroids: results of the PIANO Registry. Gastroenterology 146(5):S-1

31.

Maconi G, Furfaro F, Sciurti R, Bezzio C, Ardizzone S, de Franchis R (2014) Glucose intolerance and diabetes mellitus in ulcerative colitis: pathogenetic and therapeutic implications. World J Gastroenterol 20(13):3507

32.

Ashrafi M, Gosili R, Hosseini R, Arabipoor A, Ahmadi J, Chehrazi M (2014) Risk of gestational diabetes mellitus in patients undergoing assisted reproductive techniques. Eur J Obstet Gynecol Rep Biol 176:149–152
Funding
There was no grant support for this manuscript.
Ethics declarations
Conflict of interest
The authors declare full compliance with the ethical standards. We report no conflict of interest or funding.
Ethical approval
The institutional review board approved the study.
Informed consent
The need to obtain informed consent was waived.
Additional information
Publisher's Note
Springer Nature remains neutral with regard to jurisdictional claims in published maps and institutional affiliations.
About this article
Cite this article
Lavie, I., Lavie, M., Doyev, R. et al. Pregnancy outcomes in women with inflammatory bowel disease who successfully conceived via assisted reproduction technique. Arch Gynecol Obstet (2020). https://doi.org/10.1007/s00404-020-05644-w
Received:

Accepted:

Published:
Keywords
Crohn's disease

Ulcerative colitis

Inflammatory bowel disease

Assisted reproduction technology

Fertility

Adverse birth outcomes