Abstract
Purpose
Management of tubo-ovarian abscesses (TOA) is often complex and may include antibiotics, image-guided drainage via interventional radiology (IR) or surgery. We aim to (i) identify clinical factors that prognosticate primary drainage and (ii) compare outcomes of each treatment regimen.
Methods
This is a retrospective analysis on patients with TOA, admitted to KK Hospital, a tertiary women's hospital in Singapore from June 2016 to June 2017. Pregnant patients or patients who were discharged against medical advice were excluded. 102 patients were included in this study.
Results
85.3% patients received antibiotics only, while 14.7% patients received antibiotics with IR drainage or surgery (primary drainage) as initial treatment. Subsequently, 20.7% failed antibiotic treatment and required IR drainage or surgery (secondary drainage). Patients aged above 40 years, TOA diameter of larger than 7 cm and presence of fever were found to be predictive of antibiotic failure, requiring secondary drainage. However, patients with primary drainage had a longer length of stay by 2.69 days (95% CI 1.44–3.94, p value < 0.001), compared to patients successfully managed conservatively.
Conclusion
Patients who are above 40 years, febrile and have a larger TOA are at a higher risk of medical treatment failure, and should, therefore, be recommended for primary drainage at presentation. Further prospective studies should be conducted with a larger sample size to compare the outcomes of conservative management versus drainage of TOA.
This is a preview of subscription content, log in to check access.
Access options
Buy single article
Instant access to the full article PDF.
US$ 39.95
Price includes VAT for USA
Subscribe to journal
Immediate online access to all issues from 2019. Subscription will auto renew annually.
US$ 199
This is the net price. Taxes to be calculated in checkout.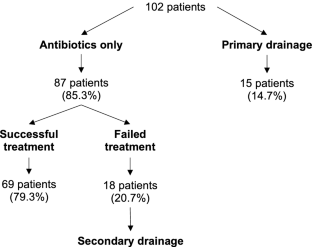 References
1.

Granberg S, Gjelland K, Ekerhovd E (2009) The management of pelvic abscess. Best Pract Res Clin Obstet Gynaecol 23(5):667

2.

British Association for Sexual Health & HIV. 2018 United Kingdom National Guideline for the Management of Pelvic Inflammatory Disease. https://www.bashhguidelines.org/media/1170/pid-2018.pdf. Accessed 20 Sep 2019

3.

Sweet RL, Gibbs RS (2001) Anaerobic–aerobic pelvic infection and pelvic abscess. In: Infectious diseases of the female genital tract. 4th edn. Lippincott Williams & Wilkins, Philadelphia. p 189–206

4.

Lareau SM, Beigi RH (2008) Pelvic inflammatory disease and tubo-ovarian abscess. Infect Dis Clin North Am 22:693

5.

Farid H, Lau TC, Karmon AE, Styer AK (2016) Clinical characteristics associated with antibiotic treatment failure for tuboovarian abscesses. Inf Dis Obstet Gynecol 2016:5120293. https://doi.org/10.1155/2016/5120293

6.

Akkurt MÖ, Yalçın SE, Akkurt İ, Tatar B, Yavuz A, Yalçın Y, Akgül MA, Kayıkçıoğlu F (2015) The evaluation of risk factors for failed response to conservative treatment in tubo-ovarian abscesses. J Tuck Ger Gynecol Assoc 16:226–230

7.

Dewitt J, Reining A, Allsworth JE, Peipert JF (2010) Tuboovarian abscesses: Is size associated with duration of hospitalization & complications? Obstet Gynecol Int 2010:847041. https://doi.org/10.1155/2010/847041

8.

Goharkhay N, Verma U, Maggiorotto F (2007) Comparison of CT- or ultrasound-guided drainage with concomitant intravenous antibiotics vs intravenous antibiotics alone in the management of tubo-ovarian abscesses. Ultrasound Obstet Gynecol 29:65–69

9.

Silva F, Castro J, Godinho C, Gonçalves J, Ramalho G, Valente F (2015) Minimally invasive approach of tubo-ovarian abscesses. Rev Bras Ginecol Obstet 37(3):115–118

10.

Corsi PJ, Johnson SC, Gonik B, Hendrix SL, McNeeley SG Jr, Diamond MP (1999) Transvaginal ultrasound-guided aspiration of pelvic abscesses. Infect Dis Obstet Gynecol 7(5):216–221

11.

Gjelland K, Ekerhovd E, Granberg S (2005) Transvaginal ultrasound-guided aspiration for treatment of tubo-ovarian abscess: a study of 302 cases. Am J Obstet Gynecol 193(4):1323–1330

12.

Antoine Youssef Habboub (2016) Middlemore Hospital experience with tubo-ovarian abscesses: an observational retrospective study. Int J Womens Health 8:325–340
Acknowledgement
We would like to acknowledge Dr. Ong Chiou Li and Dr. Luke Toh Han Wei, from the Department of Diagnostic Imaging, KK Women's and Children's Hospital, for their guidance on the development of the study design.
Ethics declarations
Conflicts of interest
The authors declare that they have no conflict of interest.
Ethical approval
An ethics board approval for the study was obtained from the Singhealth Centralised Institutional Review Board with the reference number 2017/2816. This article does not contain any studies with human participants or animals performed by any of the authors.
Additional information
Publisher's Note
Springer Nature remains neutral with regard to jurisdictional claims in published maps and institutional affiliations.
About this article
Cite this article
Wong, T.T.C., Lau, H.C.Q. & Tan, T.C. Retrospective study on the efficacy and prognostic factors of conservative versus drainage of tubo-ovarian abscesses. Arch Gynecol Obstet (2020). https://doi.org/10.1007/s00404-020-05640-0
Received:

Accepted:

Published:
Keywords
Tubo-ovarian abscess

Image-guided drainage

Surgical drainage

Surgery

Conservative treatment

Antibiotics treatment