Abstract
Background
Transthyretin (TTR) is considered to be associated with insulin resistance in humans. This study aimed to investigate TTR level in gestational diabetes mellitus (GDM) and its association with glucose metabolism.
Methods
Fifty pregnant women with GDM and 47 pregnant women with normal glucose tolerance matched for body mass index and age were enrolled in this study. Their blood samples were collected to detect TTR, retinol-binding protein 4 (RBP4), and their association with glucose and lipid metabolism.
Results
Serum TTR levels in the GDM group were significantly higher than those in the control group (median, 93.44 [interquartile range, 73.81, 117.79] μg/ml vs. 80.83 [74.19, 89.38] μg/ml; P = 0.006). GDM subjects had a lower RBP4/TTR ratio than the control subjects (median, 517.57 [interquartile range, 348.38, 685.27] vs. 602.56 [460.28, 730.62]; P = 0.02). The serum TTR concentrations were positively associated with neonatal weight (r = 0.223, P = 0.028), homeostatic model assessment of insulin resistance (r = 0.246, P = 0.015), and fasting blood glucose (FBG) (r = 0.363, P < 0.001). In stepwise multivariate linear regression analysis, FBG (standardized beta = 0.27, P = 0.004) and neonatal weight (standardized beta = 0.345, P < 0.001) were independent predictors of serum TTR concentrations. Additionally, FBG (standardized beta = − 0.306, P = 0.002) and triglyceride (TG) (beta = 0.219, P = 0.025) were independently associated with RBP4/TTR ratio.
Conclusions
Serum TTR concentrations were significantly higher in women with GDM than that in women without GDM, suggesting that elevated TTR level may play a role in the pathogenesis of GDM. Meanwhile, TTR was positively and independently associated with FBG and neonatal weight, while FBG and TG were independent predictors of RBP4/TTR ratio. Moreover, serum TTR levels and RBP4/TTR ratio were considered valuable markers of insulin resistance and GDM.
This is a preview of subscription content, log in to check access.
Access options
Buy single article
Instant access to the full article PDF.
US$ 39.95
Price includes VAT for USA
Subscribe to journal
Immediate online access to all issues from 2019. Subscription will auto renew annually.
US$ 199
This is the net price. Taxes to be calculated in checkout.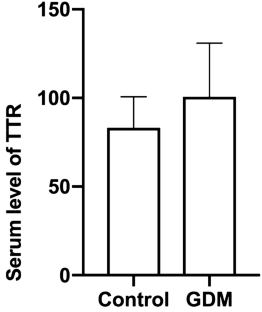 Acknowledgements
We specifically thank Qi Cheng and Jiansheng Ji at Women's Hospital School of Medicine Zhejiang University for their support in this study. The authors declared no potential conflicts of the research, authorship, or publication of this article.
Funding
This study was supported by the National Natural Science Foundation of China (8187060362).
Ethics declarations
Conflict of interest
This study was approved by the Institutional Ethics Committee at Women's Hospital School of Medicine Zhejiang University. The authors declare that they have no conflict of interest.
Additional information
Publisher's Note
Springer Nature remains neutral with regard to jurisdictional claims in published maps and institutional affiliations.
About this article
Cite this article
Liu, M., Chen, Y. & Chen, D. Association between transthyretin concentrations and gestational diabetes mellitus in Chinese women. Arch Gynecol Obstet 302, 329–335 (2020). https://doi.org/10.1007/s00404-020-05599-y
Received:

Accepted:

Published:

Issue Date:
Keywords
Gestational diabetes mellitus

Insulin resistance

Transthyretin

Retinol-binding protein 4