Abstract
Objective
To evaluate factors associated with survival of patients with advanced stage mucinous ovarian carcinoma (MOC) using a large multi-institutional database.
Methods
Patients diagnosed between 2004 and 2014 with advanced stage (III–IV) MOC were identified within the National Cancer Database. Those without a personal history of another primary tumor who received cancer-directed surgery with a curative intent were selected for further analysis. Overall survival (OS) was evaluated with Kaplan–Meier curves, and compared with the log-rank test. Multivariate Cox analysis was performed to identify independent predictors of survival.
Results
A total of 1509 patients with a median age of 59 years (IQR 20) met the inclusion criteria: stage III (n = 1045, 69.3%) and stage IV disease (n = 464, 30.7%). Patients who received chemotherapy (n = 1065, 70.6%) had better OS compared to those who did not (n = 385, 25.5%), (median OS 15.44 vs 5.06 months, p < 0.001). The type of reporting facility (p = 0.65) and the year of diagnosis (p = 0.27) were not associated with OS. Presence of residual disease was strongly associated with OS (p < 0.001). After controlling for confounders, the administration of chemotherapy (HR 0.63, 95% CI 0.55, 0.72) was associated with better survival.
Conclusion
Advanced stage MOC has an extremely poor prognosis. Patients who received chemotherapy had a small improvement in survival. Every effort to achieve complete gross resection should be performed. Given no improvement in survival outcomes over time, there is an eminent need for novel treatment options.
Access options
Buy single article
Instant access to the full article PDF.
US$ 39.95
Tax calculation will be finalised during checkout.
Subscribe to journal
Immediate online access to all issues from 2019. Subscription will auto renew annually.
US$ 119
Tax calculation will be finalised during checkout.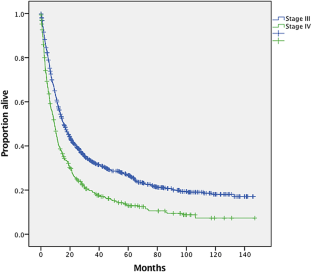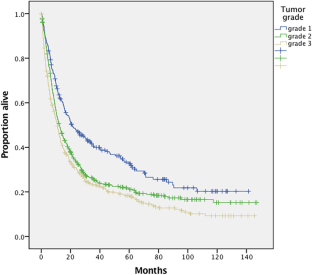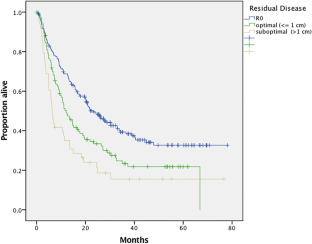 References
1.

Ledermann JA, Luvero D, Shafer A et al (2014) Gynecologic cancer intergroup (GCIG) consensus review for mucinous ovarian carcinoma. Int J Gynecol Cancer 24(9 Suppl 3):S14–S29

2.

Brown J, Frumovitz M (2014) Mucinous tumors of the ovary: current thoughts on diagnosis and management. Curr Oncol Rep 16(6):389

3.

Yemelyanova AV, Vang R, Judson K, Wu LS, Ronnett BM (2008) Distinction of primary and metastatic mucinous tumors involving the ovary: analysis of size and laterality data by primary site with reevaluation of an algorithm for tumor classification. Am J Surg Pathol 32(1):128–138

4.

Perren TJ (2016) Mucinous epithelial ovarian carcinoma. Ann Oncol 27(Suppl 1):i53–i57

5.

Soslow RA (2011) Mucinous ovarian carcinoma: slippery business. Cancer 117(3):451–453

6.

Crane EK, Brown J (2018) Early stage mucinous ovarian cancer: a review. Gynecol Oncol 149(3):598–604

7.

Schiavone MB, Herzog TJ, Lewin SN et al (2011) Natural history and outcome of mucinous carcinoma of the ovary. Am J Obstet Gynecol 205(5):480.e1–8

8.

Simons M, Massuger L, Bruls J et al (2017) Relatively poor survival of mucinous ovarian carcinoma in advanced stage: a systematic review and meta-analysis. Int J Gynecol Cancer 27(4):651–658

9.

Bilimoria KY, Stewart AK, Winchester DP et al (2008) The National Cancer Data Base: a powerful initiative to improve cancer care in the United States. Ann Surg Oncol 15(3):683–690

10.

Mackay HJ, Brady MF, Oza AM et al (2010) Gynecologic Cancer InterGroup. Prognostic relevance of uncommon ovarian histology in women with stage III/IV epithelial ovarian cancer. Int J Gynecol Cancer 20(6):945–952.

11.

Meagher NS, Schuster K, Voss A et al (2018) Does the primary site really matter? Profiling mucinous ovarian cancers of uncertain primary origin (MO-CUP) to personalise treatment and inform the design of clinical trials. Gynecol Oncol 150(3):527–533

12.

Zaino RJ, Brady MF, Lele SM et al (2011) Advanced stage mucinous adenocarcinoma of the ovary is both rare and highly lethal: a Gynecologic Oncology Group study. Cancer 117:554–562

13.

Simons M, Ezendam N, Bulten J, Nagtegaal I, Massuger L (2015) Survival of patients with mucinous ovarian carcinoma and ovarian metastases: a population-based cancer registry study. Int J Gynecol Cancer 25(7):1208–1215

14.

Pectasides D, Fountzilas G, Aravantinos G et al (2005) Advanced stage mucinous epithelial ovarian cancer: the Hellenic Cooperative Oncology Group experience. Gynecol Oncol 97(2):436–441

15.

Alexandre J, Ray-Coquard I, Selle F et al (2010) Mucinous advanced epithelial ovarian carcinoma: clinical presentation and sensitivity to platinum-paclitaxel-based chemotherapy, the GINECO experience. Ann Oncol 21(12):2377–2381

16.

Hess V, A'Hern R, Nasiri N et al (2004) Mucinous epithelial ovarian cancer: a separate entity requiring specific treatment. J Clin Oncol 22(6):1040–1044

17.

Morgan RJ Jr, Armstrong DK, Alvarez RD et al (2016) Ovarian cancer, version 1: 2016, NCCN Clinical Practice Guidelines in Oncology. J Natl Compr Canc Netw 14(9):1134–1163

18.

Mueller JJ, Lajer H, Mosgaard BJ et al (2018) International study of primary mucinous ovarian carcinomas managed at tertiary medical centers. Int J Gynecol Cancer 28(5):915–924

19.

Schlappe B, Zhou Q, O'Cearbhaill R et al (2018) Comparison of outcomes of primary mucinous ovarian cancer patients receiving either an adjuvant gynecologic or gastrointestinal chemotherapy regimen. Gynecol Oncol 149(Supplement 1):236

20.

Gore ME, Hackshaw A, Brady WE et al (2015) Multicentre trial of carboplatin/paclitaxel versus oxaliplatin/capecitabine, each with/without bevacizumab, as first line chemotherapy for patients with mucinous epithelial ovarian cancer (mEOC). As presented at the 2015 ASCO Annual Meeting. https://meetinglibrary.asco.org/content/145864-156 (abstract 5528).

21.

Warren JL, Butler EN, Stevens J et al (2015) Receipt of chemotherapy among medicare patients with cancer by type of supplemental insurance. J Clin Oncol 33(4):312–318

22.

Reghunathan M, Kelly KJ, Valasek MA, Lowy AM, Baumgartner JM (2018) Histologic predictors of recurrence in mucinous appendiceal tumors with peritoneal dissemination after HIPEC. Ann Surg Oncol 25(3):702–708

23.

Mercier F, Bakrin N, Bartlett DL et al (2018) Peritoneal carcinomatosis of rare ovarian origin treated by cytoreductive surgery and hyperthermic intraperitoneal chemotherapy: a multi-institutional cohort from PSOGI and BIG-RENAPE. Ann Surg Oncol 25(6):1668–1675

24.

Mueller JJ, Schlappe BA, Kumar R et al (2018) Massively parallel sequencing analysis of mucinous ovarian carcinomas: genomic profiling and differential diagnoses. Gynecol Oncol 150(1):127–135

25.

Mohammed RAA, Makboul R, Elsers DAH et al (2017) Pattern of HER-2 gene amplification and protein expression in benign, borderline, and malignant ovarian serous and mucinous neoplasms. Int J Gynecol Pathol 36(1):50–57

26.

McAlpine JN, Wiegand KC, Vang R et al (2009) HER2 overexpression and amplification is present in a subset of ovarian mucinous carcinomas and can be targeted with trastuzumab therapy. BMC Cancer 9:433

27.

Sato N, Saga Y, Mizukami H et al (2012) Cetuximab inhibits the growth of mucinous ovarian carcinoma tumor cells lacking KRAS gene mutations. Oncol Rep 27(5):1336–1340

28.

Matsuo K, Nishimura M, Bottsford-Miller JN et al (2011) Targeting SRC in mucinous ovarian carcinoma. Clin Cancer Res 17(16):5367–5378

29.

Liu T, Hu W, Dalton HJ et al (2013) Targeting SRC and tubulin in mucinous ovarian carcinoma. Clin Cancer Res 19(23):6532–6543

30.

Inaba K, Oda K, Aoki K et al (2016) Synergistic antitumor effects of combination PI3K/mTOR and MEK inhibition (SAR245409 and pimasertib) in mucinous ovarian carcinoma cells by fluorescence resonance energy transfer imaging. Oncotarget 7(20):29577–29591

31.

Muyldermans K, Moerman P, Amant F et al (2013) Primary invasive mucinous ovarian carcinoma of the intestinal type: importance of the expansile versus infiltrative type in predicting recurrence and lymph node metastases. Eur J Cancer 49(7):1600–1608
Funding
The authors declare no source of funding for the research conducted.
Ethics declarations
Conflict of interest
All authors declare no potential conflict of interest, including and financial or personal relationship which could be viewed as one.
Ethical approval
The National Cancer Database is available to the public for research purpose. All patient data are de-identified. The present study was deemed exempt by the institutional review board.
Additional information
Publisher's Note
Springer Nature remains neutral with regard to jurisdictional claims in published maps and institutional affiliations.
Electronic supplementary material
Below is the link to the electronic supplementary material.
About this article
Cite this article
Nasioudis, D., Albright, B.B., Ko, E.M. et al. Advanced stage primary mucinous ovarian carcinoma. Where do we stand ?. Arch Gynecol Obstet 301, 1047–1054 (2020). https://doi.org/10.1007/s00404-020-05489-3
Received:

Accepted:

Published:

Issue Date:
Keywords
Ovary

Cancer

Mucinous

Advanced stage